Robothorium is a cyberpunk dungeon crawler with turn-based fights, where all your choices will have a direct impact on your revolution against Humankind. Deep Strategy, Talents, Crafting, Party Based management and much more to enjoy in this roguelite!

Key Features:
Develop your strategy with 10 classes of robots, each one having its own synergies. Face plenty of enemies designed with unique mechanics and defeat the BreakTech enterprise!
Manage your troop of robots
Choose your allies and manage your reserve of robots. Craft and gather powerful items, upgrade your talents and give your support to demonstrations all around the world!
Face other players and prepare your response by customizing your AI!
Twitch features:
If you link your Twitch channel in the in game settings, you can have access to several actions and play with your viewers!
More info here: "the Streamer Pack: Bit.ly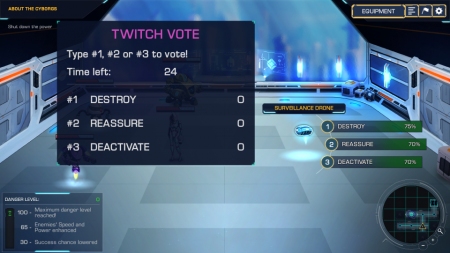 Twitch Votes:

You can let your community choose and vote for special actions