Hey everyone,
Today we've got an exciting issue of our Dev Blog and we are going to dive in to explore how warfare works in Realpolitiks II, so let's get going:
Let's start from the beginning by introducing units, shall we?
Units
There are three types of units in Realpolitiks II: land, air, and sea. Each force has several units, such as infantry, commandos, militia, artillery, tanks, fighters, bombers, helicopters, submarines, corvettes and aircraft carriers. Each unit has a different attack, defense, and support parameter against other units.
Units are grouped into armies that you can move around the world map. An army can only move in neutral provinces (such as international waters, or uninhabited lands like on the poles), provinces that you own and those of your allies - both from the bloc and those with which you have signed military access). In the event of war, once an army reaches an enemy province it begins to occupy it - tipping the scales of victory in your favor.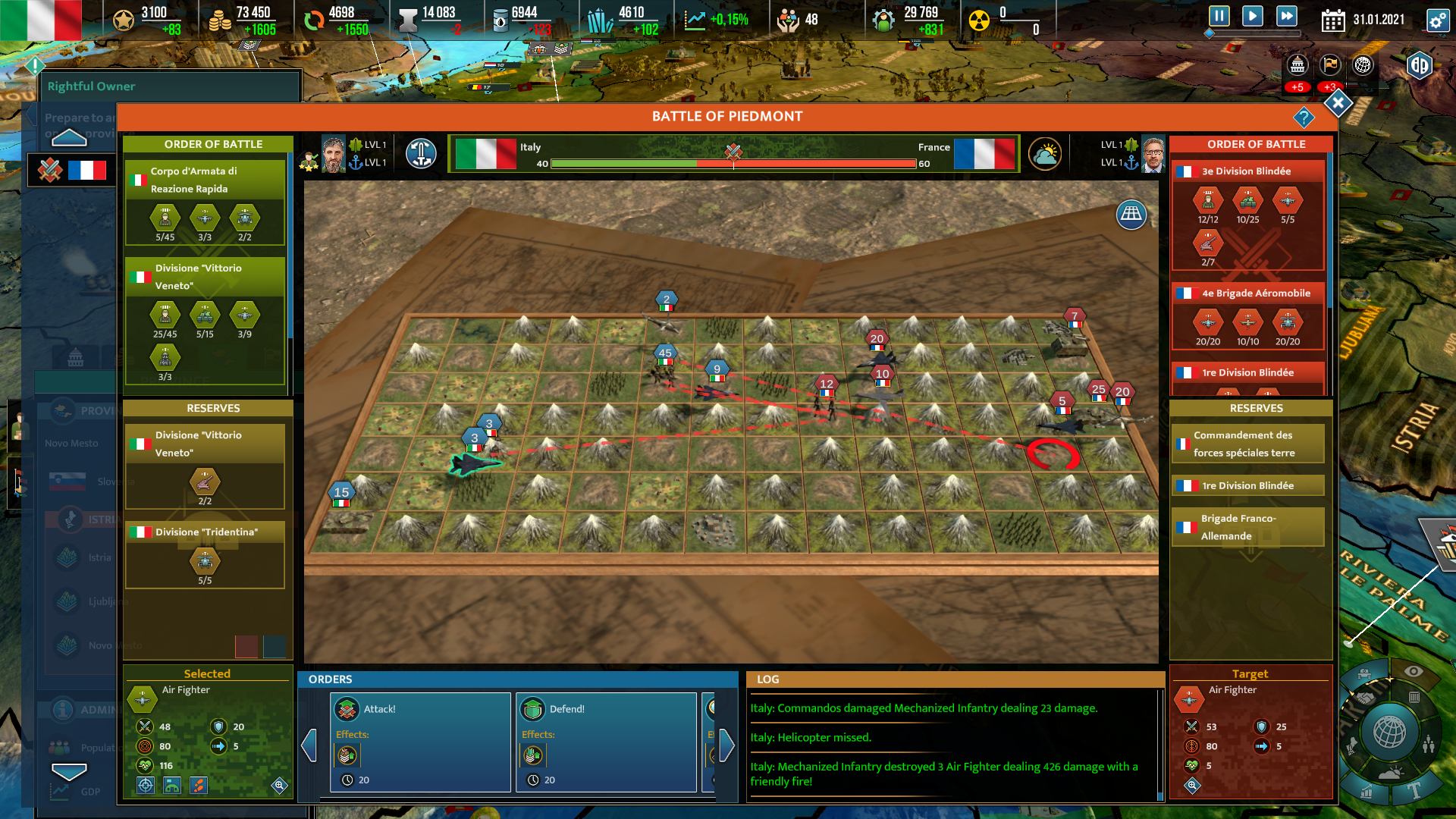 With the help of design and technology, units can be developed into state-specific units, such as Spetsnaz in Russia or the Soryu ship in Japan.
As a part of our in-game video tutorials - here you can learn more about navigating the barracks and recruiting more units:
Generals
Armies can be commanded by generals who give them additional combat skills, improve their stats, or reduce army costs. Generals, like spies, have 2 development paths - land and sea. Depending on which army the general is assigned to and what battles he wins, the more experience from that particular level he gains. After each level, you will be able to select one of two available random perks for him.
Land Theaters
If two different enemy armies are in the same land province, a combat theater will begin. Each province has a different battlefield, depending on the terrain, you will find cities, villages, forests, mountains, clearings, rivers, lakes and more. Some units cannot move in specific areas (e.g. tanks do not go into the mountains), but planes have no restrictions. During combat, you can take control of each unit and decide where to move and who to attack - remember that success comes from many factors, such as the general's level, unit statistics, distance to the target, type of field on which units are standing and many more. It is also important whether the units are standing next to each other and whether they have a clear line of fire - it is not difficult to accidentally hit an ally. The efficiency of units is also influenced by the weather and actions in the theater - that is, properly issued commands that can give a short-lasting boost to attack, defense, or speed. Reserves management is also important in combat - if you receive reinforcements during a battle, you must make sure that they will be able to participate in combat.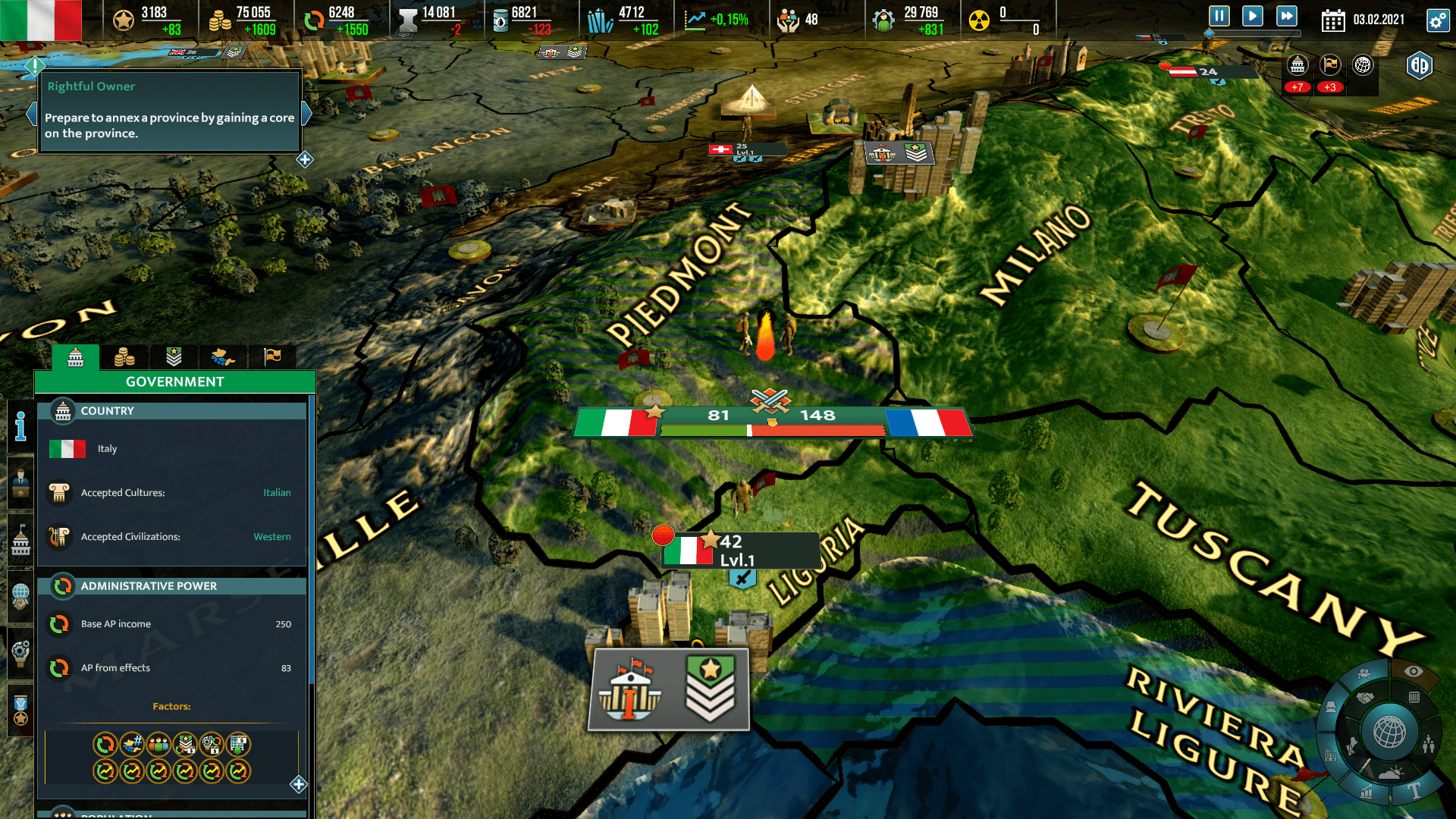 Sea Theaters
On the other hand, if two armies meet at sea, the course of the whole fight may be quite different - first of all, the naval forces have the advantage here, but the support of aircraft is also invaluable. Land units at sea are transported in ordinary barges, meaning their strength and vitality are abysmal - if you don't take care of the proper protection of your tanks and infantry, they will quickly become cannon fodder. On the water, you can also find islands and shoals that change the parameter of all units.
Alert State
During a battle, the level of combat readiness is extremely important. The lower it is the greater the country's focus on military production - unfortunately, this takes place at the expense of the economy, so countries focused primarily on the military can easily go bankrupt. Different policy systems have different requirements to advance to the next alert state level. Nevertheless, it is worth the risk as higher levels allow you to use more lethal rockets, including dirty bombs, and significantly increase the number of recruits and the speed of unit recruitment.
Nuclear Warfare
There is no superpower in the world without its dose of atom. Countries now have a wide variety of missiles, ranging from ordinary missiles, to nuclear and biological weapons, to chemical weapons. For missile production, it is necessary to build silos which also act as anti-missile systems. When choosing the target of the attack, the player can determine the size of the load, and thus the extent of damage and its strength. Just remember that this type of attack affects not only the target, but also its surroundings, so if you drop a bomb on Lichtenstein, you will definitely hurt Germany and France - thus making friends with them will be that much more difficult...
That's it! Warfare is definitely a fascinating topic, so we cannot wait to see you play your hearts out with dominating the globe with your military. As always guys, if you have a question or suggestion - be sure to leave a comment or create a thread in the Steam discussions, or join our Discord channel to hang out!
Oh, and don't forget to wishlist the game!
Until next time!