Hello everyone,
Welcome to the very next Development Blog which is going to cover the Mod Tool and its amazing capabilities! We've spent a lot of time developing this enormous creation and we simply cannot wait to see what you can come up with in your very own scenarios and campaigns! You've asked us to shed some light on our beloved editor and we shall deliver, here goes:
Mod Tool - what is it?
If you haven't heard, the Mod Tool is our modding tool (duh) that will be available for the community when Realpolitiks II launches on Steam and that's November 18th, 2020. It has a huge array of options for you to dive in but first let's take a look at them separately.
CREATE YOUR OWN WORLD
Coming up with a new world is no easy task, however, our mod tool will be able to help you in creating one from scratch. The modding tool will allow you to create a completely different terrain based on the height map. Want to limit the game to one continent? Take the game to Mars? Or maybe you prefer the action to take place in a fantasy world? All you need to do is to prepare a map in shades of gray, and our tool will allow you to quickly generate a world on which the game will be played. After that, you can use any visual software to set your own number of provinces (and their shapes!). The tool also allows you to easily paint the map with textures, so if you want to turn Europe into a huge swamp, it will take you but a few minutes. You can add your landmarks, trees, cities, and arrange them according to your own ideas.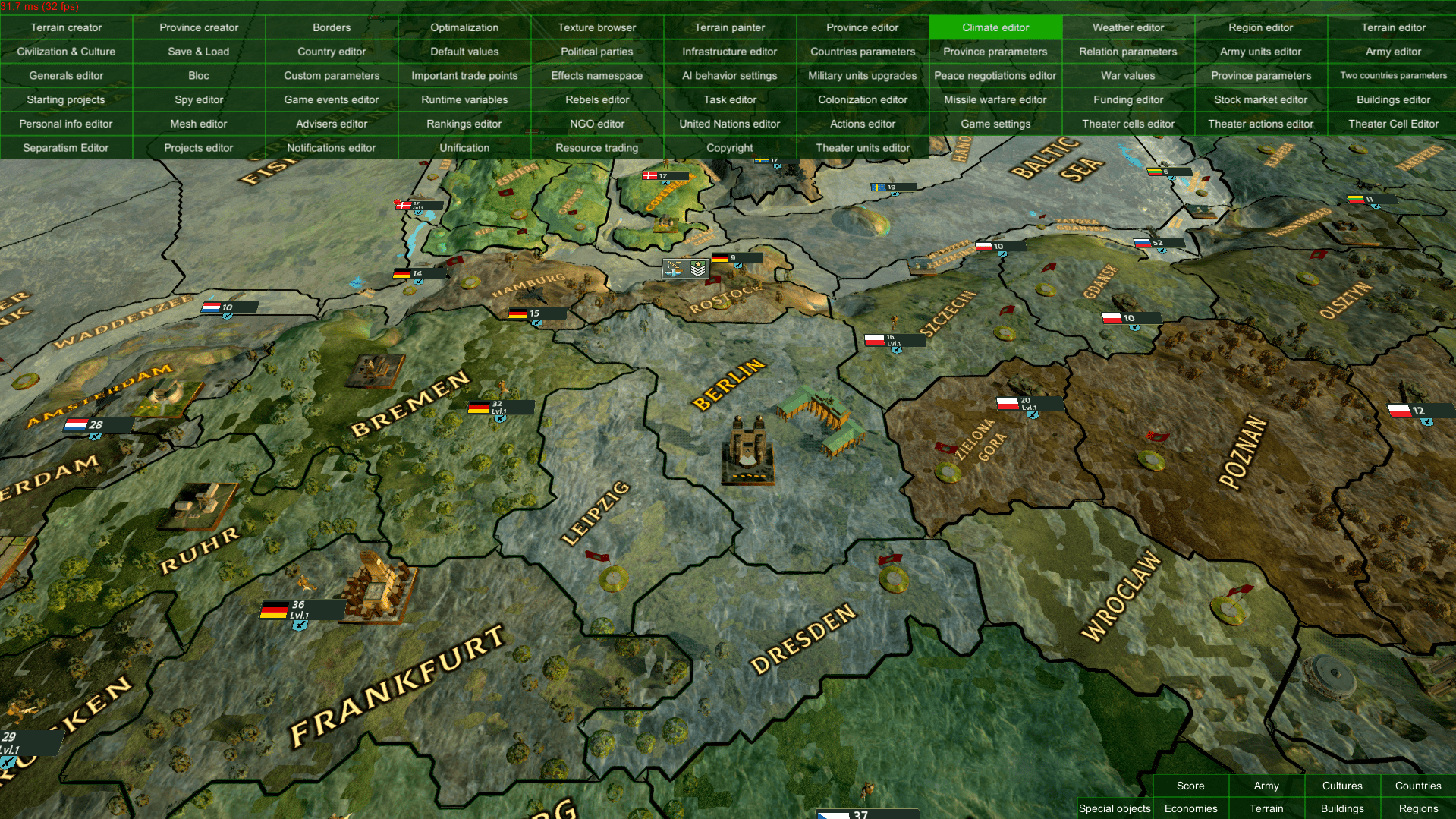 PROVINCES
Create provinces, regions, and countries - it's up to you to name individual provinces, what are their starting parameters, and how to group them into regions and countries. You've also asked whether you can add your own flags and political parties - well of course you can!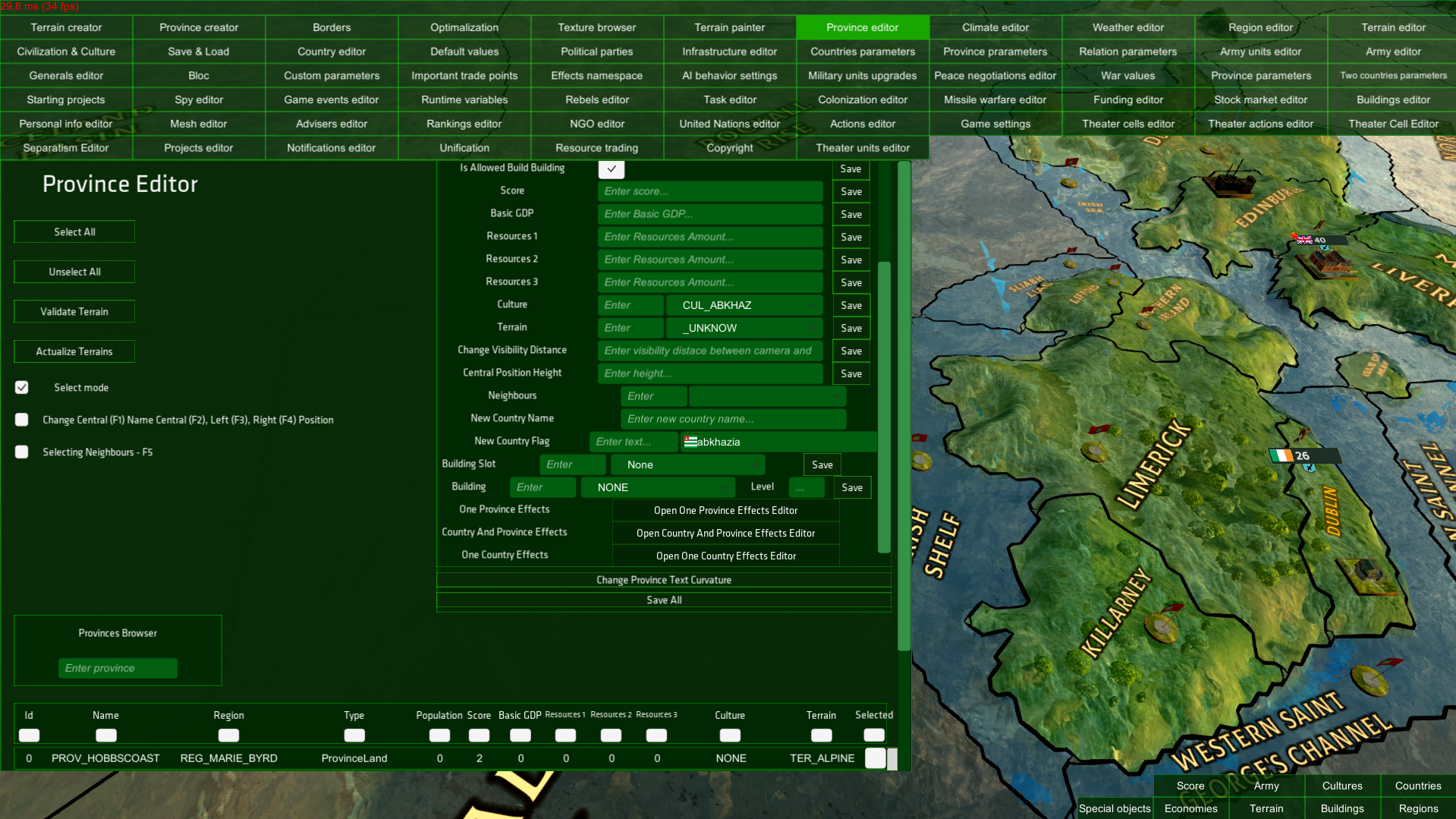 GAME MECHANICS
Influence game mechanics - the tool will allow you to customize the names, requirements and effects of all actions in the game: decide what the spies can do, what actions to take in regions or provinces, what will be the diplomatic possibilities, or what the negotiation process will look like. Thanks to the Mod Tool you can create entire project trees and set their availability by civilization or country. You also have the option to set which projects each country will start the game with.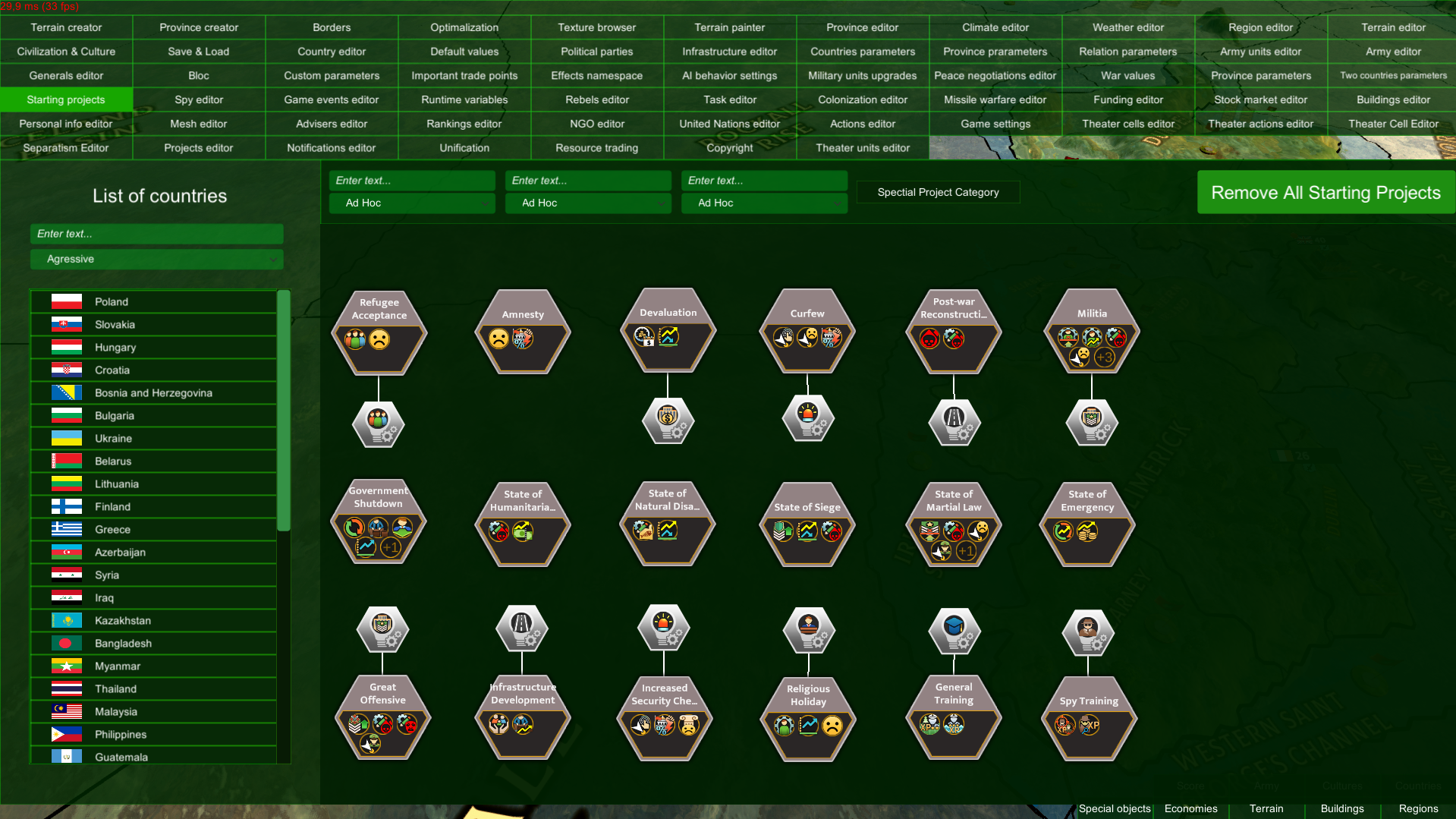 PARAMETERS & BALANCE
Decide on the parameters and balance of the game - thanks to the Mod Tool you will have access to all the tools used by our designers to set the game balance. Would you like your cash income to be calculated daily, not monthly? Or do you prefer players to lose 10% of their resources every month? Thanks to the system of curves and the parameter influence - you can completely change the method of calculating parameters.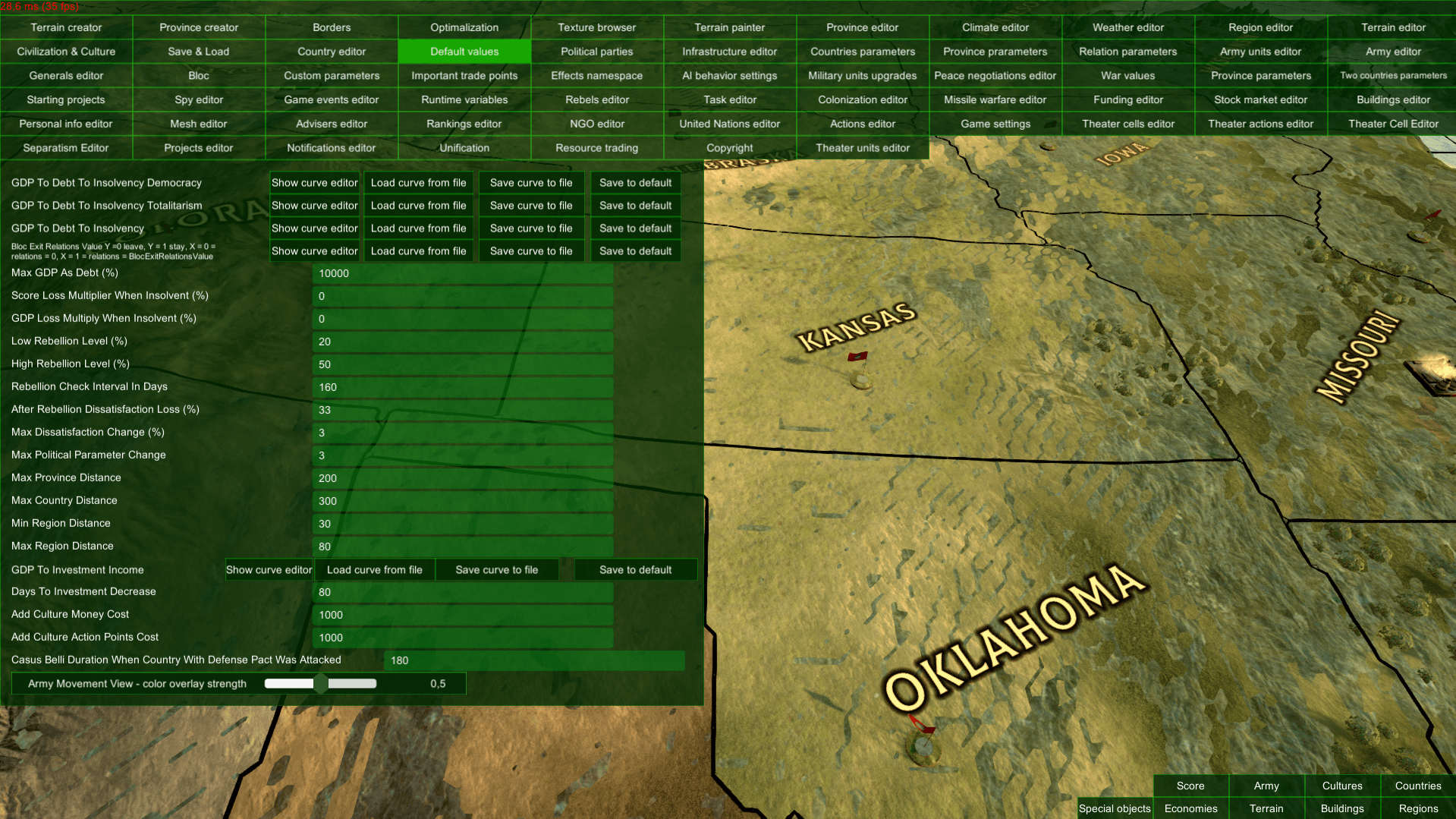 EVENTS & TASKS
Naturally, we've included the ability to create your own events and tasks - and thanks to the Mod Tool, you get full access to the indicated mechanics, not only enabling you to modify the content of the events, but also to add new ones. You can of course set their probability and conditions of occurrence, effects, rewards, event answers and a whole lot more; we've made sure to give you as much creative freedom as possible.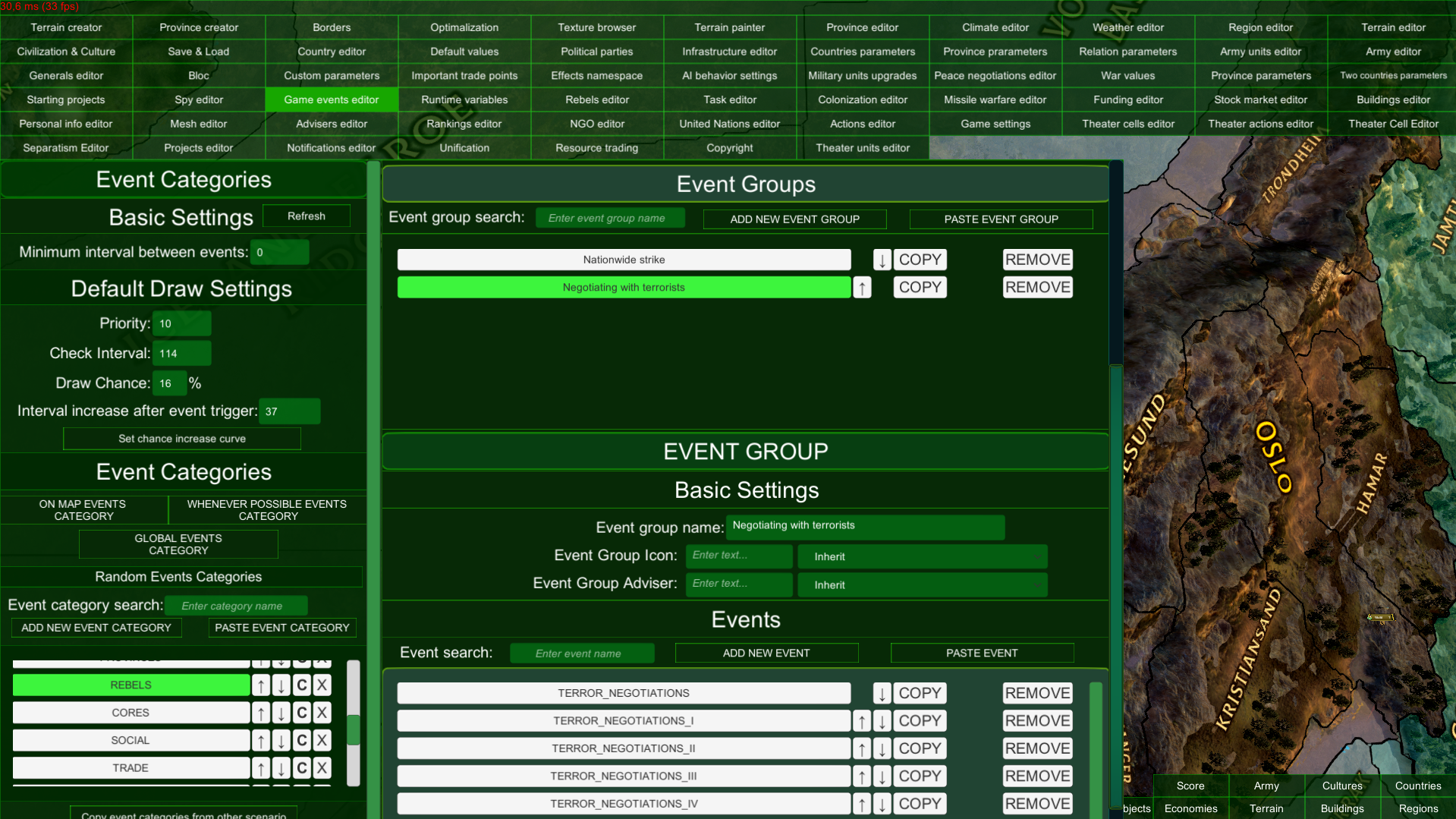 AI BEHAVIOR
You can control the AI behavior - the Mod Tool provides all the necessary parameters, including decision trees for artificial intelligence. Our system will allow you to create any number of AI behaviors and assign them to specific countries. You can also decide when the country should change its behavior (e.g. after losing 50% of its territories, it can focus on economic development instead of remaining an aggressive country).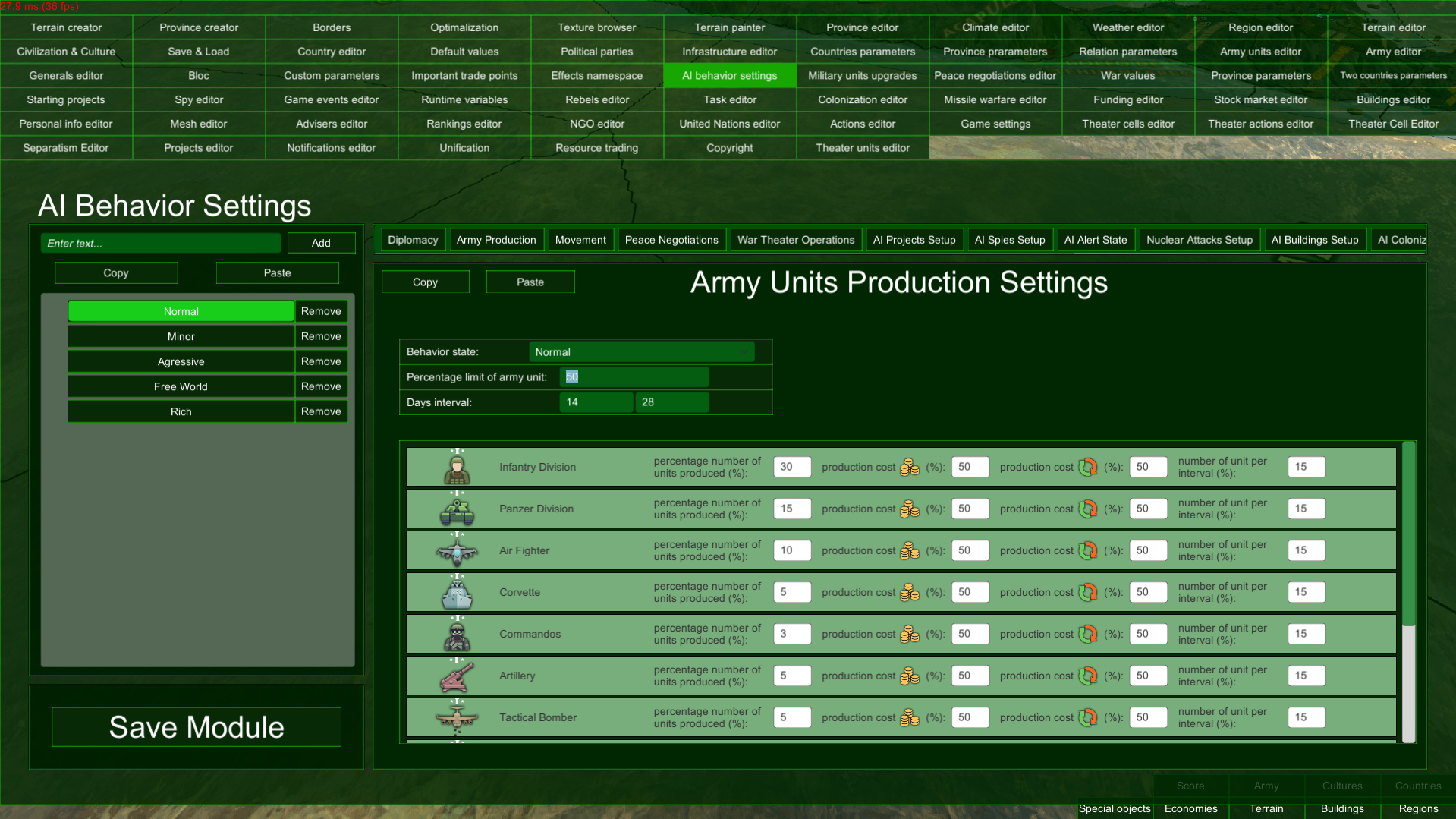 UNITS & WARFARE
A good Mod Tool should have the ability to create units, so we've done just that! Decide on the type of units you would want in your game and what kind of wars would you like to see - you can add new units, define their icons, models, names, and parameters - would you like to add Robots or Elves? The Mod Tool will certainly allow it. You can also create your own battlefields (e.g. adding lava filled fields or radioactive wastelands), climates, and weather (e.g. fiery rains) and set their impact on hit probability, pace, and ability to move, influencing the offensive and defensive parameters as well.


CHARACTERS
Create your own set of characters like advisors, ministers, spies, and generals. You can add your own portraits, set up starting generals and spies, add new ministries or advisors to choose from at the start of the game. You can also determine the development paths and skills that will be acquired by these characters. The Mod Tool also provides name lists, so if you add an orc race in Europe, you can make sure that none of them are named John.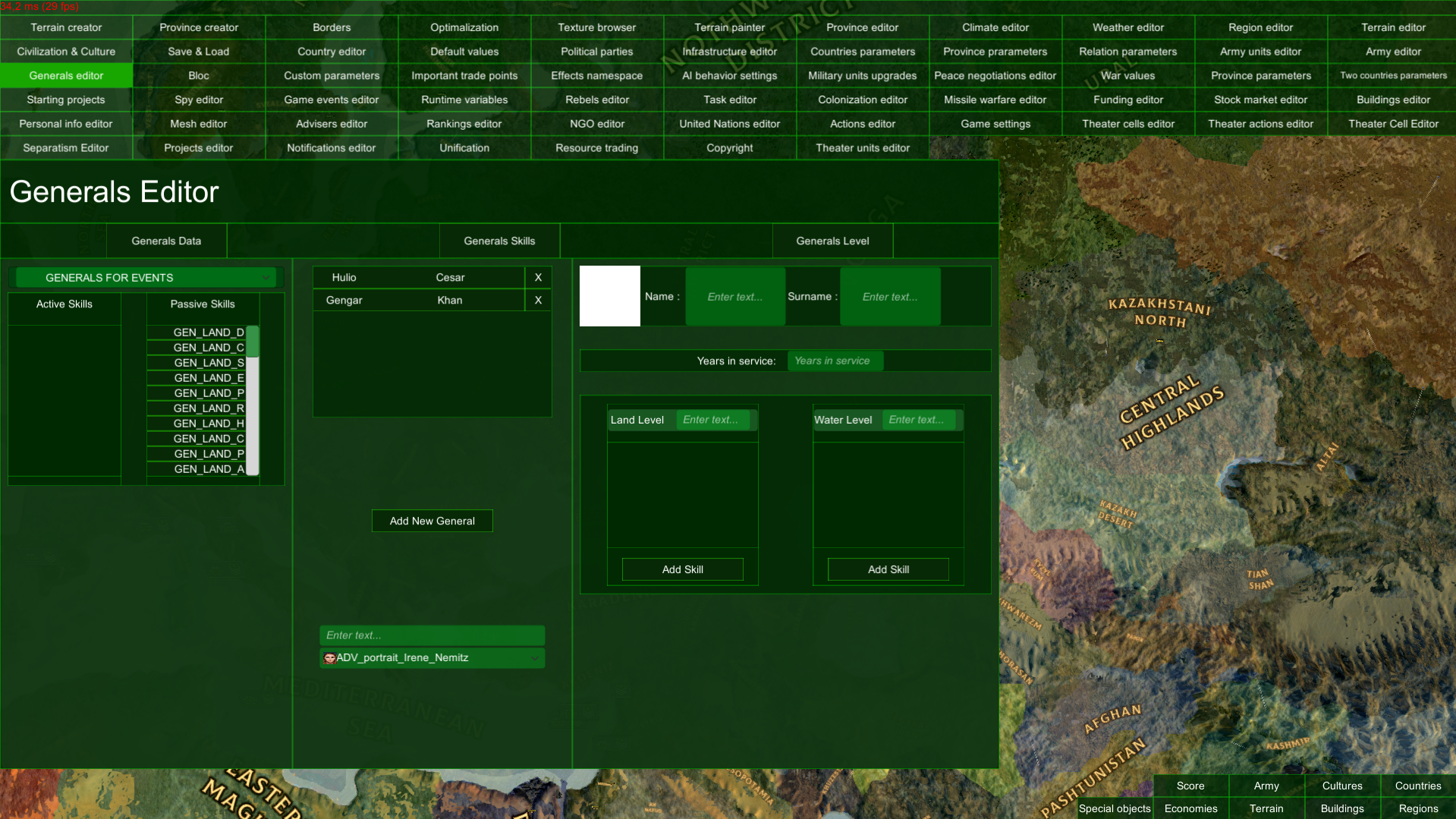 BUILDINGS
Yes, buildings are also available - you can add new models to the game and determine when it will be possible to place a given building, how many levels it will have, what effects it will give, and what its limitations will be. You will also be able to decide which buildings will be available from the very beginning of your campaign.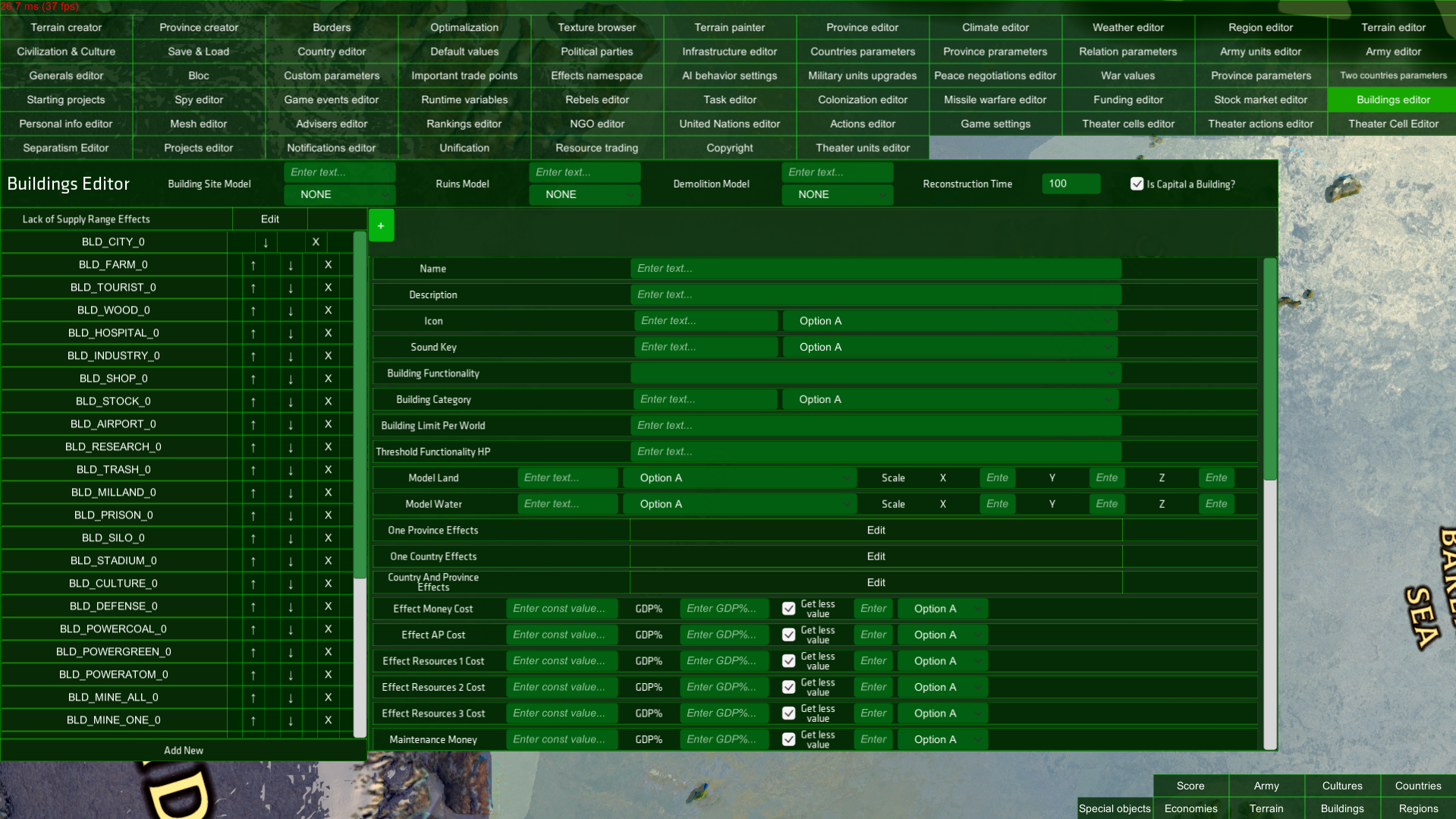 MISCELLANEOUS
Influence other aspects of the game - thanks to the Mod Tool you can create your own cultures and civilizations, define the parameters of separatism and rebels, decide on the behavior of exchanges, define UN resolutions and modify NGOs. You can also set the rules for trading and setting up blocs, but don't forget that you can also set the environmental impact, establish important trade points or define how missile attacks will behave.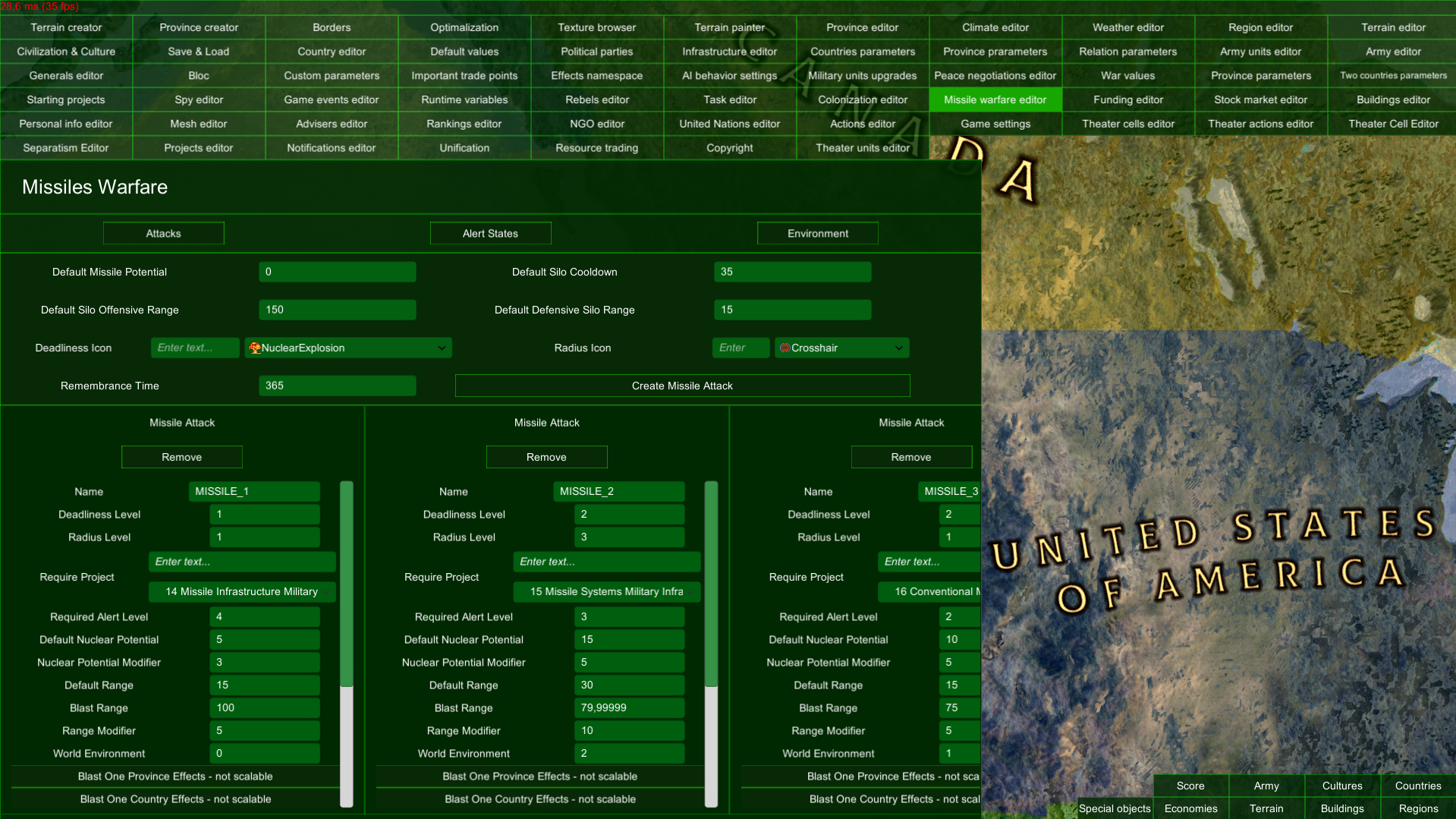 There you go!
Thank you for reading our latest Development Blog! We really appreciate you taking the time to know what you can expect from the Mod Tool and its enormous capabilities. We can't wait to see your creations come to life! If you have any questions in regards to either of those we are extremely happy to help, so leave a comment, create a thread, and we will be happy to answer some of your questions.
A small reminder: Realpolitiks II goes live on November 18th!
If you haven't already, don't forget to add the game to your Steam Wishlist! Thank you for staying with us! Until Next time!