Video link below
Disciplines of Game Development
There is a lot that goes into a video game, and that includes all aspects of the game; graphics, game play, and even intuitiveness for the player to quickly learn the mechanics of your game without much learning curve.

Let me show you an example of GrimWare Studios new game Prohibition. Prohibition is set in the 1920's during a time of gangsters and gentlemen. This game focuses more on the gangsters however, and to create an immersive game it starts with the first thing the players will see, the game menu.
Menus are traditionally non-interactive and just a way for you to get started playing, but our menu will bring the world alive before you start playing. Part of what makes Prohibition special is the antiquity feeling of it all. We feature numerous time-specific vehicles, weapons, and slang. To begin, let's view the menu as it stands now.
MENU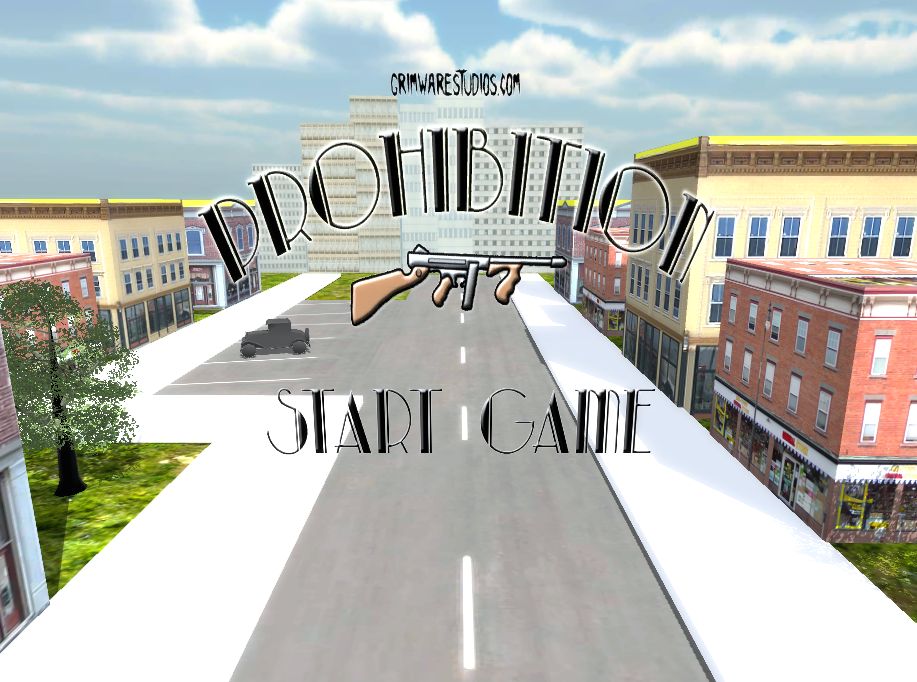 Right now there is only one button, Start Game. You can see in the background our logo and some buildings. But the city will start to come alive as cars will begin travelling the road in both directions. Included with the cars are a unique color. Currently in production, we don't have a texture for the model so we are just generating a flat color for the whole vehicle. There is also a time delay between the spawning of the vehicles. These spawn points have a number of behaviors that will randomly decide when to spawn a new vehicle.
Realism
Following these procedures, it will be simple for the GrimWare team to develop spawn points for humans to walk the sidewalks. But currently that is not implemented but will be featured in-game.
Each building has a texture, and each building will generate a shadow based on the sun's position. For the simplicity of the menu, the sun does not rotate but it will in-game. Shadows give a sense of realism and a way for the player to feel more immersed into the environment.
Customize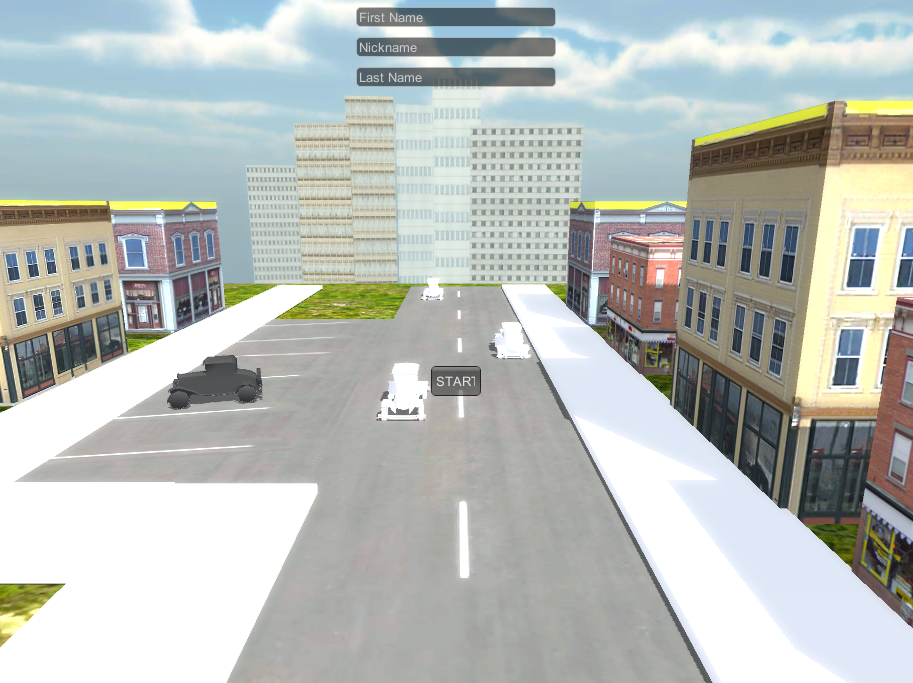 To begin playing click on Start Game which will actually begin moving the camera forward slowly. When it reaches it's final location, it stops and a number of fields appear that allow the user to enter a custom first name, nickname, and last name. This is the first steps that GrimWare Studios is taking to create a custom character screen. More on that in a few weeks.
Enjoy
After entering your decided names, you can begin by clicking Start. I will leave you, the players, to find out what the game has in store, but hopefully this sheds some light on the complexity of even a game menu. Visit www.grimwarestudios.com for more information!
Watch video here: