New Attachments
In CounterAttack attachments come in two basic types - modules which are enhancements and weapon conversions which replace one of your ships existing weapons with a new variant. Some of the new attachments in the latest version are Barrel Grease, which increases the speed of your projectiles, Meson Coils, which increase your rate of fire, and Afterburner which increases your max and current speed. Two of the new few new weapons are Dumbfire Missiles, a more powerful missile but without homing, and Nanofighters, little ships that spawn from the players and automatically fire at the nearest enemy ship.
A player with 6 Nanofighters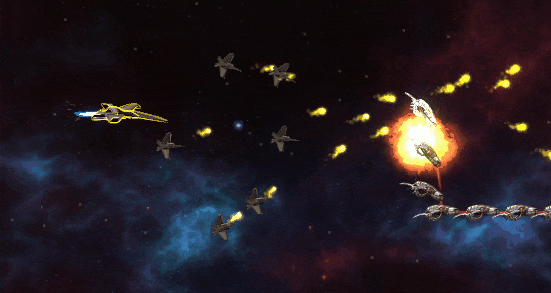 Not only are there new attachments but some of the old ones have received facelifts. Turbo, Afterburner, and Quantium Thruster now change the engine flame color from the default.

Bolt-on-gun adds a model of a gun bolted onto the side of the ship. Most of the other attachments have visuals associated with them already. My goal is to be able to recognize all of the attachments on a ship by simply looking at it - WYSIWYG.
Bolt-on-Gun cosmetic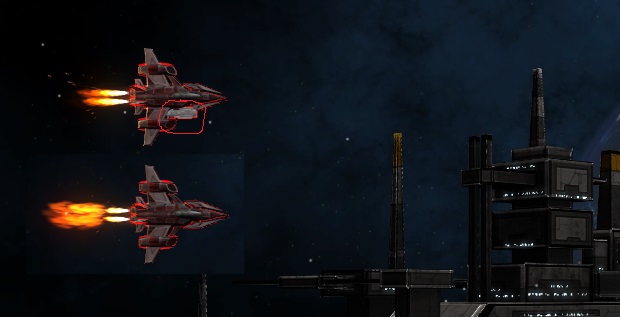 Powerful Bosses
Bosses should be big, bad, and scary! The current bosses are all one stage, meaning once they're dead, they're dead. They also have mostly the same weapons and basic cycles. That is about to change. The new boss I'm working on will be featured in the demo as well as one of the secret levels.
The new boss, in all its glory!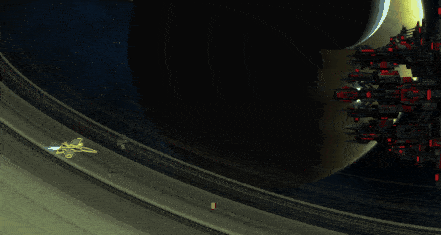 This boss has 5 parts you must destroy before you face his final form. Two energy beams, two drone launchers, and a central blaster controller. It cycles through the weapons while moving around. Some other ideas are to have the boss rotate, attack from different angles, or fly around in the background. After the 4 add on attack ships from the boss are destroyed the hard part of the fight starts starts.
The new boss showing its final form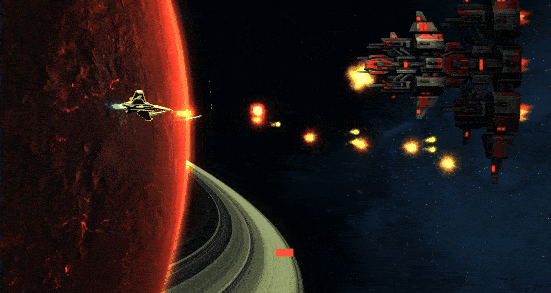 Unlocks
The final part of the Unlocked update are that attachments must be unlocked. Each of the bosses from the 14 levels unlock one attachment. There are also are a few rare unlocks for some other attachments. An example of this is the Bolt-on-Gun attachment; it's unlocked by killing enough blaster enemy types.
Besides all of that I fixed a few bugs. Everything is running pretty solid now. The multiplayer (local and online) haven't shown any signs of client state desync or had disconnects in a long time. I feel as if it's ready for larger scale tests - maybe ~100 simultaneous users! Or more?
Going Forward
The Greenlight continues forward with a steady stream of votes, but still a ways from the top 100. I didn't get to work on the demo level as much as I had hoped, but now that the attachment system is nice and stable and I've added 20 unlockable attachments/weapons I'll be able to focus on it more. Hopefully I'll have at least a preliminary demo I can sent out into the wild. I can't wait to get some more feedback!
Finally, check out the updated intro!