To start off, we are sorry that we haven't been giving any announcements for quite a while now. We are still working on the game. For this reason we wanted to give you a progress update today.
Currently we are working on expanding the map, as seen below: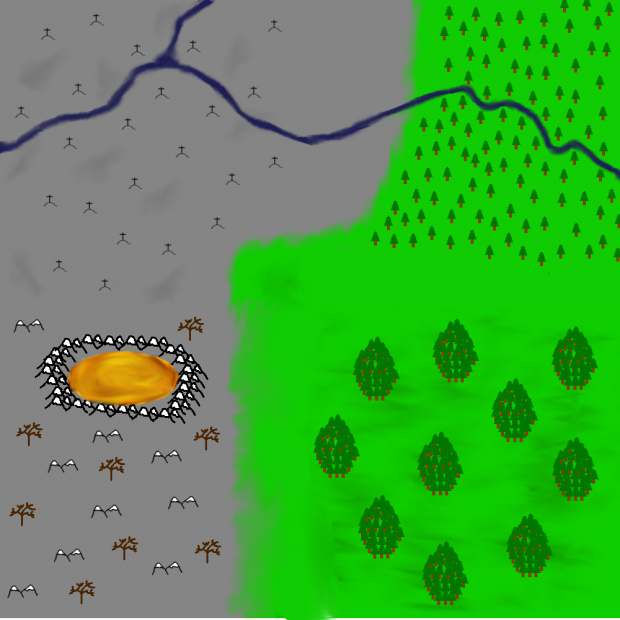 Continuing, we have been working on background music as well, so enjoy the composition below, which can be found in the Startup Menu:
Finally, we wanted to give you a clearer insight into the story of Adventures of Setren, so enjoy:
A long time ago, there was the age of the Setrian. They were constantly in search for eternal youth. It was mentioned that the person possessing it would have constant honor and glory. For this reason, Sawran, Warrior of the Kingdom of Resfar, went on the search for it. There were rumors throughout the kingdom that there was an item, a golden bar, that gives the owner eternal youth. On his journey he met with Sergo, a Mage from the kingdom of Welra. Together they were a perfect team. After a long search, they finally found the cave, which contained the golden bar. After entering, there were voices in the air, saying to leave, narrating about pain and suffer, but Sergo and Sawran ignored this. They moved further into the cave, and they reached a door looked with a mysterious magical force, but Sergo was able to remove it. Afterwards they were attacked by giants. Throughout the fight, the voice had returned, telling them to stay away from the guards of the golden bar. There were 3 giants, each attacking Sergo and Sawran. It wasn't hard for them to defeat them, as they were quite skilled. After they defeated the giants, they reached the final chamber, the chamber of the golden bar. The bar was lying on a stone table, and was glowing in a greenish color. Sergo and Sawran were happy and took the bar and left...
Why was the Golden Ingot returned? Where are Sawran and Sergo? What happened after they left? Why was it so simple?
That is all for this progress report.
Enjoy your day.