This week I've been focusing on finishing off everything except bugs and small features for Ultima Ratio Regum's 0.3 release, and that's going well. All the secrets and the basic inventory are fully implemented, ziggurats work perfectly, and I've done a lot of work on generating some rather nice door graphics. For example: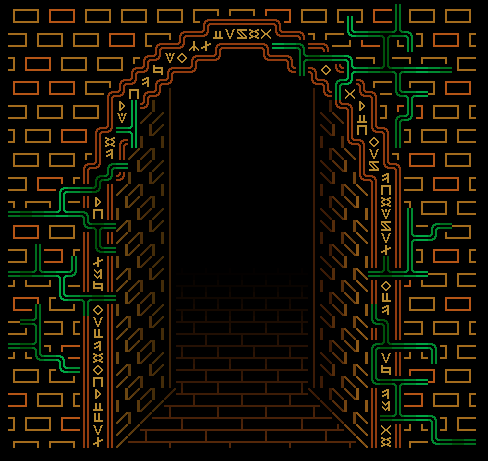 (I am aware there should be vines trailing inwards – working on it).
I'll be keeping the updates coming - for this coming fortnight I'd like all graphics finished off, one slight movement issue with blocks, walls and the player character fixed, then I can move onto bug fixing. The requirements for the next release are really coalescing in my mind now as well, so I'll probably post about those in the near future. Any feedback on the door graphics would be great - different door types exist for different buildings, and there are some particularly special doors in the game that require their own. Each combination of the exterior and interior are partially procedurally generated. In the long term, I want everything the player can "Look" at to have its own graphic, and this is just one of the first steps on that road.
In the mean time, you can keep up to date on my devblog, Facebook page, or Twitter feed. The devblog is updated weekly or fortnightly on Mondays, Facebook a few times a week, and the Twitter roughly daily. Any thoughts, please leave them in the comments! Stay tuned...