Hey everyone, we hope you've had a great start to the year and enjoyed plenty of fantastic mods and indie games over your holiday breaks.
Today we're sharing with you that we've added a new content feature to ModDB.com and IndieDB.com, the ability to create polls for your followers on your mod/game profiles.
You may have noticed the polls we've run over the years on the front pages of our sites, asking for the community to vote on questions about modding and games. Well, now you can do this yourself with your own followers and communities!
A poll can be created for any game or mod profile, meaning everyone has access to this new feature. You can find it on the sub menu of your mod/game profile, in-between the forum and stats sub header options. Check out the image below to see what the setup for polls looks like: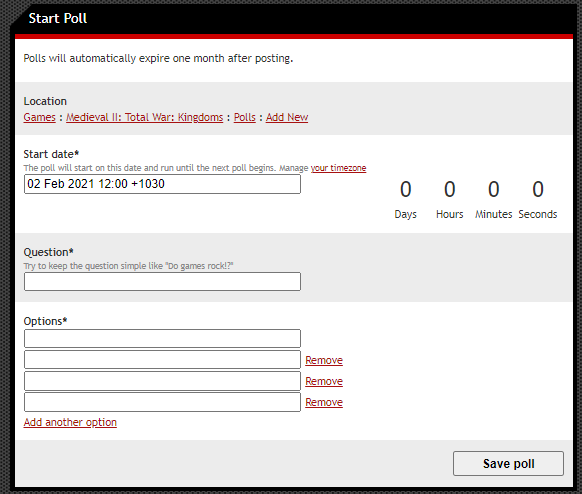 We've used Medieval II: Total War as an example here, but you'll be able to do everything you can see here yourself, including:
Setting the start date/time of the poll (which will run for automatically for a month)
Deciding the question for the poll
And choosing the different options your followers will be able to vote on
This can be a great way to see what direction your community may want you to take your mod or game in next, or just to discover how many of your followers enjoy Pineapple on pizza (or more importantly enjoy it correctly without pineapple ;) ).
Your polls will live on the polls subpage of your profile and you'll be able to link to any of your polls, since each will have their own unique URL. We hope creators and and fans alike enjoy this new feature and look forward to seeing polls being used across both ModDB and IndieDB.