The Army
A strange force has descended upon the land. Are they aliens? Are they robots? Who cares! All that matters is they are here to destroy all that is good. As the PlanTechtor, you are the only one who can hack into the weapon arsenal and use it's many powers to defend the castles spread across the lands. You might have ultimate power, but you will also be facing off against an entire army.

Quick and Deadly
They come at you in swarms, and they move quickly towards your castle gate. You can try to take them out with your Bow, but their tiny size makes them difficult to hit. The Bazooka's explosion works great, but using one of your limited rounds seems like a waste against these. Your rapid fire, fully automatic, infinite ammo Pistols are usually the best tool here.
Big Lumbering Baddies
Consider yourself fortunate to only fight these one or tow at a time, because they have around 250x the health points of the other, smaller attackers! They might be some of the slowest attackers, but they also do the most damage per hit on your castle gate. Make use of your Bazooka to take them out. The Bow can be used int a pinch, but leave the weaker Pistols for some other threat.
The Unsung Heroes of the Enemy
Not as fast as some, not as strong as others, these enemies fall in the middle. This might make them sound bland, but they are the bread and butter of the army's threat. They are a formidable force when in groups. They can sneak their way to your gate when you are busy chasing the smaller, faster threats. They are too strong to use your Pistols on. Your best bet is to use a couple well aimed Bow shots.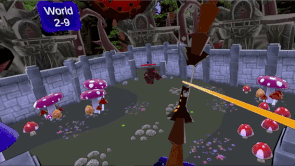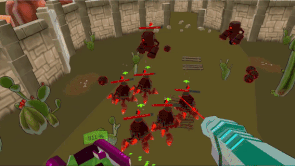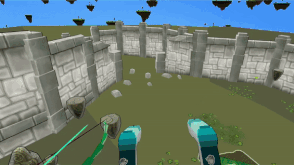 Just The Beginning
An entire army stands between you and peace. As the PlanTechtor, you must fight back these and many other threats if you want to protect the worlds. Luckily you have an entire weapon arsenal to hack into