Hi
While I've been working in other projects besides this one (check my Twitter if you want to know more) I've decided that I should try to have something to show for February regarding Cosmopolis Inc. Why February? by February there will be a new "Steam Game Festival", an opportunity to share a demo on Steam and hopefully attract attention, something that I'm always lacking.
Plans for the Demo
A demo is a two edged sword, a mediocre demo can end up repelling players so my first priority should be polished content.
Currently I'm working in improving the UI feel so I started by making a new Main Menu that besides looking good also teases future content for the full game:
I'm also working in a Quest/Objectives system to guide the player through the scenario I'll include in the demo: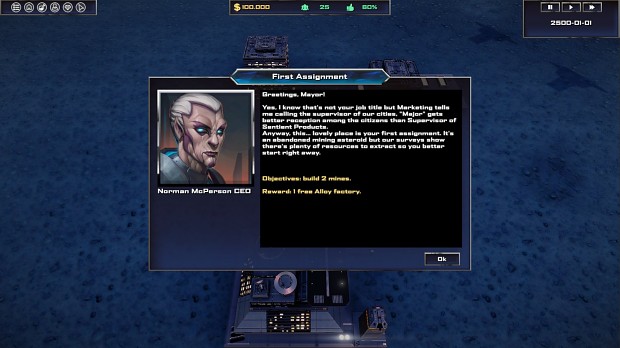 Doubts
To be frank currently I'm a bit overwhelmed by doubts, what project to pursue first? should I try to lower the scope? should I try to get a publisher this time? etc.
One way to fight this is to apply "tunnel vision" and just focus in the current task. It's kinda hard though because I also need to plan what this demo will have. My first ideas would be:
One scenario (probably the asteroid but I'm not sure yet).
A basic tutorial (it's always boring to code a tutorial but a complex game like a city builder needs one).
Limit buildings and mechanics available (simply because not everything is reayd yet).
A series of objectives to show the mechanics: constructing buildings, managing population, defending your city, etc.
Polished graphics and audio.
Plan seems solid at first sight but when I think about it I get kinda anxious, which is weird because I already have 2 games on Steam and I don't remember feeling so insecure despite having less knowledge and resources back then... maybe I'm getting older.
Anyway, work continues, sometimes I lose motivation and I just jump to another project or task for fun but I think I still can keep a decent pace with Cosmopolis.
At the moment a lot of work is done to add more user interface mechanics, this project requires a lot of that. Thanks for reading!
Regards,
Jorge