Ordeal Dev Blog #2 Version 2.29.1
M30 Luftwaffe drilling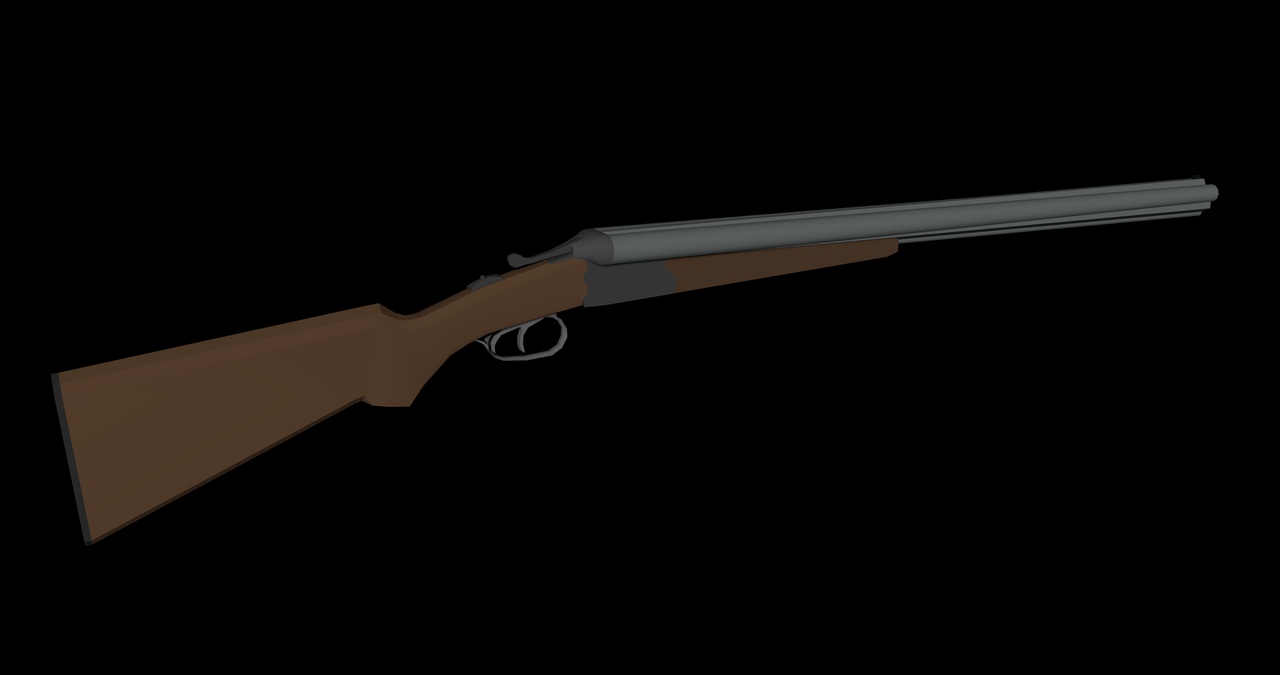 Project Version 2.27.2
- Added new weapons: PIAT, FP-45 Liberator, Kb ppanc WZ 35, anti-tank grenade M24;
- Added PT-SAU Su-85;
- Added a new design of the inventory interface;
- Changed the place of occurrence of objects after their discharge;
- Changed the mechanics of ammunition, now cartridges are taken from the inventory;
- Resized all items of the inventory;
- Changed most of the inventory icons;
- Fixed a problem with images of the size of the dragged icon;
- Fixed a problem with displaying the number of items in the stack;
- Fixed a bug where when throwing several items in the stack, only 1 item was thrown out;
- Rebalanced all missiles;
- Added full-fledged items: pistol cartridges, rifle cartridges, PP cartridges, machine gun cartridges and shotgun cartridges;
- Fixed a bug with missiles flying through a collision;
- Changed Browning machine gun model
- Physics returned to player sleeves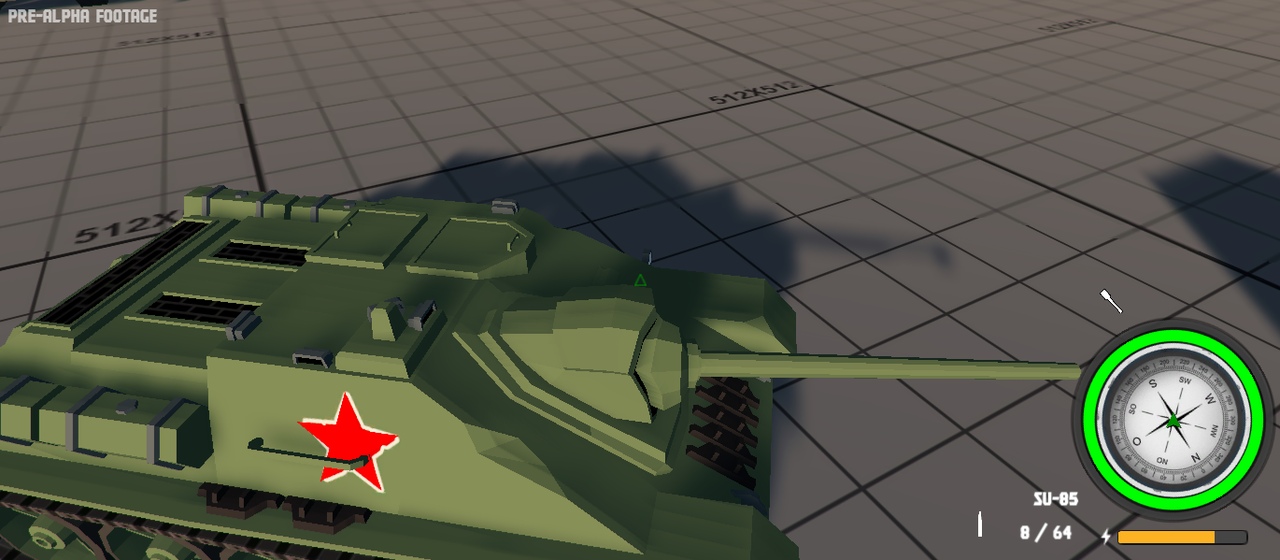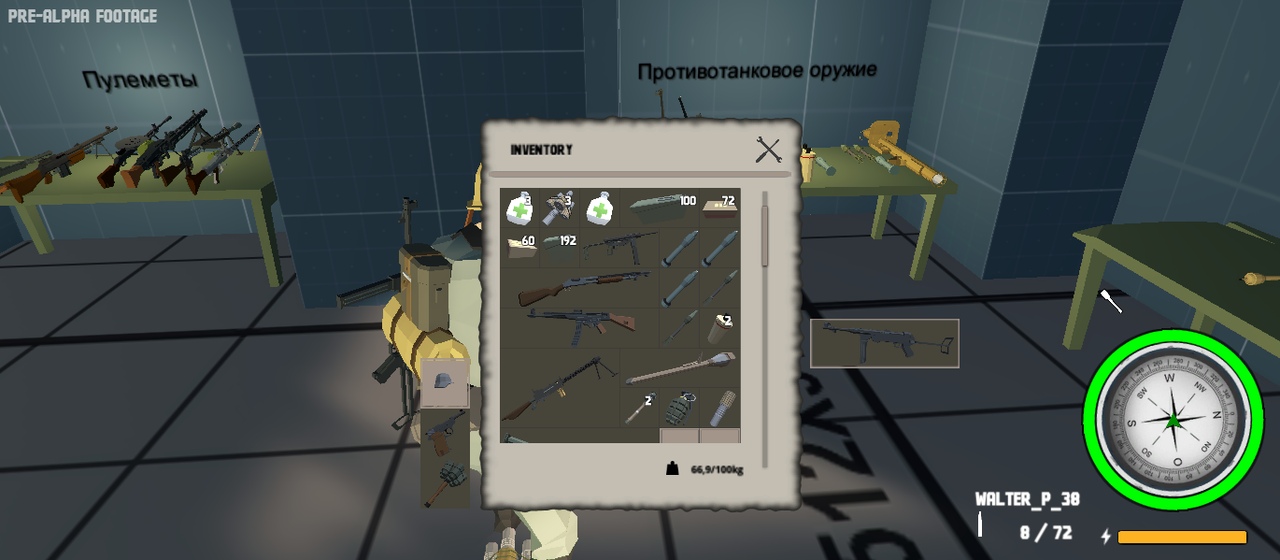 Repetierpistole M1912 FP-45 Liberator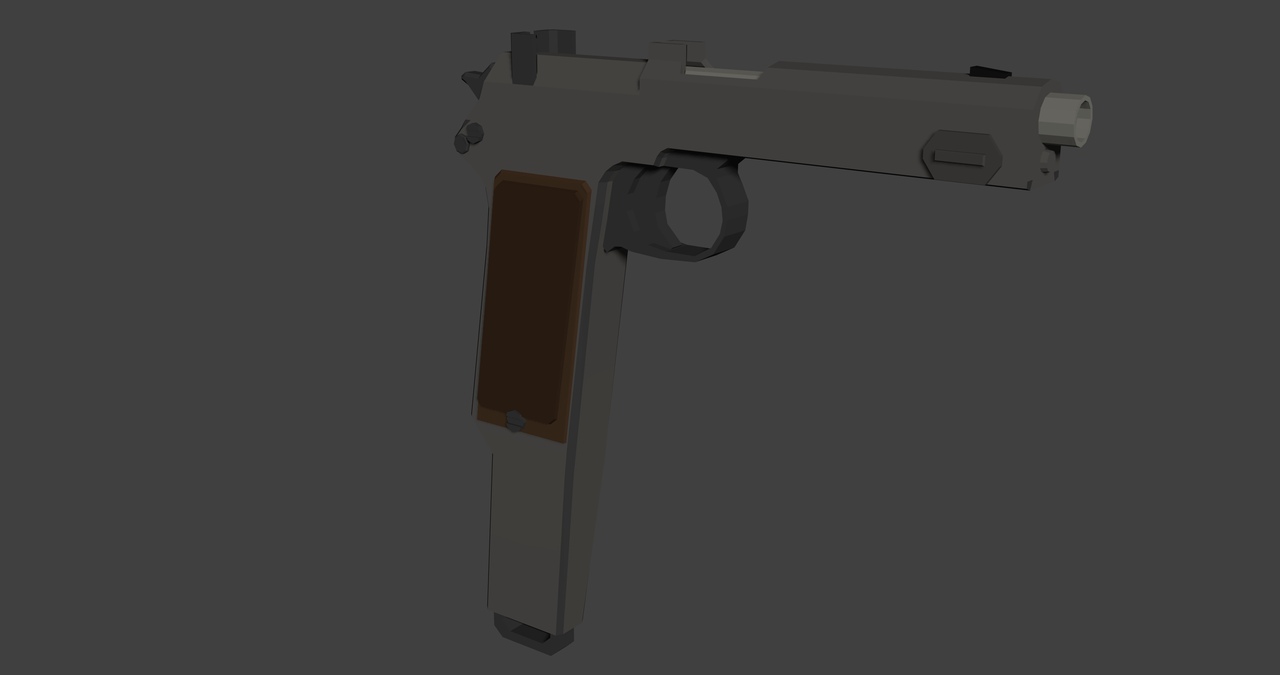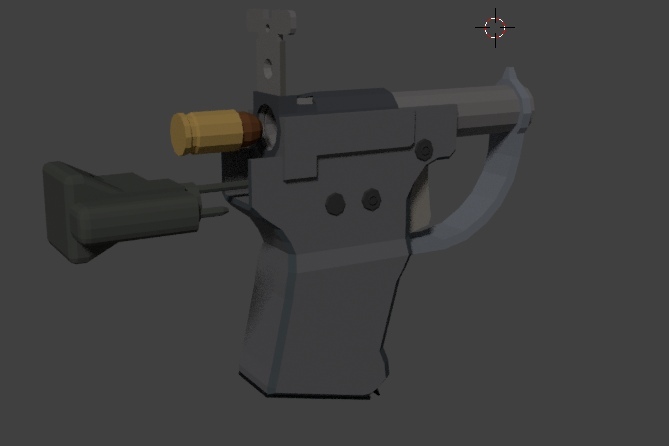 Central warehouse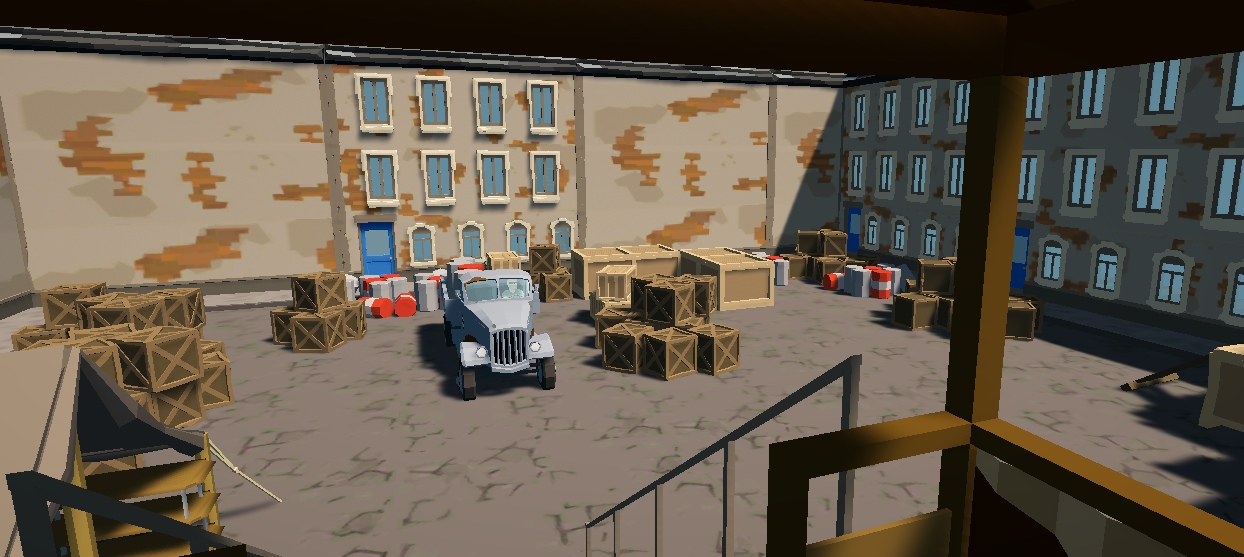 Central garrison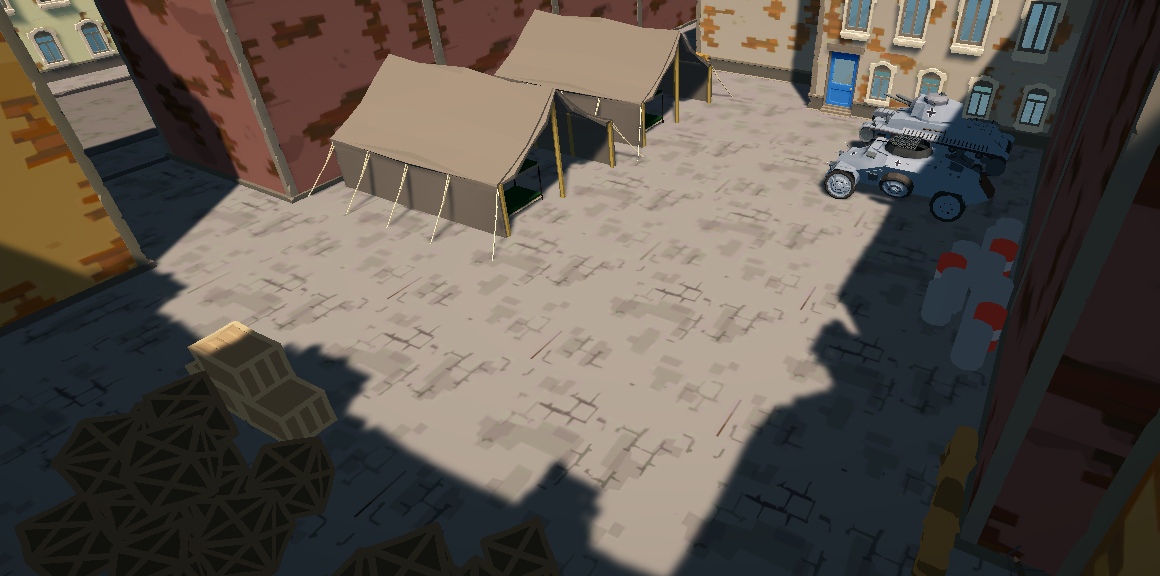 Gestapo headquarters building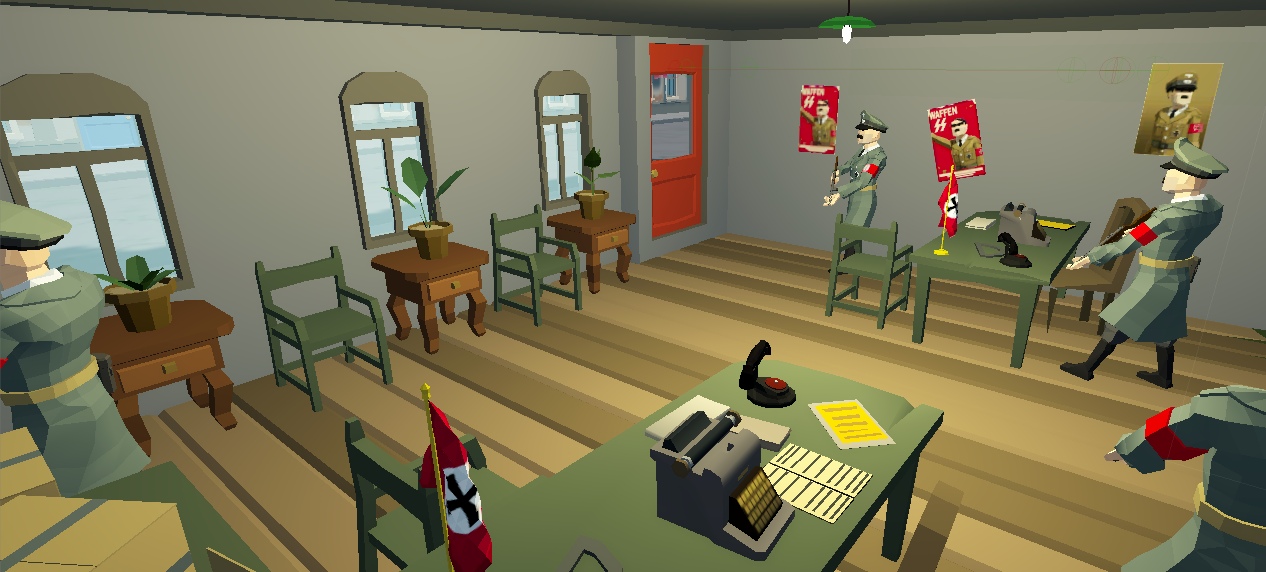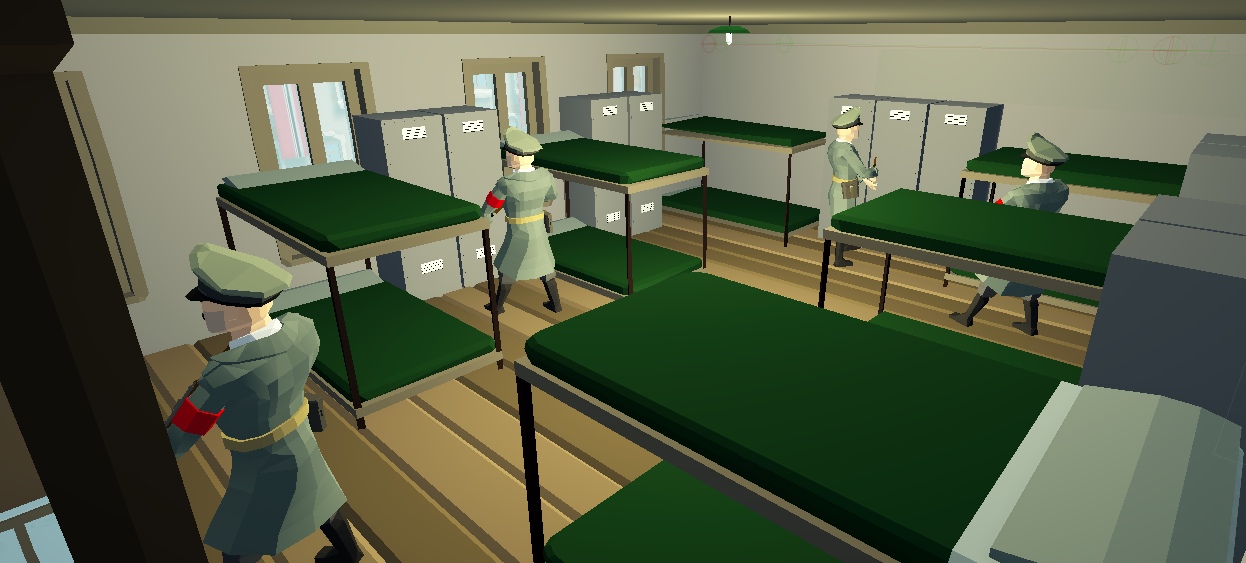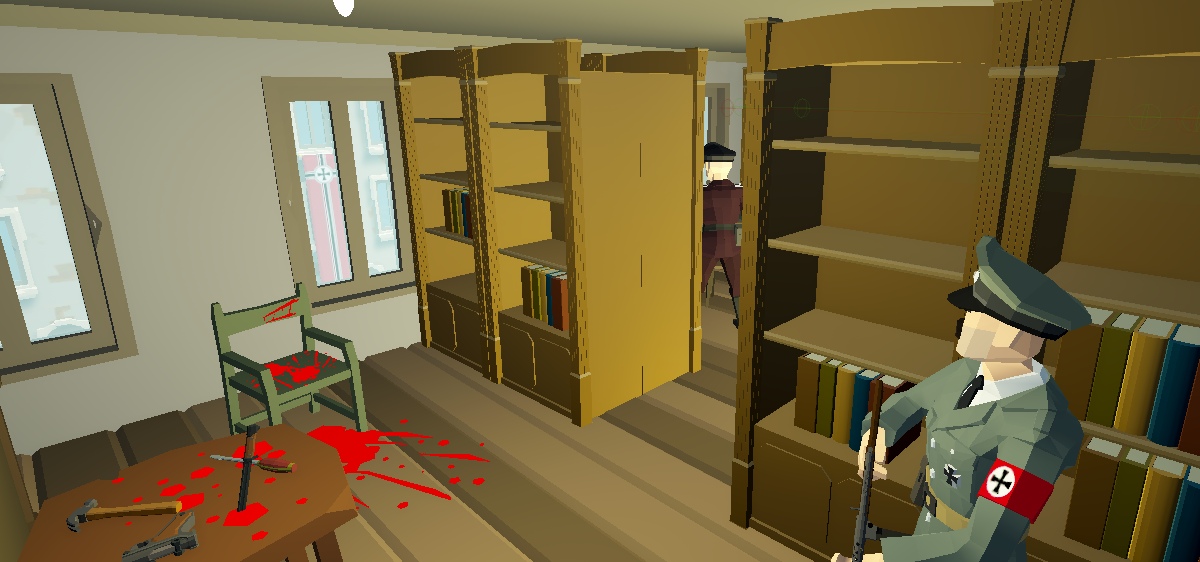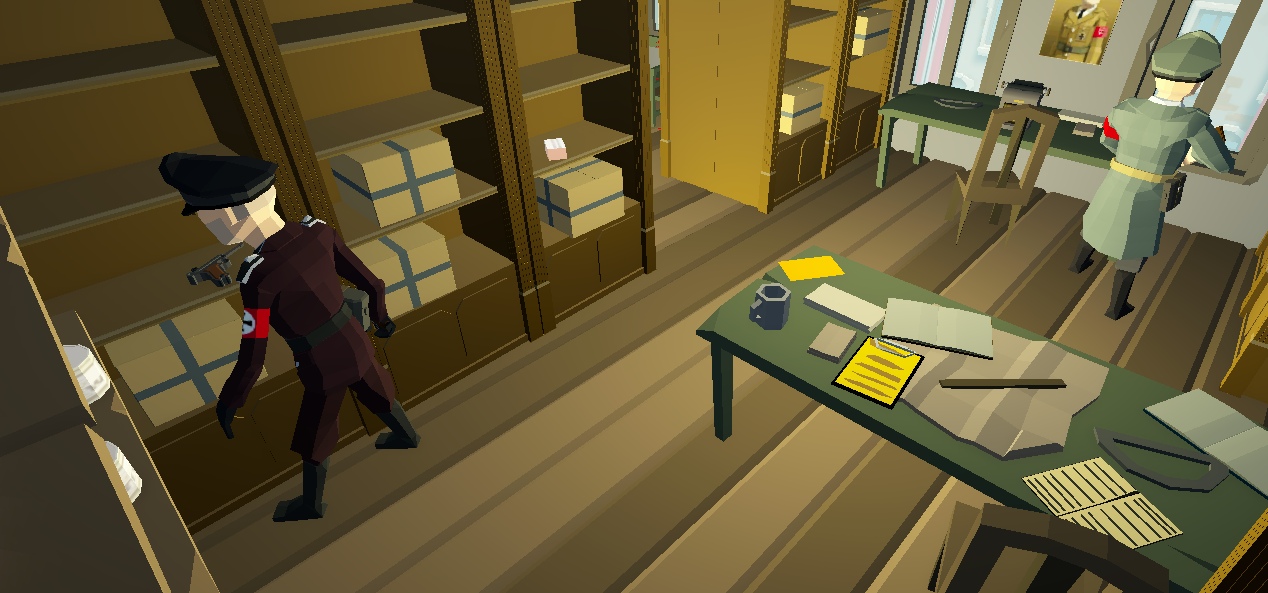 Archive building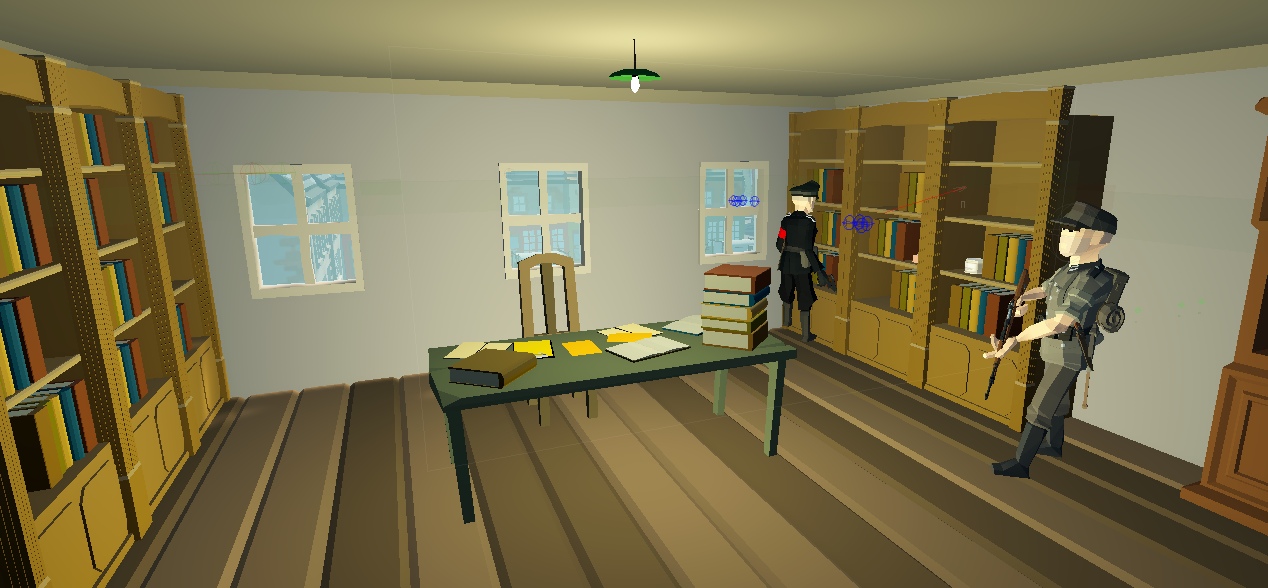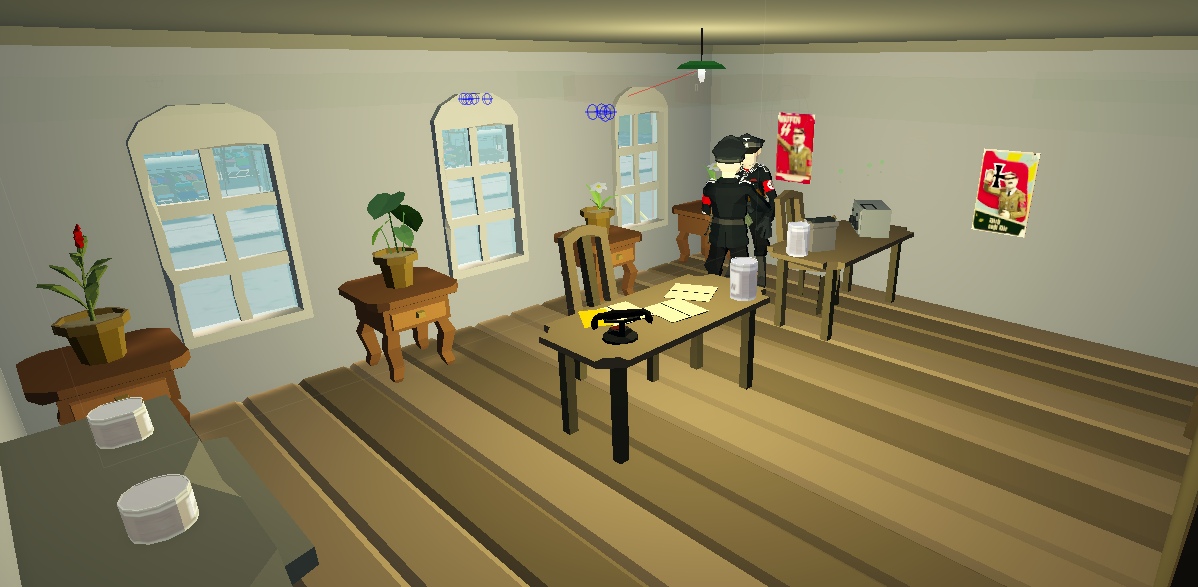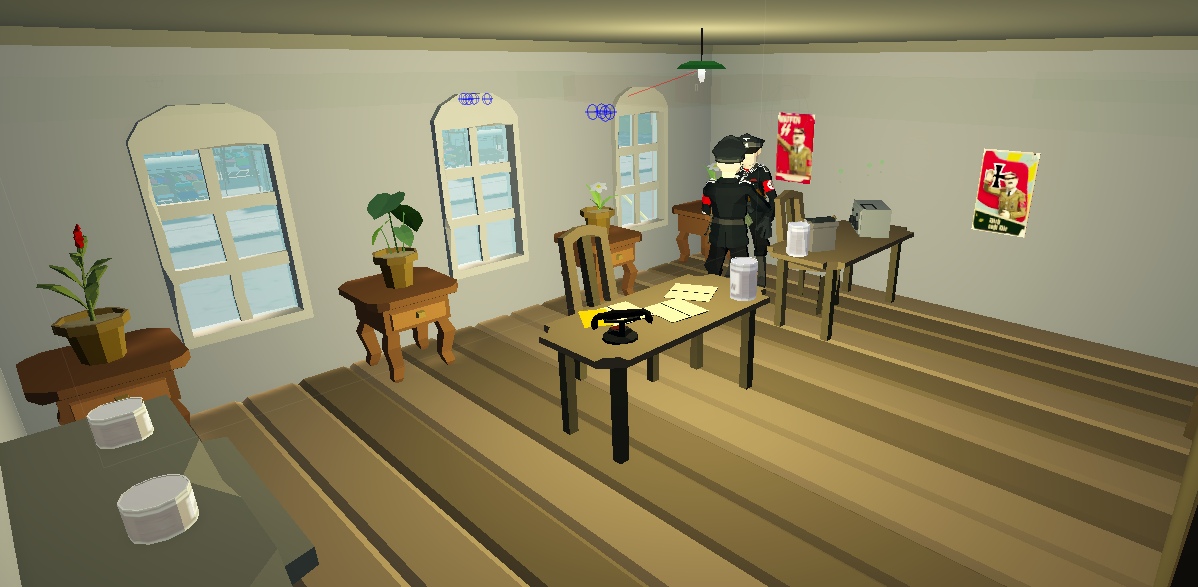 Project Version 2.26.3
- Bug fixes in the mission system
- Changes in the AI system
- The document system has been improved (checking bots during the third attempt to show unsuitable papers will declassify you)
- The system of documents has been improved (if the checking bot in aggression mode shows documents to him will be impossible)
- Work continues on the Anthropoid mission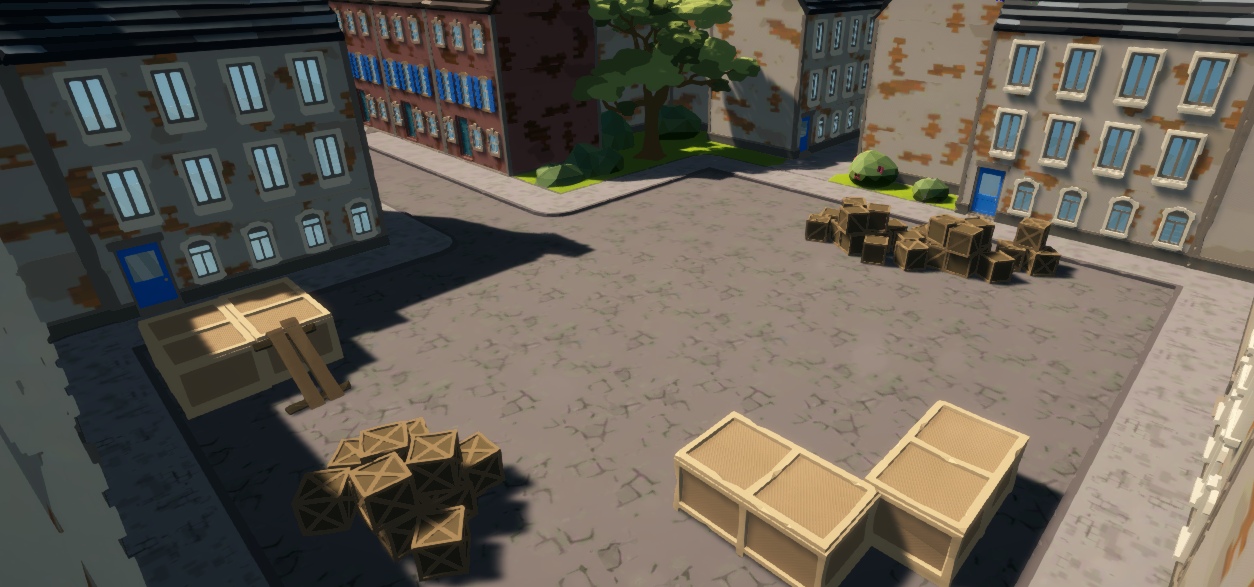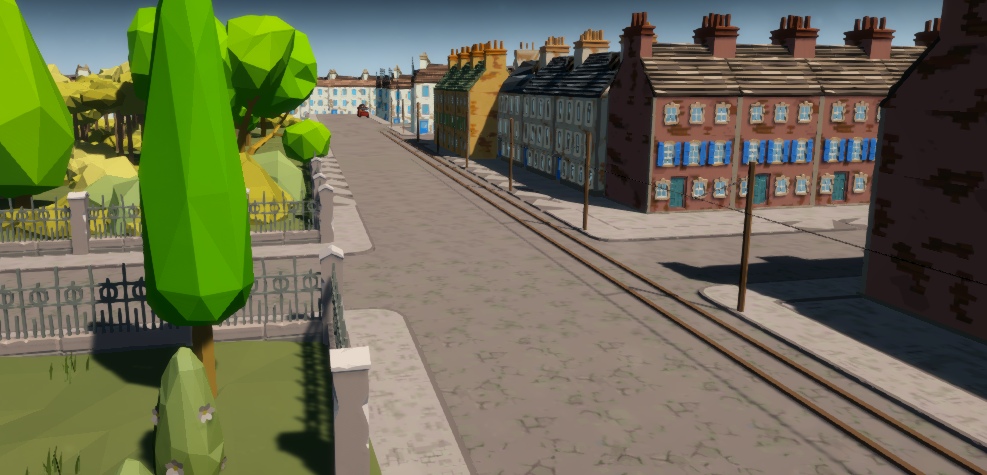 Project Version 2.26.2
- Change of explosives, now to install it you need to go up and hold down the action button (there must be a certain type of explosives in your inventory)
- Rifles rebalanced, now a direct hit in the body of the bot with a probability of 80-90% will kill him
- Minor fixes in the mission system
- There is an active work on the Anthropoid mission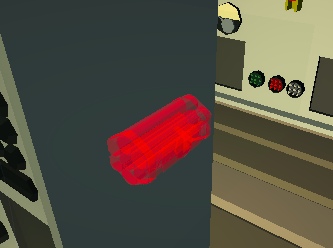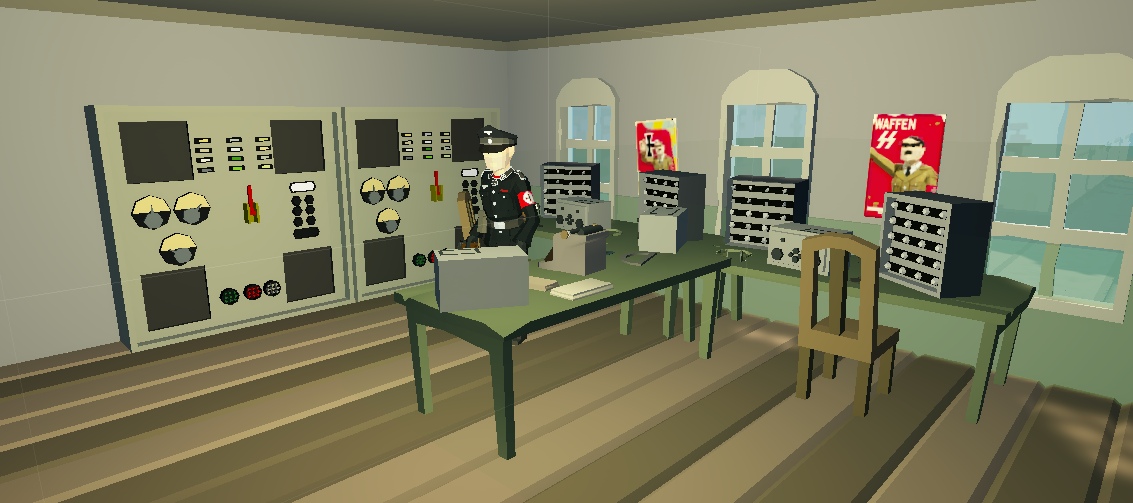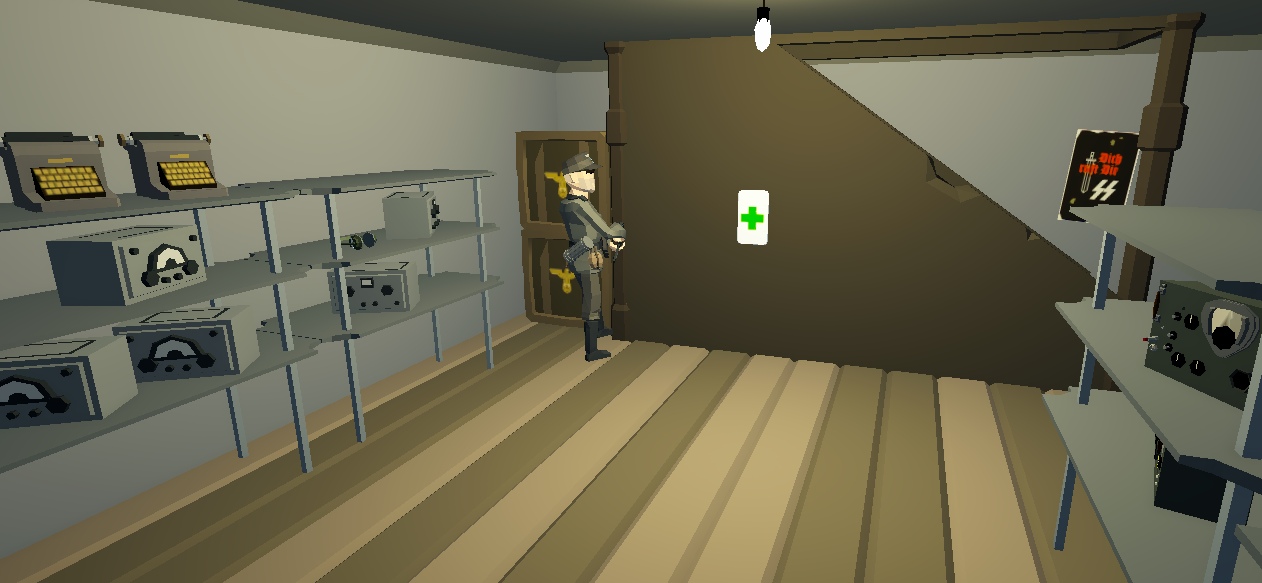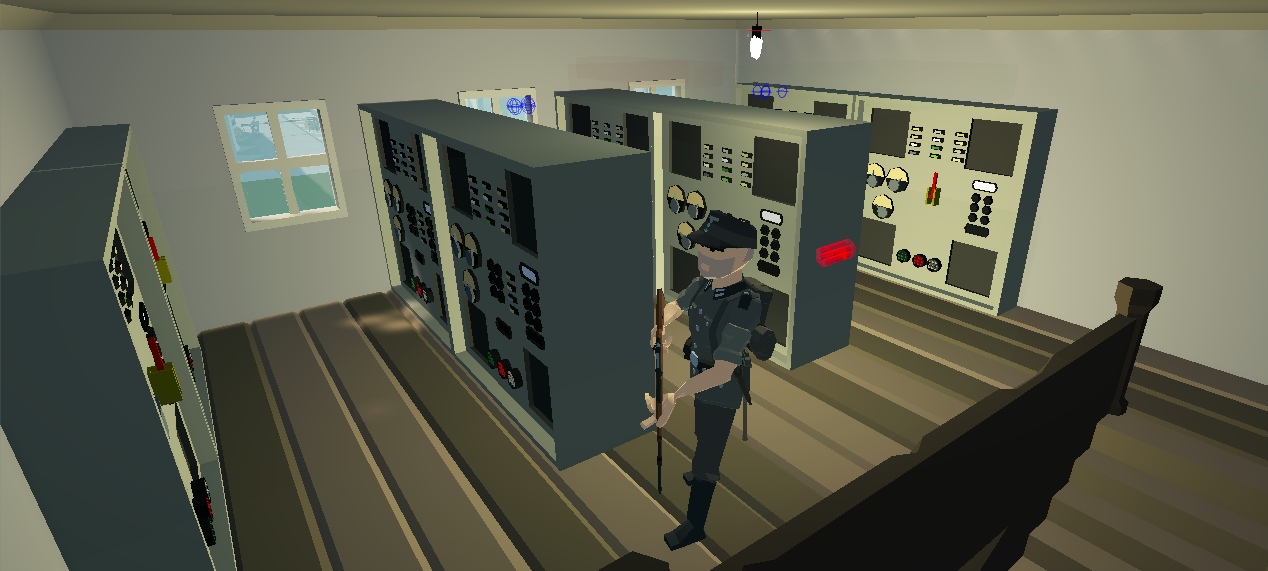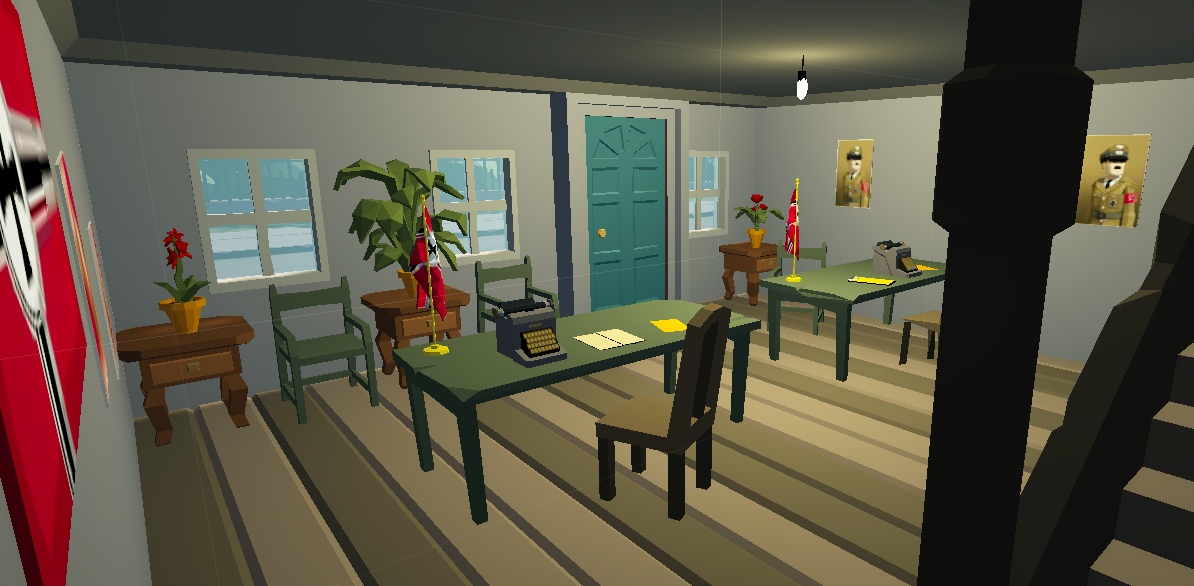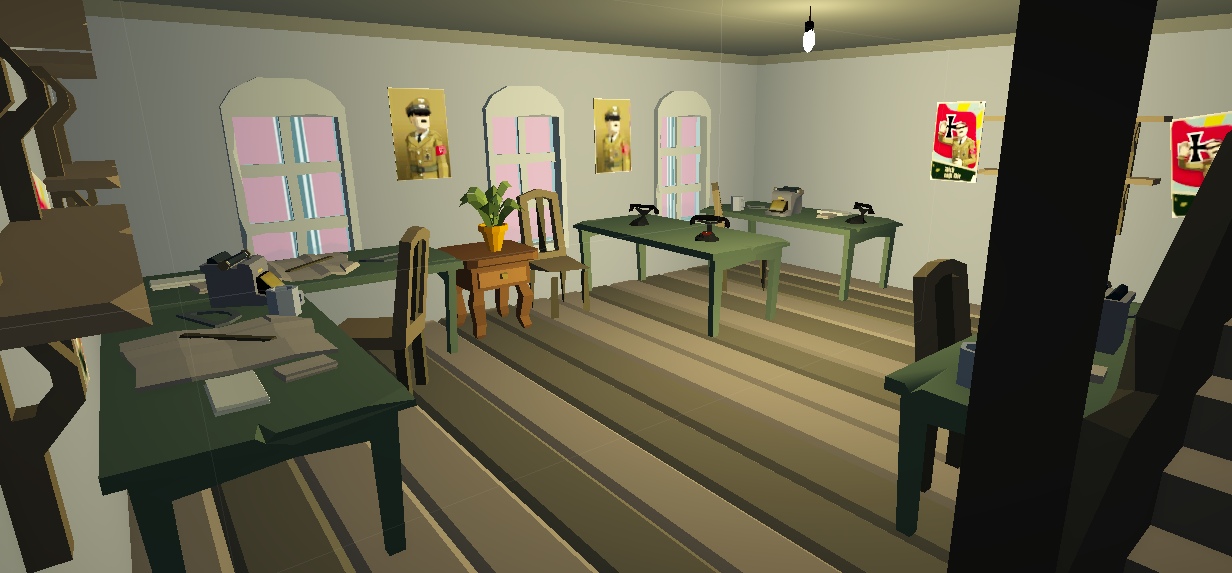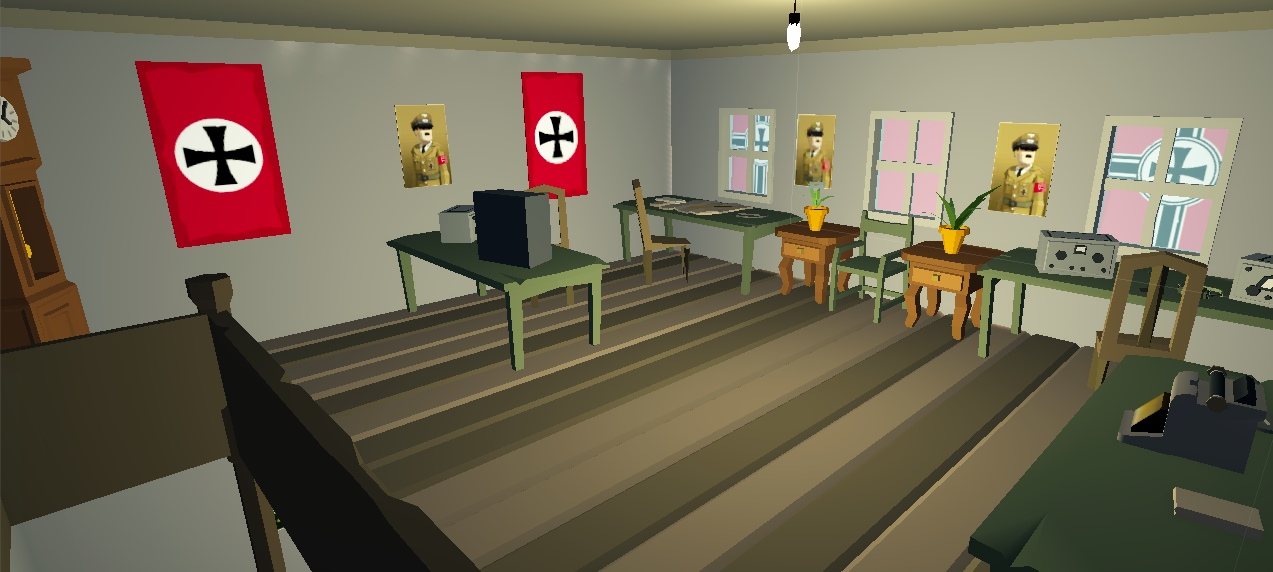 Project Version 2.26.1
New mechanics added - document verification
Added item - special type document
Work continues on the Anthropoid mission
Fixed bug with collision AI model (when hitting the bot did not cause damage to it)
Antropoid Mission Change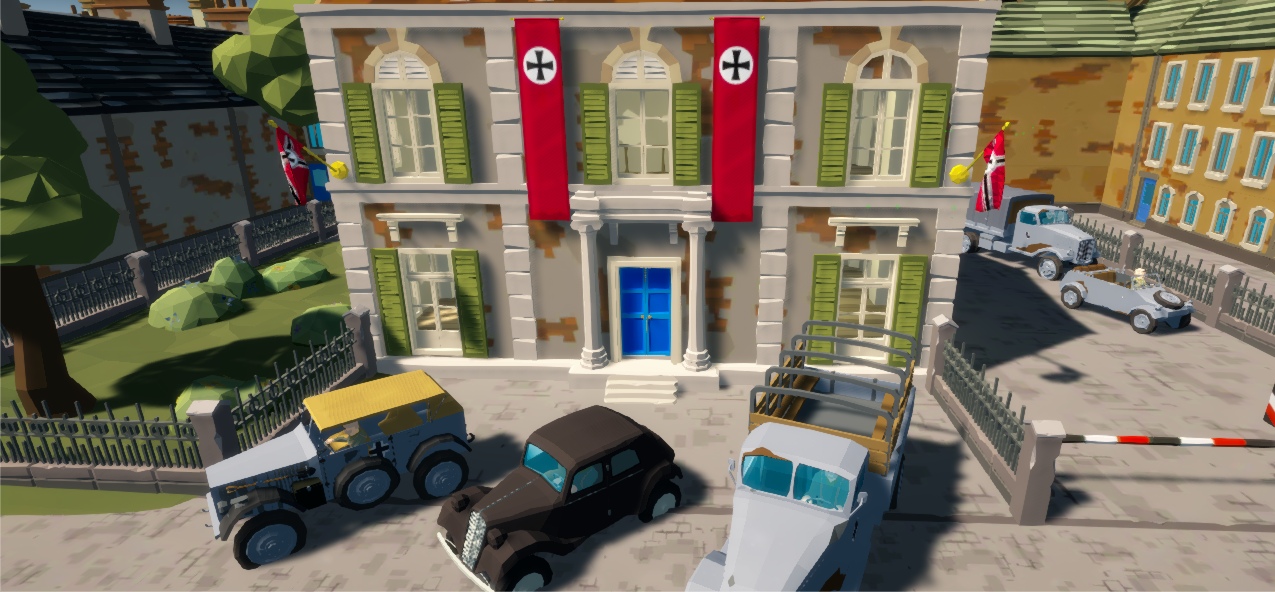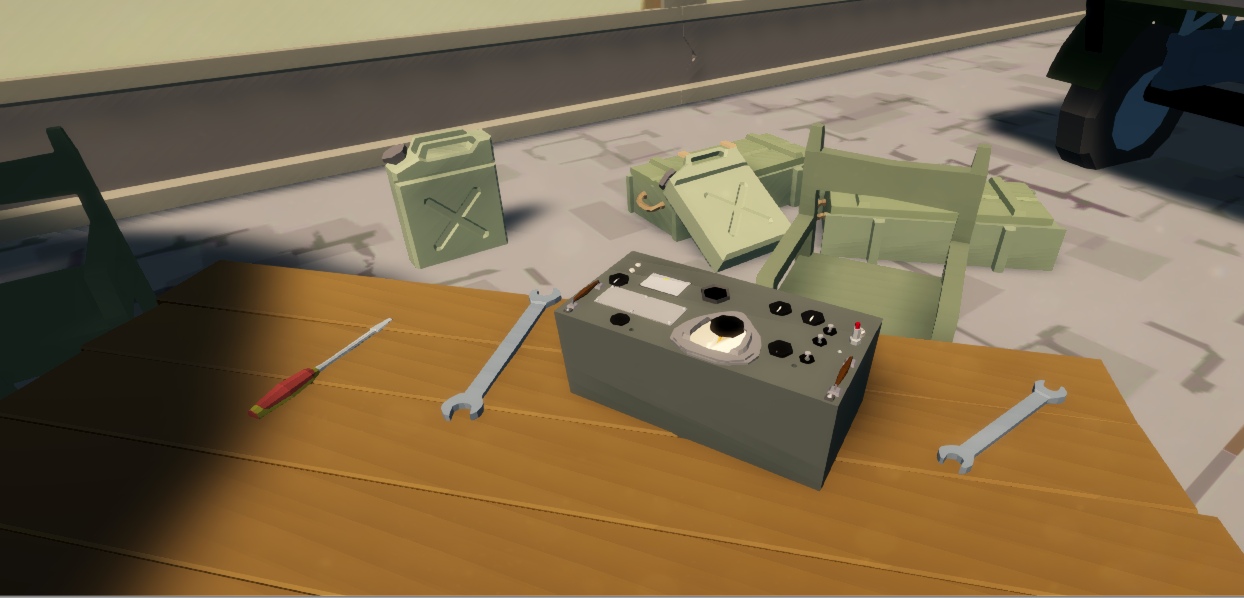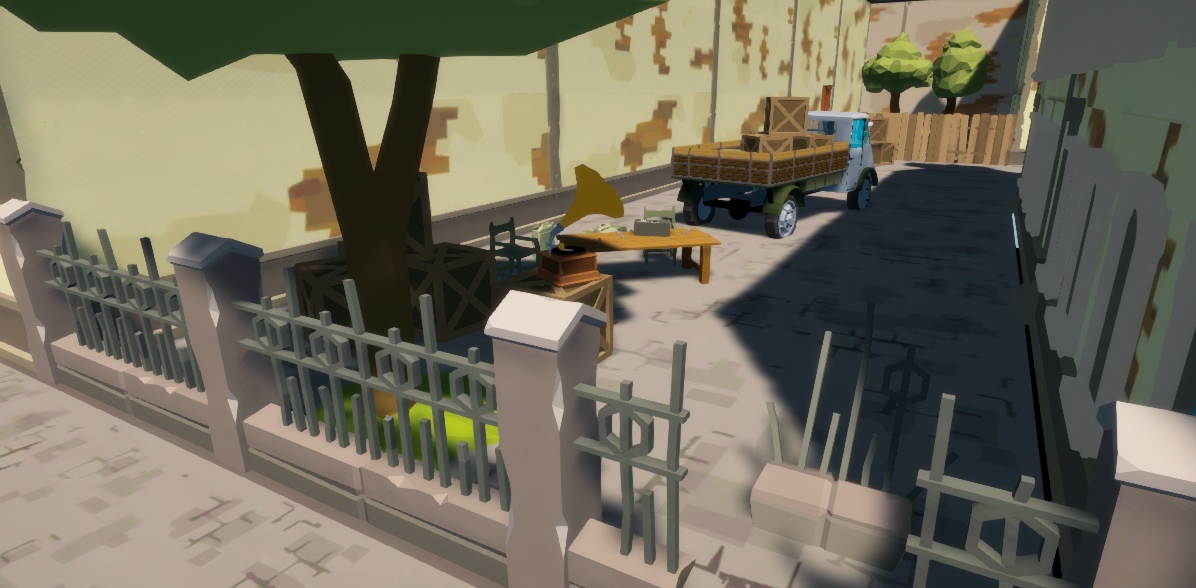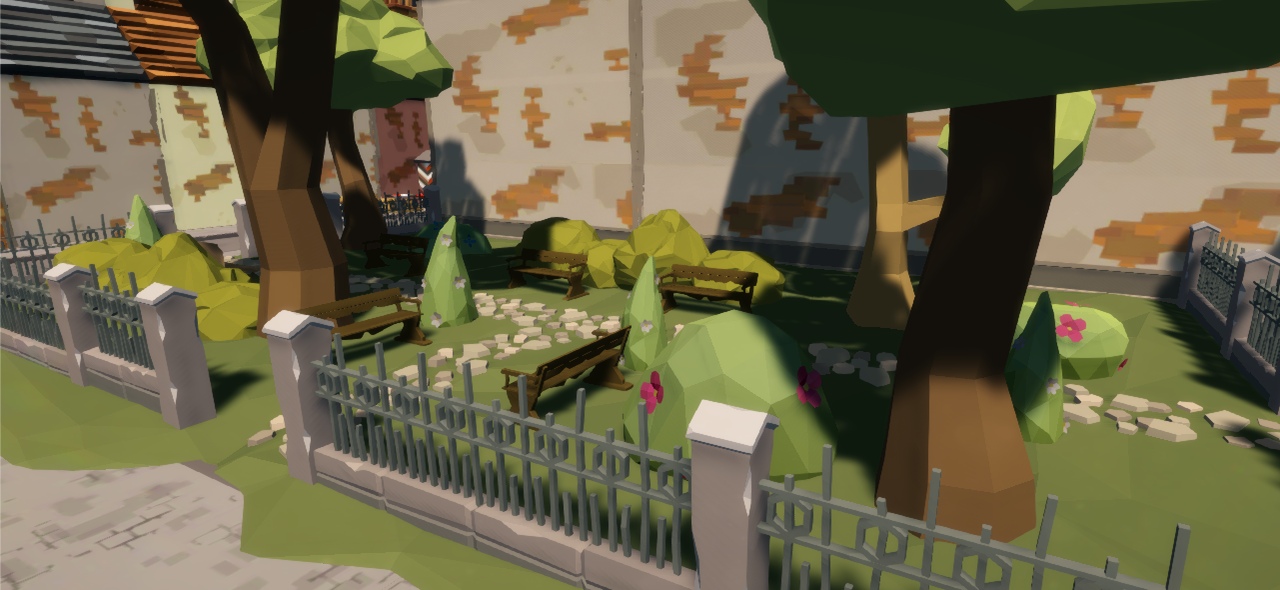 BM-13 Katyusha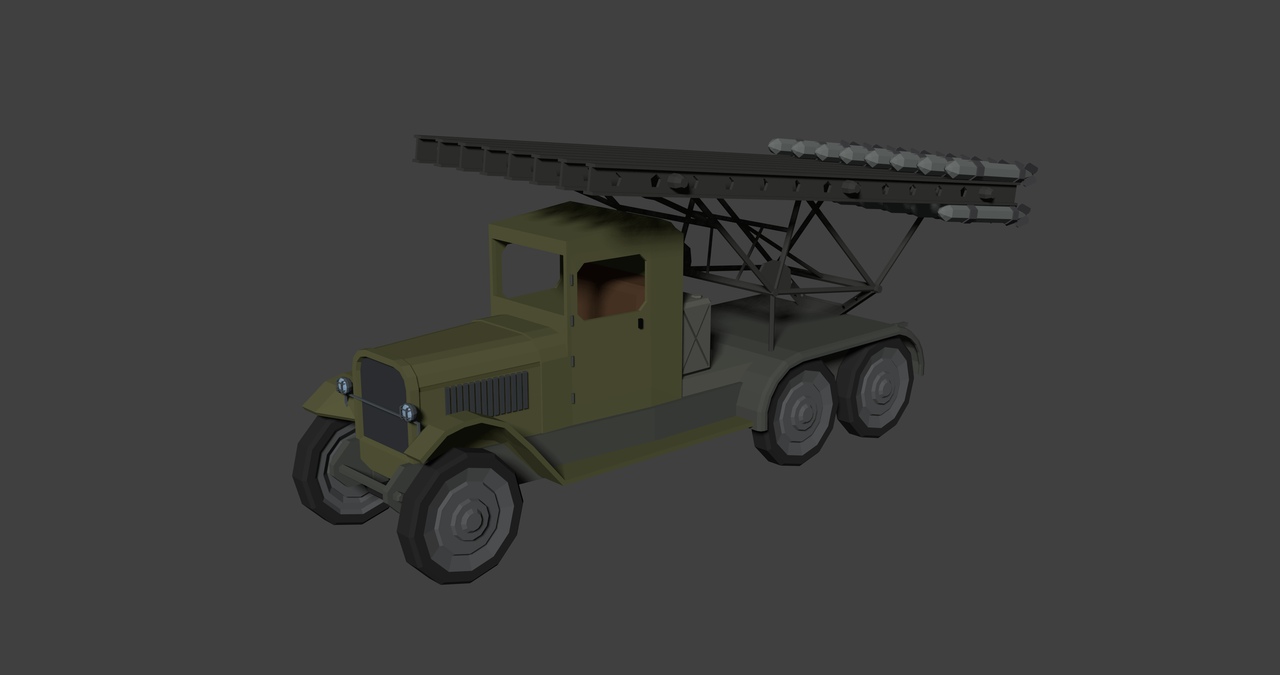 Project Version 2.25.1
- Fixed bug with spinning the backs of bots
- Added Sherman mk III tank
- Added tank M3 Light
- Added tank Pz V Panther
- Added an improved damage model for the Pz V Panther tank
- Updated particle system when hit in the technique
- Added a console with a number of commands for testing the project. The list of available commands will be below.
- Improved the appearance of the Bir-Hakeim mission
- Minor edits on the compass in the game
- Added PTR Boys
- Reworked mechanics for calculating PTR armor penetration
- Fixed bug with endless death animation
- Fixed a bug with the death of a player in the technique
-------------------------------------------------- --------------------
List of console commands
help - view all available commands with their description
pineapplemode - immortality mode
giveammo - get a set of ammunition
resetsaves - delete all saves
giveitem id - give an item by id
kill - kill a player
respawn - resurrect the player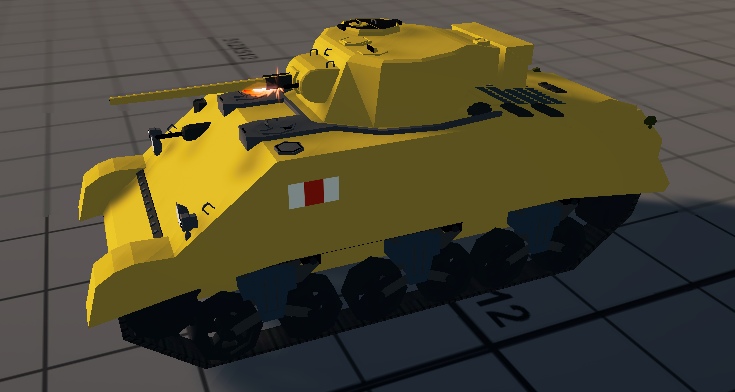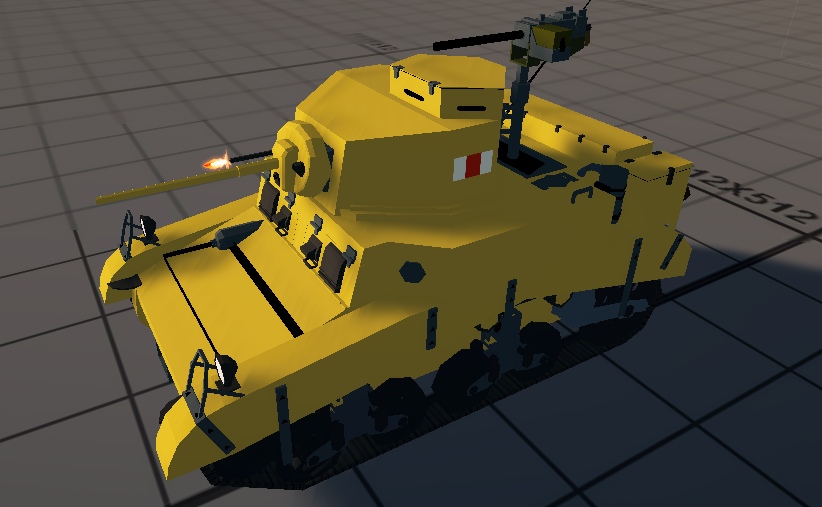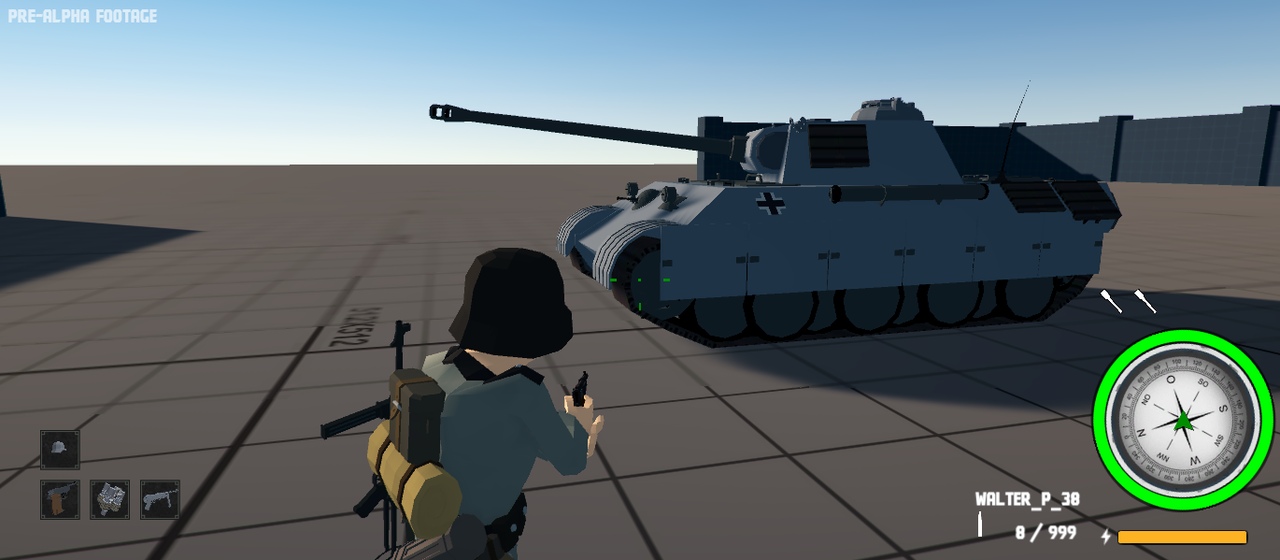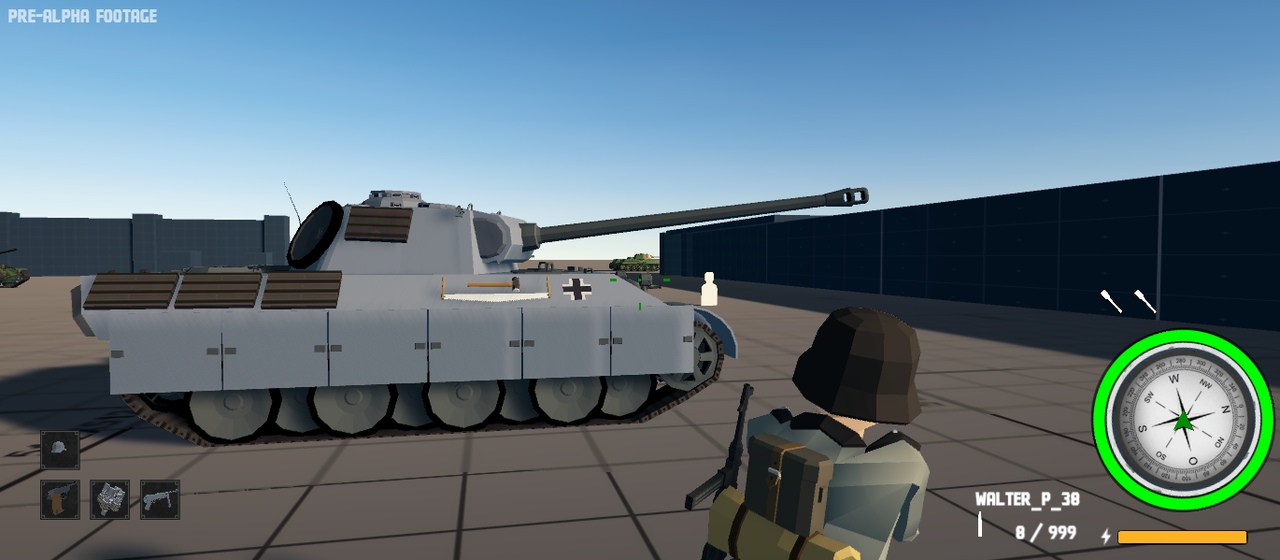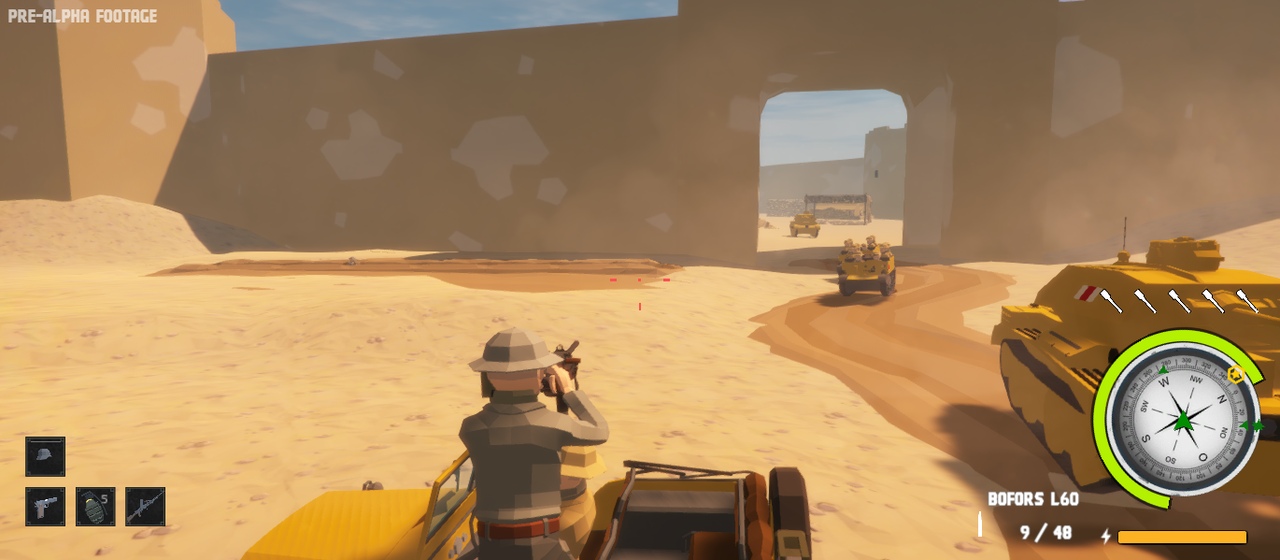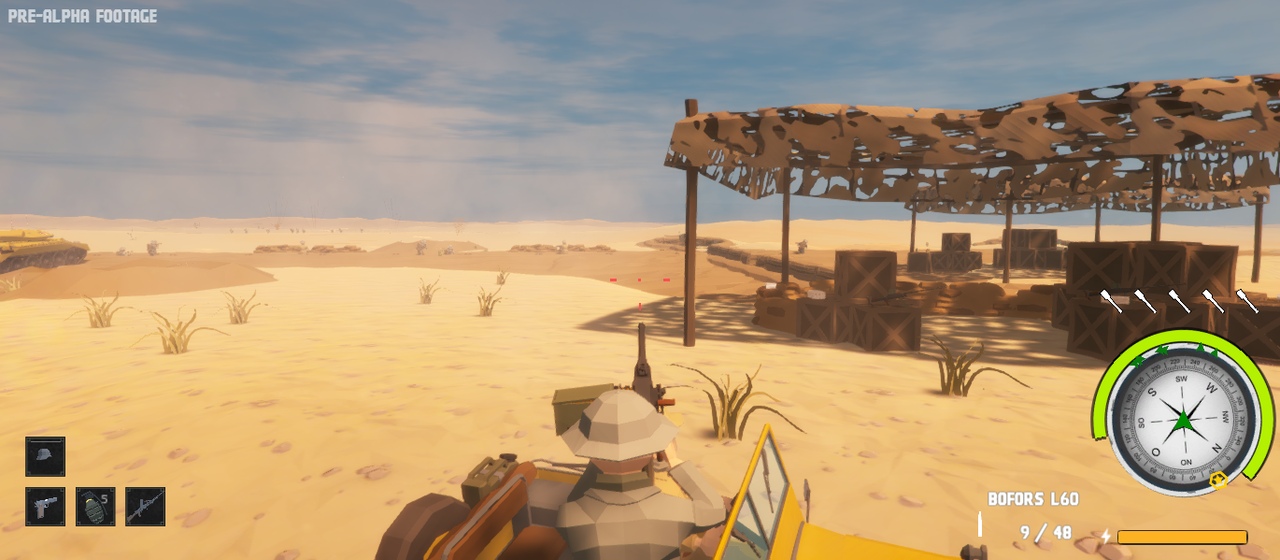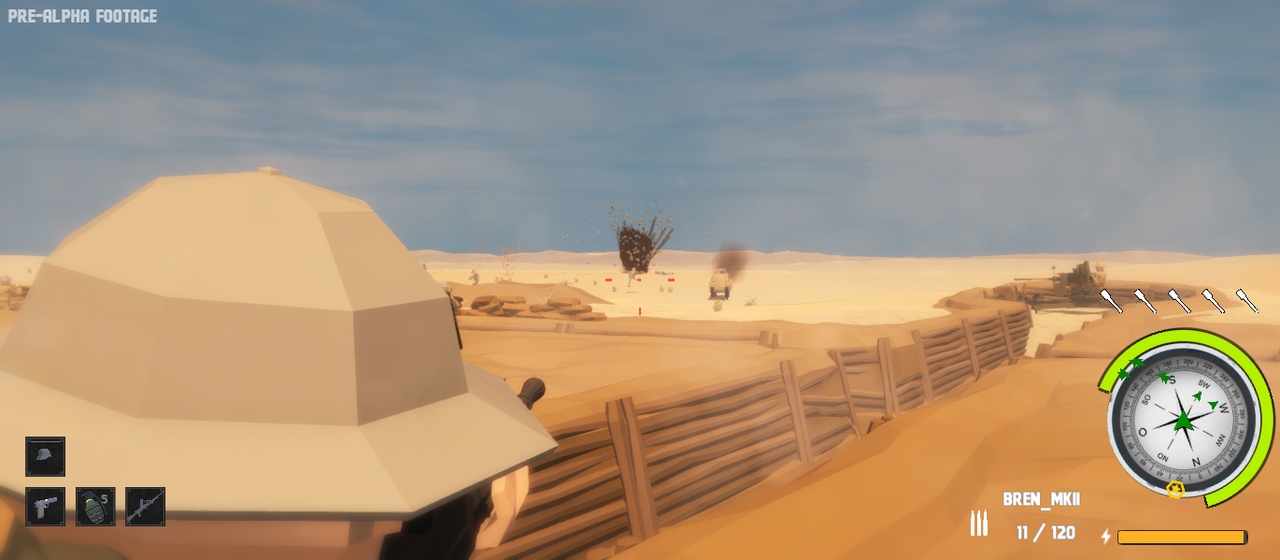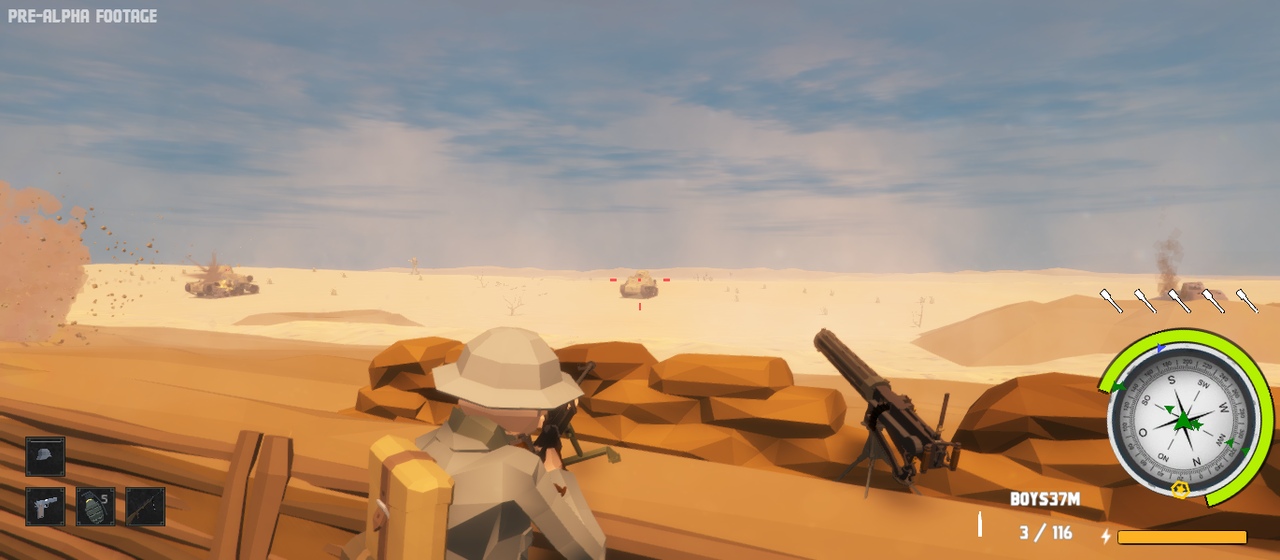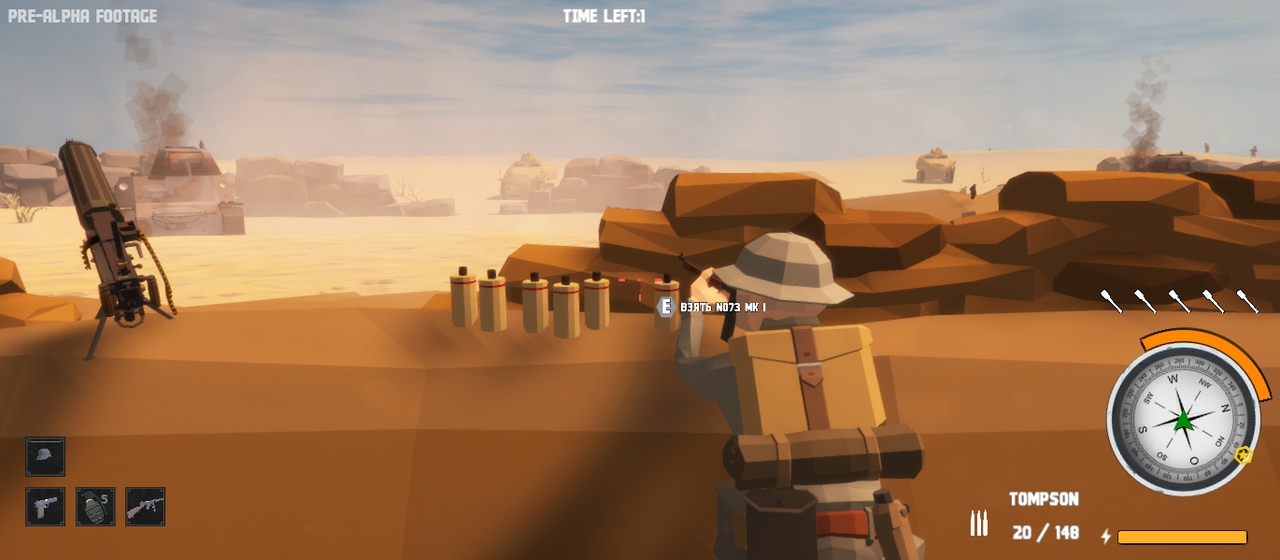 Boys Anti-Tank Rifle PIAT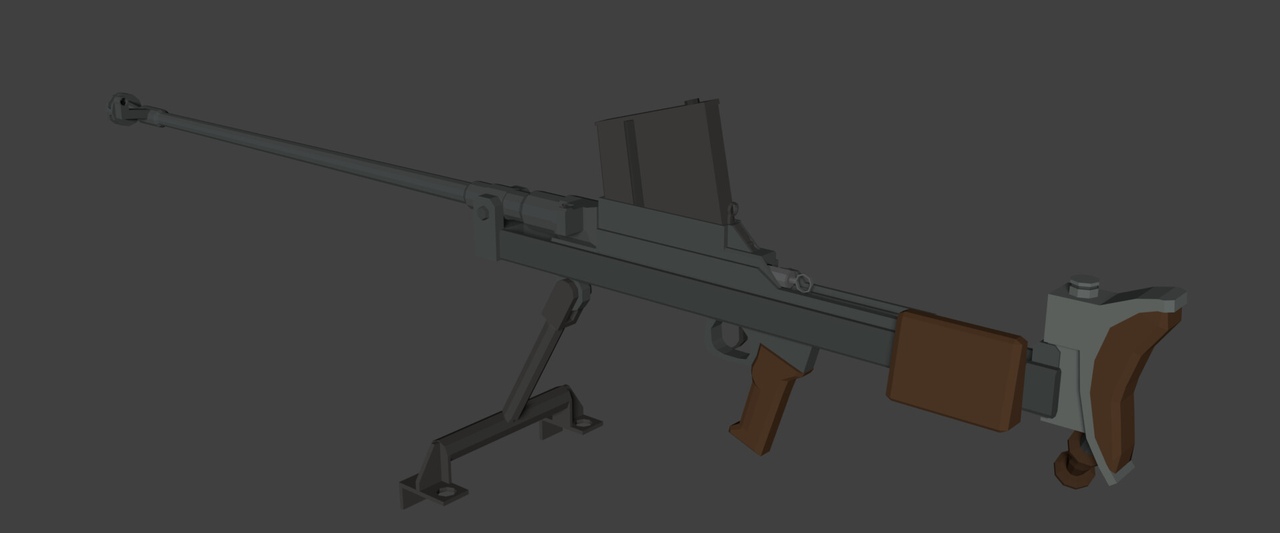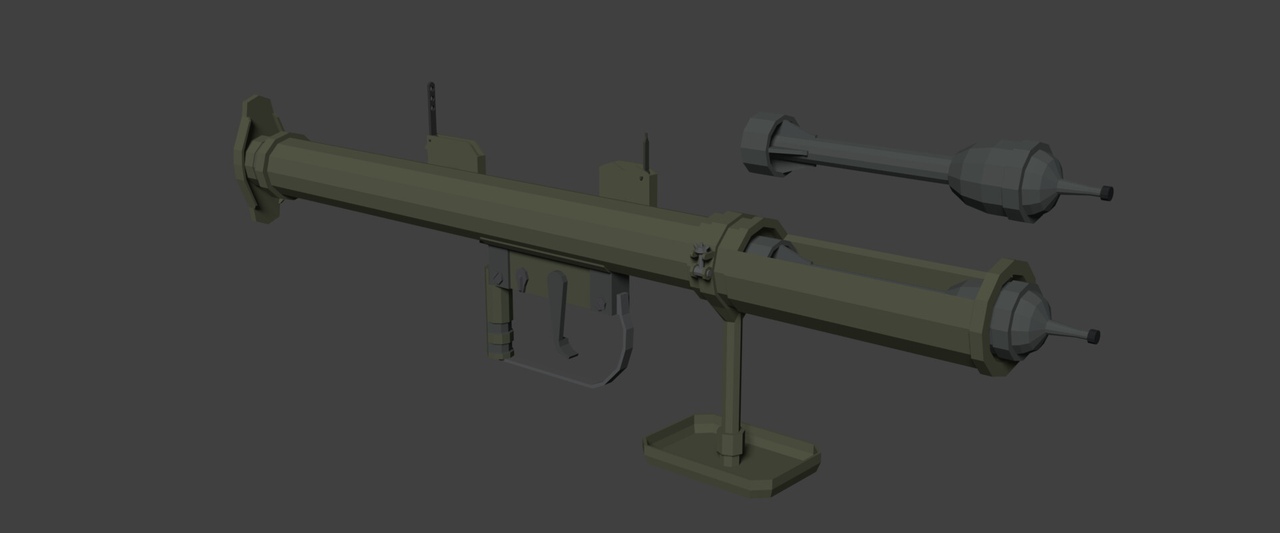 Project Version 2.24.2
- The color scheme has been changed on the Bir-Hakeim map
- The color scheme has been changed on the map "Poland"
- The "left flank" section on the Bir-Hakeim map has been finalized
- Added "right flank" section on the Bir-Hakeim map
- Fixed a problem with the sound of technology in the game menu
- Improved the background of the game menu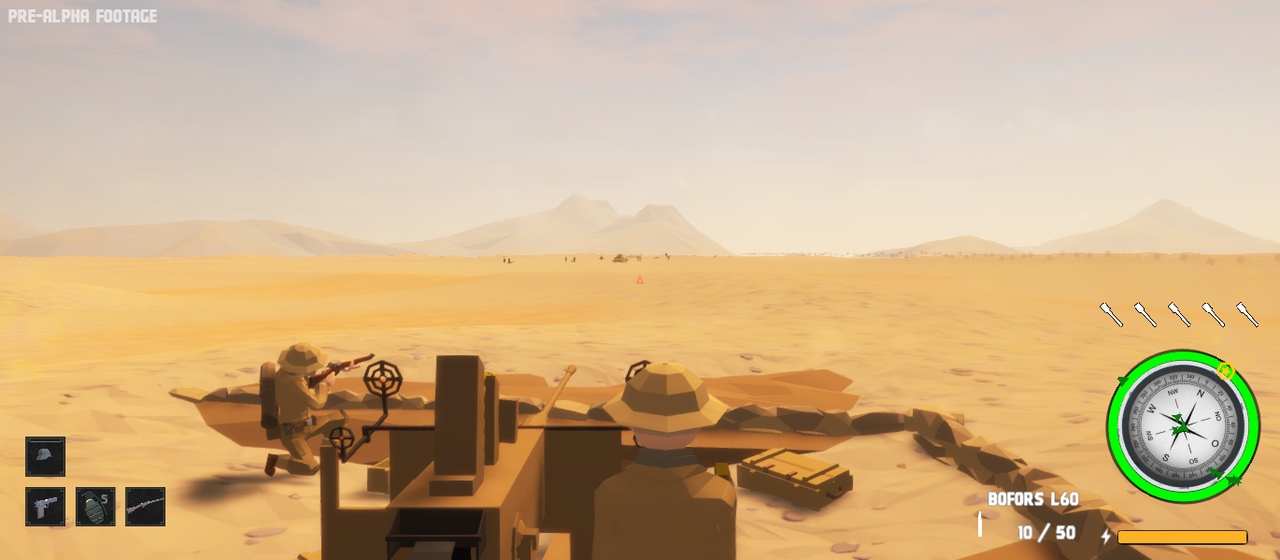 Project Version 2.24.1
- Fixed a problem with the camera when restarting a mission at a control point.
- Improved Bir-Hakeim mission
- Open access to developments on the Bir-Hakeim mission
- Slightly modified AI
- Redesigned Universal Carrier broenwick (added Bren machine gun)
- Added Vickers machine gun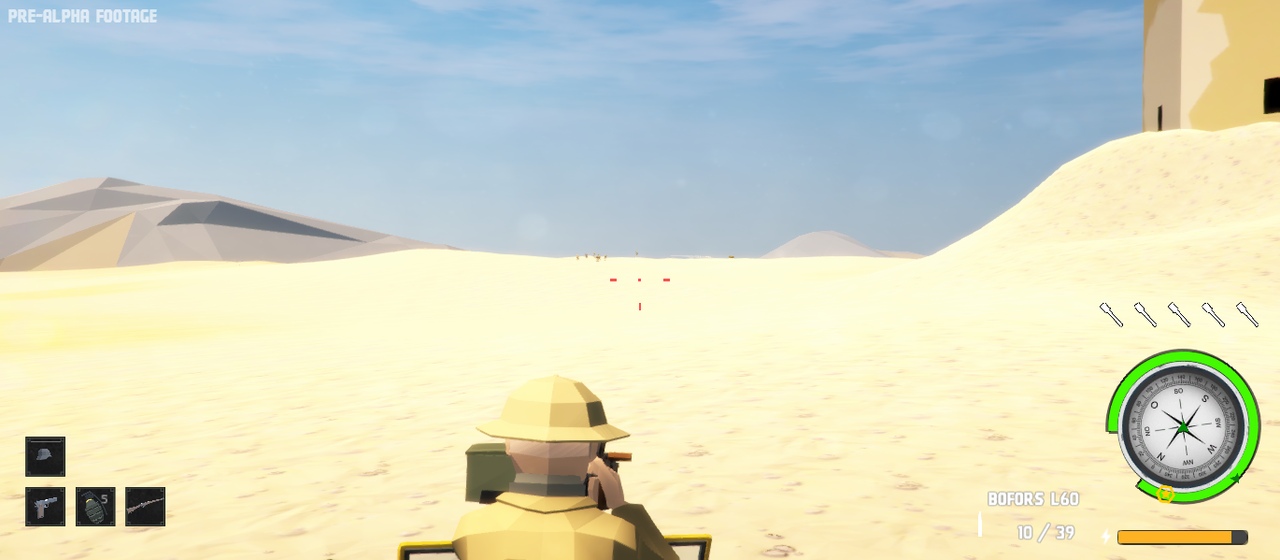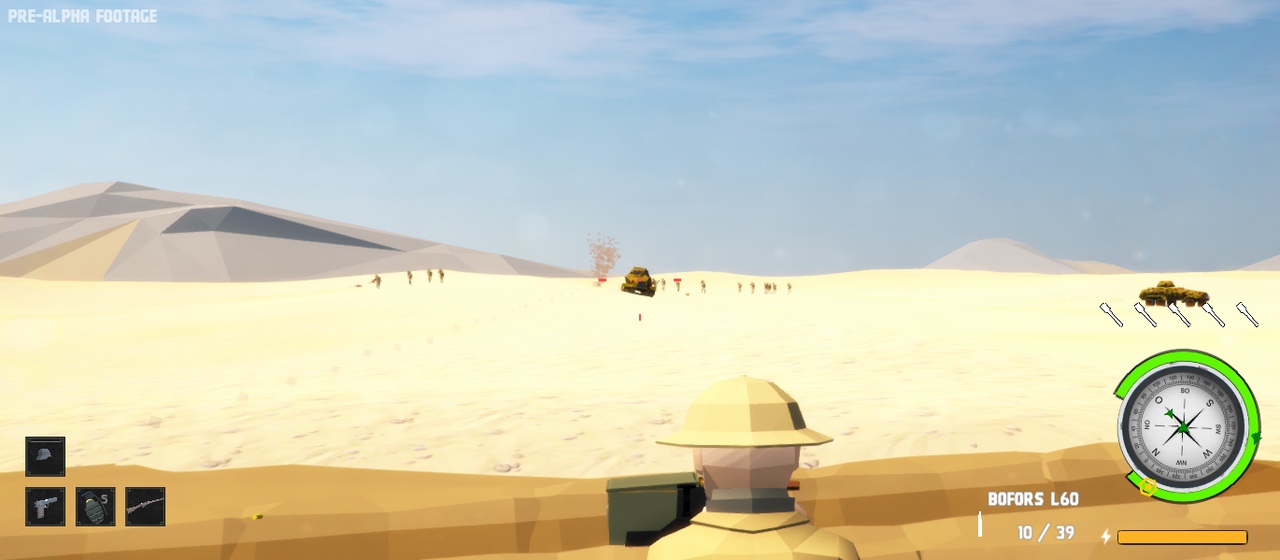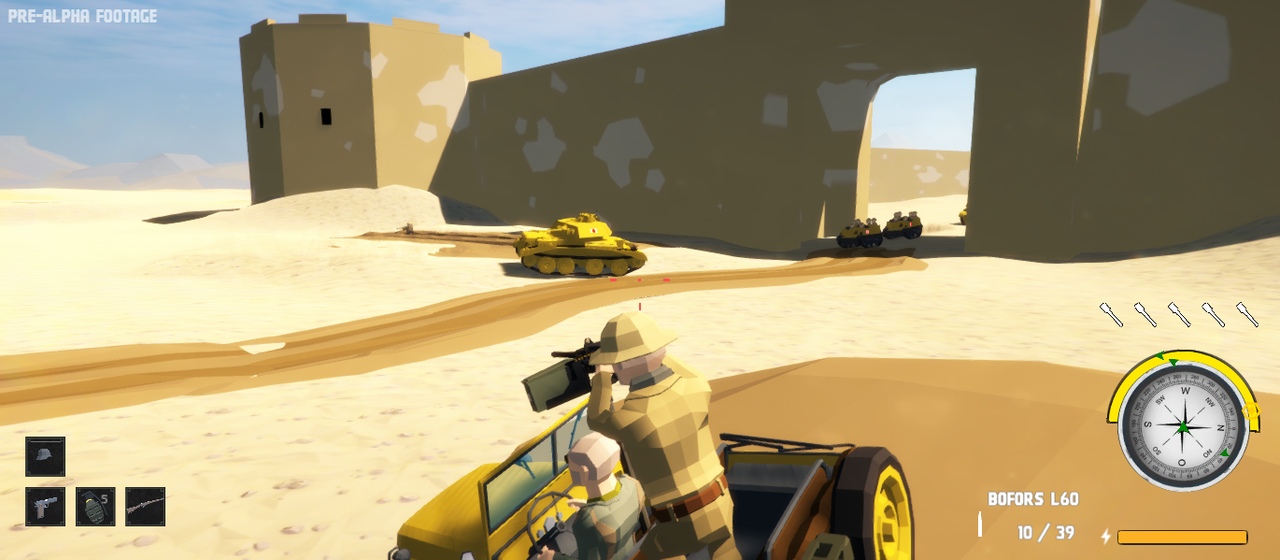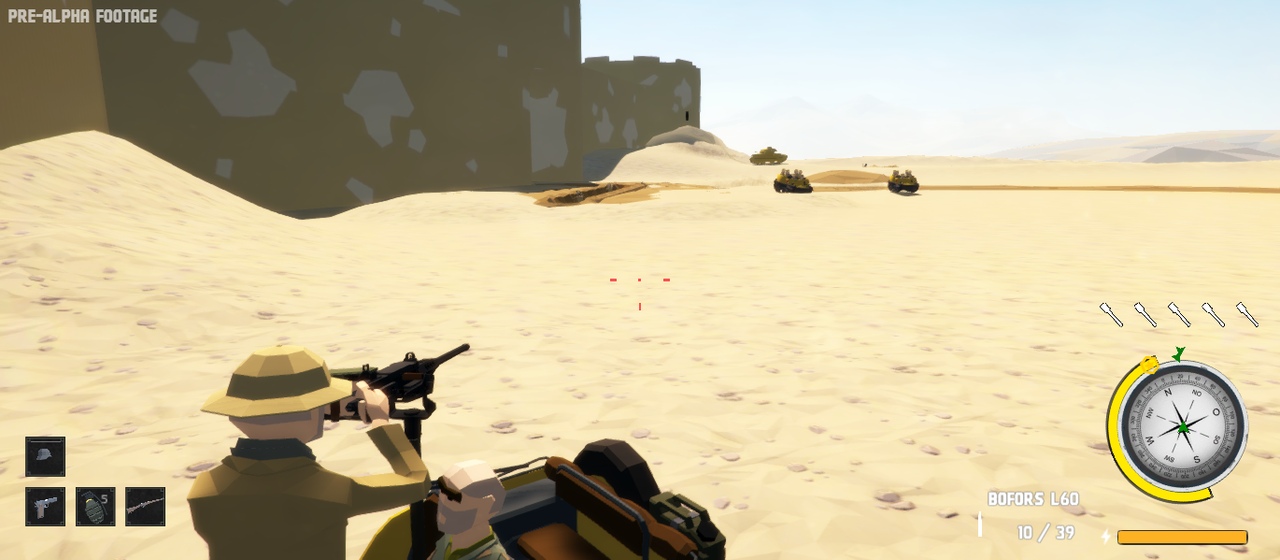 Vickers Machine Gun Panzer V Panther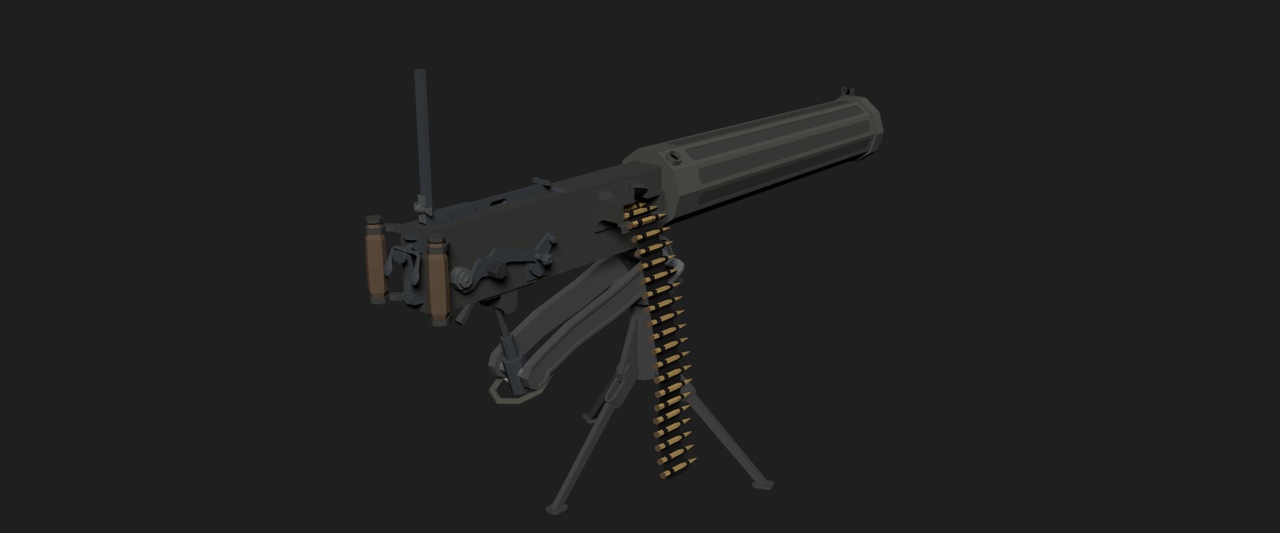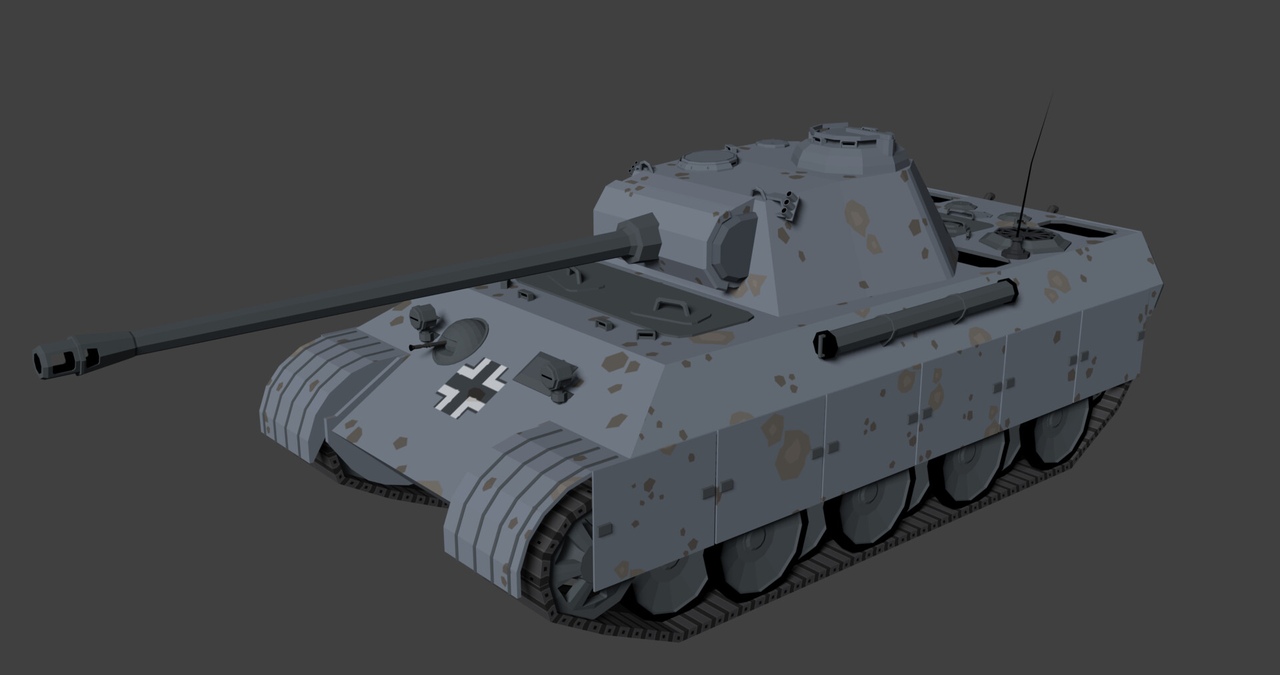 Project Version 2.23.1
- Improved checkpoint on the map "Poland"
- Fixed a bug with the camera at the start of the mission "Poland"
- The task on the map "Poland" has been changed - instead of repelling an attack from the - opposite side of the bridge, it is required to destroy artillery on the other side.
- Redesigned some areas of the map "Poland"
- Began work on the Bir-Hakeim map
- Started work on the voice acting of the game
- Improved settings in the main menu
- Added tank IS-2
- Added T-26 tank
- Added tank Pz 38 (t)
- Added tank Pz 35 (t)
- Added Cruiser Tank A13 Mk II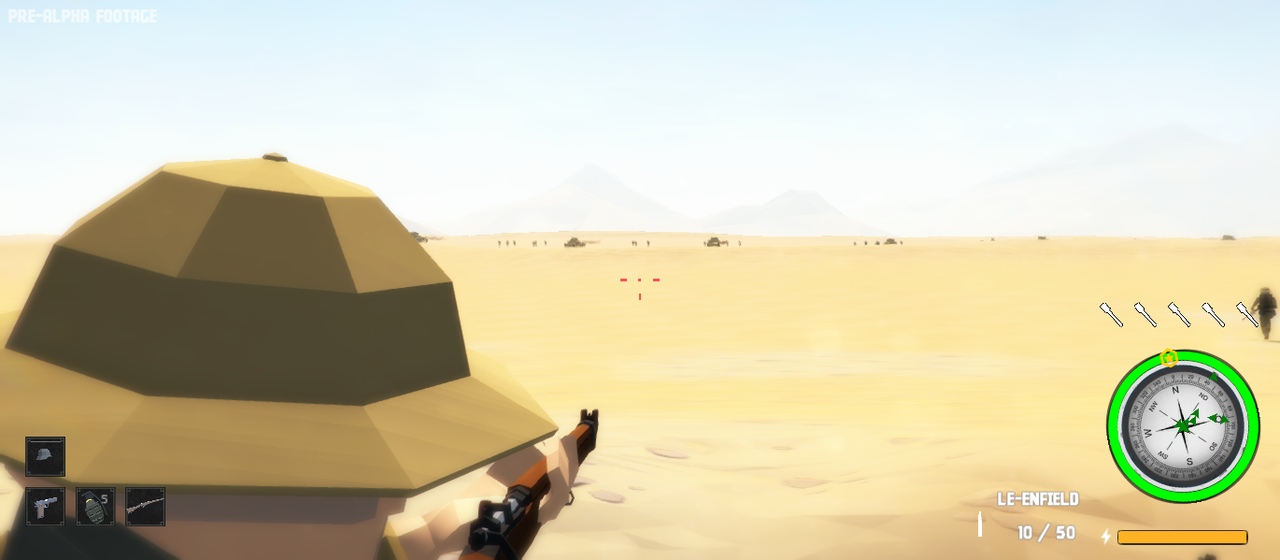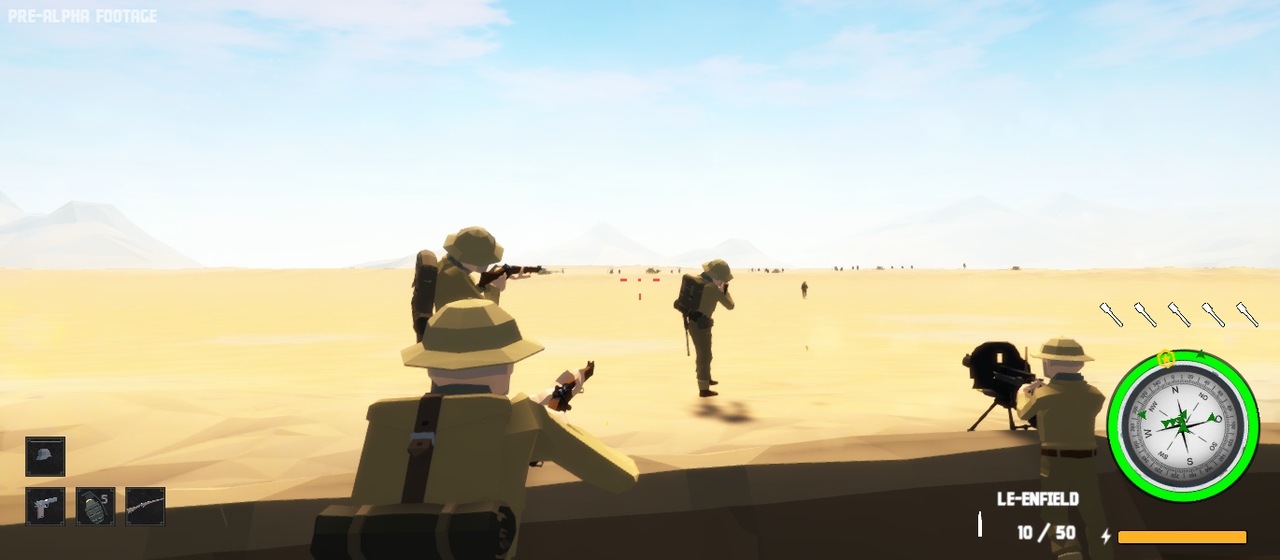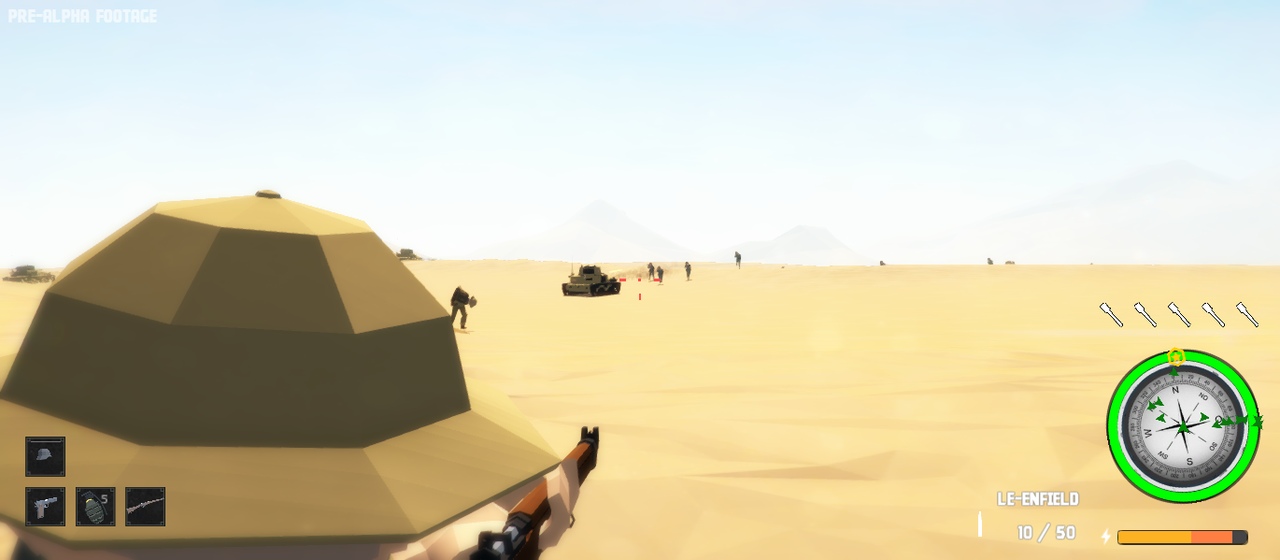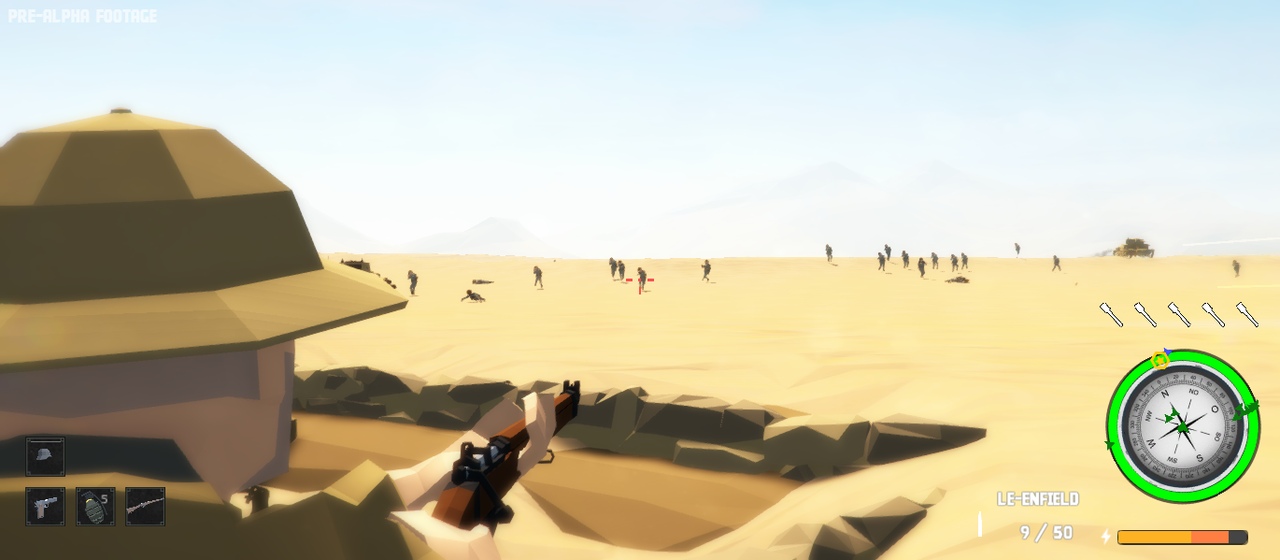 Project Version 2.20.3
In test mode, a save system (control points from which you can continue the mission) has been added to the Poland map.
Improved mission "Poland", now it can be fully completed.
The collision of the bushes has been changed, now the bushes are tangible and cannot be passed, however they are completely shot through
Some bugs fixed.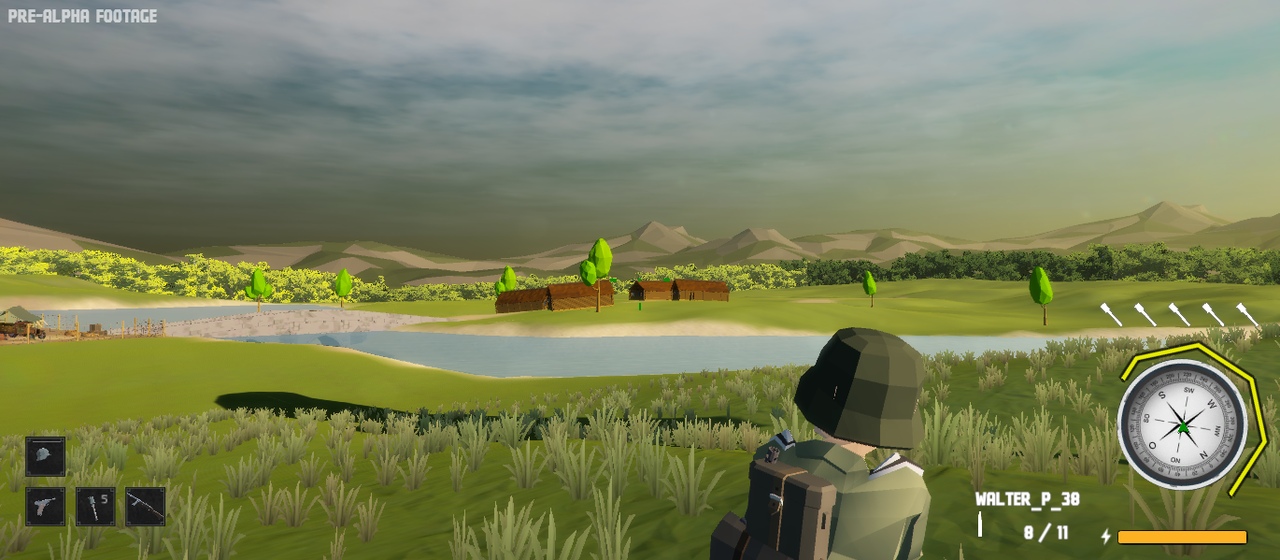 A13 Cruiser Mk II Tank IS-2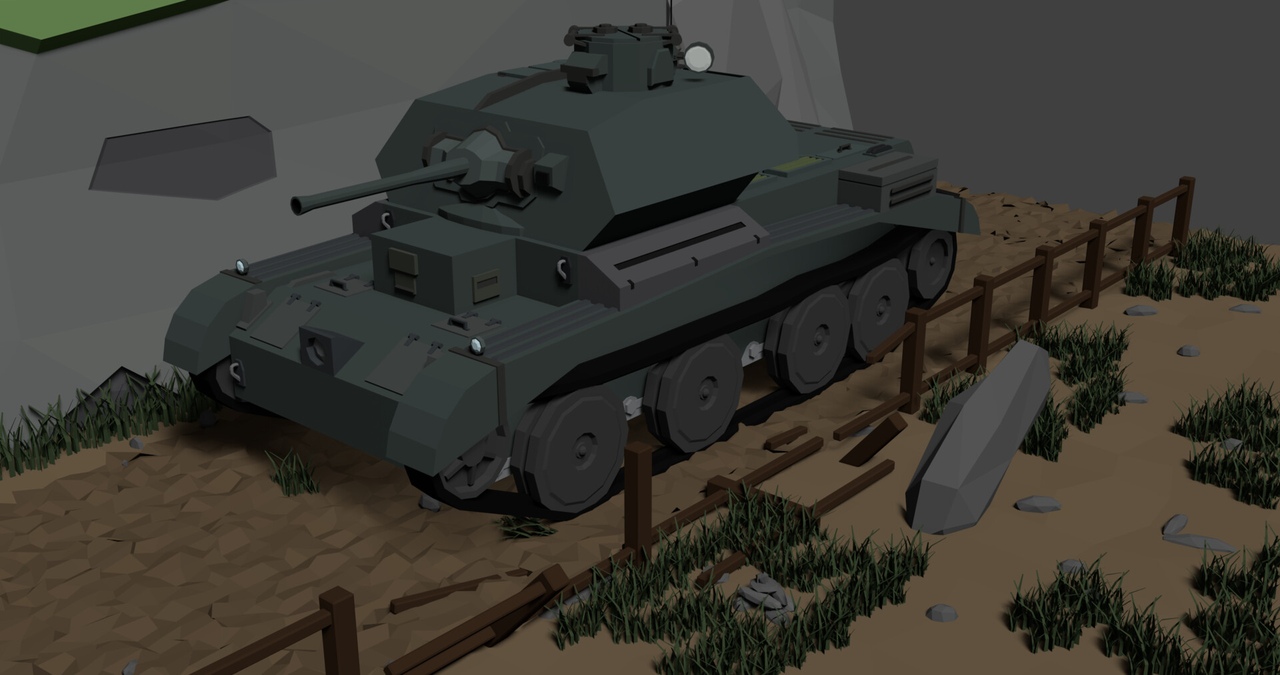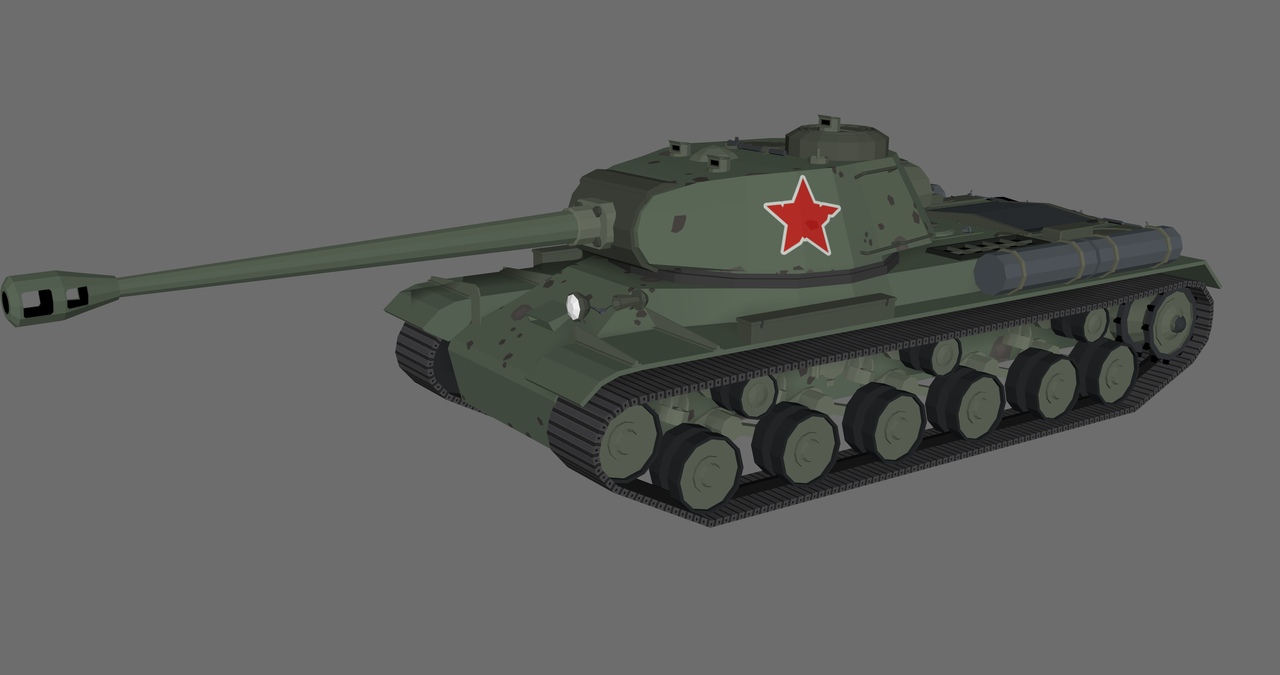 Project Version 2.15.1
List of changes:
- added Soviet hand grenade RGD-33
- added anti-tank bunch of grenades RGD-33
- changed the mechanics of calculating damage caused by grenades
- added pistol cartridges item
- added item ammo for machine gun pistol
- item added machine-gun cartridges
- item added heavy cartridges (for PTR)
- Fixed a bug with the lack of damage from anti-tank grenades on Sd. Kfz. 251
- modified bot loot
- Change mission in Poland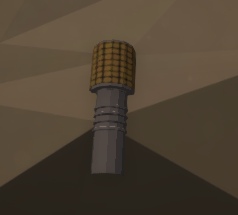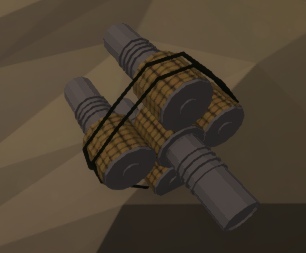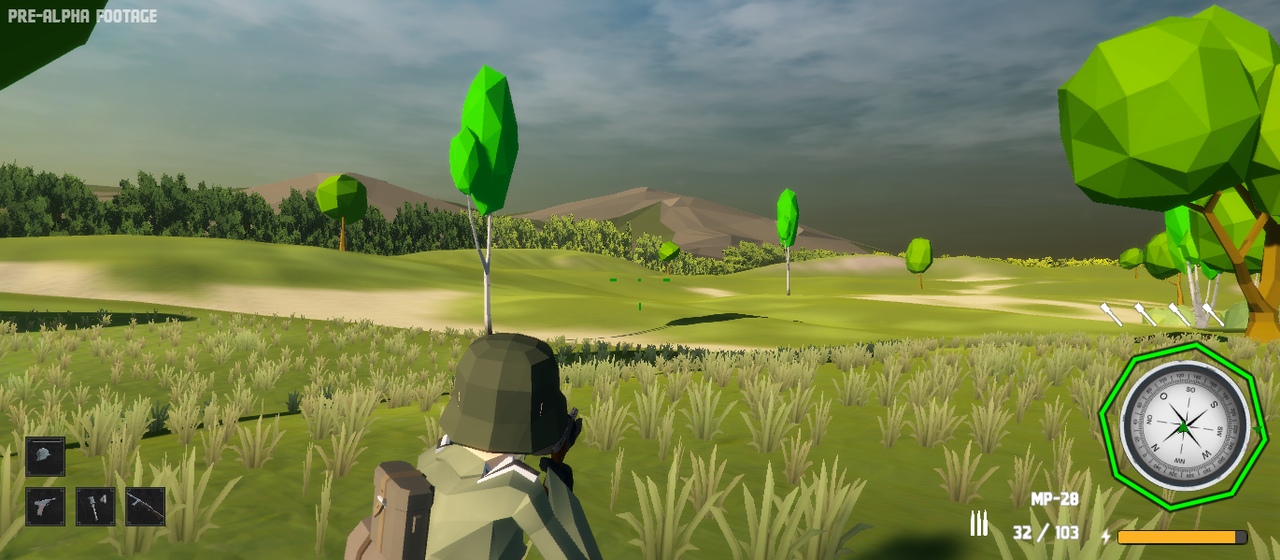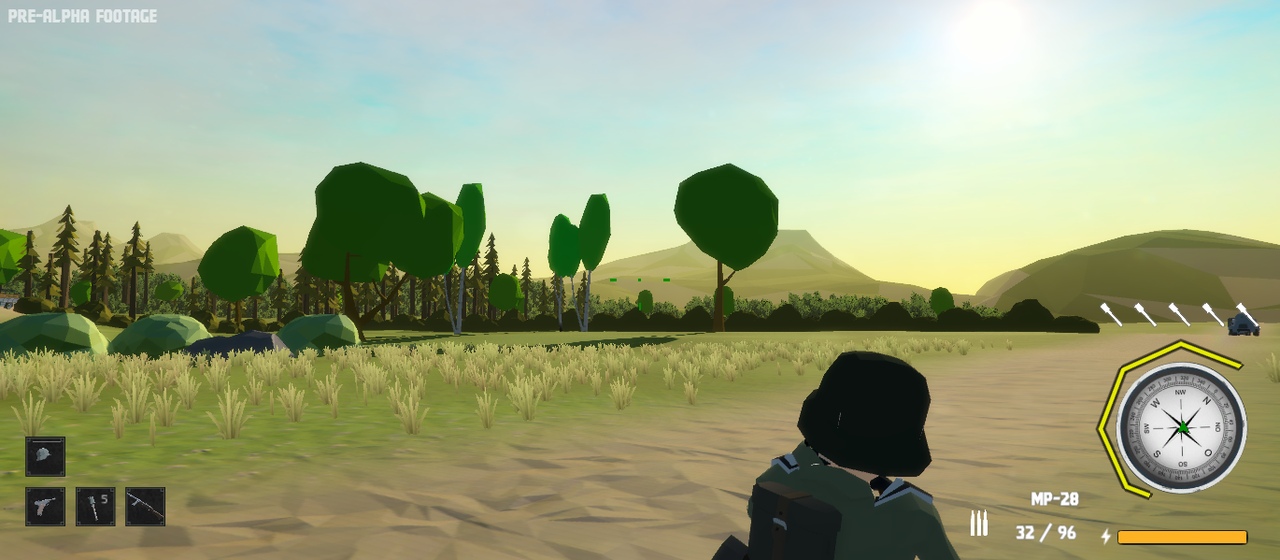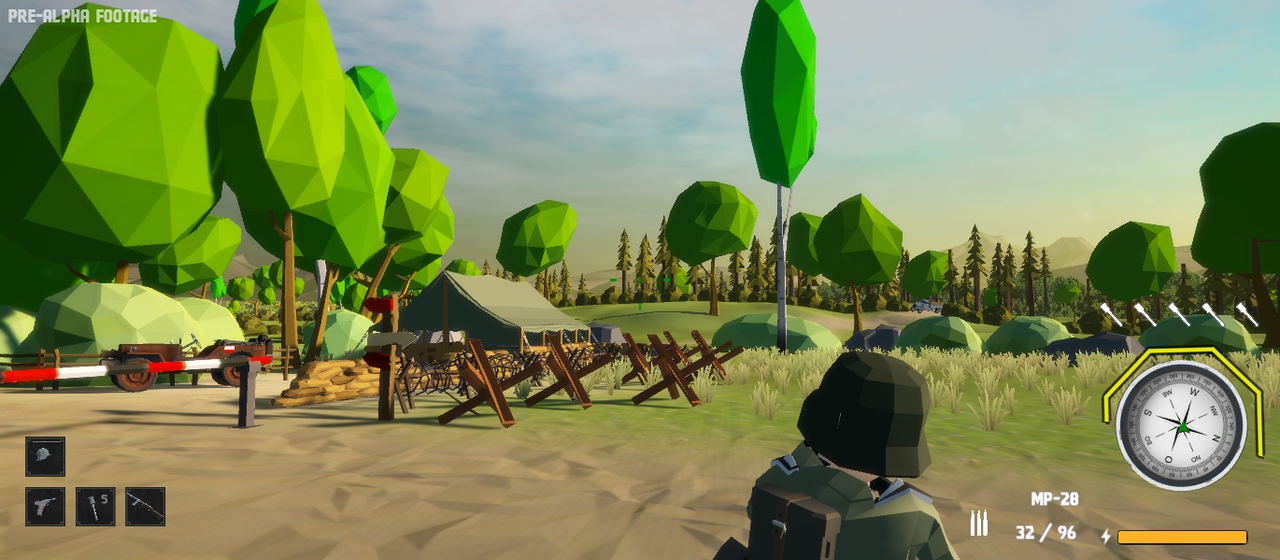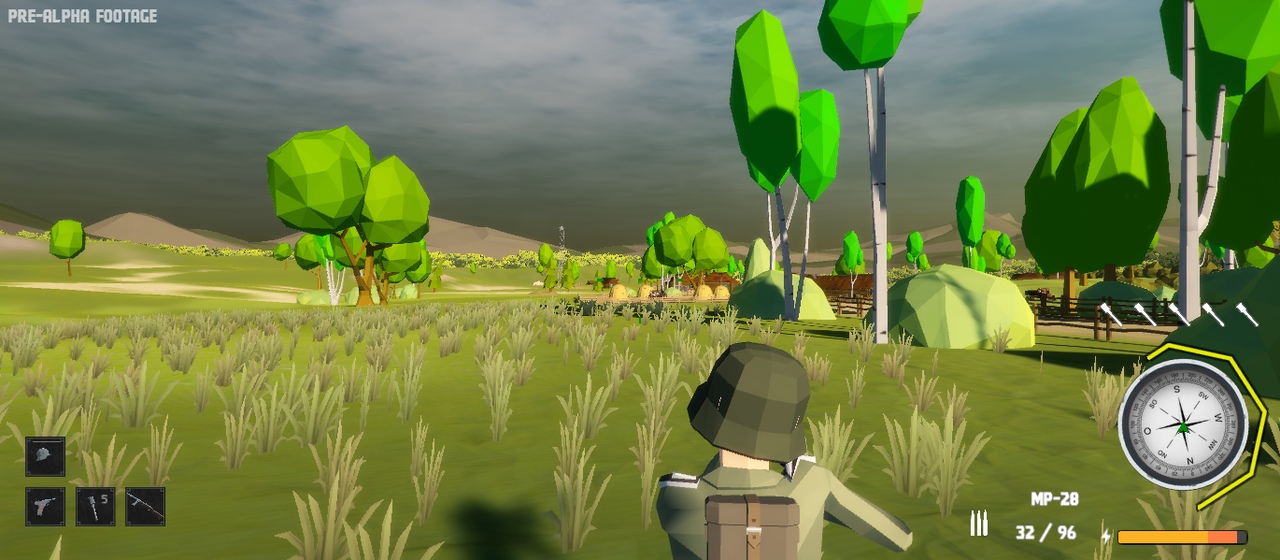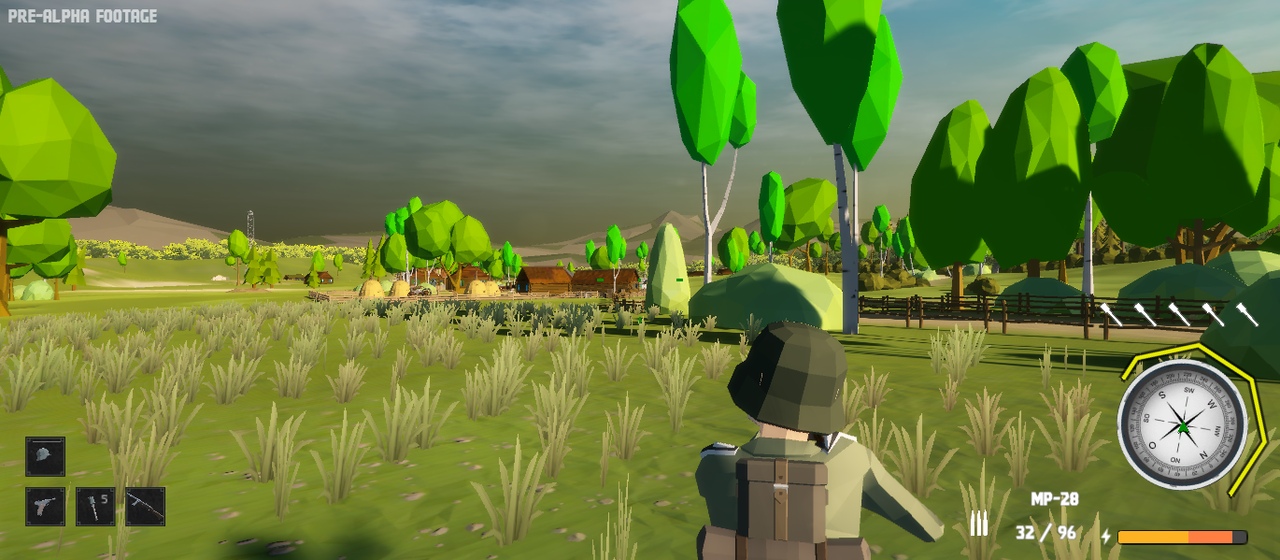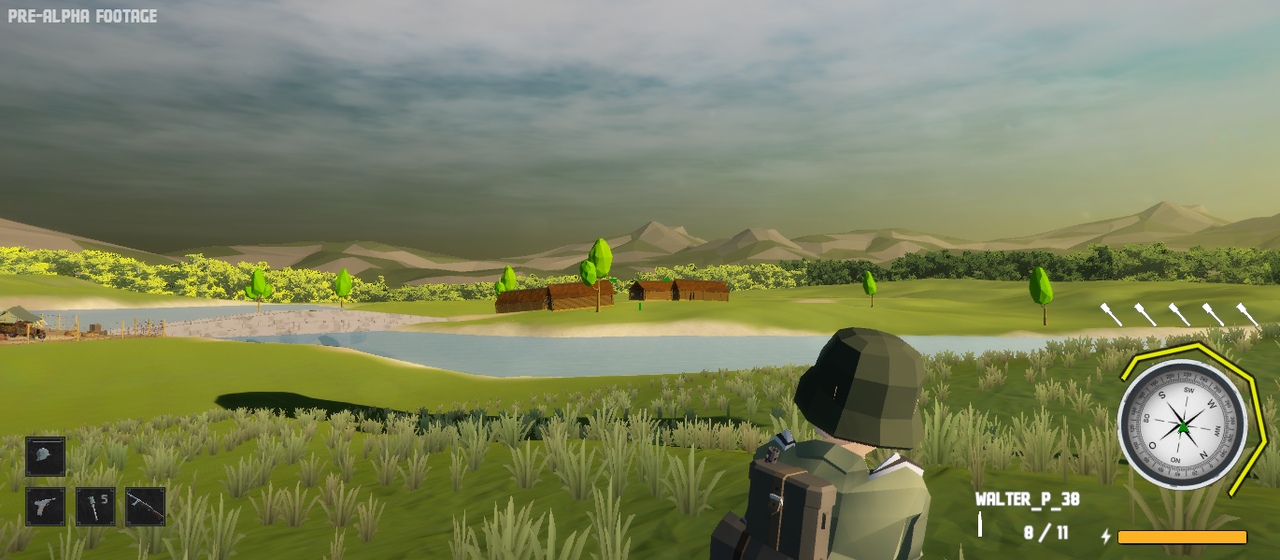 Project Version 2.12.1
At the moment, there are 3 missions in work.
Regarding missions:
- Anthropoid (updated) - a complete revision and updating of the old stealth mission. We are trying to reduce the corridor in missions and add more options for passing. Most of the map is ready. Also, the stealth system will receive a small update in the form of documents (passes), which will slightly complicate the game.
Battle of Moscow (updated) - a complete revision and updating of the old mission. The old mission was too linear, and simple. In the revised version of this mission, the player will have to repel enemy attacks on several flanks at once.
Stalingrad is a new mission, where the player will have to counterattack the enemy's positions with the support of tanks, and then hold them until reinforcements arrive.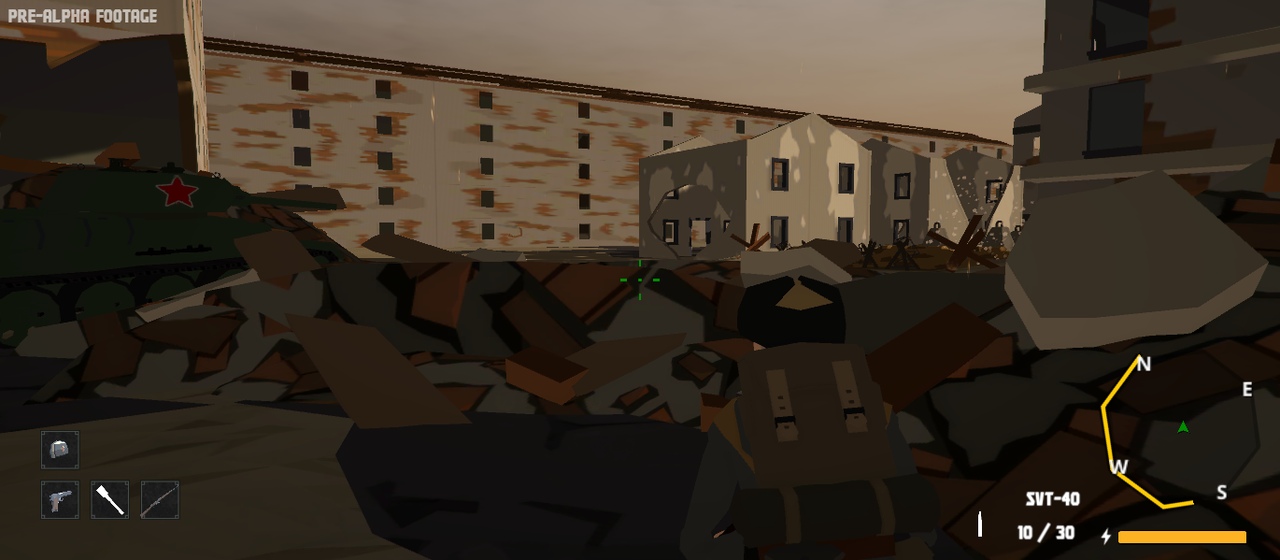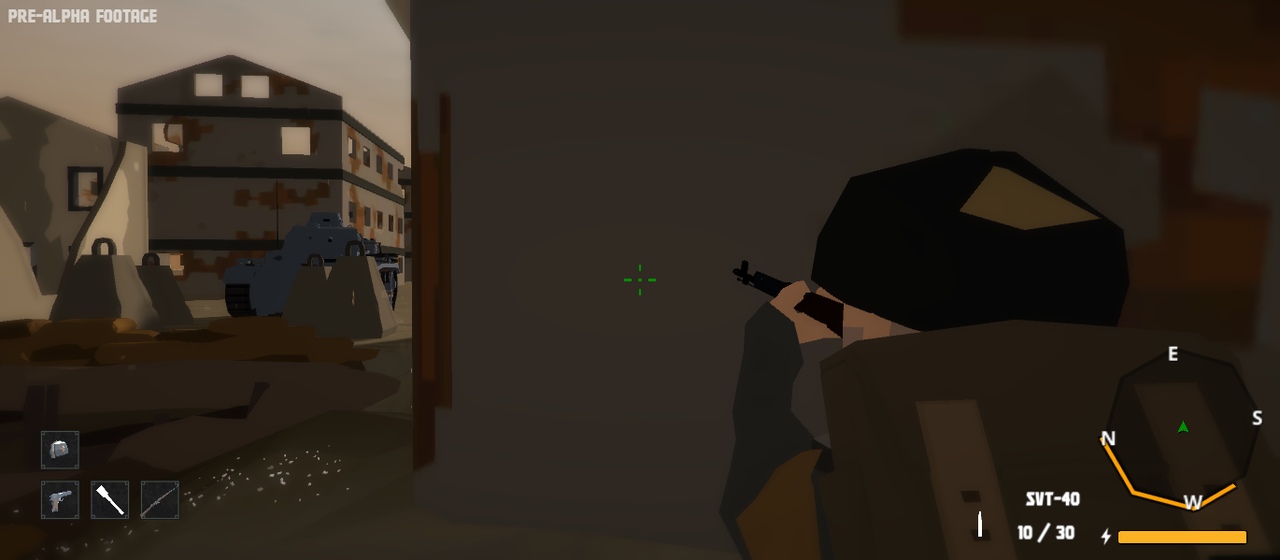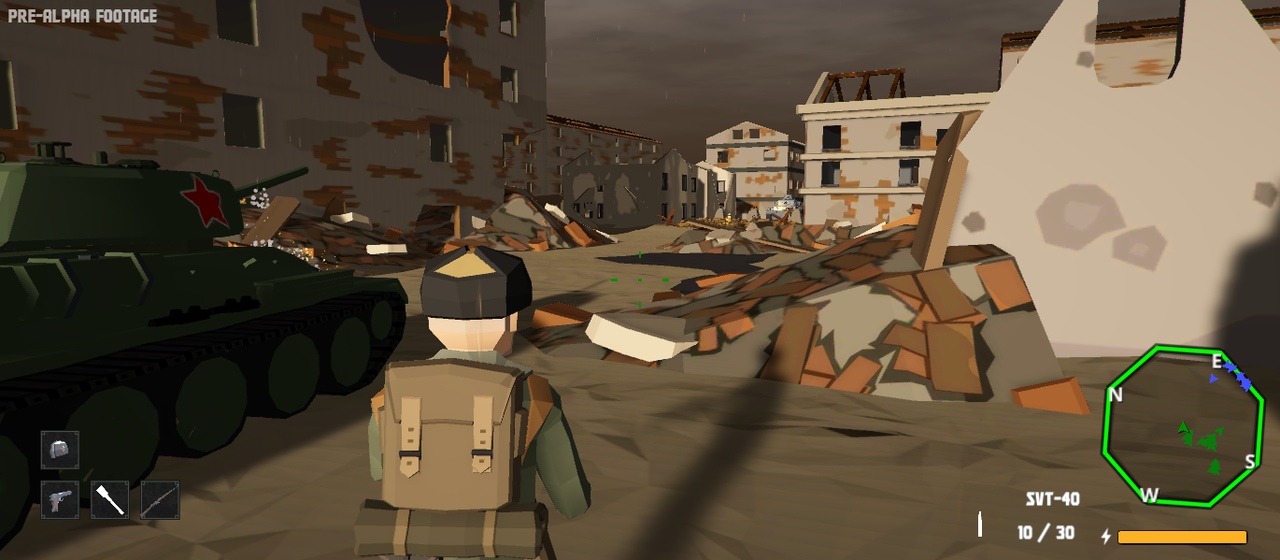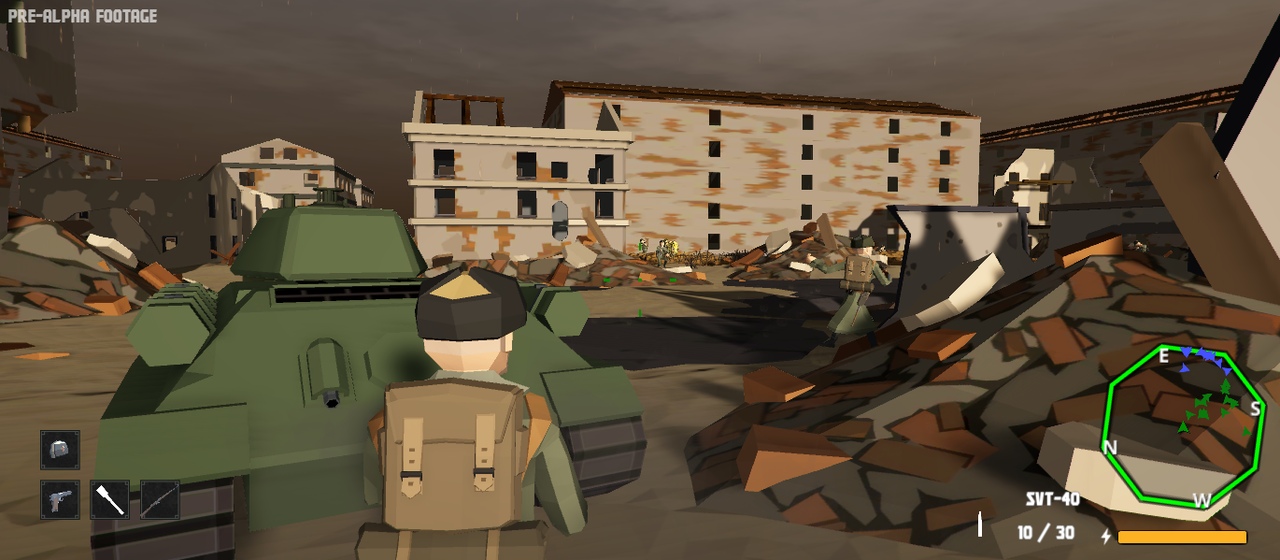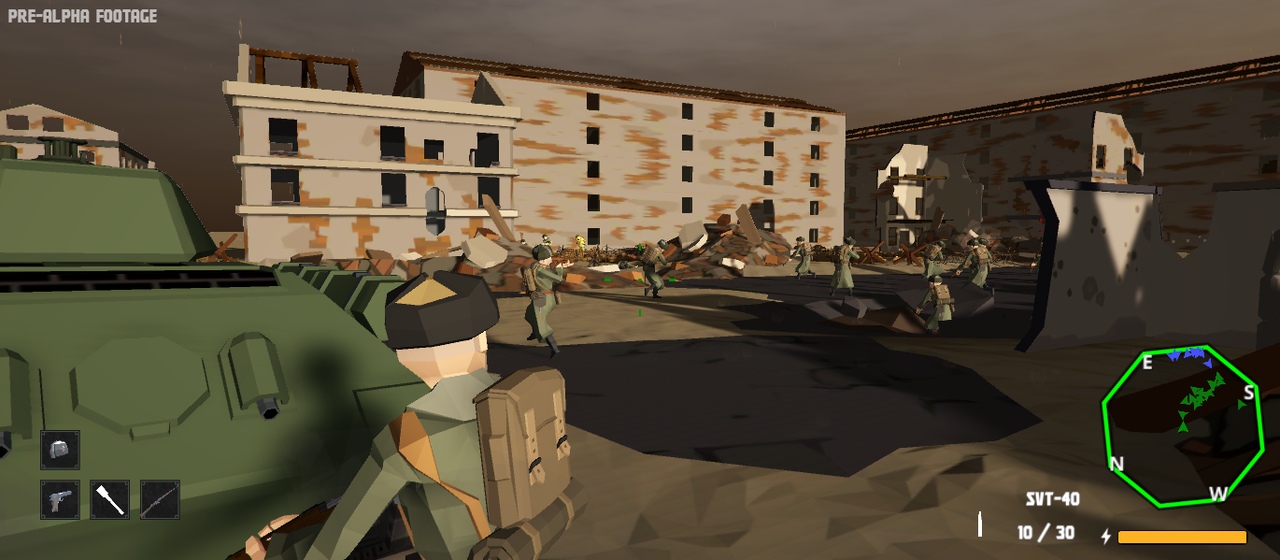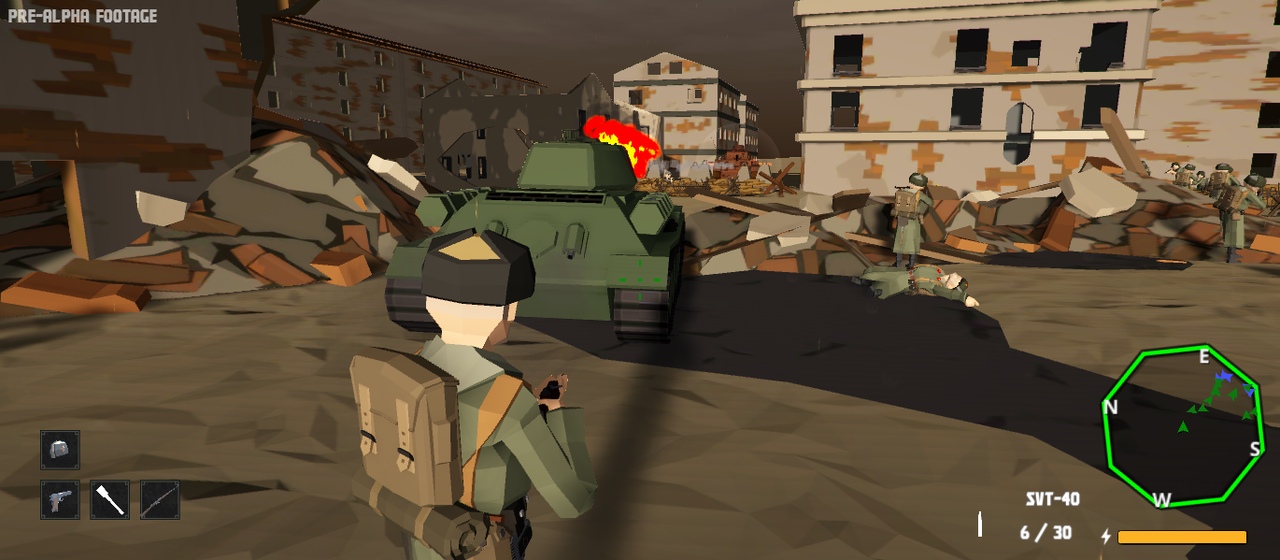 T-70 Skoda 100mm vz 14/19 Howitzer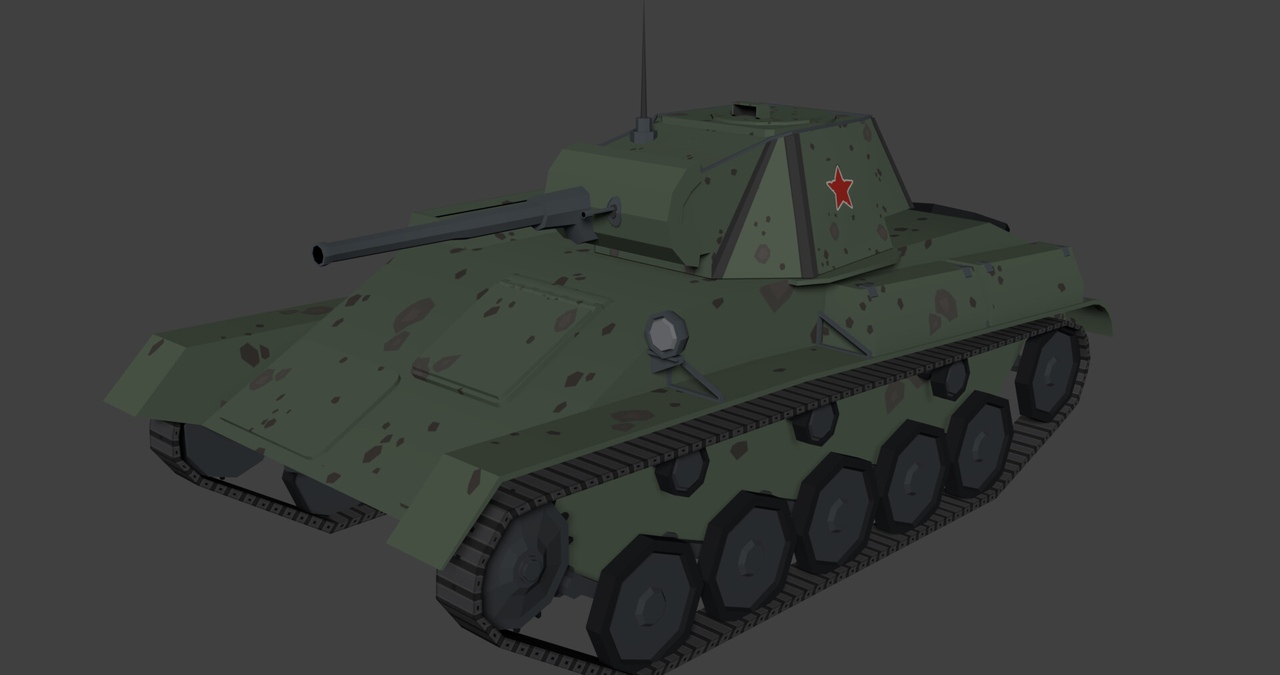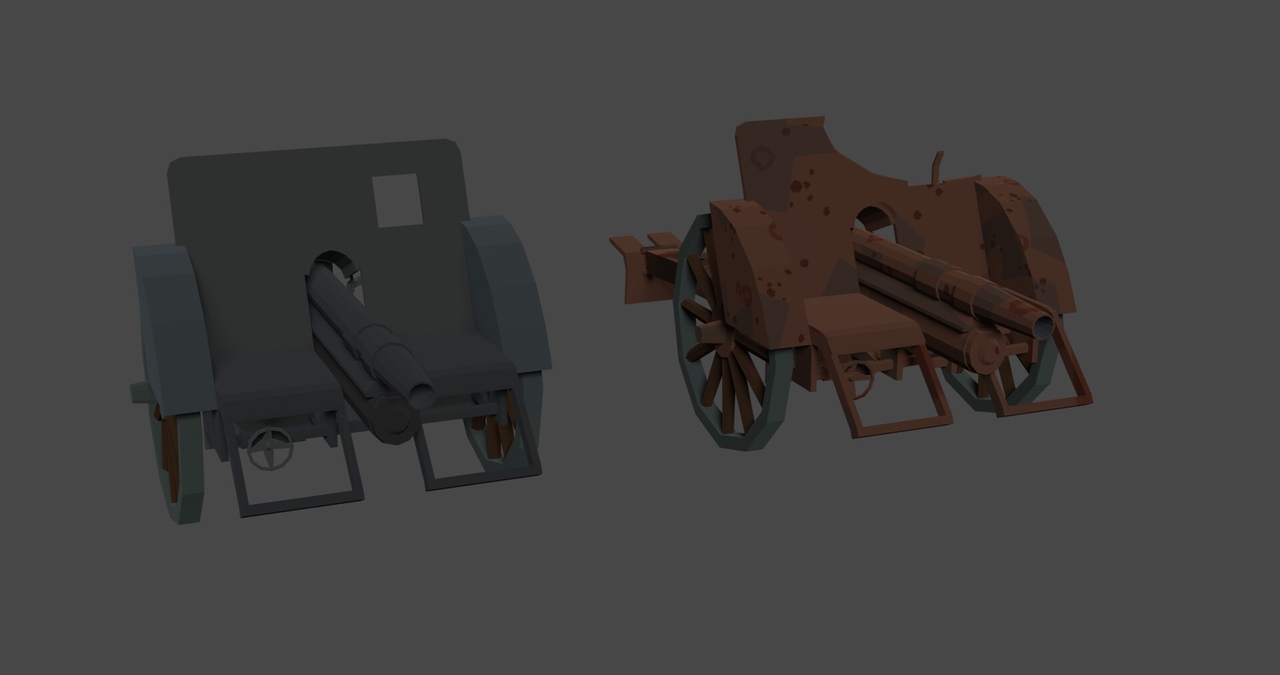 Ordeal Dev Blog #1


Project Version 2.10.1
The project has been quite serious changes, so, in order:
1) changed the logic for shooting
- an opportunity to shoot from the hip;
- firing accuracy now greatly depends on how you fire (aiming / on the hip, sitting / standing, moving / motionless);
- the accuracy of all weapons and accuracy for fire at a distance have also been reworked;
- removed the ability to switch the aiming mode, now if the weapon has optics, just click RMB and the optical sight appears;
- removed raising the camera when shooting, instead the separation effect was added;
2) added the ability to switch weapons from equipment (submachine gun) (middle mouse button)
3) added driver bots and passenger bots that can receive damage while in the vehicle
4) added a machine gun bot for stationary machine guns
5) added gun-bot gunner
6) added animated gun crew for flak 88
7) added animations for mg-42
8) improved gun guidance system
9) all equipment receives new effects in the form of smoke from the exhaust pipes and the effect of the destroyed equipment
Future plans include the adjustment of all equipment and the addition of new animations.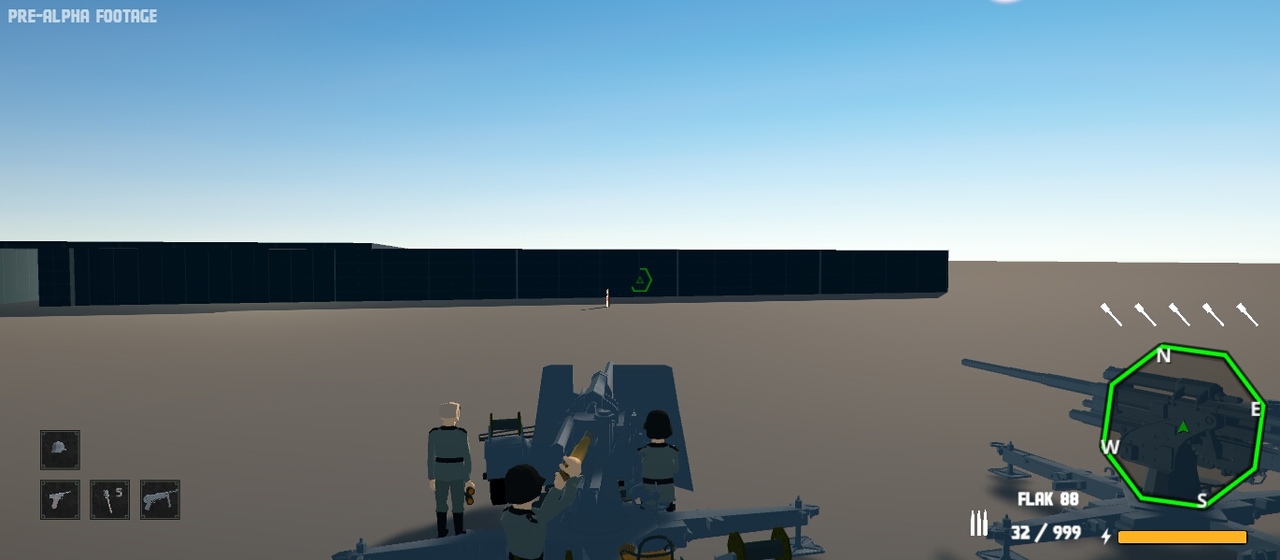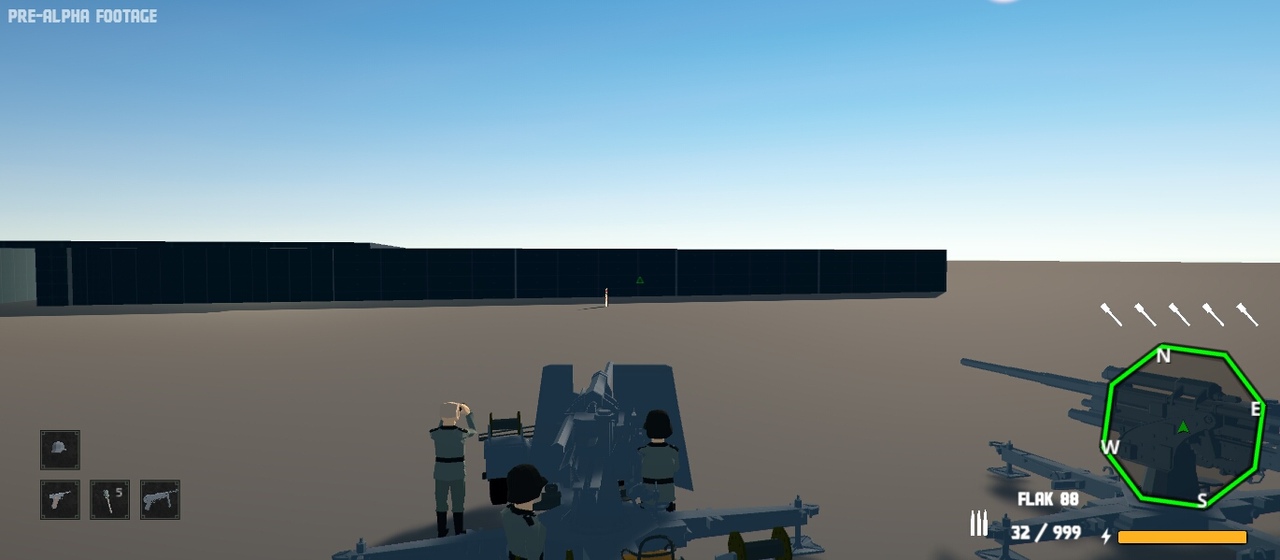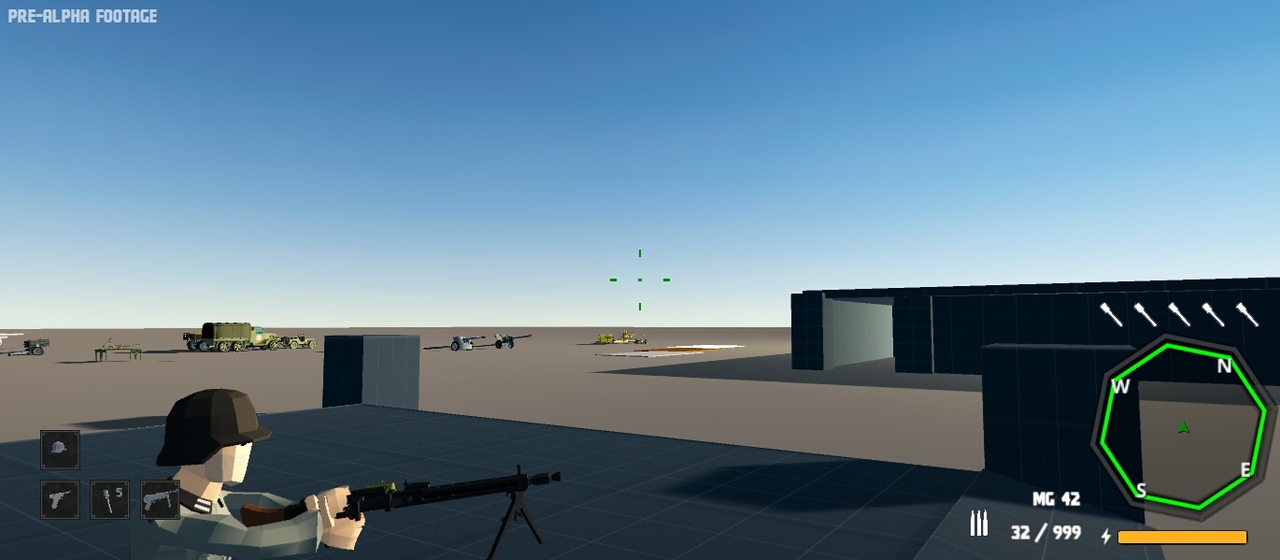 Project Version 2.4.1
Major changes:
- all old missions are disabled
- changed interface
- performance improvement
- AI optimization
- game mode capture points
- added the first mission of the campaign for Germany in Poland
- added Polish equipment 7TP and TKS
- Added German equipment Pz I, Sd.Kfz. 231, Sd.Kfz. 221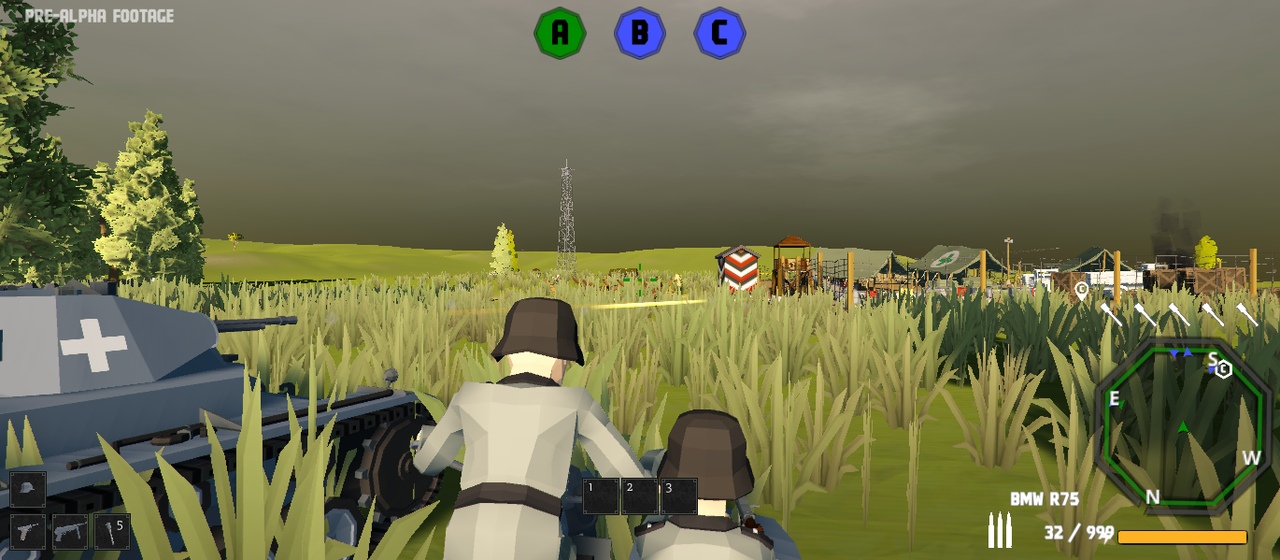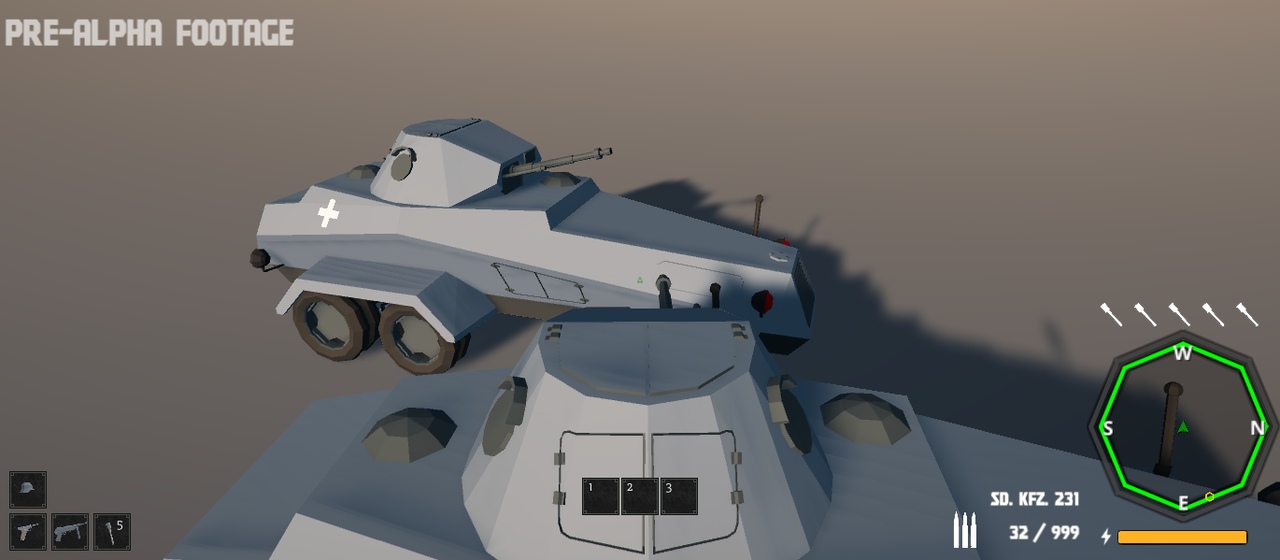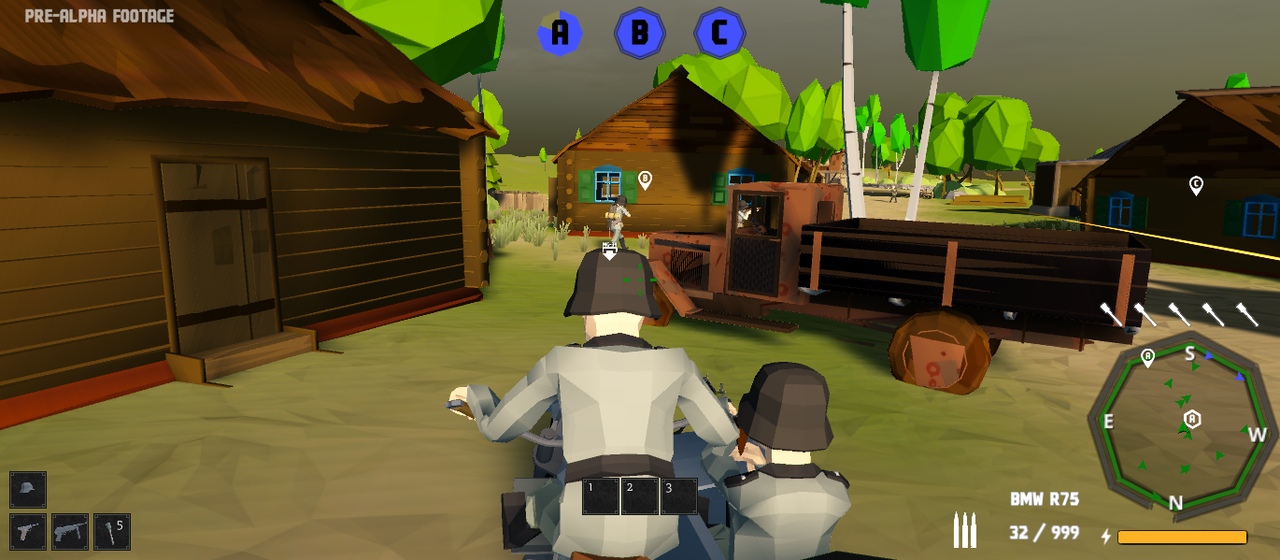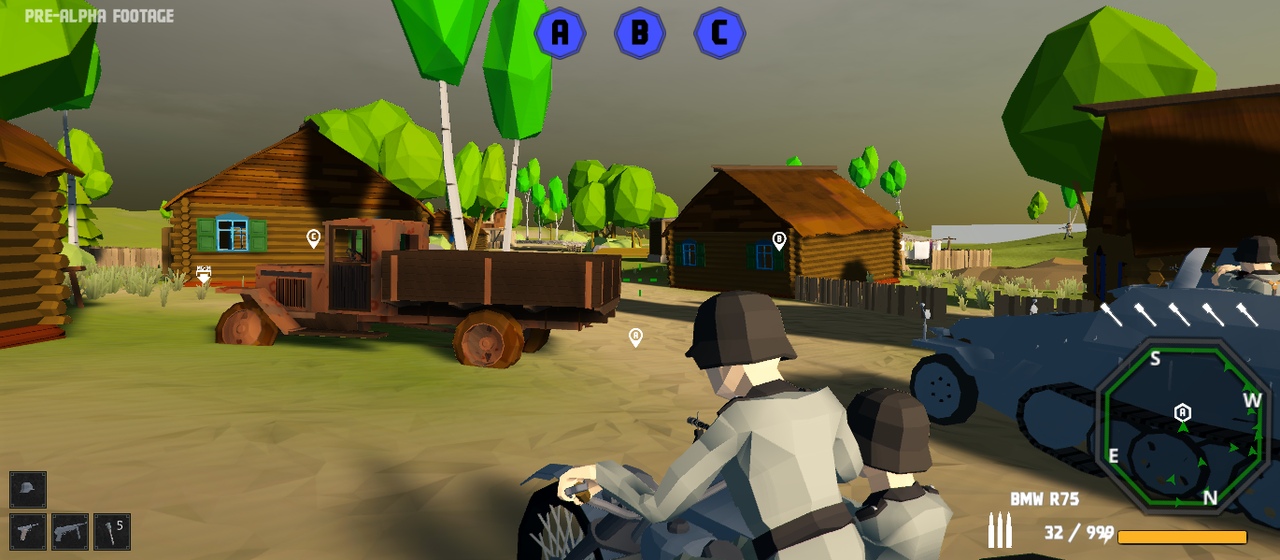 Project Version 2.4.1
- We continue to work on a new regime.
- Redesigned player interface
- Added the ability to install stationary machine guns in some places
- Fixed a bug in which allied bots could cause damage to a player
- For missions such as capture points disabled player health regeneration
- For missions such as capture points, the damage coefficient for the player is increased
- For missions such as capture points added endless rebirths
- Added loot from bots in the form of weapons and boxes with supplies (in it you can find first-aid kits, cartridges, etc.)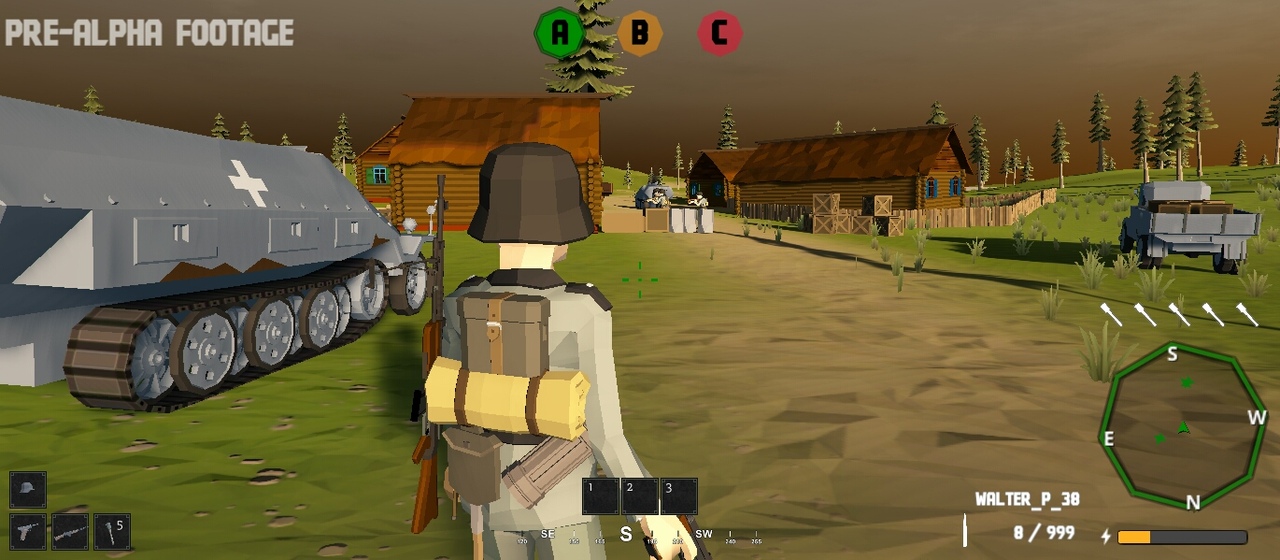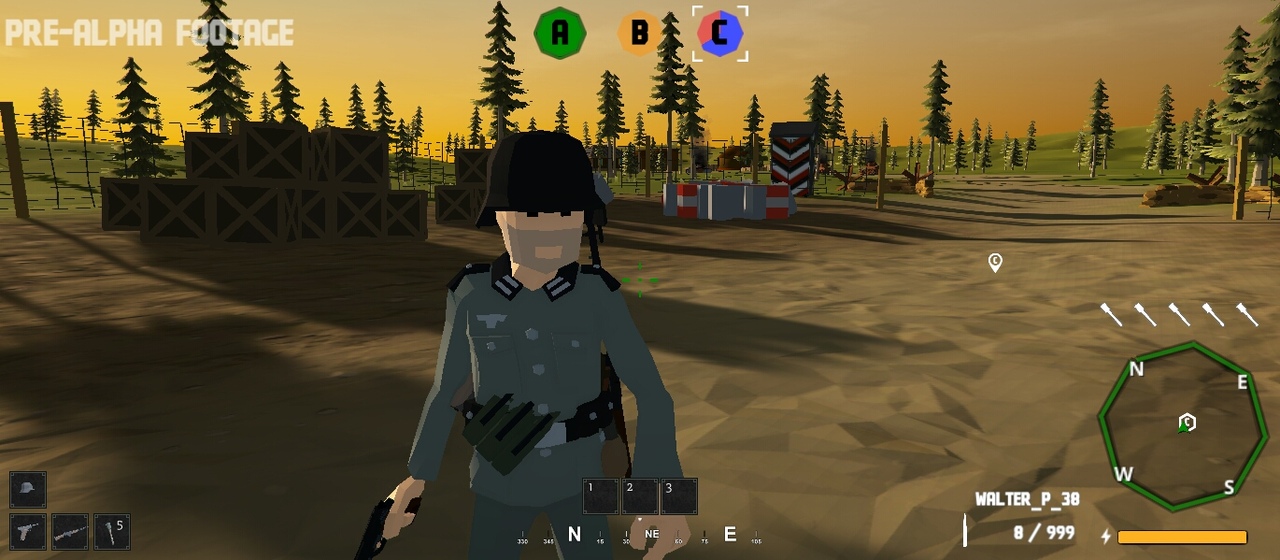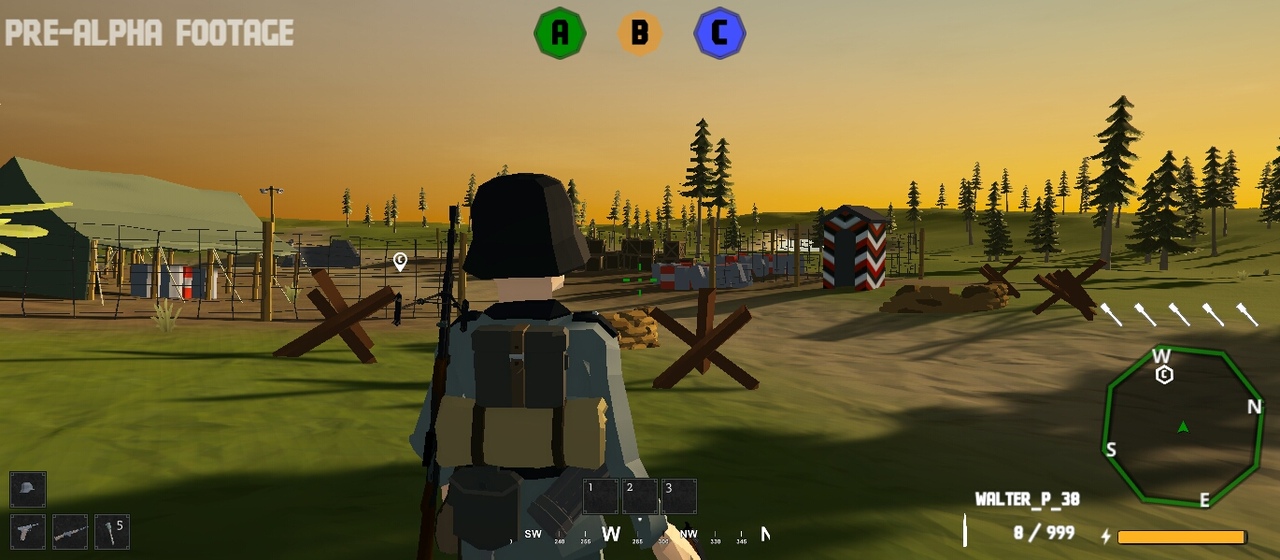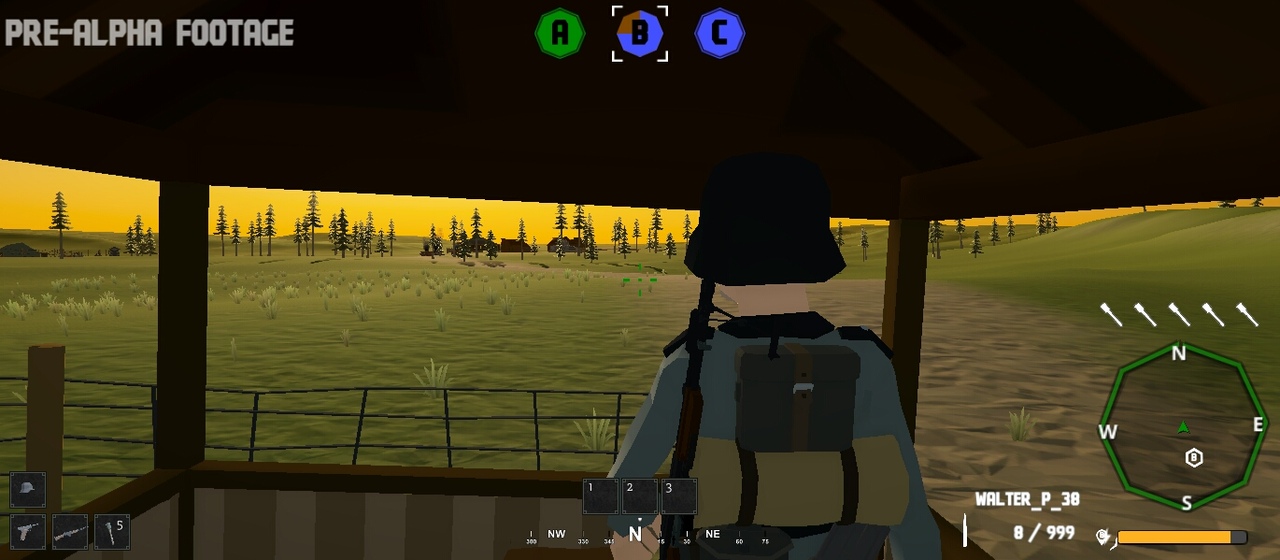 MAS 1938 Bofors 37mm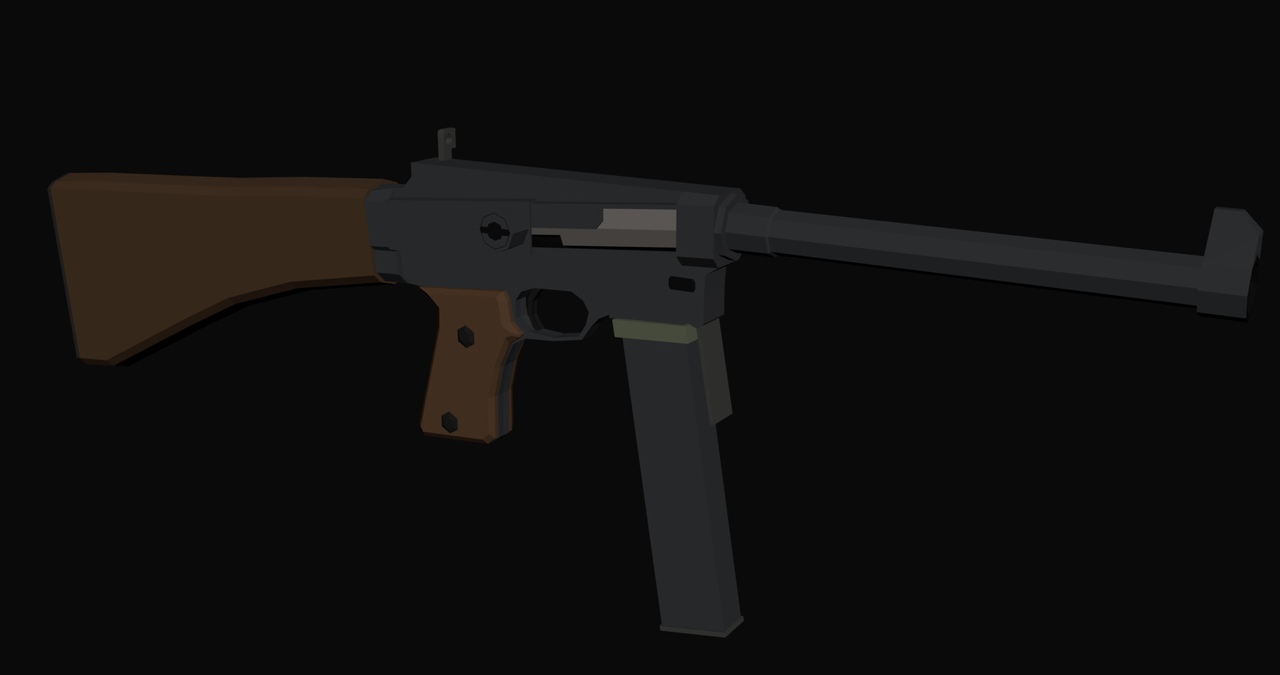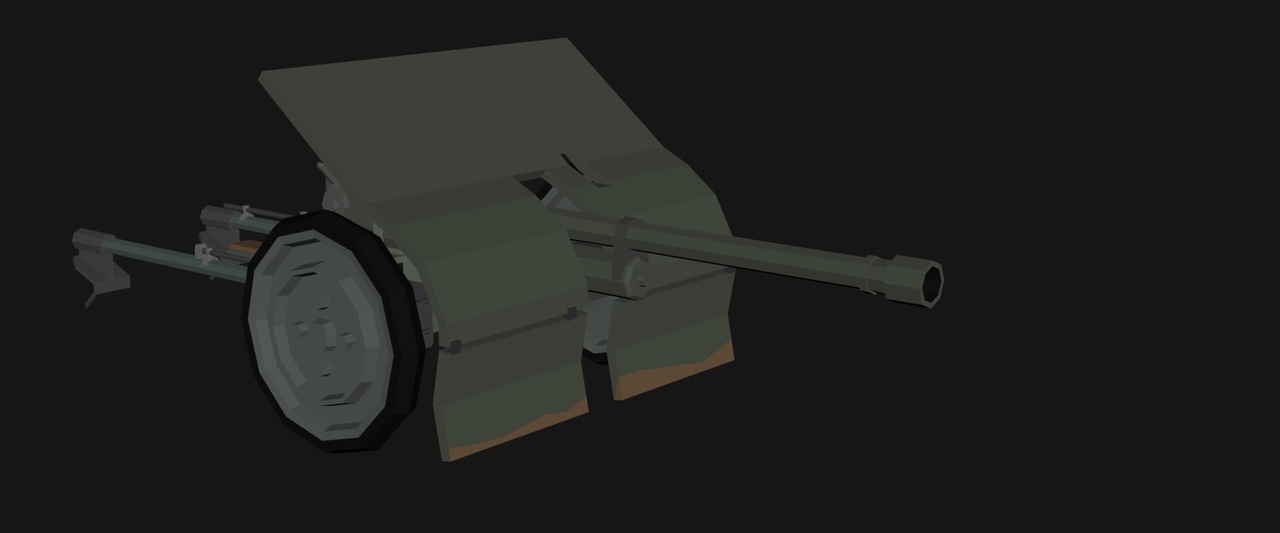 Pz.Kpfw.38(t) MAC M1924/29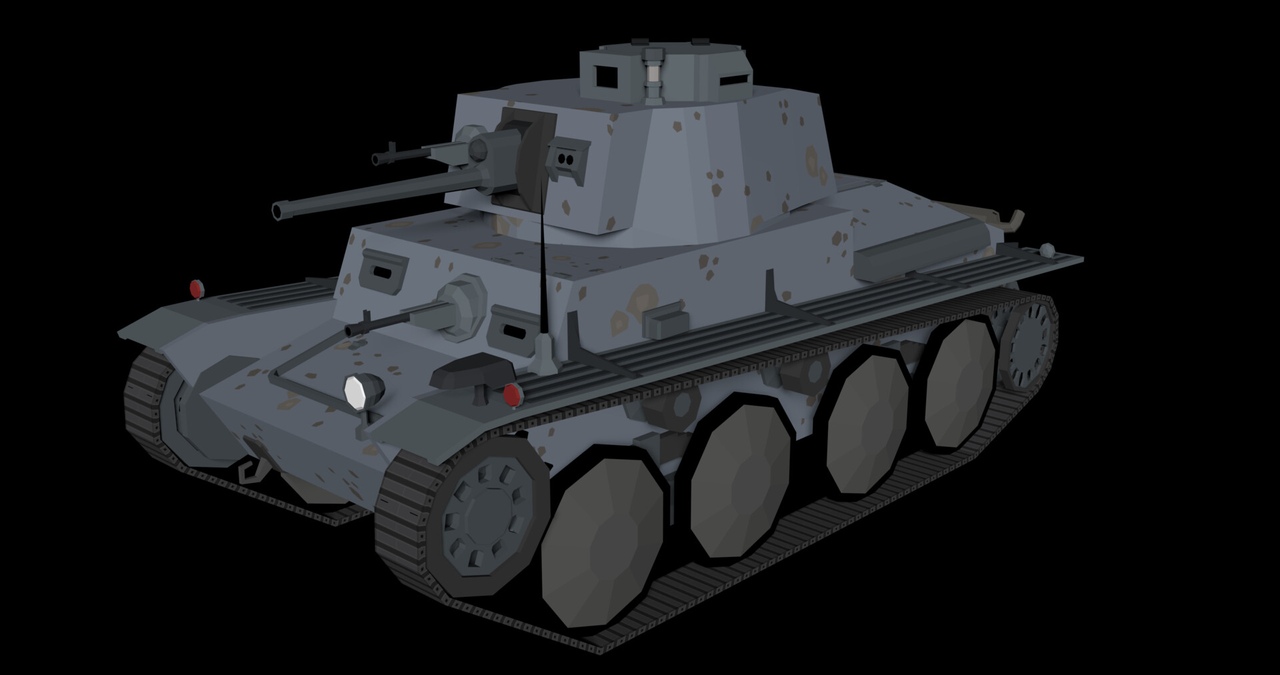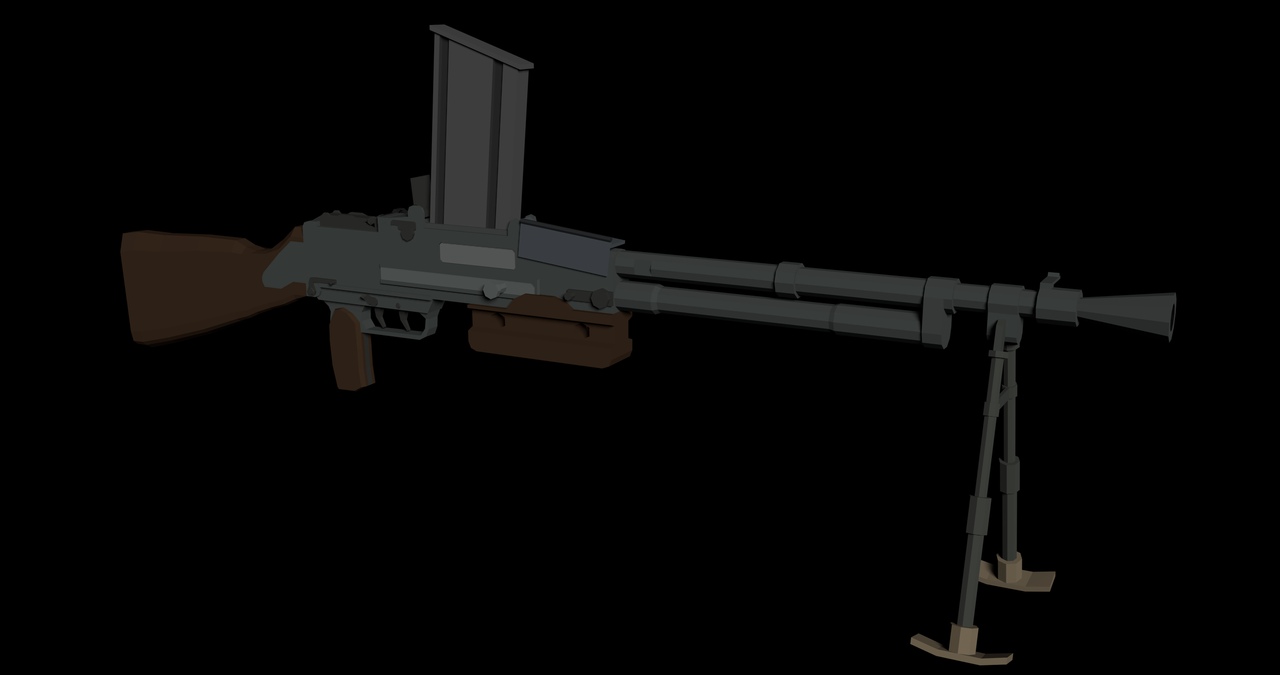 Sd.kfz 231 Pz.Kpfw.35(t)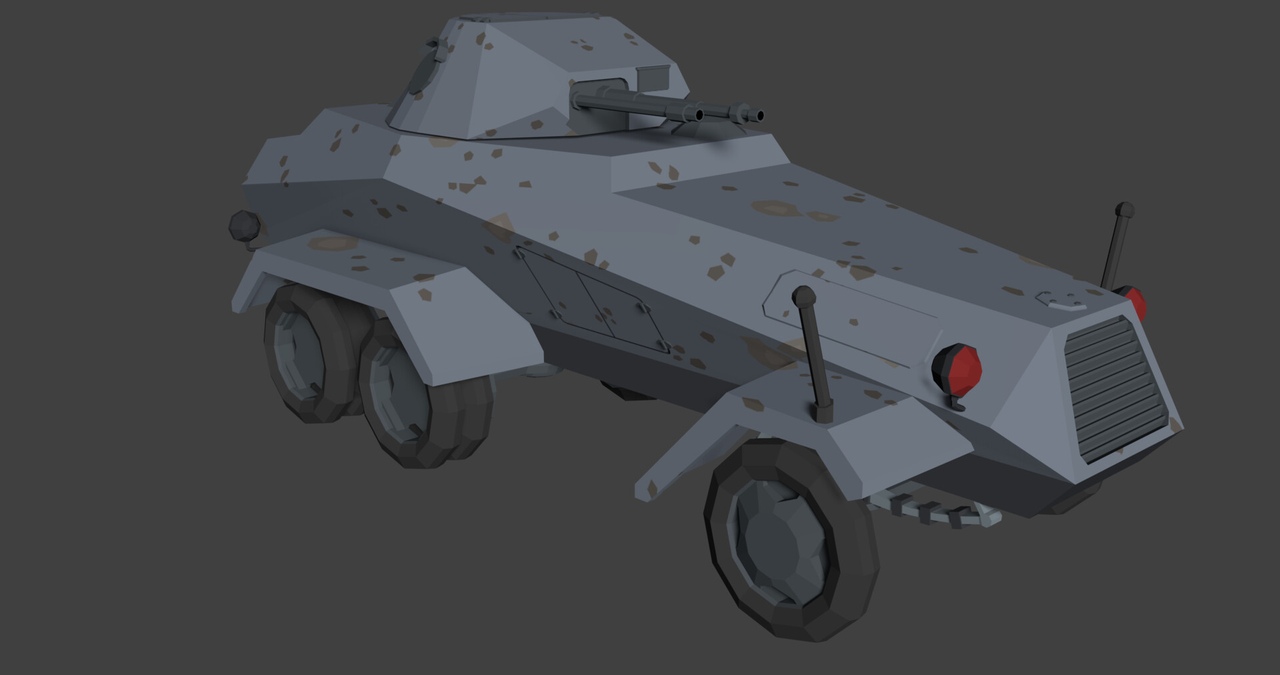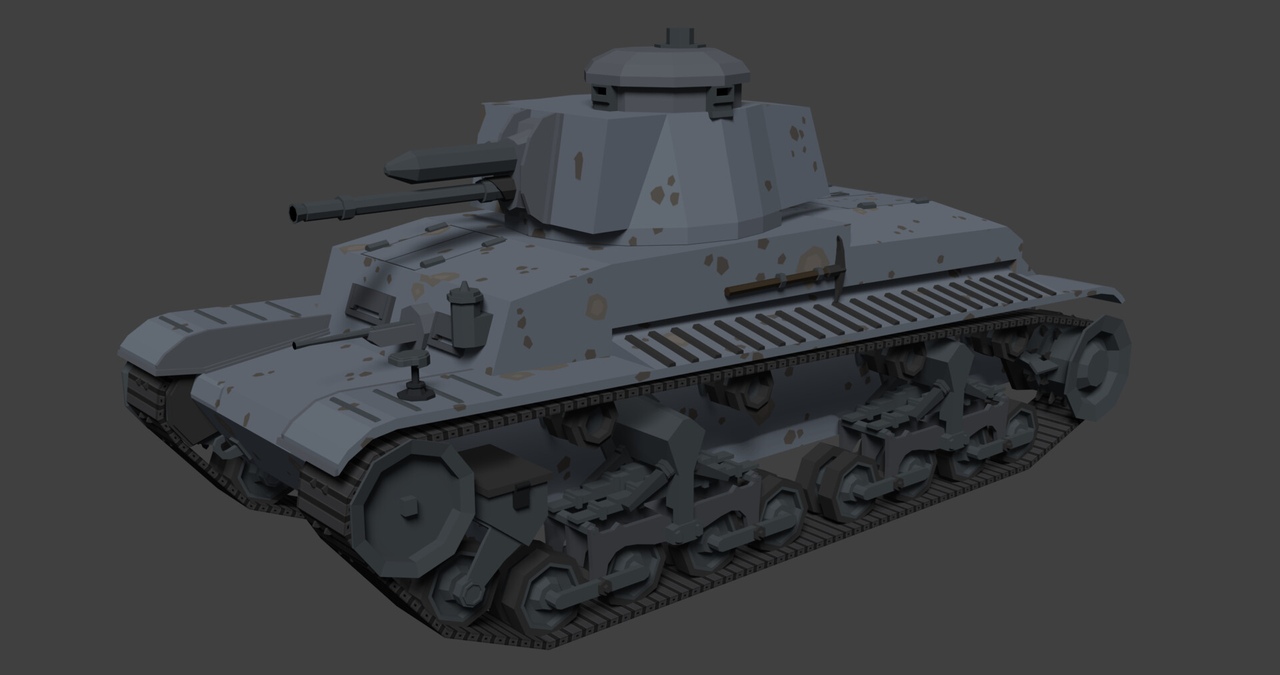 Project Version 2.3.1
1) Work is underway on a new loot system.
2) Work is underway on the first full-fledged campaign in Poland (Company for Germany, later for Poland)
3) AI was redesigned, we got rid of some systems that heavily loaded the CPU, now the number of bots at the level will increase.
4) Our plans (roadmap) have seriously changed. If we add the mechanics described there over time, then all operations and missions are canceled until a certain time.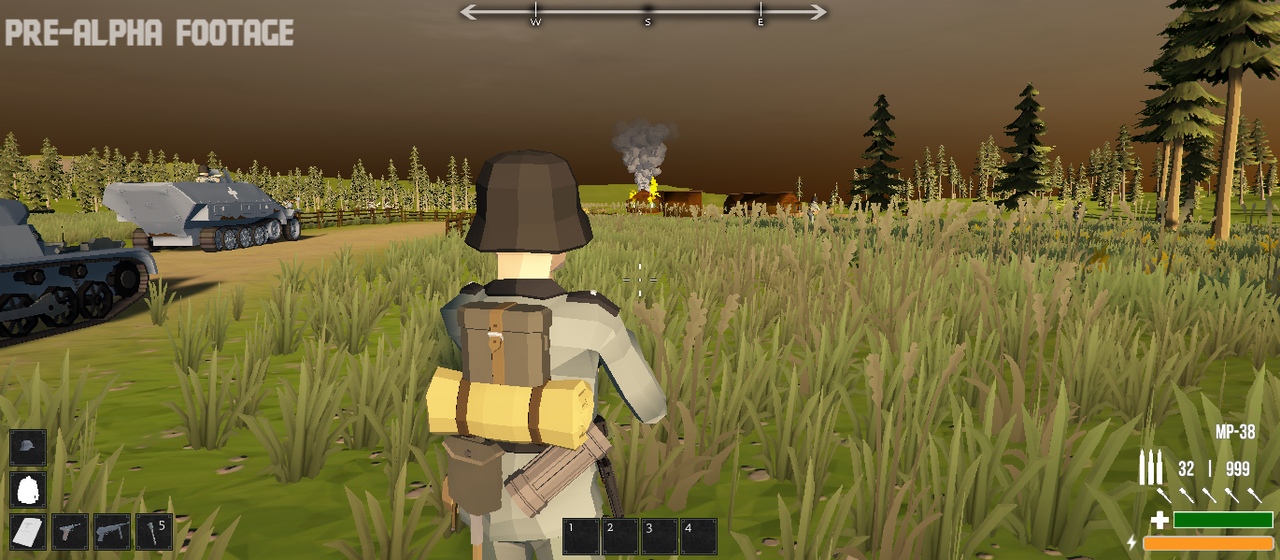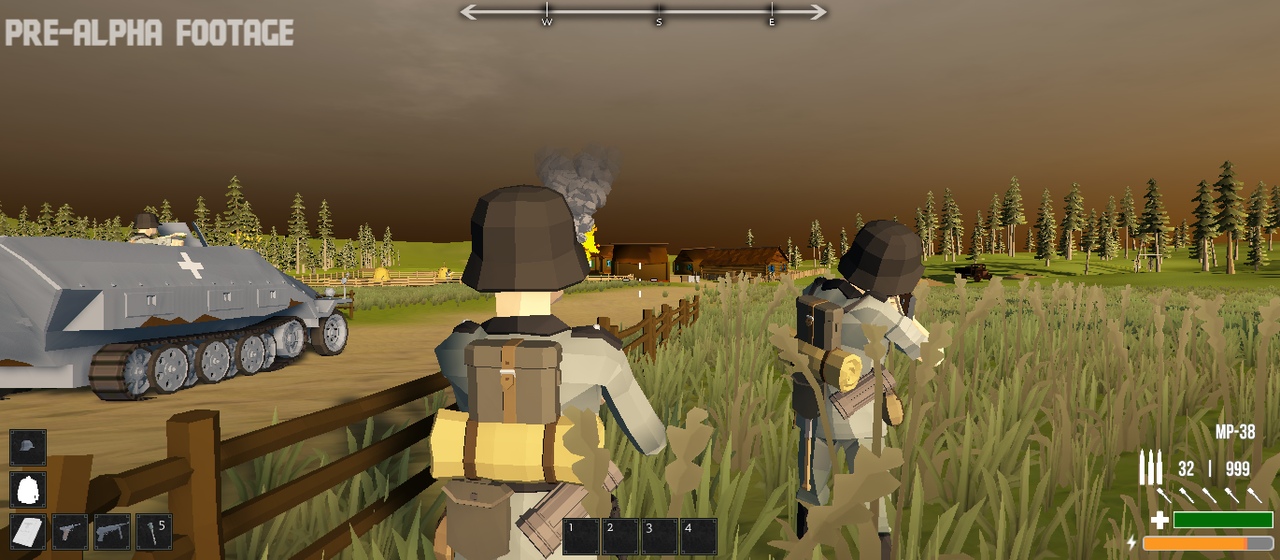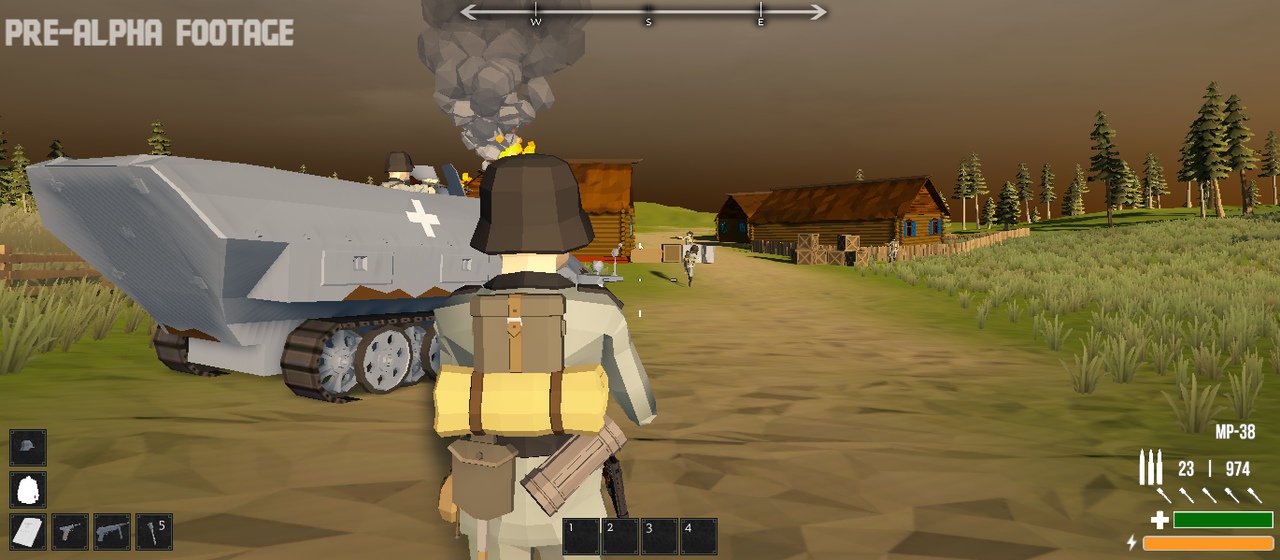 PzKpfw 1 Ausf. A Kb ppanc wz 35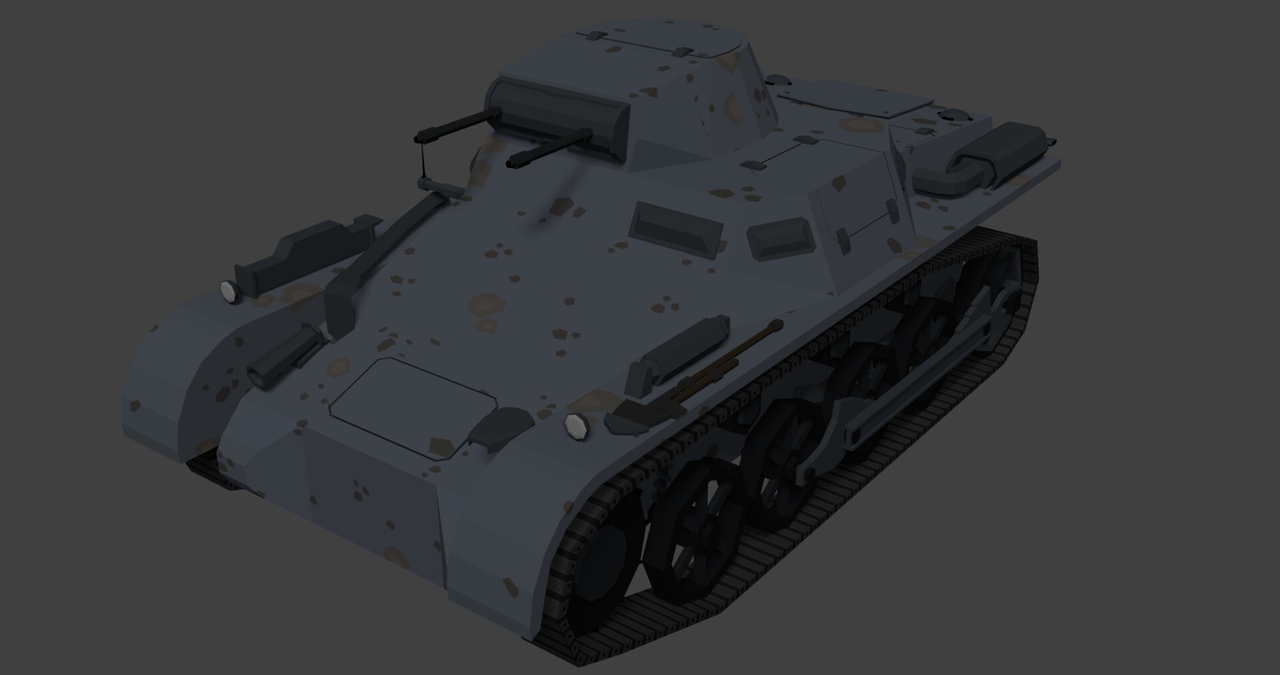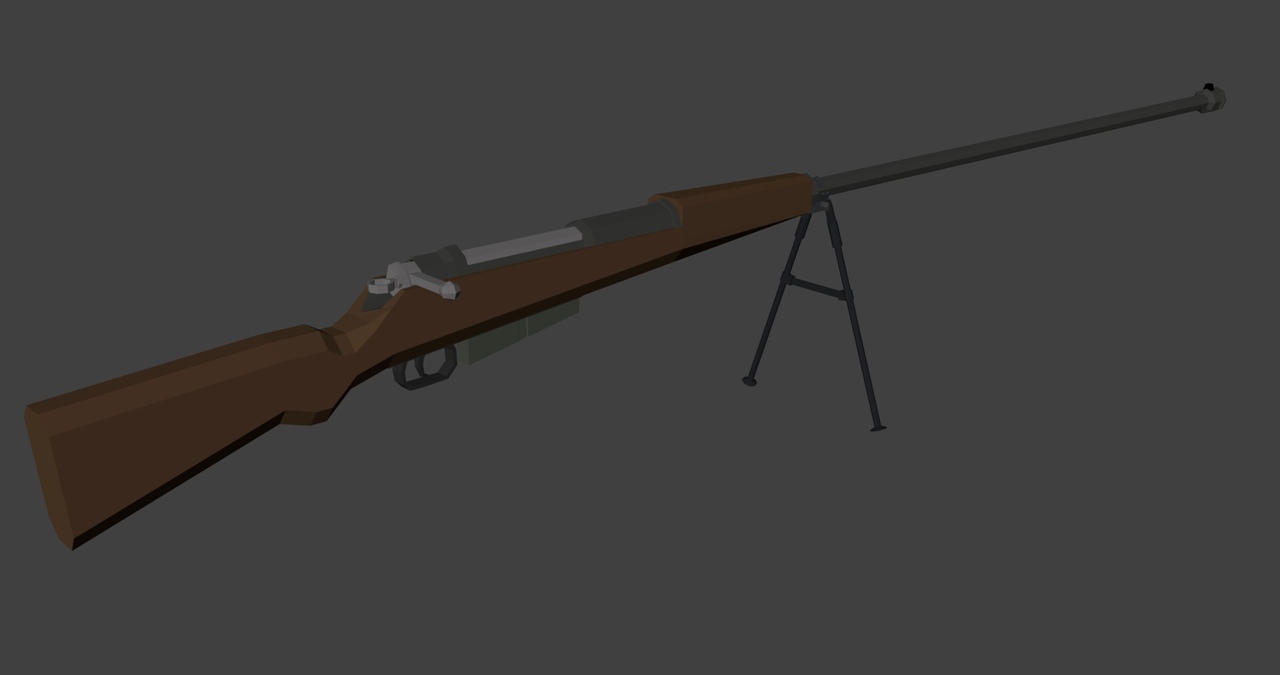 Project Version 2.1.1
Developments on the operation "Torch"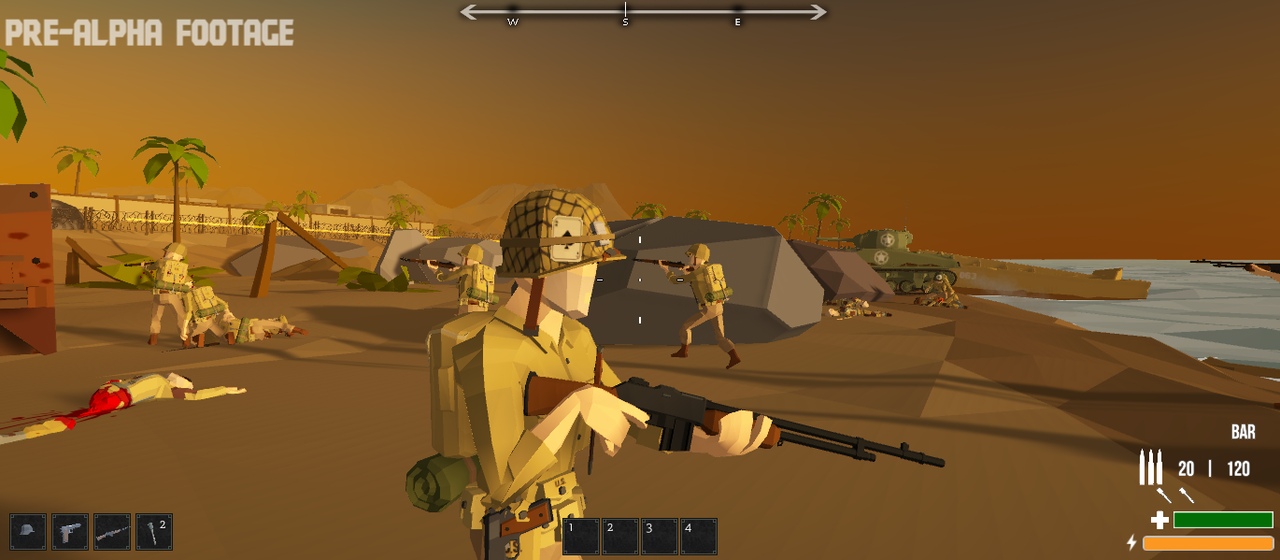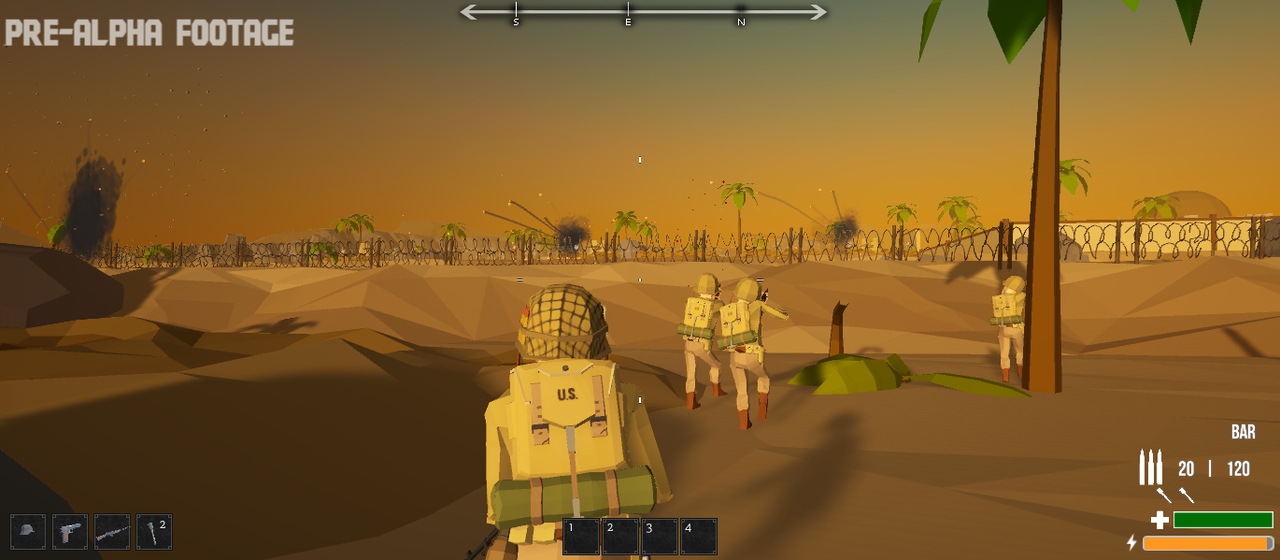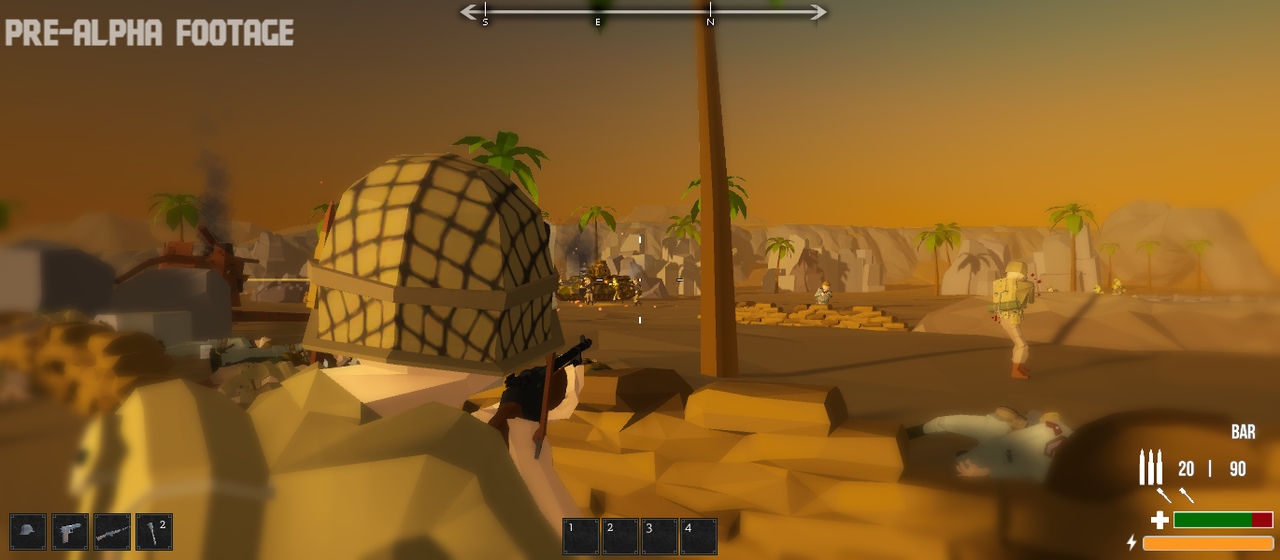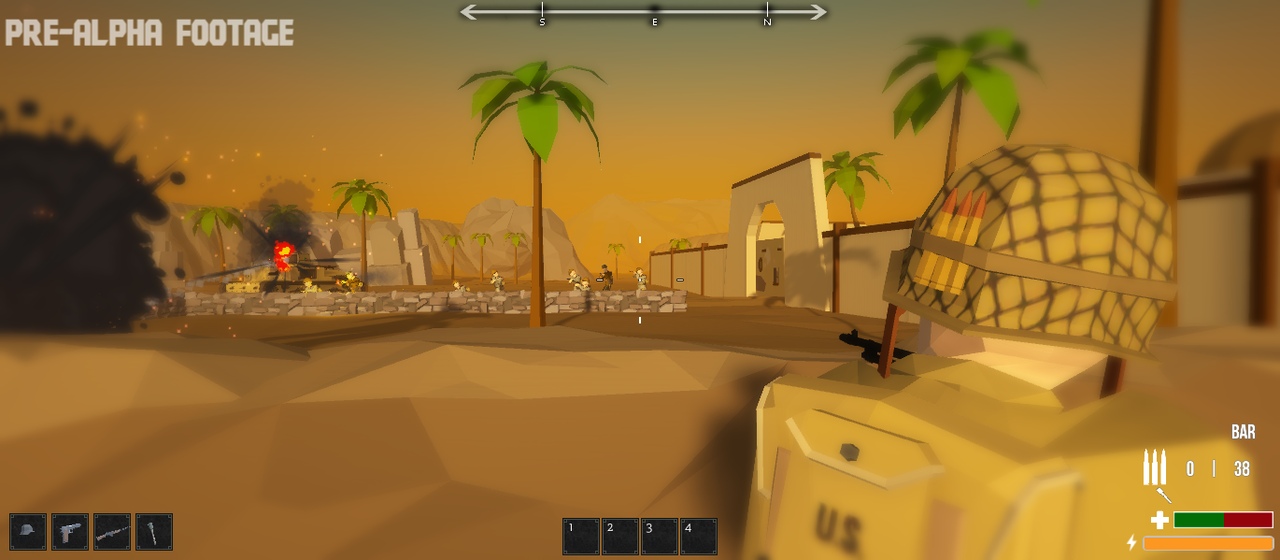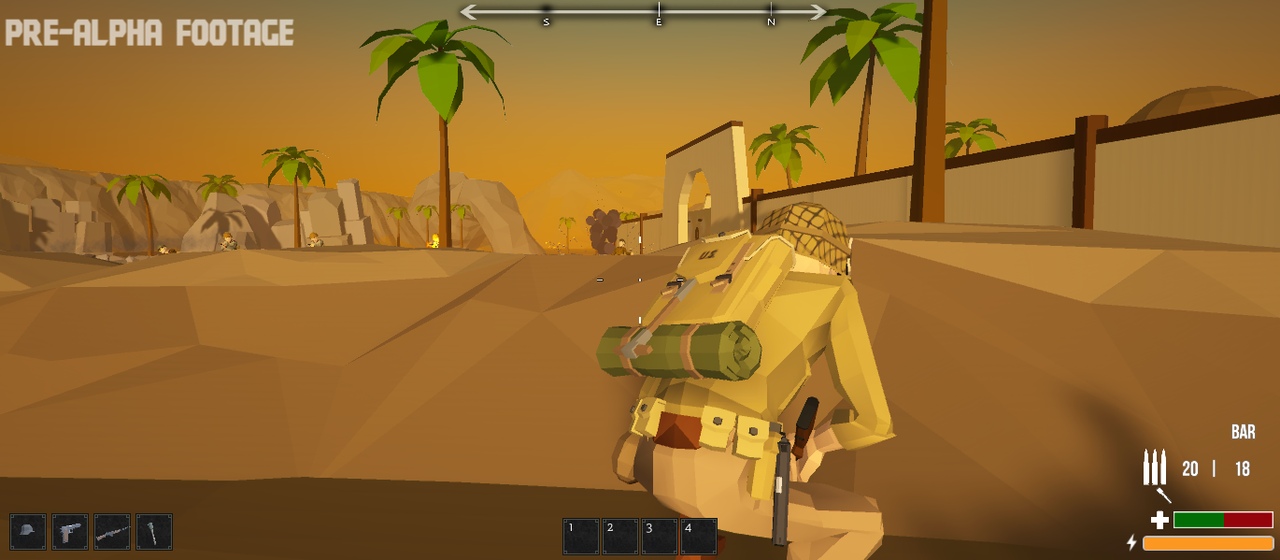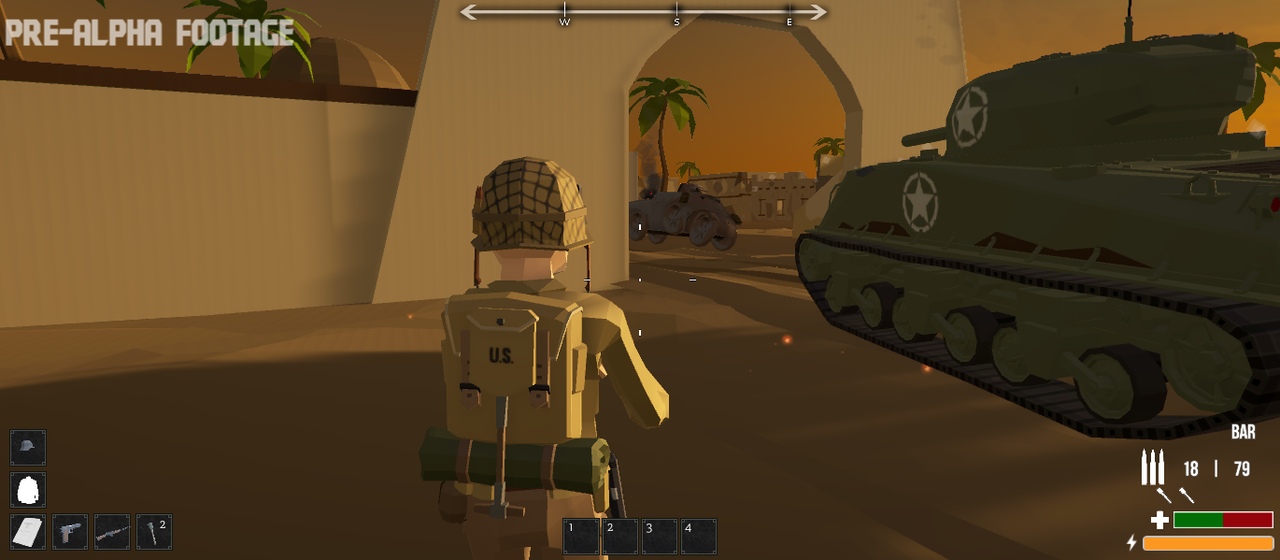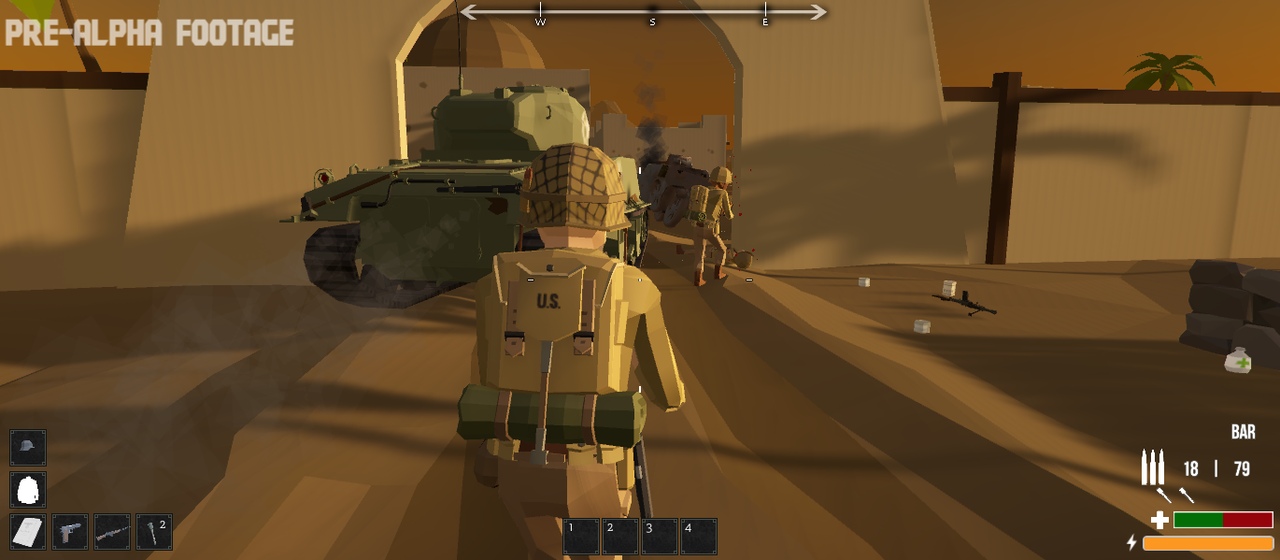 7TP TKS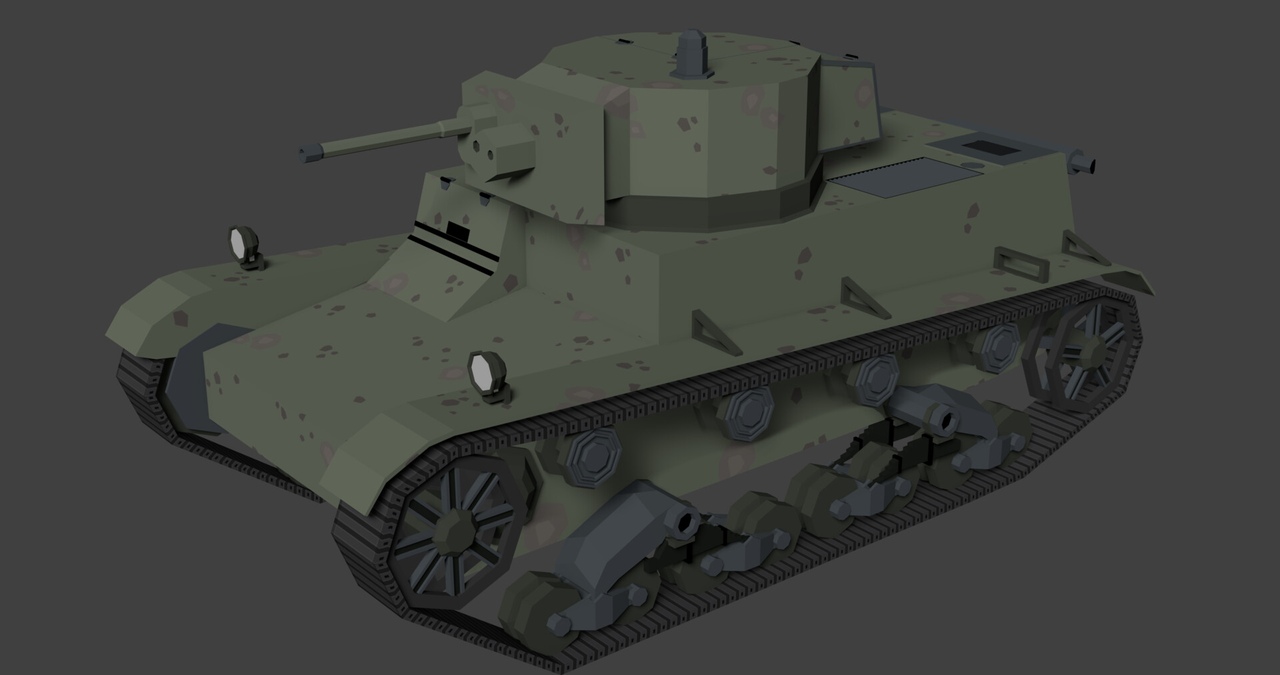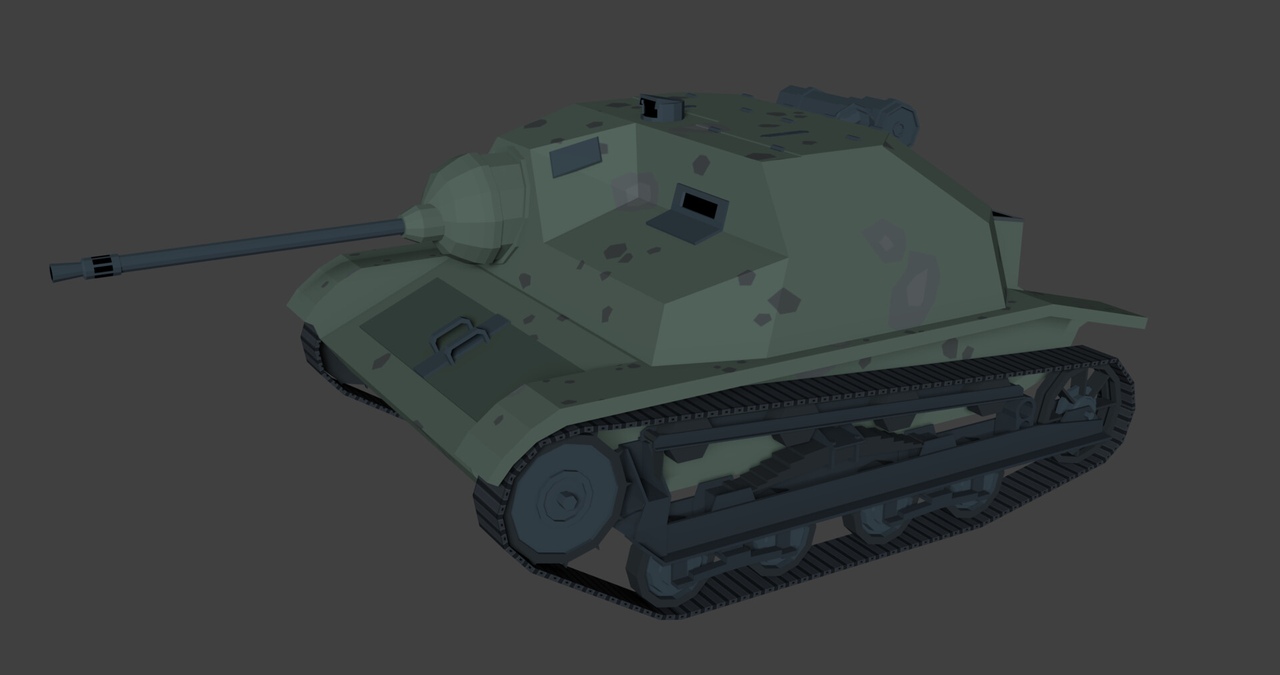 Polish wz.28 BAR TKS vis wz.35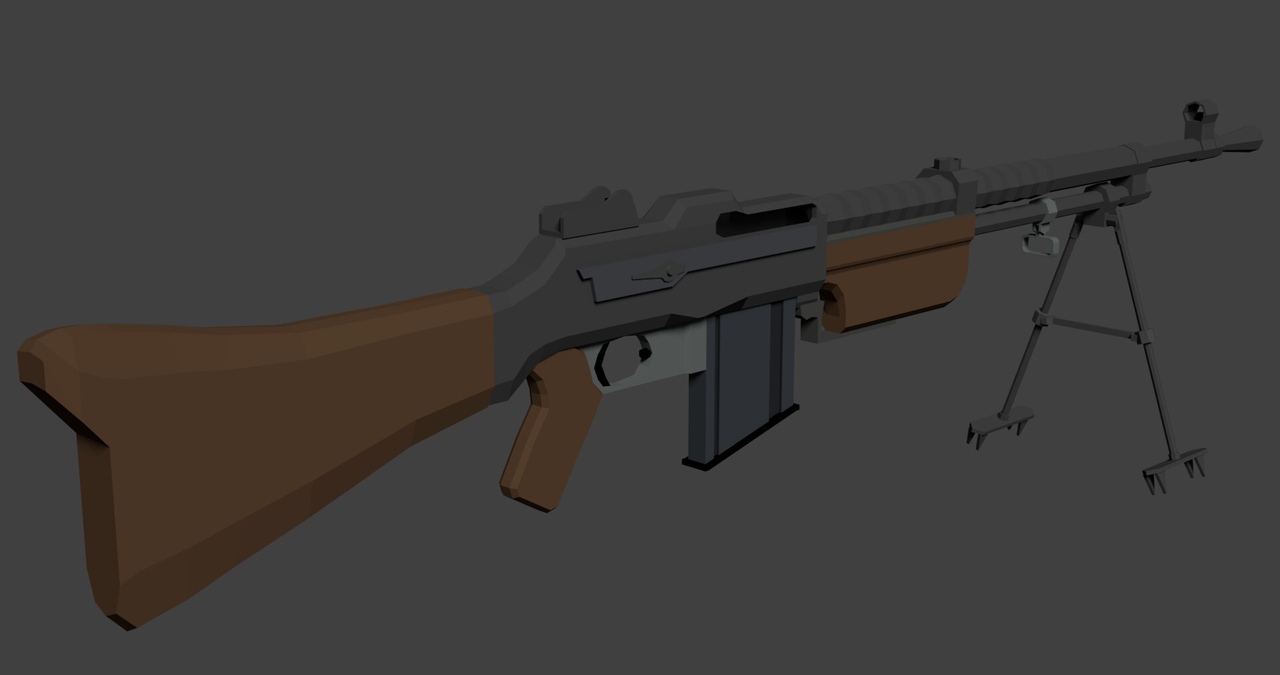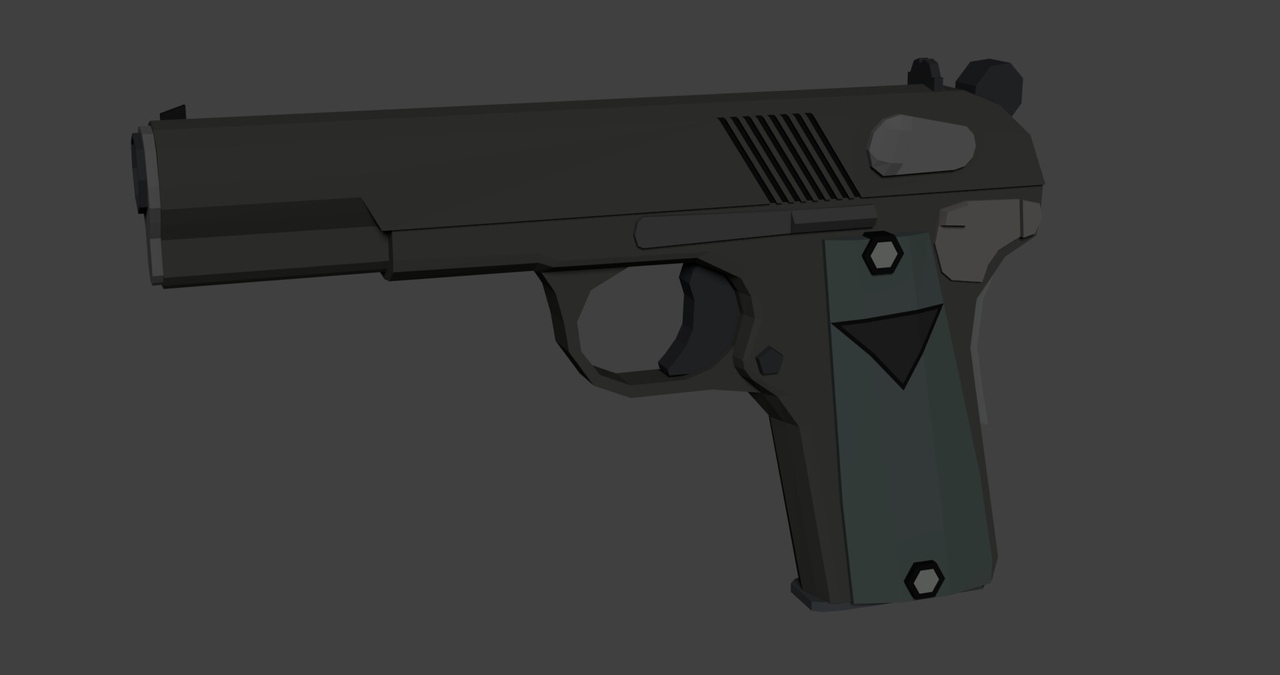 Ordeal gamplay 1.17.5

Project Version 1.17.1
1) The second mission of Operation Anthropoid (1/2)
2) New weapons - Browning machine gun, DP-28 machine gun
3) New mechanics - automatic selection of ammunition when approaching a dead enemy (if they fell out)
4) New mechanics - switching the aiming mode (transition from shooting from a sniper scope to a regular one)
5) New mechanics - switching the fire mode (single or burst)
6) The first mission of the operation "Day D" (landing)
7) Improving the task system - display in space of the marker (s) of the task.
8) New technology - RSO (samples 1942 and 1943)
9) New artillery - Nebelwerfer 41
10) New technology Sd.Kfz. 2
Loading screens for two new missions Anthropoid and Normandy (landing)
RSO Raupenschlepper Ost1942/1943 "Kettenkrad HK 101"
Thank you for attention!