Within a few hours of the store page going live on Steam, we've now opened up the first beta test to the public. Please go over and try out the Paladin's Passage Playtest.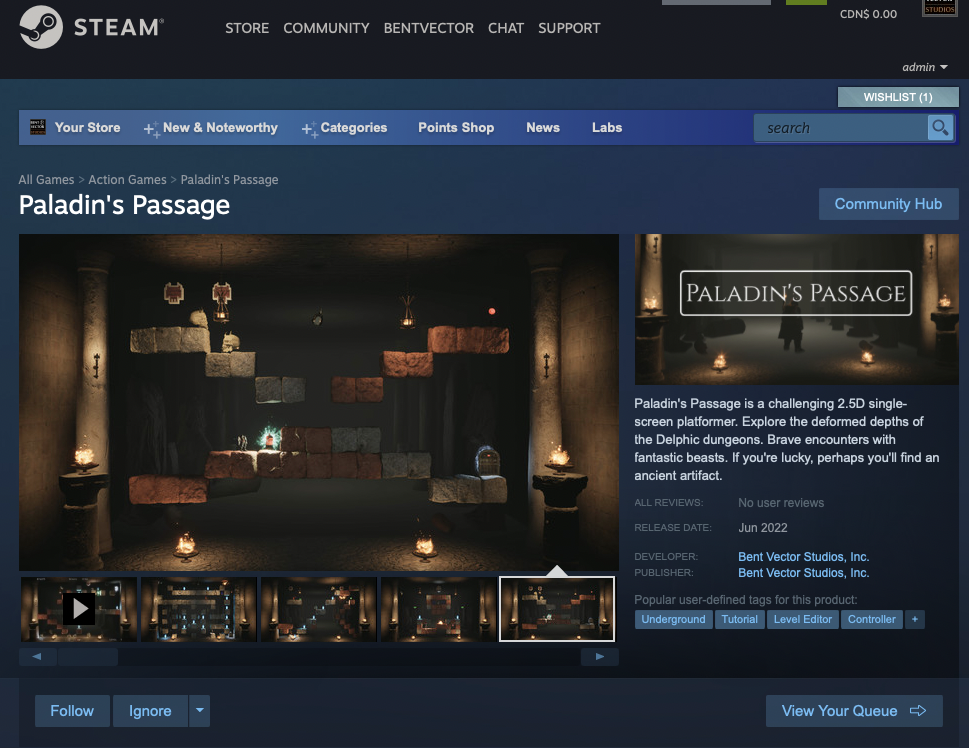 This first beta will have a limited number of levels (10 classic and 10 modern), so we're mostly looking for feedback on how the game runs on your Windows PC, if you can provide it:
Did you have fun playing the game?
Any problems with installation?
Did the game launch correctly and take you to the start page?
Did the default settings of 1920x1080/60Hz video resolution work correctly?
Were you able to try different resolutions and/or video settings?
How was the overall performance?
There are two game modes: classic and modern. Please try out both and let us know what you think of the level designs.
Here are the known issues and limitations encountered during our testing of this public beta:
Only 10 Modern and 10 Classic levels are provided, so the game will show the Game Won page after each set of 10 is completed
Every once in a while, enemies will do the moon-walk (go backwards). Restarting the game fixes this.
Dragon fire doesn't harm the player. This was disabled for the beta until a different issue can be addressed which prevents completion of some levels.
Game difficulty levels are currently disabled.
Gamepad support is still in the early stages, but is working with Xbox controller and PS controller (with DS4Windows).
Music isn't part of this build.
Spark balls aren't quite centered when moving in some directions.
Only 1 achievement and 1 leaderboard are currently configured to use the Steam APIs and the leaderboard doesn't show up in the game yet.
Most artwork (textures, animations and particle effects) is not final version.
Only English language is supported in this release.
No accessibility options are enabled in this release.

Please report any issues you discover by replying to this thread, on the Steam Community Hub, or on the game's support Discord channel. We'd also love any feedback - positive, negative or 'other'!