Hi
With the basic combat features ready I decided to work more in "secondary" features like User Interface and Soldier Management.
UI: Main Menu
I know, who cares about a Main Menu, right? but in this clip you can also see a major feature of the game: picking a starting ship and background. In the future demo you'll only be able to start as a Pirate Captain but in the final product I hope to have at least 3 different starting configurations.
Soldier Management:
In this panel you'll be able to see the status of your soldiers, assign them equipment and even have a few customization options. You can also take a glimpse of another features of the game: Loyalty and Salaries.
The idea behind loyalty is that you can suffer a mutiny if it's too low forcing you to fight to defend your ship with the soldiers that remained loyal. One way to avoid loyalty declining is to pay salaries or their share of the spoils to soldiers, the owed amount would increase over time but you can postpone payment in case you lack funds. I hope this leads to players having to care about the balance between funds to upgrade their ships and equipment vs funds to make sure their soldiers stay loyal.
Asset Creation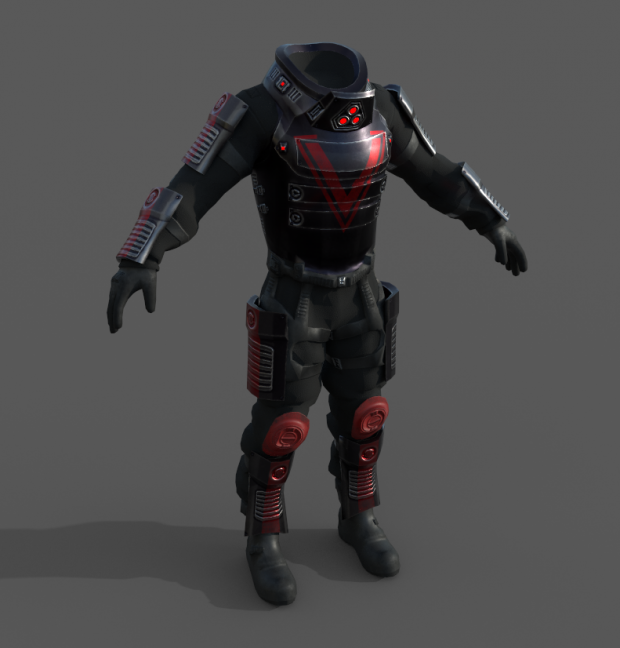 As I progress further into this game, the difficulty of creating assets like humanoid soldiers becomes very clear. For the final product I hope to have different species of soldiers but for the demo I'll probably work with only human soldiers based on this model I modified in Blender and painted in Substance Painter.
Well, that's it for now. I always say that "making games is not a game" because while many stages are fun, others (like working in user interface or polishing) aren't. That's a constant in any project but more reason to power through these duller stages and get a demo ready as soon as possible.
As always, your feedback is welcome.
Regards and thanks for reading!
Jorge