Onur Uça, head man on the indie open world racer, Ocean City Racing, takes us for a spin around the development block. Onur discusses his successes and failures, getting noticed by media outlets, how the game was funded and much more.
Please tell us a little bit about yourself and your role with the development of Ocean City Racing.
I'm Onur from Istanbul, Turkey and I am 22 years old. I am the creator of Ocean City Racing. I worked on a lot of positions throughout the development. Everything from textures to AI to PR to web page development. I had a hand in everything.
How did you get started in developing PC games?
On March 2012 I saw a trailer of Unreal Development Kit and decided to download it and give it a shot. For a month I learned the basics of UDK and created maps with the assets found inside UDK. After learning the basics I started this project which was just a city map at start. Aside from me, Iman Shabani worked as the lead programmer of the project , Hugo Ruivo created the AI and traffic systems , there were also a few other people who helped me on specific tasks throughout the development.
Where did the idea for Ocean City Racing come from?
After making different kind of maps and learning UDK for a month , I decided to create a city environment for learning purposes and called the map 'Ocean City' After working on the map for 6 months , there was only 'free roam' And after this point with the of the other members , the game started to become 'Ocean City Racing'.
My influences while creating the map was GTA: Vice City and Midtown Madness. And the time-trial race parts were a mixture of all the open world driving games.
What are some of the successes and failures you learned from in developing Ocean City Racing?
I believe the main success was to be able to develop the game with very few people and no budget. One thing I can count as a failure was lack of a budget. Some aspects of the game could have been more advanced with a budget.
In its current form, how close is Ocean City Racing to your initial vision?
I would say Ocean City Racing turned out to be something I wouldn't think was possible a year ago. The free roam , time-trial , race mode , handling and the variety of the vehicles , the different type of daytimes and weather , the lighting , the cinematics are some of the things I am really happy about the game.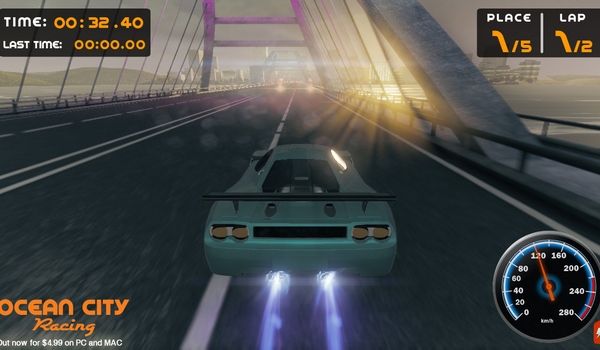 Some devs admitted their games were too hard upon release because they became experts as they developed the game. Talk about setting the difficulty levels for Ocean City Racing and if you faced a similar challenge.
I am definitely an expert on playing Ocean City Racing. I can finish time-trials a minute earlier than the default time set. To ensure the difficulty levels were good for every kind of gamer I play tested different types of players and used their average time as the default time for time-trials. The ability to respawn at a near checkpoint was also added to the game to avoid time loses at crashes or mistakes made.
Were there any challenges you faced in ensuring Ocean City Racing would run on the various PC system configurations?
Unreal Engine 3 is an amazing engine but it is basically designed for level based games not open world. As far as I know , other than Ocean City Racing there were 3 open world games with driving on Ocean City Racing. 'This is Vegas' was cancelled because it didn't run on consoles , 'Wheelman' had lackluster graphics to work on consoles , and APB had good graphics for the time and for an open world multiplayer game.
I have made serious optimisations for Ocean City Racing but it still requires a new generation CPU and a few years old mid priced GPU to run smoothly on maximum quality graphics. The dynamic lighting , real time shadows and the day & night cycle would be things I would compromise if the game would be on consoles too.
Please talk about developing the art style, level design and music for Ocean City Racing.
The art syle goal was creating graphics with vibrant colors , dynamic lighting and different day times and weathers and give the game a similar feel like GTA Vice City and Midtown Madness games. While creating the city I tried to make sure it had a lot of unique locations , not just the usual 'building' looks. Even though the city is not huge as AAA titles I can say the complete environment is satisfying enough for an indie game.
The music features songs of Christopher Amott from his 'Impulses' and 'Follow Your Heart' albums that has a soft melodic rock feel, as well as other instrumental and orchestral songs that fit the atmosphere of the game.
Outside of creating the game itself, what is the toughest aspect of being an indie developer?
The hardest thing is certainly the marketing. It's almost impossible to get coverage from major video game websites and it is also important to show the game to the right people. For example it does more harm than good if the game trailer would be posted on a website where only consoles gamers would watch it.
How did you go about funding Ocean City Racing and did you receive financial or emotional support from friends and family?
At the first months of the development I started a funding campaign however it didn't go as expected. In the end I ended up 'funding' the game myself. But I also met some kind people throughout the development that were helpful with their knowledge and their additions to the game.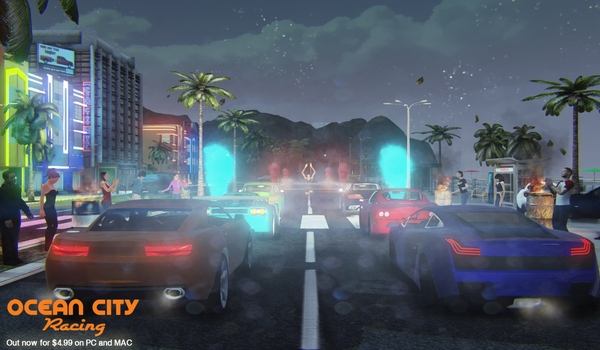 Tell us about the process of submitting Ocean City Racing to the various digital distribution platforms and if you encountered resistance in doing so.
Currently Ocean City Racing is on sale at four digital distribution platforms; Desura, GreenManGaming, GetGamesGo and Gameolith. The hardest thing about making these agreements are lack of answers to enquiries. Also since September 2012 Ocean City Racing is on Steam Greenlight and it is still waiting to be 'greenlit' yet , not a single racing/driving game has been selected by Valve and there are also actual retail games with publishers on Steam Greenlight like WRC 3 , Crash Time 5 waiting to get greenlit.
Did you research similar titles when trying to come up with the launch price?
In the case with Ocean City Racing , similar titles are AAA games developed by major companies. Even though their prices are quite high , I kept the price of Ocean City Racing as low as possible ($4.99-€3.99) so that people would be able to buy it without worrying about their budget.
Can you tell us why you chose not to release a demo for Ocean City Racing?
I didn't release a demo for Ocean City Racing because the game already has a low price and it is not easy to make a demo for an open world game.
How important is it to get instant feedback about Ocean City Racing from users through online message boards and other social networking sites?
It is quite important. Throughout the development I listened to every feedback that I received from message boards and other problems and changed the game according to these feedback.
How much value do you place on the opinions of those who review Ocean City Racing professionally?
Ocean City Racing reviews are still in progress but I can say that i would care about a review when it is reviewed according to an indie game with a low price , no budget and a 2 person team throughout the development.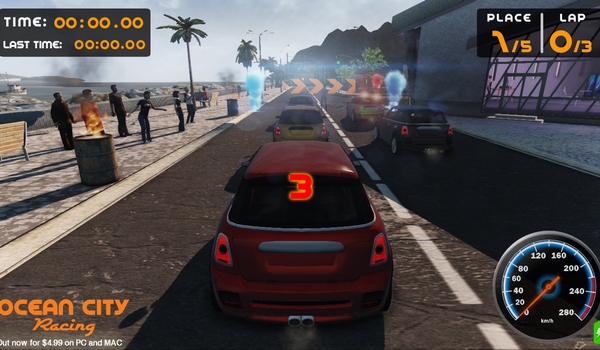 How do you feel about the various indie bundle promotions and the "Pay What You Want" pricing methodology? Would you be interested in contributing to a project like that in the future?
I haven't searched about this in detail , but even with the $5 price I earn about less than $2 with each unit sold , so anything lower than $5 would not be profitable at all.
What are your thoughts on how the PC gaming industry as a whole are dealing with the problem of intrusive DRM and piracy?
I can understand a person pirating a $60 game because they can't afford it and want to play and live in an undeveloped country. However I found it unethical for people pirating low price indie games that are developed in extremely hard conditions and was created with developers personal money.
How do you feel about individuals posting videos of Ocean City Racing?
I have been watching unofficial videos of Ocean City Racing on YouTube , and while some of them are captured and edited really good , some of them are either is played badly by the player and shows the game as it has bad gameplay and some has low quality compressed videos. So I would recommend people to watch official videos first.
How do you feel about DLC and its current implementation in the PC gaming industry?
DLC is a great thing when it is done right , but as a gamer also I do not like first day dlc's.
How do you feel about the online modding community in general and specifically if mods were created for Ocean City Racing?
I would love to see mods for Ocean City Racing as it would help the game be active and popular , but currently I don't think it is popular enough for modders to create mod tools.
What advice would you give up-and-coming indie PC developers who are trying to break into the business?
My first advice would be not to expect too many things in terms of materiality. Even though you create something good , it is a long and a hard process to make sure everyone who would be interested in the game you created. – End