Following our last update "OVERLORD" we this time are taking a look at one of the most famous of the German weapons of WWII. The Luger P08. Modelled and textured by [TWDEV] Sir Apple.
The Luger is one of the most iconic firearms in history, and is the definitive pistol of the Imperial and Nazi German Armies during the First and Second World Wars. Its design uniquely singles it out to the eye, with it's slanted grip and toggle action. The Luger was a robust, reliable gun, and was one of the most accurate combat pistols ever, with some shooters even able to close their eyes before pointing the pistol, and still be able to hit a target. This was due to the slanted pistol grip, which corresponded neatly with the hand for a more comfortable and ergonomic design. Although later supplanted by other pistol designs during the Second World War, the Luger continued to be issued to officer and enlisted man alike as long as numbers were able to be produced. Coming in a multitude of variants, the Luger has seen production through to the present day, and continues to draw the eye of collectors and the public alike.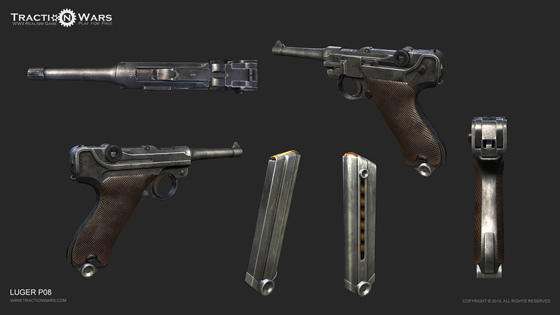 Interested in joining the team?
The team is currently looking for lighting and particle artists who have experience in CRYENGINE3. If you have the experience and are interested in being part of our friendly and professional team then please head over to our recruitment page for further details.
For the very latest media and updates follow us on the social networks below, as well as our community forum and our media gallery.