Here's a quick round-up of recent news for Redshirt, the simulation game about being a nobody aboard a massive space station, where everyone is obsessed with the social network Spacebook!
First, here is the latest Developer's Log video! This installment covers your questions, as well as an overview of how the game AI works.
In other news, I did an interview with Adam Smith over at Rock, Paper Shotgun! Please do check it out if you have the time.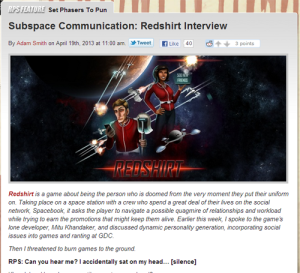 At GDC 2013, Richard Clark from Paste magazine, spent some hands-on time playing Redshirt, which he wrote up in his GDC round-up feature on the magazine. The best and most surprising news of all, though, was that Paste declared Redshirt NUMBER 2 in their TEN BEST GAMES OF GDC 2013.