In my latest Kickstarter update, I said I wanted to add five new options by the end of the week. This morning, I added six! Here are the details:
All large planets ensures that all planets will as big as possible, for maximum population and wealth. All planets colonized automatically expands all players' empires before the game starts, allowing you to skip the colonization phase.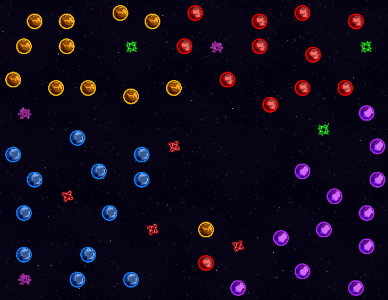 Tough defenders doubles the hull strength of all defensive satellites, helping you to fortify your planets. Cumulative costs means that the more ships you already have, the more it costs to build new ships. This simulates "upkeep" and the exponential expenses of a growing empire.
I've already talked about two of the options in a previous article: giant dreadnoughts, and favorite ship types. Those are now activated in the game.
This has not gone out to the public yet, so if you're looking to play the game now, wait for the announcement :) Until then, you can read all about it on the Kickstarter page, and vote on Steam Greenlight (the game is now at 42% in the first week, up 10 points from a few days ago)
I'd really like to add a few more options before releasing a new build of the demo. One I'm thinking of is something I just came up with today: fortification. This option would allow players to spend money to permanently fortify their planets against bombardment. With enough investment, your worlds can completely repel the attacks of destroyers and even cruisers.
My other idea is global wealth, which would allow players to convert the wealth on individual planets into universal money that can be spent on any world, but at a 25% loss. This would facilitate the building of large ships, or many defensive satellites at a single location.
Whatever I choose, there's a lot more to come.
I'll close with another "Let's Play" video, where I win a full game in 7 minutes. This one has full audio, and I talk you through everything I do. I've turned off almost everything (no research, no diplomacy, no resources). You can learn a lot about the basics: