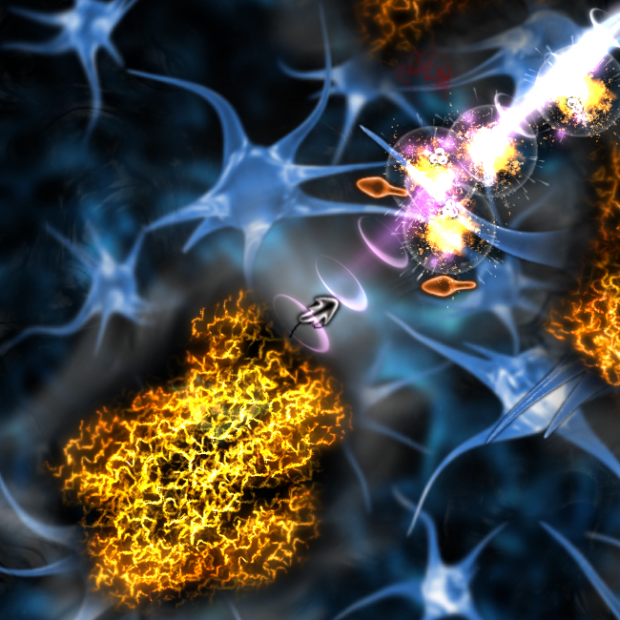 I've just uploaded the latest Alpha version of Syndemic to Desura!

This is version 0.25, and the major features include:
- PC Controllers (based on the Xbox 360 gamepad or similar ones) are now supported. Be sure to connect your controller to your computer before starting the game, as there could be glitches if you disconnect it during gameplay. If the game detects a controller during start-up, it will assume that you want to use it by default. But, as in previous versions, you can press the 'C' key to change back to a mouse-and-keyboard set-up.
- The game is now divided into two campaigns: TRANSMISSION (adventure mode) and RESISTANCE (action mode). TRANSMISSION mode is a story-driven, educational campaign that involves jumping from host to host curing diseases and learning about pathogens. RESISTANCE mode is an arcade-style campaign that is designed to be easy to jump into but difficult to master. These modes are both still early in development, but hopefully they give an idea of what to expect in the full version.
- Experimental Antibiotics can now drop from enemies. These are unique weapons that will dominate most enemies you encounter, but are costly to use and rare to find. Roughly 1 in 20 weapons found will be one of these weapons.
KNOWN BUGS:
- Occasionally the player microbe can get snagged on terrain. It should be possible to get free by releasing the movement controls and letting the terrain 'push' you away.
- Enemy titles/health bars along the top of the screen have a delay in displaying the current health of the enemy being selected, mostly noticeable when using a controller.
- Sometimes the inventory screen will not exit on first time even if pressing the 'I' key.
- During the metastatic mission, some Experimental Antibiotics can damage the metastatic cell multiple times if colliding with cancer fragments at the same time.
- Player microbe can be hard to see along the edges.
The demo version available from Desura will be updated with most of these features eventually too. And on IndieDB, the older Sandbox demo and Action demo will always be available to play with as well.