Thanks to a lot of hard work from the SCP coding team it looks like multiplayer is finally stable enough that we can get down to some serious testing of the game. For those who missed it earlier, multiplayer will allow you to fly both Colonial Vipers, the Raptor, the Cylon Raider (Both the original and season 4 variants), Cylon Heavy Raider and a few more ships too. Here's a picture of our curret set of player flyable ships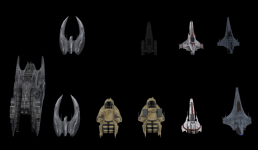 As you can see there's plenty of scope for different playing styles. The training ship, for instance, is fast and manouverable with paper thin armour while the Heavy Raider is slower but has enough armour to take some serious punishment before it will go down.
Last night we had a 5 player test and although we uncovered plenty of issues to do with ships and balancing we also had a lot of fun. We tested a couple of gauntlet missions first. In these you face increasingly stronger waves of enemy forces and need to work as a team. After that we played a few Dogfight (deathmatch style) missions where it was every man for himself.
We didn't get many screenshots from the gauntlets but occasionally during a dogfight we'd declare a truce for long enough to take a few pics. Since we're still dealing with a lot of placeholders and unoptimised ships the screenshots were taken on fairly low settings (I don't think any of us had Anti-aliasing turned on for instance).
The singleplayer aspect of the game is also progressing nicely. Quite a bit of work has been done on the missions for the first release already. No in-game screenshots for now though. We're keeping that side of things a little quiet until we're a bit further along.
Work on the little details is also going quite nicely too.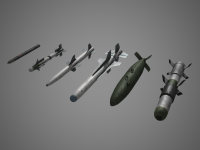 As you can see we already have a full compliment of Colonial missiles ranging from little ship to ship ones all the way up to the mighty Raptor mounted nuke (2nd from the right. As seen in Kobol's Last Gleaming).
There is still a lot of work to do of course but the game is definitely improving rapidly.