So, after a LONG time of getting planets into their canonical positions I have mastered the skill of planet positioning (Skyrim level up SFX plays). But that doesn't mean I am done with that. I still have some more planets to place and move and so on. Also, lots of stuff is happening :) We have a new Episode III style Venator being modeled right now. And as far as our finished models go, they are getting skinned.
He is a picture of the finalized AAT model with its new skin. *NOTE: The skin is still being worked on*
The AAT will be used in both this mod, and the Star Wars- The Clone Wars mod that Ozzy667 leads. Ozzy and Holybeast have put tremendous work in this model and I want to thank them. And as for the skinner, 501stDenal get a big thank you as well.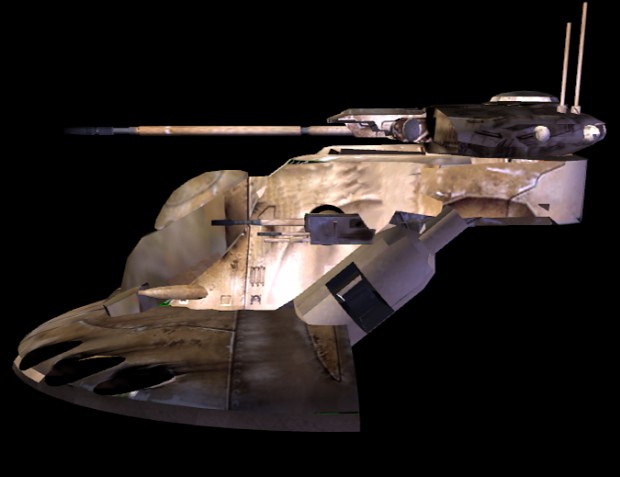 But the fun doesn't end there. Ozzy has been making some cool, new, animations for the AAT. So it'll have a firing animation and several death ones for realism :) ALSO all the turrets you see on the model have firing bones added to them. Including the cannon on the bottom center. Hopefully I'll get some real good projectiles for the AAT to make it look sexy.
But as we move on past the AAT, I figured I'll share a little glimpse at the unit list just to give everyone an idea of what to expect.
CIS:
- Space -
CIS-Advanced starfighter
Commerce Guild bomber
Fantail destroyer
Valahari starfighter (Buildable on Valahari ONLY)
- Land -
Geonosian Elites (Buildable on Geonosis ONLY)
PAC
AST
A-DSD
Republic:
- Space -
Z-95
Alderaanian War Frigate
Arquitens - class light cruiser
CR70
- Land -
AT-PT
74-Z speeder
Blurrg Trooper
Clone Grenadier
Anyways, that is going to be all for now. In the future we'll show off our Episode III style Venator :)
- The_Darker_Side (Mod Leader)