Working on the new trailer
Hey all, times are getting a bit more busy lately (I started with two new jobs this week!), but as usual that didn't stop me from working on the game. Or on the trailer, these days, as most of you know. I already told you the trailer will focus on four parts of the game:
1 Gathering materials
2 Building cities with them
3 Building a gun
4 Playing minigames
Each part starts with text, and then shows a few shots of gameplay videos. First of all, all text is done. It took quite a while: besides the letters O, l, v, a, n and d, I hadn't fully developed the Olvand font, and it turned out a lot harder than I thought. New letters should have (1) the same size, (2) the same 'boldness', and most of all (3) the same 'feel' of the letters that I already had... and while it's easy to create a letter with two of these properties, letters with three of them was nearly impossible in some cases. But I think I got something acceptable now! All four text pages are now added to the video, at approximately the right places.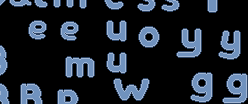 Another thing I worked on is recording videos of myself building the gun, for part three. My original plan was something which describes how it works, but I quickly discovered this will never ever fit in the 15-ish seconds I have for this part. In fact, a simple video of myself quickly building a gun set-up will never fit, so I'm going to settle with conveying the message 'you can customize and build things here'. Therefore, my second plan was to show a sped-up video of myself building a gun. Unfortunately, when I watched the result myself, I came to the conclusion that this could also mean: 'this is what you should do to get your gun working', which of course is the opposite of what I want to convey. So, to be sure that people understand there are litterally thousands of ways to configure your gun, I now show three sped-up videos of myself building a gun. It looks like this: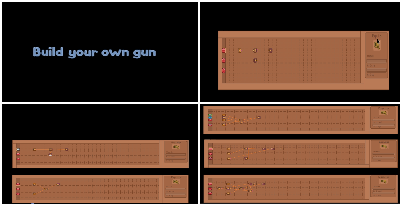 The battle for nr. 1
One of the most enjoyable recent features for me definitely is [the highscore]. Every day I check it to see if any names have moved in the list, and most of the time this is indeed the case. What strikes me in particular is the fact that very often two names swap a number of times; for example, at day 1 player x is above player y, at day 2 player y is above player x, at day 3 player x is above y again, etc. Appararently two players, often friends, are trying to beat each other. I believe this means the highscore has achieved its goal, and encourages players to explore more parts of the game. Hurray!
One battle that is worth mentioning in particular is that between Fascka and Kaytavo. Last week I told you about how Kaytavo had beaten long-time nr. 1 YukiaEpin. Apparently, Fascka saw that as a challenge, and indeed managed to beat Kaytavo... which Kaytavo, in turn, interpreted as a challenge... and so on. The current score is 19 achievements for Kaytavo, 15 for Fascka, en 13 for YukiaEpin. Congratulations!
If you want more development, see [twitter] or [facebook]. If you want to be a tester, you can subscribe on [olvand.com].