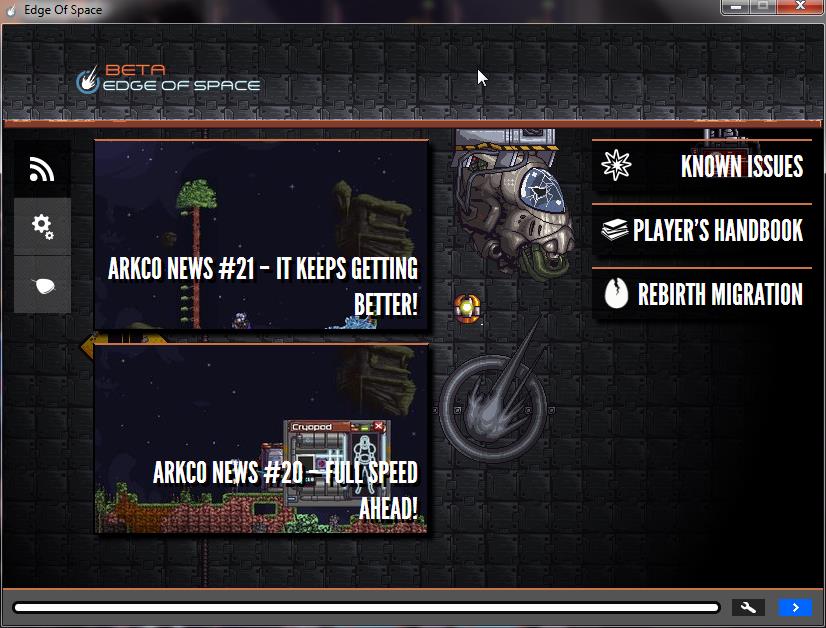 The coming days and weeks are going to be crammed full of news, and we are excited to share the first few items of that today. Firstly, we have just released a brand new, much more polished launcher. We hope this will be the final time we have to update it, but either way we are very happy with how the new version has turned out. Everyone will be able to update automatically via patch, so no need to worry about re-downloading the game. To note, some users may need to download the latest version of C++ redistributable.
To make that easier, we have included a download link in our forum thread for the new launcher, found here:Playedgeofspace.com
We would also like to let everyone know that time is quickly running out now for the pre-order prices and offers. Be sure to get in and get the game now to still be entitled to a Steam key when we launch on Early Access!
Once we are selling on Steam, copies purchased on Desura or RainDG will no longer come with a Steam key.Since launch on EA is looming closer, we will be releasing details soon for how to obtain and redeem Steam keys for all of our pre-order and Kickstarter customers. We know everyone is plenty anxious to start playing through Steam, and we are so excited to be getting so close! It still feels so surreal to the team, watching all of the work we've done over the last year come to this point.Keep an eye on the forums and community, there is plenty more news on the horizon! Stay awesome, ArkCo Operatives, and we'll see you next time for ArkCo News!