How's it going Indie DB?


It's been a little bit since I released an update, I hope 2019 has been treating you well!

I've created the /r/mmasimulator subreddit where you can talk about the game, report bugs, make suggestions and catch some live events together!

There is now a development roadmap where you can keep up with what I'm working on.

Here are the changes in the new version:

New Features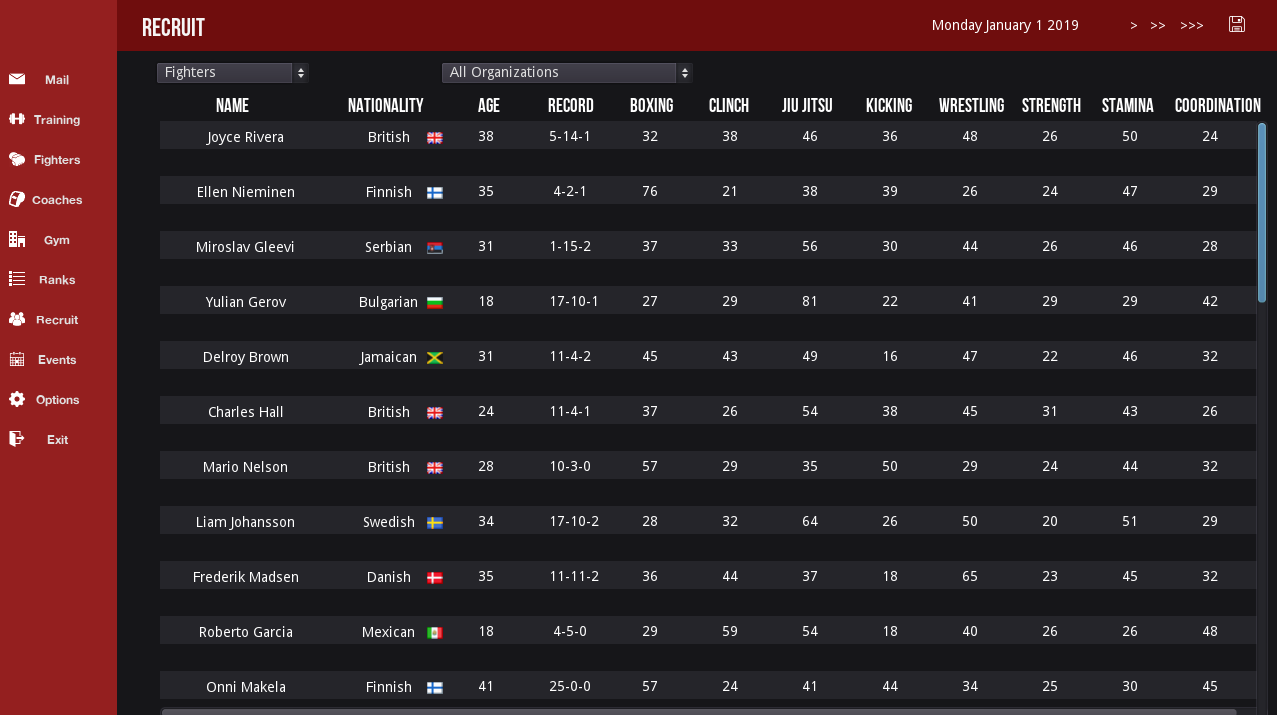 In the recruit screen you can now click on column names to sort the values by ascending or descending order.


Multiple organizations in! Simulate up to three organizations running at the same time.


Picture path saving - in the options screen you can define a folder where your pictures are so you don't have to navigate to a specific folder every time you upload a custom image for a fighter.


When watching fights, they can now be paused.
Bug fixes
Organization names are randomized now.


Start event button can no longer be double-clicked leading to crashes.


Event result bug that would have a blank box for both fighters (and every fight in that slot that happened after that) is now resolved.


Coach generation is now working as intended - a mistake in the SQL query was causing free agent coaches to not generate.


Events now will not have 3 or more fights in the same division.


A few screens have had their interface improved. I am going to continue improving the interface across the game.
Balance changes
You can no longer set the amount of starting fighters on new game or starting money.


Starting money has been reduced.


Coach salaries are now higher.
Regarding balance changes, I feel like the objective of the game (running your own gym) hasn't been fine-tuned enough. Previously when you started a game you kind of had everything already and it lacked purpose.

The goal is to create a solid sense of progression when you're upgrading your gym's equipment, fighters and coaches. I am going to keep making changes similar to the above to enhance the experience.

You can still create as many fighters as you like or edit the database values if you want to.

I can confidently say this is the best version of MMA Simulator yet! It's been great to work on the game again and I look forward to where it is going.

-Nick