We've got a new concept artist onboard and oh gee does he work fast; let me introduce you to Esaya, one of the second planned playable heroes within Siege of Inaolia, she'll be filling the 'ranged' spot within the trio, picking off enemies from afar whilst getting up close once in a while to get her hands dirty.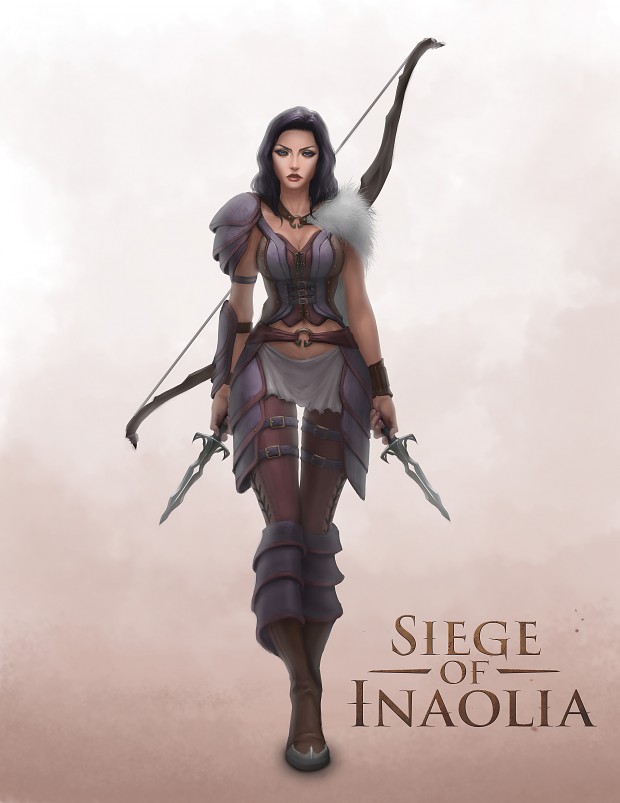 We're quite happy with how shes turned out and we cant wait to show off her development process from concept right up to her eventual implementation into game, we're looking at a schedule of about Alpha 8 for her initial implementation, all good things come in time!
Belmin has started implementation of scripted events within the levels, the arenas now feel a bit more dynamic and the events currently range from lighting strikes to towers breaking apart, we've got more planned however one fun feature is that you can hit a key when an event starts and you'll get a cinematic view of the event for a few seconds; We've got a little video below to show off what we've got cooking.
I'd like to thank everyone that's following us on IndieDB, voted for us on Greenlight and purchased our Alphas on GamersGate or Desura, it does mean a lot to us and if you're someone whose wondering how you can actually support our game, leaving us a comment below, voting on greenlight or helping support the game by buying into our Alphas does help a lot!
Vote for us on Greenlight to ensure you see us on Steam one day, do Track us on IndieDB for the latest updates, you can also Subscribe to us on YouTube, Like us on Facebook, be sure to check out our Official Website and Follow us on Twitter.
You can support us by purchasing our Alpha on Desura or GamersGate!
Remember that it makes a huge difference to us knowing that we've got fans out there rooting for us so be sure to tell your friends about us, don't be afraid to leave a comment below just for the heck of it, thanks for your time!