Our new concept artist Adam has managed to lock down a concept for The Flesh Temple, this is a survival arena set within the Daemonic Realm, we really wanted to try something literally out of this world, a sick, twisted, breathing world from which all the Daemons come from.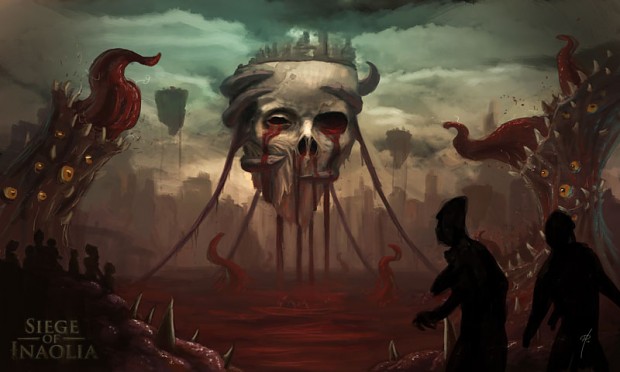 It allows us to explore something different, narratively as well as visually and we hope, at least for now, you guys enjoy the visual element.
So in the last mini-update you guys saw the logo however it wasn't coupled with its reveal logo as it wasnt ready yet but Matt and Ricky have finally managed to whip up a new one.
It isn't as flashy as the old one but we feel it has its own unique appeal to it.
We're approximately a week off from our Kickstarter Campaign release date! The entire team is wraping up lose ends and finalizing content to ensure we've got an awesome treat in store to not only appeal to you guys, our followers on IndieDB, but also for people who may have never heard of Siege of Inaolia!
Right now I'm in the progress of uploading concepts and renders onto our page to ensure that people get to see what quality bar we've set for ourselves and that you've come to expect!
We need your help now more than ever! We need you guys to spread the word to your friends and family, we need all the support we can get to this game the best it can be!
Want More? Stay Tuned!
Do Track us on IndieDB for the latest updates, you can also Subscribe to us on YouTube, Like us on Facebook, be sure to check out our Official Website and Follow us on Twitter.
Also be sure to grab Alpha 2 if you've not tried it out yet and remember that it makes a huge difference to us knowing that we've got fans out there rooting for us so be sure to tell your friends about us, don't be afraid to leave a comment below just for the heck of it, thanks for your time!