At long last, we can stop calling Megabyte Punch alpha!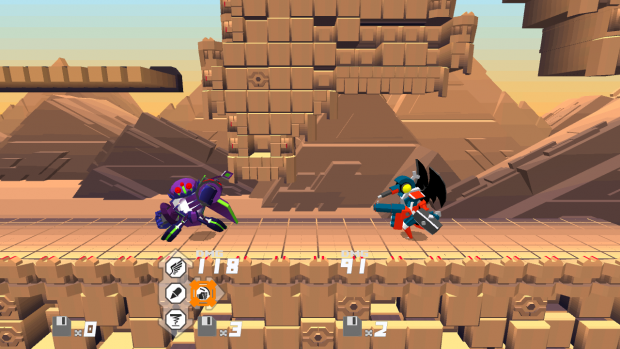 One thing we really wanted to replace this update was the stats that gave specific movement increases (like the air move plus). There wasn't really a benefit to having them, so we replaced them with various abilities and others with an overall movement increase of 10%. This affects your normal movement, but also the speed at which you fall and how fast you slow down after being knocked away. New is the Armor Up stat. It directly decreases any damage received from standard attacks. Statistics can now be viewed in the inventory under 'stats'.
New abilities include the Pound ability, which quickly became a favorite finishing move here because of it's slightly downward knockback angle and relative speed. The Tornado ability is a multi-hit controllable spin move and can also be used to return to the stage in fights. The Virus Slice ability is a short range damage-over-time ability, mostly good in 1v1 fights.
A lot of things were tweaked in this update, so if you think something is improperly balanced, you can tell us on the Feedback forum.
Changelog:
+ Added Plus Armor stat that subtracts from received standard attack damage
+ The Pelvic Thrust is now added as part ability with increased damage
+ You now take 20 damage when your shield breaks
+ Added Minus Shield Life stat that negates the shield break damage
+ Added statistics in inventory where you can see your armor, amount of jumps etc.
+ Added Tornado ability
+ Added Pound ability
+ Added Virus Slice ability
+ Made the collection sort by type and name and made
+ Added new level hazard that bounces you off with damage
+ new music for the Ancient Tech Ruins, Electro Caves and Lost Megaclopolis fights
~ A single shoulder part now covers both shoulders
~ Inventory parts are now when losing a life
~ Shields now give a large knockback and 20 damage upwards when broken
~ You have no stun and knockback anymore when shielding an attack
~ Decreased shield life from 5 to 4
~ When shielding in the air, you can now move around
~ The extra damage stat is now added to every standard attack in an attack string (instead of only the last)
~ Changed all different movement stats to a single movement stat that increases all movement by 10%
~ Decreased the knockback scaling of the back and down air standard attacks
~ Decreased the damage of the neutral air standard attack from 3 to 2 per hit
~ Sliced most shop part prices in two
~ Numerous more small tweaks to abilities and parts
* Fixed level design issues
* Fixed a bug which messed up ability directions after activating a melee ability up or down
- removed the 'drop part' option in the inventory