DESERT DLC - FEATURE OVERVIEW
Persistence 2.0 (50 levels per class)
New Weapon: TREK Ion Blad
New Mode: Instagib
New Mode: Duel
New Mode: FFA DUel
New Map: Centari
New Map: Trine
New Map: Nanko
New Map: Nanko-Night
New System: Melee Combat
New System: Player Loadouts
New Hats
New Armors
New Taunts
Capes!
Game Version 1.9 (massive changes)
100+ New Steam Achievements (200+ total)
New Difficulty: Redikulous
FREE-2-PLAY WEEK EVENT
ORION: Dino Horde is completely Free-2-Play on Steam for this entire week (Aug 19 - Aug 26) to celebrate its 13th birthday. If you love what you play you can also save 75% off on your purchase!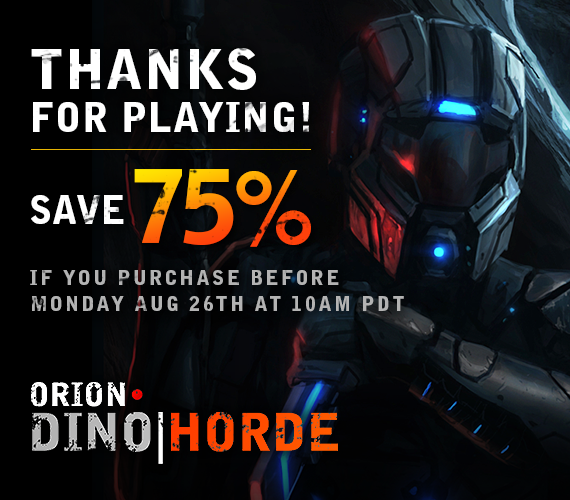 WIN A FREE HAT - RIGHT NOW!
Want to earn a free (exclusive / rare) hat for 'ORION: Dino Horde'?
*VALID NOW - AUGUST 26 @ 10am PST)*

Full details here.
>>BUY 'ORION: DINO HORDE' ON STEAM - $14.99 USD
>>VISIT THE SPIRAL COMMUNITY
CONNECT