Big news everybody,
The Hotel Level creation is ready. At the beginning of each level, a random number of random type of rooms is created, containing random enemies, random NPCs and random objects (wow, much random!). The objectives of the level are also created randomly. As I probably mentioned in the last news, the main objective in the Hotel level is to reach the lift (which is also placed randomly) to the sewers. There are three possible scenarios:
You have to get three keycards from three bosses to access the lift.

You find the lift door but it's broken so you need to find tools to fix it.

You need the help of an NPC to open the lift door.
Crossing the lift door will result in finishing the level and the next level (the Sewers) would automatically load. The objectives in the sewers, needless to say, are totally different, but not ready yet though.
And here you have the menu screen for the Hotel level.
---
I've also been working on searchable objects. Some of the objects that spawn in the rooms can be searched and you can get items from them (different kinds of ammo and life units so far). I'm talking mainly about wardrobes, shelves, cupboards, different containers, this kind of stuff.
Searching not only will give you items, but also clues on what happened in Sewer Tea's world. Talking to NPCs gives some information, but finding documents concerning the origins of the gas (think of it as in classic RE style) may also reveal exactly what kind of events happened recently. Remember that story-line and interesting dialogues is one of the main features in Sewer Tea.
---
And last but not least:
NEW MONSTER!
As I commented a couple of days ago on twitter, every weekend I'll post three creatures/NPCs/objects and you get to decide which one of them makes it into the game. The candidates for this week's election are the following: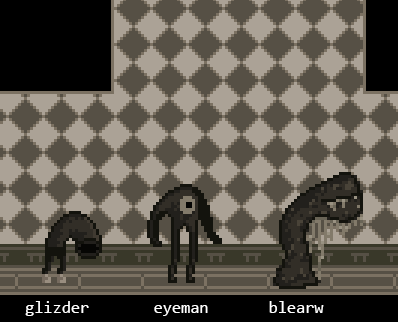 Please leave your input in the comments below and I'll start working on the animations for the most popular monster once the voting has finished (which will be pretty much when I upload next news!)
Twitter - FOLLOW ME!
Steamgroup - Join us!
Facebook - Like us!
May the Force be with you,
Kuznetsowski out.