Let´s face the truth: It´s very hard for an Indie to get proper media coverage, especially if you don´t have huge kickstarter campaigns running or some really famous game designer or brand associated with your game. So everytime a big site or even a print magazine covers Into the Dark, we are quite excited. And when we heard that Romanians Big One "Level" has featured us in a 2-pages special, we were curious - and got hold of the pages writing about us.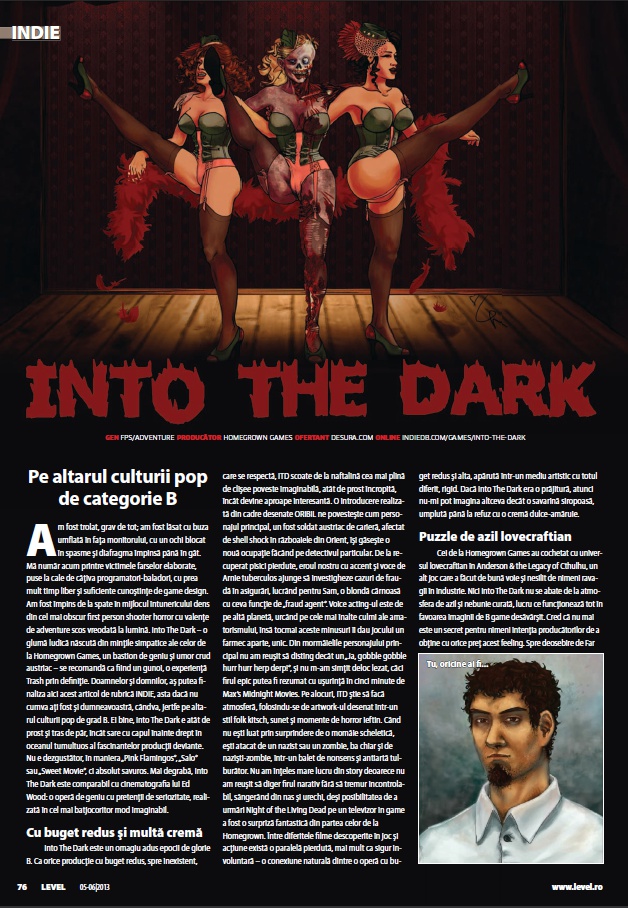 As we don´t understand Romanian, our first try was running the text through google translate, at start we tried a jump from Romanian into German. The result was very amusing, but gave us no real clue if they believe our trahsy B-movie gaming experience is an entertaining approach or the worst game since Ataris E.T. adaption in the early 80ies. So we tried Romanian to English, and were quite surprised that Level actually compared "Into the Dark" to "Farcry Blood Dragon". But, honestly, we still didn`t get much out of the words puzzled together with Google translator.
However, Mikey, Romanian member of our team, did the final and finally working translation. And hell, yes, we were actually compared to Blood Dragon, and came out as being the more authentic Trash because of our lack of budget. But, more important, Level has came to the final verdict: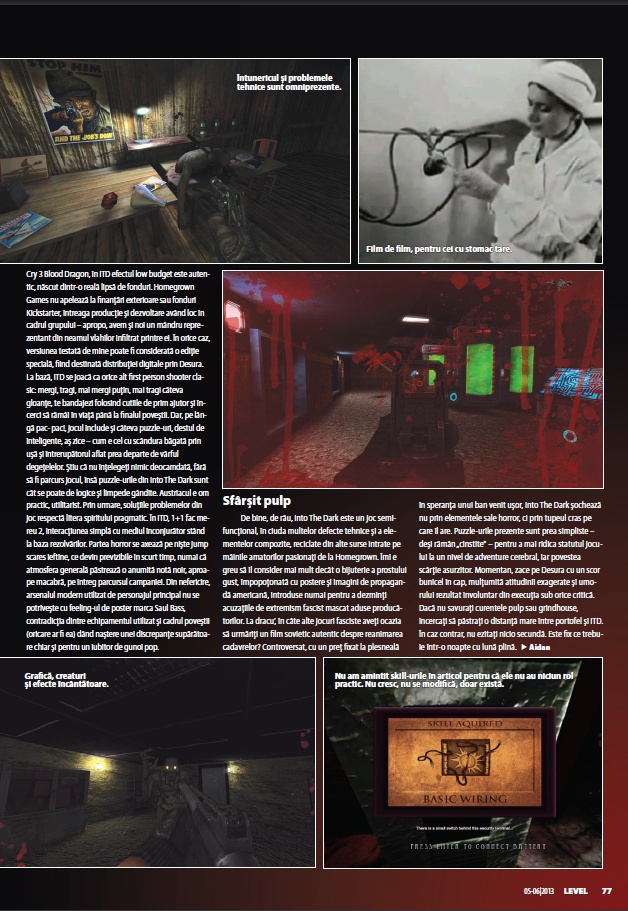 "If you don't enjoy pulp, trash or grindhouse, try to keep a big distance between your wallet and ITD. If you do, don't hesitate a second. It is exactly what you need in a full moon night!"
Well, this gives us a huge motivation boost for Into the Dark 2, aka "Into the Ice". And we thought about a special deal, starting in a few hours.
From today evening, untill the first official IndieDB page, screenshots and official announcement of "Into the Ice", you will get Into the Dark for 25% off - exclusively at