Today, we're excited to announce our Greenlight campaign for Leadwerks 3: Steam Edition.
This software will be distributed through Steam and allow you to build games with Lua script and publish them to Windows and Mac through Steam. We think Steam users will love Leadwerks, for a few reasons.
Constructive Solid Geometry
First, we use a level editor based on constructive solid geometry. This lets everyone create game levels, without having to be an expert. If you're familiar with Valve's Hammer Editor, you'll feel right at home in Leadwerks. It's fun to make game levels, and anyone can do it.
Write Games with Lua Script
Second, we use Lua script, just like in Garry's Mod, World of Warcraft, Crysis, and hundreds of other games. We have a built-in script editor so you don't have to switch back and forth between Leadwerks and an external program. It's even got a built-in debugger so you can step through your script and see everything that's going on in the game.
Visual Scripting
Finally, we use a flowgraph editor to connect scripted objects and make gameplay happen. You can view the functions of scripted objects and just click and connect them. This lets map designers create sequences of events and complex gameplay, with no programming required.
But it's not enough to just put Leadwerks on Steam. We want to fully integrate these technologies to deliver a complete game development platform, running within Steam.
Steam Workshop Integration
We're hooking into the Steam Workshop to deliver game assets. This includes models, textures, scripts, and maps, so you can get everything you need to make games. When you find an object in the Steam Workshop you want to use in your game, just hit the "Subscribe" button and it will show up right away, ready to use in Leadwerks.
Support for Valve Asset Formats
We're also addng support for Valve's asset formats so you can access lots of great content from the rest of the Steam Workshop and add it to your game.
Export for Steam
We're working with the Steam SDK to make it easier to submit your games to Greenlight. Just press a button and your game files will be packaged up ready to send to Steam.
Our dream is to unite the entire Steam community into this big global game-producing factory, where everyone can do what they're best at. We need your help to make it happen. Please vote for us on Greenlight and show Valve the Steam community wants to build their own 3D games with Leadwerks.
We'll do our best to make sure all current Leadwerks users can get Leadwerks 3: Steam Edition added to their Steam account for free. To help facilitate this, please add your Steam ID to your Werkspace profile.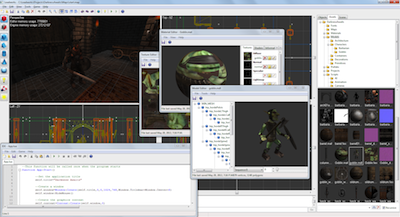 Vote for Leadwerks
To vote for Leadwerks 3: Steam Edition on Greenlight, visit www.leadwerks.com/greenlight or find us in the Greenlight software section in Steam.