General progress
A lot of polishing has been done on the I-Novea engine. This means investigating all sorts of bugs and problems that we had noticed, but didn't have the time to fix so far.
For example, support for minidumps where added. When the engine/program crashes, the exception gets intercepted and generates a dump file that contains a stack trace as well as local variable values. It works in release mode too, so there's no performance cost; the only restriction is that I need to keep the .pdb files associated to a release. From a user's point of view, a small dialog box pops up and asks whether a minidump should be saved or not. If agreed, it generates a file called 'minidump.dmp' near the executable. This can be packed together with the log file and sent to me for further investigations.
All future releases of prototypes, ASEToBin, StoryGen etc.. should include this minidump.
Modelling challenges
Congratulations to the winner of our first modelling challenge; Sparlin, closely followed by Bahamute.Kickman. The goal was to model a space or ground-based prison that fits the style of our sci-fi universe, we are very happy with the results!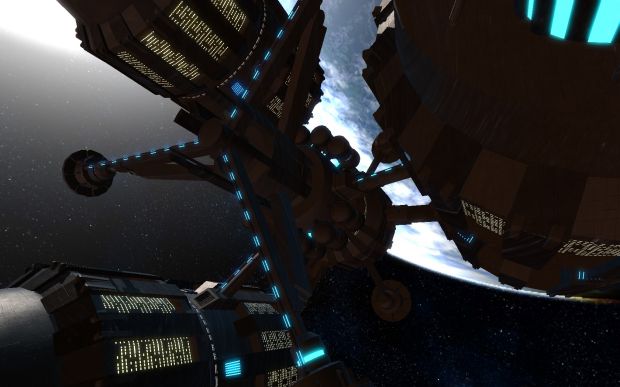 Want to participate in the next modelling challenge? Don't hesitate to become a member and check out our modelling challenge forum section.
Lava experiments
On the "visual" side, Flavien Brebion(aka InfinityAdmin) has spent a couple of hours on 'lava'. We are happy with the effect so far but later on, we plan to add a screen-space heat (distortion) effect.
With HDRI enabled (like in the following screenshots), and the glowing effect, it's looking rather nice.
It's likely that similar shader will be used for the sun surface effect.
A couple of day and night shots:
For more information check out the latest entry in the Development Journal.