Hello, friends! Cyfieithydd is here and today is time for some fresh news from KINGDOMS.
DEVELOPMENT
This were a VERY productive week. First of all, I want to thank all our testers for helping us. The project of such scale can't avoid it, but with your help we'll make game better and better, I'm just sure of it!
Second, I've add so many new features to the game like building, trading, combat and wild animals. There are a LOT to show and tell, that's why I've made some video where i'm telling about all these features in details:
STEAM
Some other important and very pleasant news - we were greenlit! Here is our statistics t by the end of the campaign: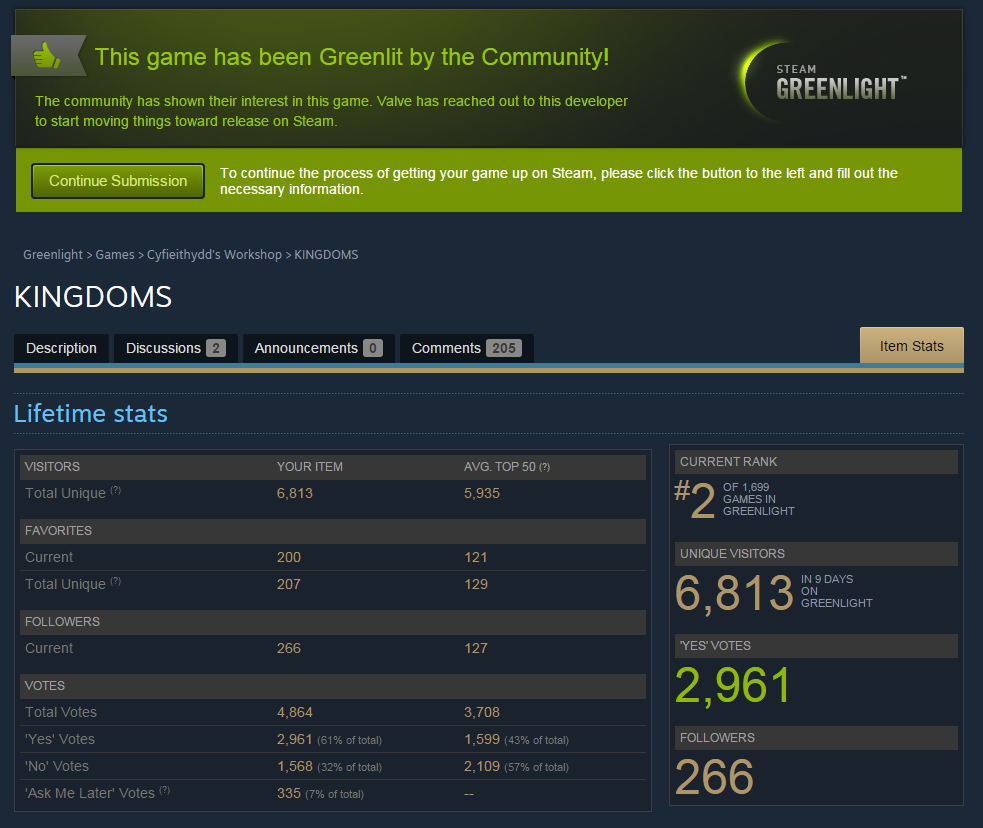 Thanks to all our fans, who have voted for us - we really appreciate that!


To tell you the truth - i didn't expect that at all - that's real fact. I didn't even hope, that we will get Greenlight so fast and our project would be intresting for some many people. That's really important for us, because (i won't be tired to repeat that) without your huge support and feedback all this would be impossible. And the last (and the most important) news is:
KINGDOMS comes out via Early access 23.10.2015
You can visit our Steam-page there right now! (Linq is in the end of this news)
So, that were all news for today, we believe, that we're moving in the right direction and someday we'll be proud to give you the game we all want to play! That's it for today, see you on Steam!
LINKS