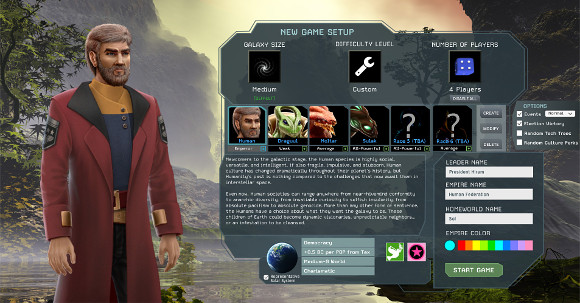 Hello space emperors of interstellar Space! We haven't made one of these quick updates in a while so let's take a look at what we've done and are doing since January of this year in our road to Beta!

We released the Alpha 1b build to our backers on December 27th 2018. The feedback was great and we got a big number of suggestions for improvement. January was all about working on all of those suggestions and many others we've received in the past. Many issues were resolved and due to that feedback we think the game is now much more balanced and fun!

February, March and the first two weeks of April were all about adding more ship modules to the game and to finish the AI. It was a huge undertaking, but finally we now have a complete AI in the game! As some of you know, there are different difficulty settings to go with and different races can have a specific difficulty level. You can also set a difficulty level for yourself. The AIs play by the same rules as the human player (they don't cheat!). However, they do get starting bonuses in the higher difficulty levels, after which no other bonus or special treatment is given to the AI, and the human player will be measuring strength with the AIs in equal footing. May the best Space Emperor win!

With the gameplay and AI now finished we're now entering the "polish phase" where we'll be adding a tutorial to the game as for all the remaining art (2D, 3D art, music tracks, cutscenes, etc). When everything is in we'll reach Beta which will be available to all of our backers. The game will then release when we feel it is ready.

That's all for now.

Thanks!
Adam Solo & MalRey
Praxis Games
In the meantime, please wishlist the game on Steam and feel free to open threads and discuss any topic you'd like in the Steam forums or on our official website forums. We're making the most complete and comprehensive Turn Based Space 4X ever developed, and we count with your support to make it happen! So, please wishlist the game and spread the word about Interstellar Space: Genesis today, and soon you will Discover the Unknown...