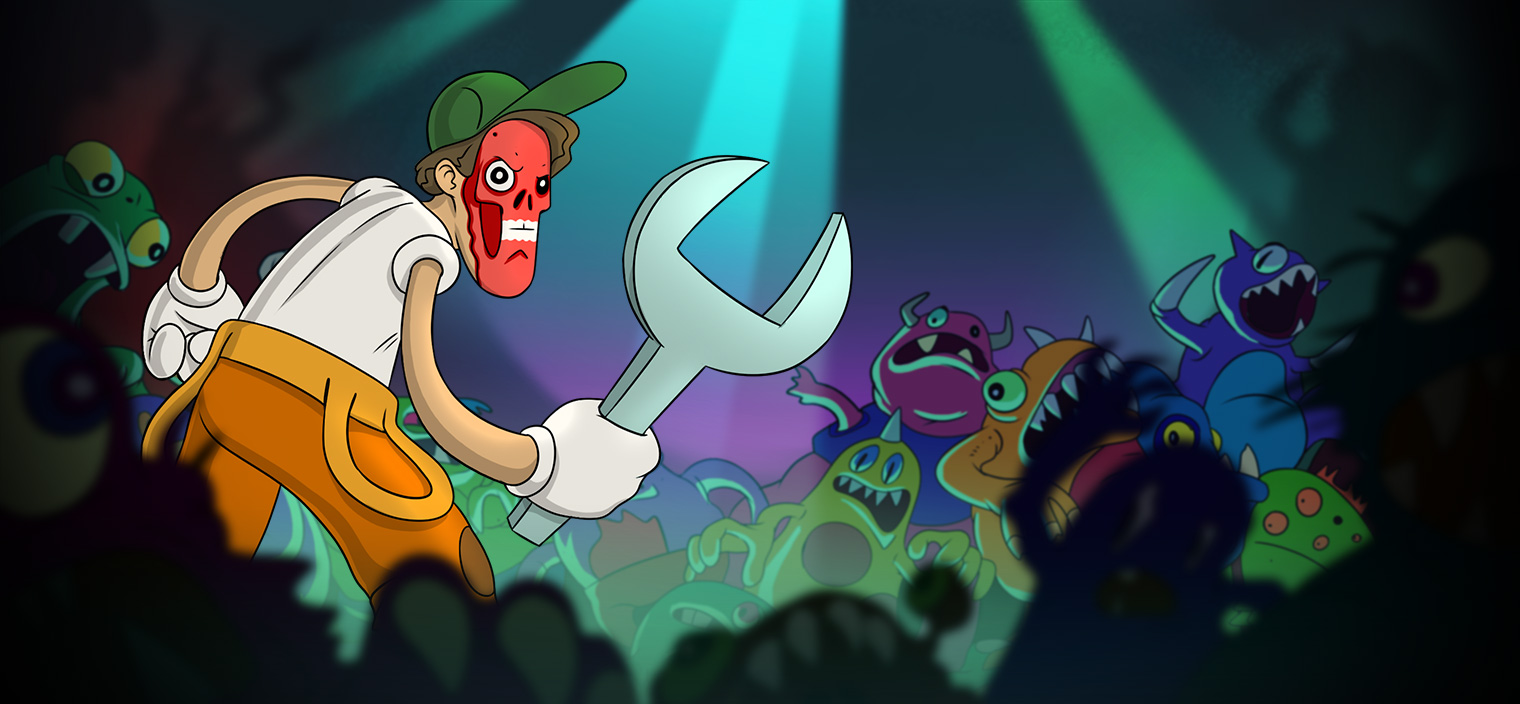 Please give a warm welcome to Ed, the Redneck without a face!
Once, he was but an ordinary mechanic who lived a quiet country life. Now, thanks to an unexpected attack by some green blood-pumpin' - trespassing aliens; his life has changed!
First, they stole his face, then they abducted him, and then they set out to finish him off.
But Ed will not go down without a fight, no sir! Armed with a trusty wrench he is a dangerous person to cross and he'll stop at nothing to pave the road back home - even if he has to fight his way through hordes of extraterrestrial monstrosities!
Did we catch your attention? Check out our teaser trailer to see the game in action!
A few words about us - we are a small indie development studio called Rustic Funtastic and we are really happy to have been picked up by 101XP who are our publisher!
Now, let's take a look at Redneck Ed: Astro Monster Show and talk about what we're making!
---
Looking at the Game's Art
As you may have guessed, Redneck Ed is a colorful arcade-style platformer/beat 'em up game that focuses on hilarity and cartoon fun.
We've been told that the game's art style brings back memories of old and loved cartoons such as Courage the Cowardly Dog, Earthworm Jim, Freakazoid, and even Rick and Morty - and those are comparisons that we certainly like to hear!
Of-course, judging for one's self is the best, so we've got some of our work-in-progress art to show you.
Over exaggerating certain features like his mouth, legs, and of course the wrench were conscious decisions that we made to help to push the game into the cartoony side of things!
The same can be said for the animations. As Ed uses a wrench as his primary weapon, we had to get creative to think of ways that he could use it. Cartoon logic really does help as it gives us a lot of freedom; like spin charging the wrench for added power!
For the art fans out there, we've got a special timelapse video of our artist at work drawing in a very large-mouthed alien. Such a mouth is a perfect target for Ed's trusty wrench!
---
What to Expect from Redneck Ed?
That's an easy one, you can expect a healthy dose of cartoon fun!
We're working on 15 levels of pure chaos, otherworldly locations, and a lot of pop-culture easter eggs for the eagel-eyed players!
Enemies will come in all shapes and sizes. You'll have the grunts, but also the bosses. Make no mistake, this won't be a button-bashing platformer, you'll need to experiment and device unique strategies while leveling up your skills in order to clear the game!
That said, we are still in development and we are aiming to launch the game by August 2020. In the meantime, we'll be here on IndieDB talking about the game, our development experiences, the art, and anything else that you in this community want to see!
You can also add us to your Steam wishlist today!