First of all, we have amassed over $66,000 distributed between more than 2,000 backers which means we're over the 11% mark to completely fund Interstellar Marines: Prologue.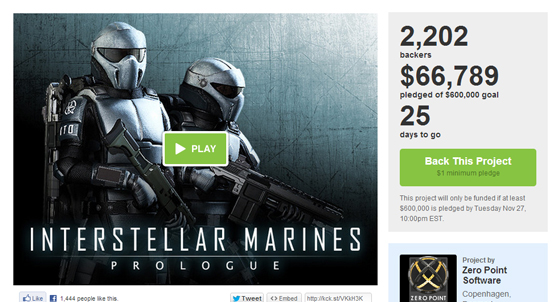 A huge THANK YOU goes out to everybody who have helped us get this far!
But it's not clear blue skies just yet...
On Kickstarter it's extremely important to get a good start with a lot of backers and hype around the project. This instills confidence in the project for would-be backers, and helps it drive forward in the coming days. The opposite is of course also true.
We're making this point because for the last week we have been surprised time and time again by how many of our close friends, family members, ex-colleagues and acquaintances, who all love our project and have the intention to support us – but have held back "until the time is right"!
Our quiet plea is this; If you intend to support us – NOW is the perfect time to do so.
Kickstarter in a nutshell
Kickstarter is the world's largest crowdfunding platform that helps creative projects, like ours, get funded by the people that truly care about getting the product in their hands.
If people like the project, they can pledge money to make it happen. If the project succeeds in reaching its funding goal, all backers' credit cards are charged when time expires. If the project falls short, no one is charged. Funding on Kickstarter is all-or-nothing.
What if I already supported you on InterstellarMarines.com?
First of all - thanks a lot!
Rest assured that we will reward you just as much as any Kickstarter backer (and more), if we reach our goal.
If you go to our Kickstarter FAQ for Early Supporters page, it will automatically calculate what you are eligible for based on your early support, and the page also explains how to continue your support on Kickstarter, if you choose to do so.
What's up with the question mark on Facebook?

Fun fact of the day: According to Kickstarters own statistics, if projects reach 30% funded (that's $180,000 in our case) before the halfway mark, there's a 90% chance that they will make it all the way! What goodies we unlock beyond this important milestone is obviously still a secret!
In other news
TotalBiscuit: Last Tuesday we were interviewed by TotalBiscuit while playing on the Deadlock servers and it was friggin' awesome. We expect the video to be online within a few days. Thanks to all of you who showed up on the servers, and gave us a run for your money! ;)
UPDATE: Here's the interview!
Deadlock update: We finally have multiple map support in Deadlock, so we've added the "old" classic Operations map back into the mix, allowing people to get a taste of both indoor and outdoor combat.
For daily news and progress on the Kickstarter be sure to join us on Facebook and Twitter, and don't forget to spread the word about our Kickstarter project!
FOR THE LOVE OF THE GAME,
Your team at Zero Point Software