Hello, my name is Elias Daler. I develop a game called Re:creation.
The game is in the development since October 2013 and you can find lots of dev logs here and on SFML forums thread.
Re:creation is an action-adventure game similar to The Legend of Zelda: A Link to the Past. I also draw some influences from Earthbound (story and dialogue wise).
But there's one feature which makes my game different: you play as an undead knight who can control people's bodies with his ghost after he kills them. I call this mechanic recreation. This helps you solve puzzles to progress through the game. Here's how it works:
And here's how you can solve puzzles with it:
You can't carry any other weapons other that your hammer (and another secret weapon which you'll get later in the game), so in order to shoot arrows, you need to become an undead archer. This helps you to kill enemies which you can't kill with your hammer. After that, you can become an undead warrior on the other side of the bridge and press the button to lower the bridge.
Right now I'm on my study break which will last for 1.5 months, so you can expect more updates than usual.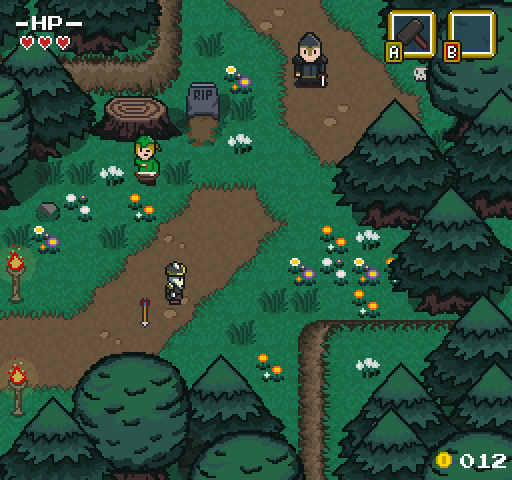 I'll post the most important news on my blog and there, but you can find more stuff (especially about programming and scripting aspects of the development) on my twitter and SFML forums thread.