Client Version 1.4.16
Yesterday we released the new website mail system and today we've released client 1.4.16 which brings with it the new client side mail system.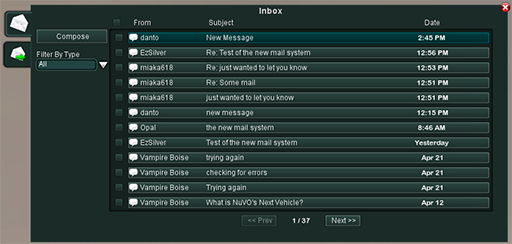 The new client mail works much the same way as the new website version with a few notable additions. At the top of the screen in world is a new mail button to the left of your username. Clicking this will open the new mail system. If you have new messages there will be a star showing on the mail button and mousing over the button will show how many unread messages you have.

There is a new mail notification in place so that if you receive new mail, whether sent via the website or in client, the mail button in client will update to show you have new messages.
For more details on category types please read the website mail system release thread.
Release Notes
[General]
- Added new mail icon next to username at top of screen which is used to access new in client mail system
- New Mail Icon shows star if new mail messages exist
- Added mail notification so that if mail is sent to you via website or in client you will recieve an updated notification of new mail in client
[Fixes]
- Fixed issue with overlapping next/previous buttons on the Events window
- Attending events list no longer shows expired events