If you already played through Into the Dark, you might have a good guess where the sequel "Into the Ice" will take place. Yes, we are going to Neuschwabenland in Antarctica, a mysterious piece of the worlds of eternal ice. Rumours have it that the children and grandchildren of 3rd Reich officials are still roaming around there in a secrete base - and the infiltration of this base will be your first goal in the beginning of Into the Ice. Let´s talk about some of the new games mechanisms. Today:
Remember, this time we are in Antarctica. So even with the fancy equipement you may or may not get in the beginning, freezing to death is as lethal as getting shot. Ingame, this is reflected by the "cold" status of the player. As long as the player uses his portable electric heating devices (which won´t last forever without recharging) or moves inside a heated part of the base, everythign is fine. The screen will look like that (given that the player isn´t hurt yet):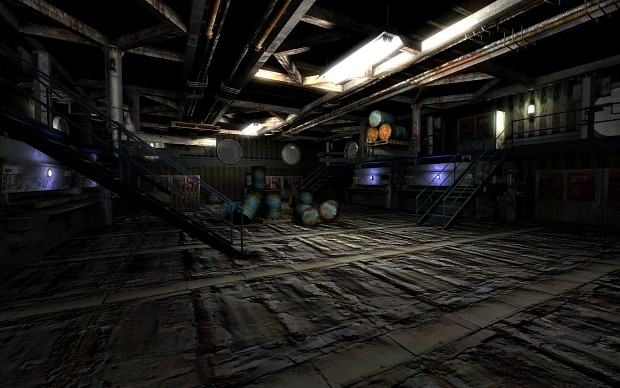 However, if the player is moving through an area which is not heated (and you will see that by icy coverings on metal and frozen puddles), his "cold value" will increase slowly.
What´s the effect?!
Basically, the colder you get, the slower you move. Your jump range is reduced both in height and distance, and your view will get ICED.
How does this "Iced View" look like?
As this is dynamic, it´s a good guess that you won´t notice the first few cold points you got, but let´s say your "COLD" factor is at 20 out of 100, your movement speed is down by 20% and your view looks like this: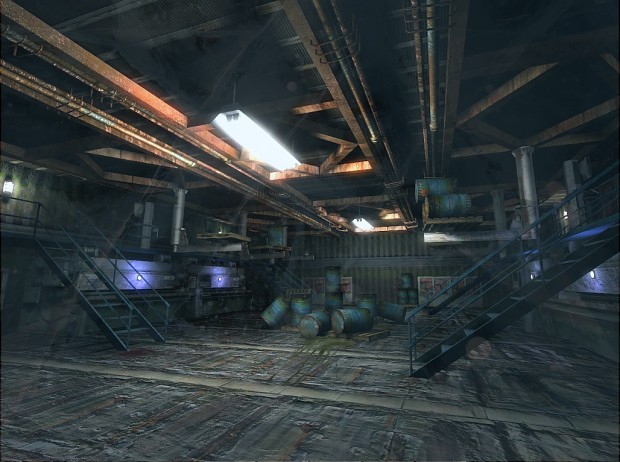 It´s still pretty subtle, but together with the reduced movement speed you already have a slight hint that you should do something.

What can you do against freezing?
1. Use your personal heater, if the battery is charged.
2. Move to a heated area of the base
3. Ignite a fire and stay there
4. Move to a heat source
Each one of those options will heat you up pretty fast, we are still in experimenting with the scripts but basically you will reduce your COLD points 2 - 4 times faster than you earn them. However, if you don´t react, your COLD level will go up to, let ´s say 60...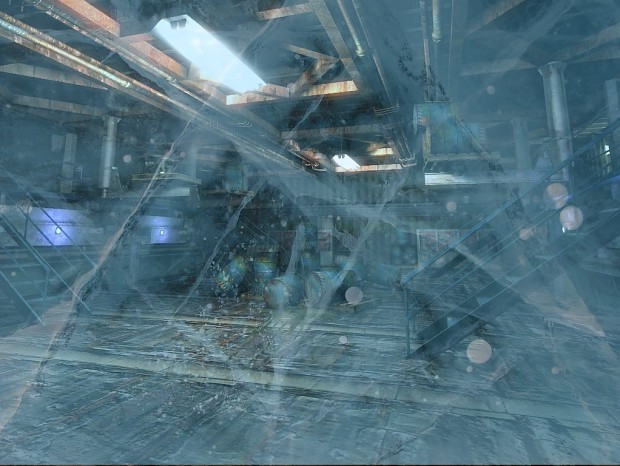 and with only 40% of your original movement speed, both melee combat and moving the heated location can be an exhausting and lethal task.
Lethal?
Yes, lethal. Because once you reach COLD 100, you are...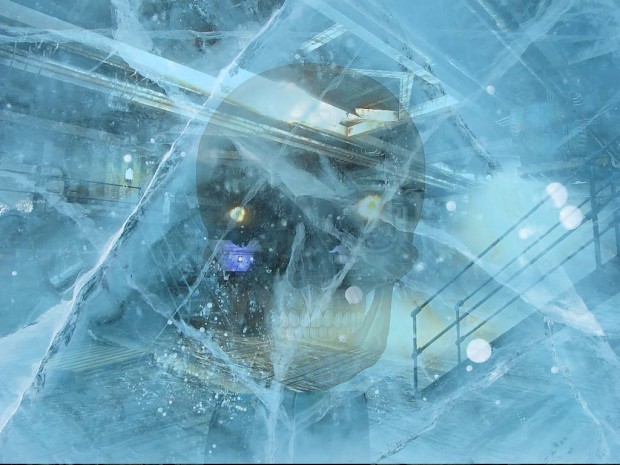 Dead. In this case, the mech wouldn´t have to fire on you, as you are already frozen to death.
So, the game has several different "Game Over" possibilities, all with different you-are-dead-outros.
1. You can get killed the classic way - shot, beaten to death, eaten by a zombie, stomped by a mech, poisoned by British cuisine hidden in cans labelled "French Special Dish", falling to your death, getting electrocuted, burning....
2. You can freeze to death.
3. You can survive, but turn into a Fasc...
...ah wait, that ´s the Fasci-Nation system, another contribution towards out RPG elements. We won´t reveal that yet.
But we reveal our latest special offer: