Hello everyone,
today we will be direct and straight to business.
If you remember what was mentioned in the previous post, we told that we were going to speak with our teachers in order to assess the situation since our programmer left the group regarding some personal issues.
The role our programmer had was rather important for the project, unfortunately, neither of us have the necessary skills or time to finish the current build with all the mechanics and functions we had planned to input until the deadline.
So after talking with our teachers, we decided to continue on focusing in our individual tasks. Those tasks involve doing modifications in the art and design of the game, developing some promotional content like a game poster, create a gameplay trailer and finishing documents and reports necessary for our project delivery.
We will ponder to publish the current build for everyone to try it out during the release date, but for now no promises.
Moving foward, besides all this information about what we're going to do and whatnot, we have more stuff to show:
We made some slight changes in the Main Menu screen, more specifically, we changed the "Spider Skin" screen button and we added a new button.
This new button is called the "Achievements" screen button, as you might have guessed it will lead to the "Achievements" screen.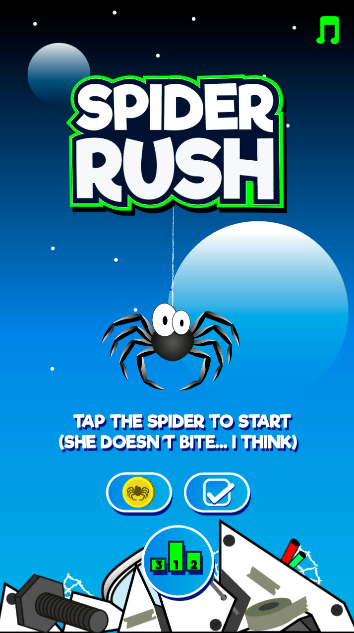 As the name implies the "Achievements" screen, shows certain tasks that you must achieve in order to get rewards, those rewards will be mainly extra "Coins" and "Revival Flies". Huh, what's that? You don't know what a "Revival Fly" is?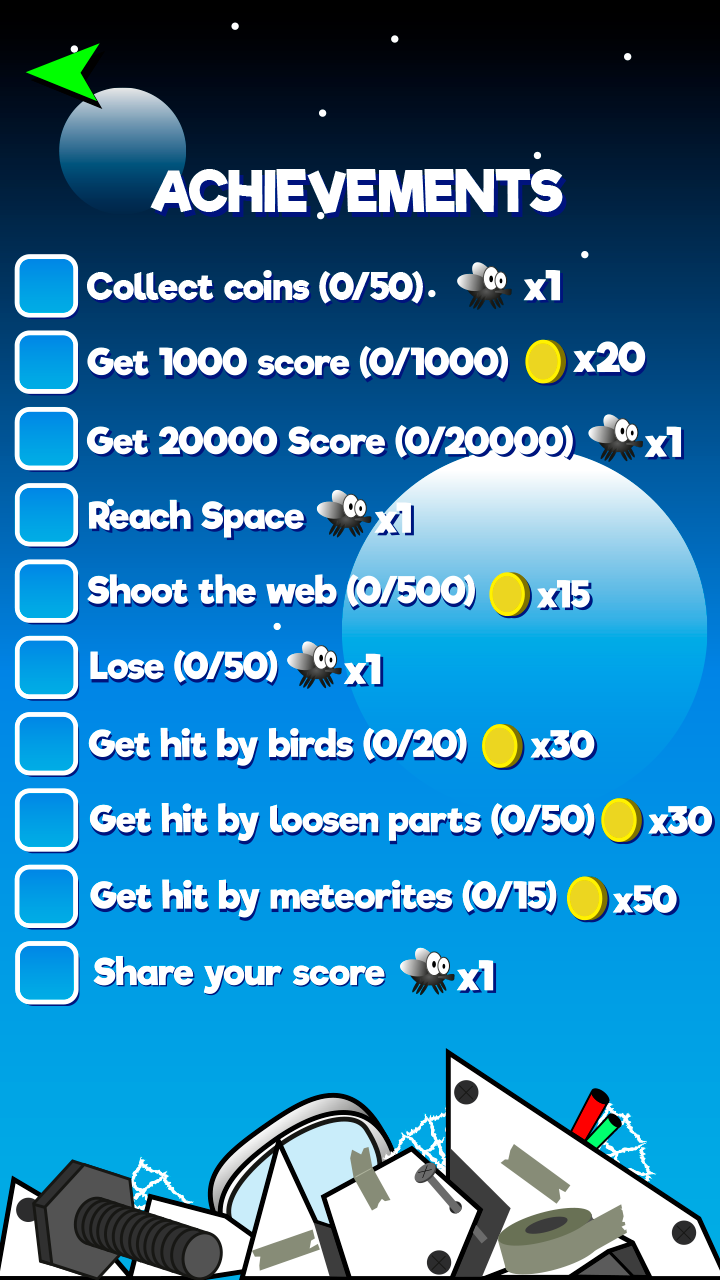 ...Fine we'll tell you, a "Revival Fly" is an item that allows the player the continue from where it lost the last time, this way he doesn't have to retry from the very beginning and its score isn't reset. This item can be used in the "Game Over" screen and it is only obtainable by completing the tasks that has them as a reward.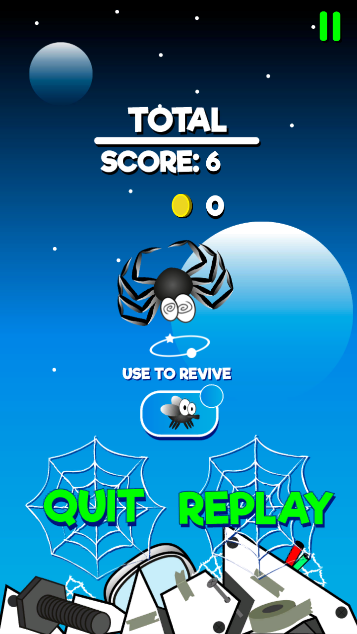 Besides all this, we've made a promo art describing in a very funny and short way what the "Spider Rush!" is all about. If you had any questions of what the game was all about, this will erase them in a flash!

These were some of the things we've been working on, we hope all of you enjoyed seeing the updates we published so far. Like everything in life, it had its ups and downs, but it was an experience that made us grow in several aspects.
This will possibly be the last update that we will post about "Spider Rush!", if not, then it will be next or during the deadline for our delivery project, September 2.
Whatever the case, it's been a pleasure folks, thank you from the bottom of our hearts for all the love and support during the development of this project.
Sincerely,
from Ivan Areia and Daniel Reis, DeltaBot Games.