Hey friends,

Ava and Mat of Lozange Lab here. In case you missed it, a few weeks ago we debuted 5 WHOLE MINUTES of never-before-seen Rip Them Off gameplay exclusively at Pocket Gamer's LaunchPad event. We are delighted by the reception, and so proud to show off our new puzzle game on such a large stage. Check out Pocket Gamer's awesome coverage here: Pocketgamer.com

Following our gameplay reveal, we thought today would be a good day to give you a deep-dive on how playing Rip Them Off actually works, so you have a better idea of the Board's capitalist shenanigans you'll be enacting on our September 24th launch day.

Now, let's be clear, the following deep-dive is a text blow-out, so if you'd rather watch our aforementioned, lovingly crafted 5 MINUTE (!) commented gameplay video, here it is for you:
So, let's dive in, shall we?

What is Rip Them Off?
Rip Them Off is a satirical puzzle / tower defence / micro-management hybrid game. Your job is to place shops on busy city streets and make as much money from the shoppers as possible before "The Board" decides that your time is up.

How do I play Rip Them Off?
Rip Them Off's levels take the form of different, beautifully stylised fictional cities. Each level has multiple day-based milestones which the player must hit before the next milestone unlocks. To complete each challenge, you must make enough money to fill 100% of the gauge in the corner of your screen before the final day of each challenge ends.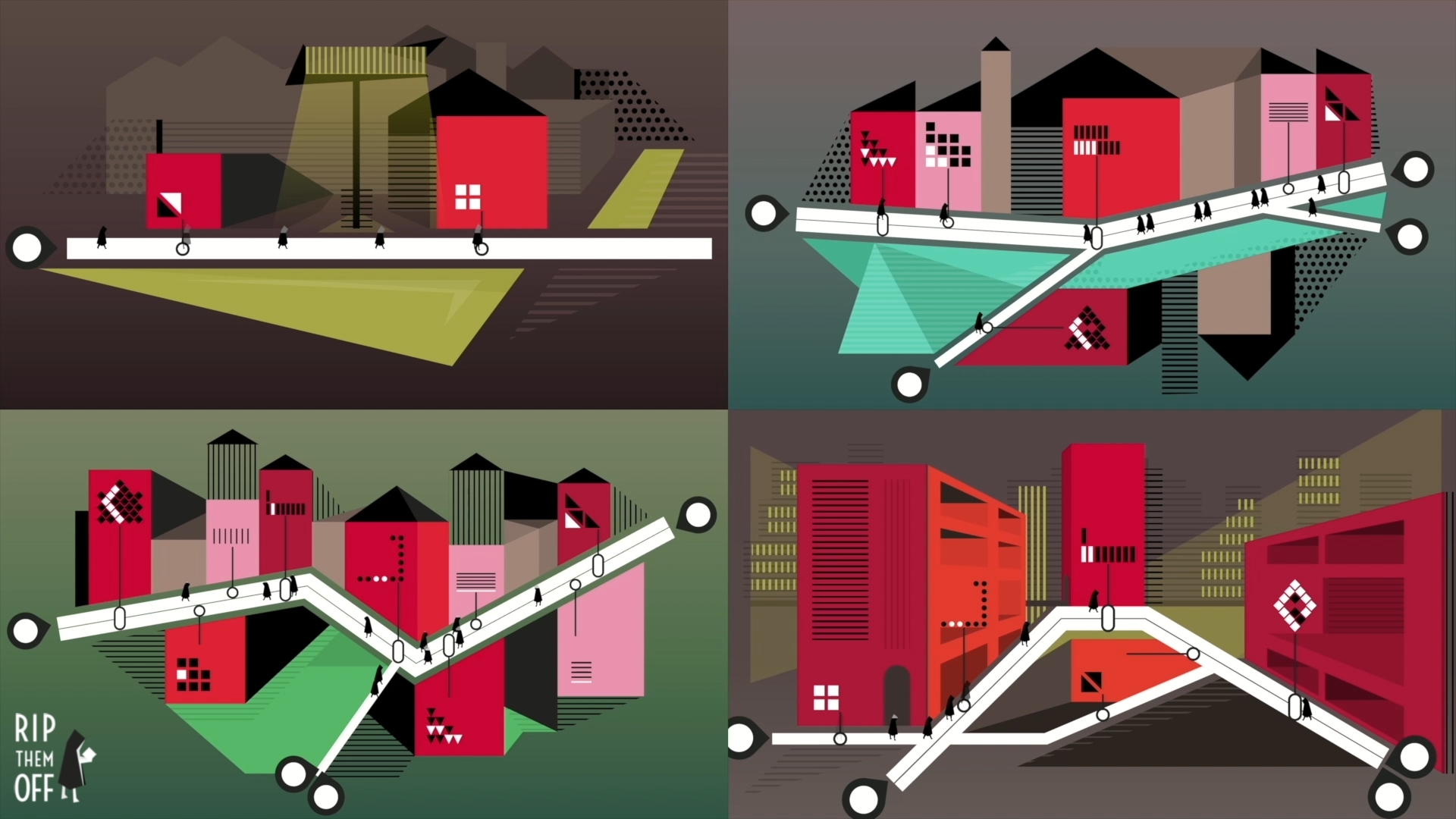 To make money in Rip Them Off, you must use your strategy and management skills to place multiple shops that the shoppers (or "Dupes") won't be able to resist spending all their money in. Placing the right shops in the right places at the right moments is the key to your success.
There are 9 shops to choose from, each coming at a different cost and with different stats; how long shoppers stay shopping, how much they spend, and how many can shop at once. You'll need to keep an eye on how much money you have too, as that will directly impact your ability to buy new shops and open up new profit opportunities.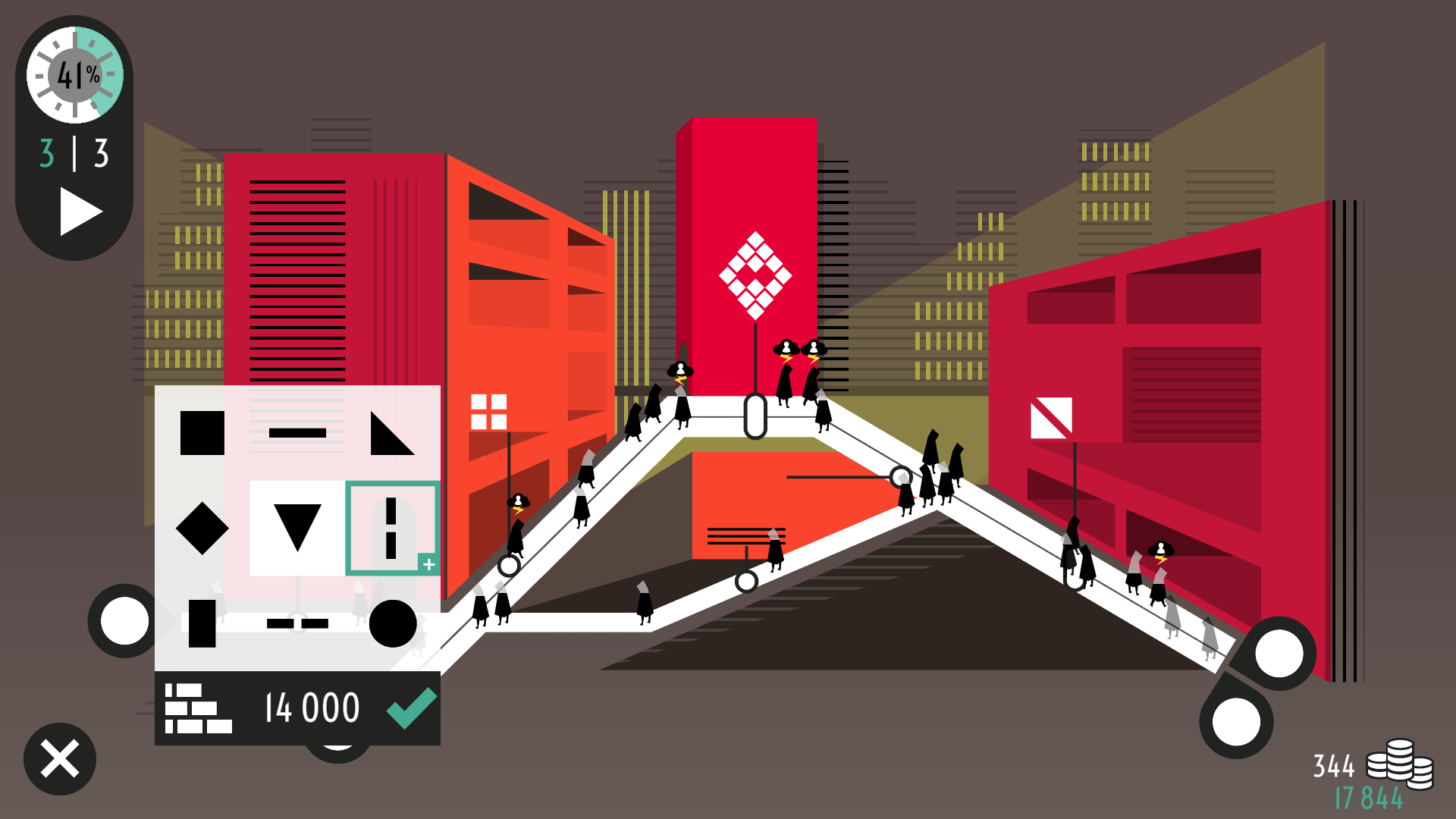 Every day, shoppers are released into the city streets, from different entry points and often heading in different directions. Your job is to place shops for them to spend their money in, and make enough money from them to reach the 100% target.
Shoppers will not enter the same shop twice, or enter a shop that is full when they arrive; they'll just walk right on by! You'll need to keep timing, placement, shop type, and your cash (or lack thereof) in mind if you want to maximise profits and appease the Board. Remember, once the shoppers leave the street, they're gone for good, so make the most of them while they're around!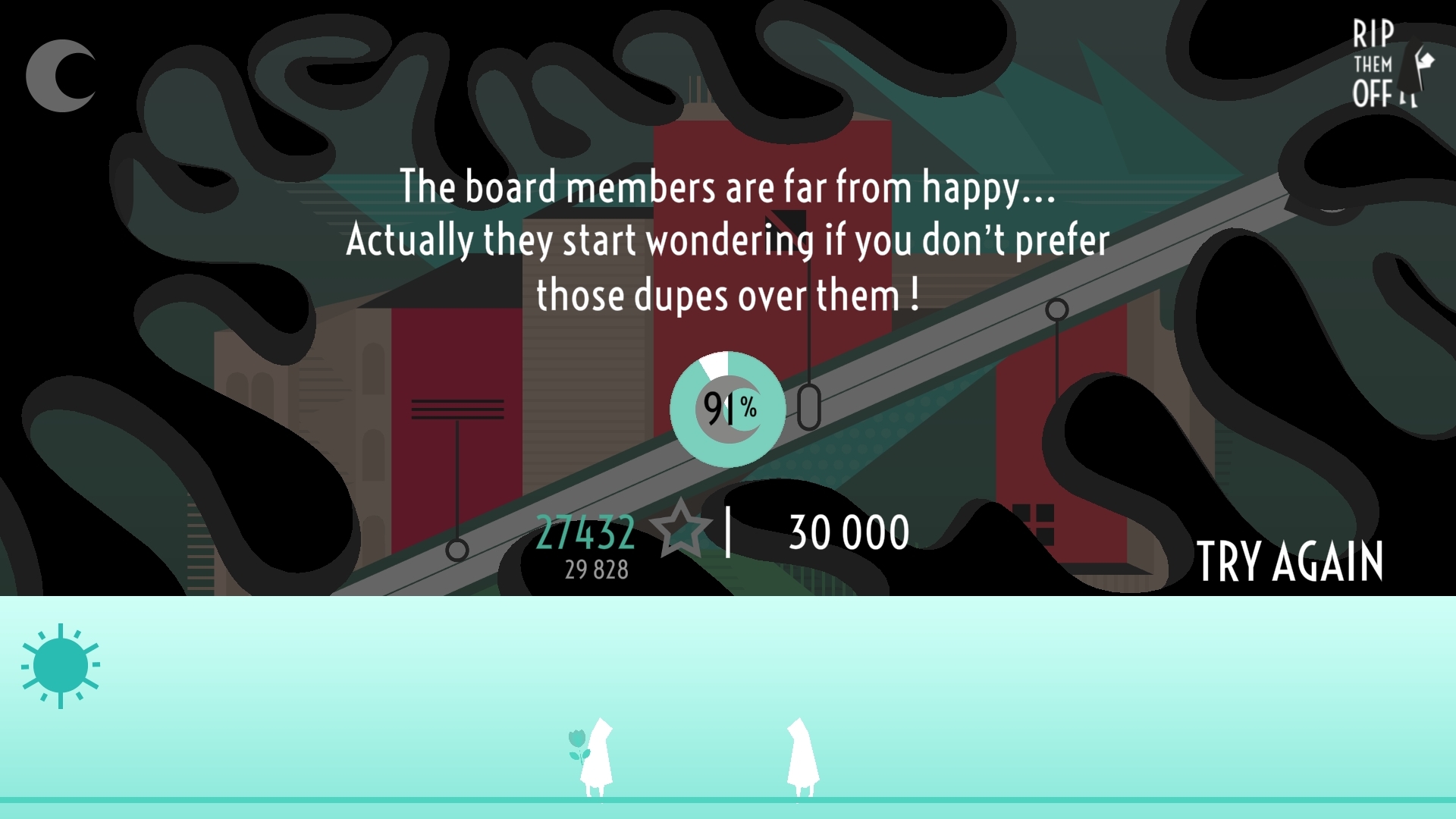 At the end of each challenge's final day, the Board will arrive to judge your efforts, fail to reach 100% and you'll promptly be (pretty harshly) told to get back to work and try again. Beat the first milestone of each level however, and you'll unlock the next milestone of that level if you fancy a challenge, and the next city if you just feel like moving on and seeing more of our stylised world.
So, there you have it! You now know how to play Rip Them Off, courtesy of a detailed bullet-point list the Board would be proud of.

We hope you enjoyed this extensive look at Rip Them Off. Before we go, we do need to emphasise that as an indie team of two, we need your Wishlists and your support in sharing Rip Them Off far and wide. So, if you like the look of our game, please do Wishlist it on Steam. You won't regret it, and you'll be making this husband-and-wife dev team very, very happy.

Thank you, and stay safe out there!

Ava and Mat.