Before I dive into everything I want to let everyone know that the Hoplegs demo is out now, so check out the Steam page to grab it (and wishlist). Store.steampowered.com
Twitch Category
I'm excited to have Hoplegs as a Twitch category so everyone who's streaming it can now have that active!
Dynamic Controller Swap
So when I felt that the demo was finished I sent it out to some selected few to see how the game ran for them and that was very valuable. I noticed some minor issues and hiccups they ran into. The biggest concern for me while they played was if they would pick the wrong input system and want to change mid-game. Before they had to restart the game and when the "press any key" came up they would have to use the new controller. Now as long as you're playing single player it will swap to the new controller which so far seems to work perfectly (don't quote me on that in the future).
Decorations & Foreground
My confidence in doing art is growing but that also means that it's the biggest iteration process in this game. I've been improving some background art so it doesn't pop too much inside of castles.
Something I added was a foreground layer with blurry silhouettes and honestly I really like it! It adds some depth. But between you and me.. I wish that they were a little more discrete but due to how the outline shader is working that's not possible right now without it looking odd.. So maybe for the future as right now I need to focus on other parts of the game. In general I really like it!
Sounds
So I don't have a gif here but my audio guy (Nate) has been working a lot on ambience sounds and general sound effects. I think it's really good and it just helps the game get a better feeling so I'm really happy with how it sounds now when you play!
Accessibility and alternative input
A feature that was very requested was to have the icons not rotate along the player, while I prefer when they don't do that I want to allow the player to pick which they prefer. I'm not sure if I'll have it as a hot swap icon in the corner as it is right now or just keep it in the settings menu, we'll see what people think during the demo. In general I've seen people swapping between specific obstacles such as slopes and some wall jump sequences.
I've also decided to add a bunch of accessibility options such as game speed so you can play the game in a bit of slow-motion if you need it. Add some extra force jumps as well!
Leaderboards
Perhaps the biggest addition to the demo, someone suggested during a livestream that I should do it and after giving it some thought I tried to add it and it wasn't that difficult. Seeing people jumping back in previous levels to beat the "par time" per level and climb the leaderboards made me really happy. Not the biggest replayability but for some this really gets them going. So happy to see this!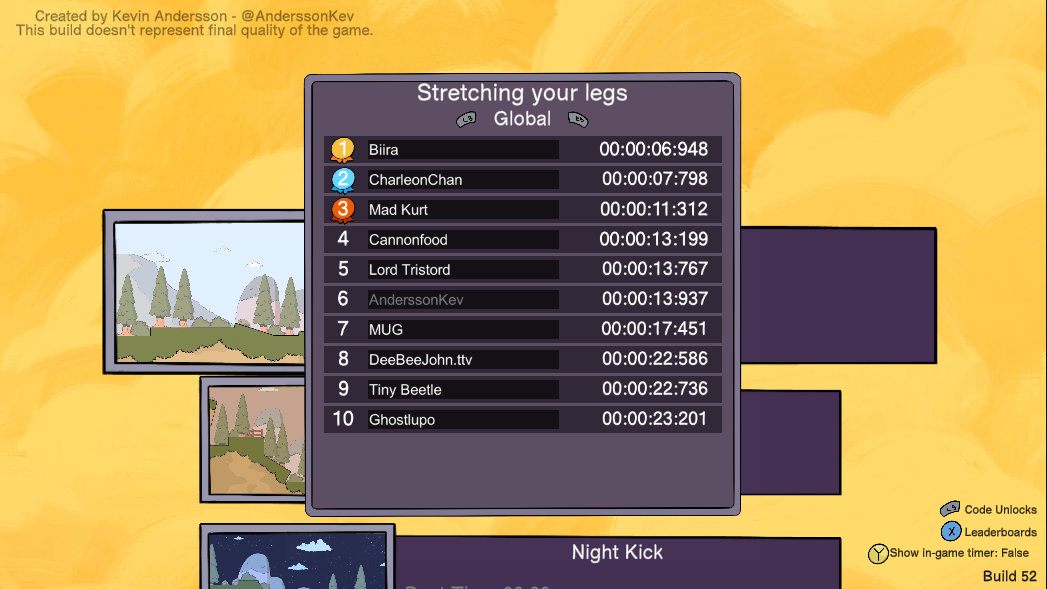 Editor workflow improvement
This is probably the best editor improvement in a while when it comes to speeding up the workflow. You can now swap between which trees or decorations to place before actually placing them. This is the last thing that I wanted to make when it comes to making a level in the level editor. Now I only need to make sure that you upload the level after beating it to make sure that it is actually beatable.
So if you got this far, please share the game with someone that you think would enjoy it!
Have a great weekend,
Kevin