So this week has been a bit of a blur. I started off ill, then Valentin (artist) got ill. My own work this week has been trying to get a build together to start the long slow iteration process. The idea of letting people try the game this early is quite scary to be honest. Mainly because it does not represent anything like the final gameplay. But I've committed us to this path because I want to work on HOPE and the world of EverSky long term. So holding it back without letting people touch it seems silly. Especially as I know that things feel clunky to me right now and I might be able to get some insight into why that is by letting other people try it.
The downside to an open development is that people can become burned by the update process. They might see progress being too slow, or might see the feature set going in a direction they don't like, or they might simply write off the game and never come back, even if the game changes considerably in that time.
But I think that risk is outweighed by the idea that having feedback in the longer term will lead to a wider audience and a more polished experience. Having people tell you what doesn't work and helping to refine what does, is a valuable thing for a product that literally doesn't have a shelf life. We can polish this thing for the next ten years if we need to, to get it to the state where people really love it. That is a new feeling for me.
Anyway, as Valentin was ill, I mostly spend time on fixing issues I was aware of to try and get us to the point of sending a build out to a few people. Mainly I'm thinking of this as a compatibility test as much as anything. Does the game even run? Can people select a tool and use it? Is any of it intuitive at all? I'm not expecting much in terms of feedback at this stage. But at least people can try it and know that it does exist. That we are working on it and they can start to explore the concept of it. Its not really "fun" right now, but it does offer a few tools that are interesting to spend some short amount of time with.
I expect we should have this ready to go soon-ish. But will have to figure out a way to keep track of who is trying it and what they think before we start giving people access.
Even though Valentin was ill, we made some art progress this week. Valentin spent some time working on the first trade ship. This is the ship that will deliver raw junk to your rig for you to process into metal blocks. The basis of almost all economics on the rigs is this process of recycling and refinement. When you start the game, you'll have what is essentially a trash compactor, which takes raw junk and compresses it into blocks. Those blocks you'll then sell and keep a proportion of the profit for your rig. The idea being that as you build up the rig and technology you have available, the more processing and refinement you can do to generate more income. Crafting also works with these compressed blocks of material.
Lance has been busy lately, but he took time to work on some more character concepts for us. Specifically we're trying to get a sort of "light/medium/heavy" proportion going for different types of characters. For some reason I keep thinking of Shakespeare's Henry V and the Harry and Falstaff characters when I think of this. Anyway, Lance did this initial rough sheet.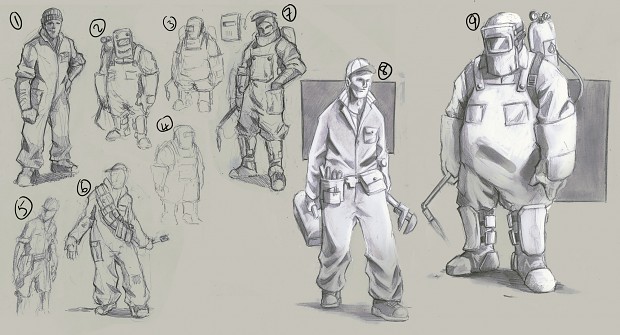 I liked 9 because it seems like he is a real worker. He feels sturdy and strong and I can envision a few personality types that would suit that proportion. We are probably going to go with a procedural approach to character creation, somewhat akin to an MMO character creator, but on a far smaller scale and not player-controlled. This should allow for a great deal of variety of character proportions, whilst still giving us some artistic control. So this "heavy" character would be at one end of the procedural spectrum.
Lance made this final render of the bigger engineer to give us a better idea of how he would look.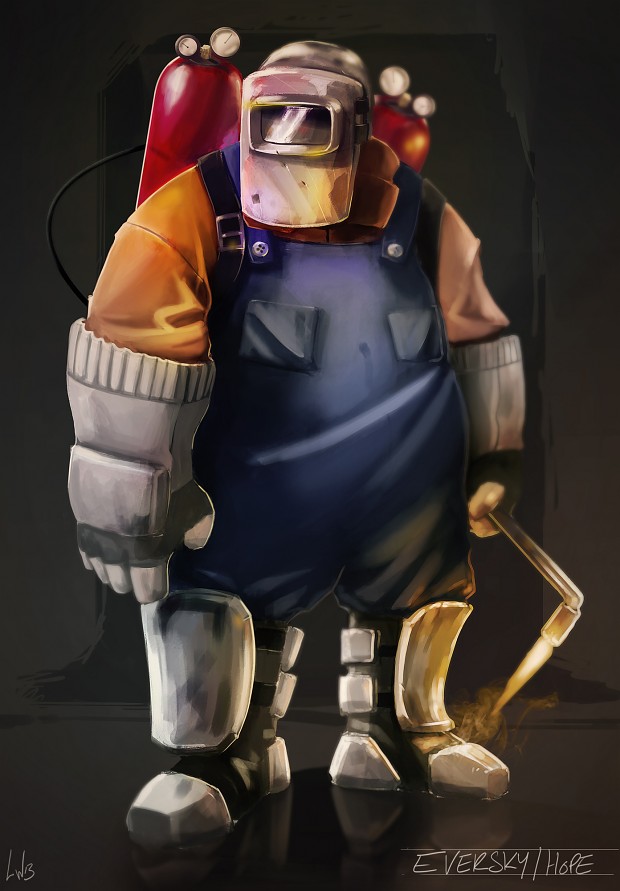 Large rig worker, click for better image
Anyway, that is the work for this last week or so. Slowed down due to illness but hey, we carry on. Looking forward to sending out invites to give the game a try. Even if you end up hating it, we'll learn something along the way.
Til next time.
.Zoombapup.