It's time for another Hearts of Oak Pre-Alpha demo release! Before we get to that however, I wanted to take a moment to just say that you people are awesome! For the second year in a row you have voted us in to the IndieDB top 100 Game of the Year voting, even though we have yet to release anything more than a couple of Pre-Alph demos! Heck, last year we hadn't even released anything but a few screen shots and some development videos, and you voted for us anyway! We are incredibly humbled by your support for our efforts, and extremely encouraged that that kind of support exist for this game genre. We still have quite a long way to go, but thanks to you, getting there is going to be a lot more fun! Thank you!!
Now on with the good stuff, Most of this months demo is focused on ship physics and kinematic motion, so there are several changes in this version. The last couple of demo releases have let you sail and fire the cannons, but so far your character has been stuck in one place and unable to move once you take command. With the release of this demo, that has changed! Once you have boarded the ship, you can now click on the ship and leave command and walk around on deck while the ship will continue to sail, and fight with the basic AI!
After you have boarded the ship, and your transported to the start of the demo, simply click on the ship and leave command, you will hopefully not be going swimming this time!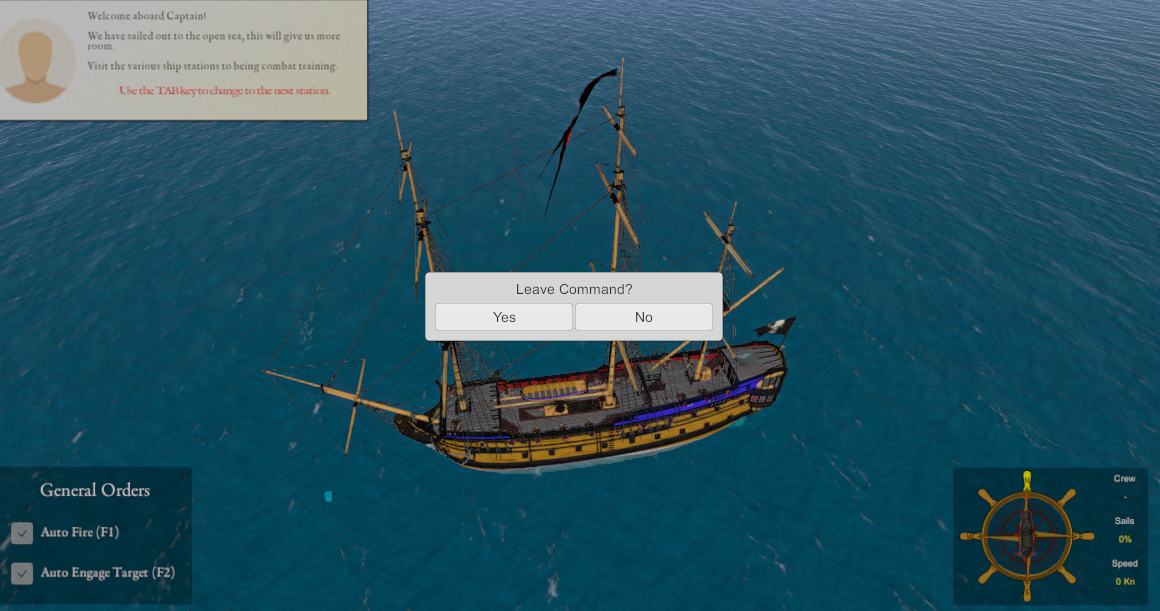 After you Leave Command, you will see an awkward view of the camera focused on the character but possibly blocked by the captains cabin.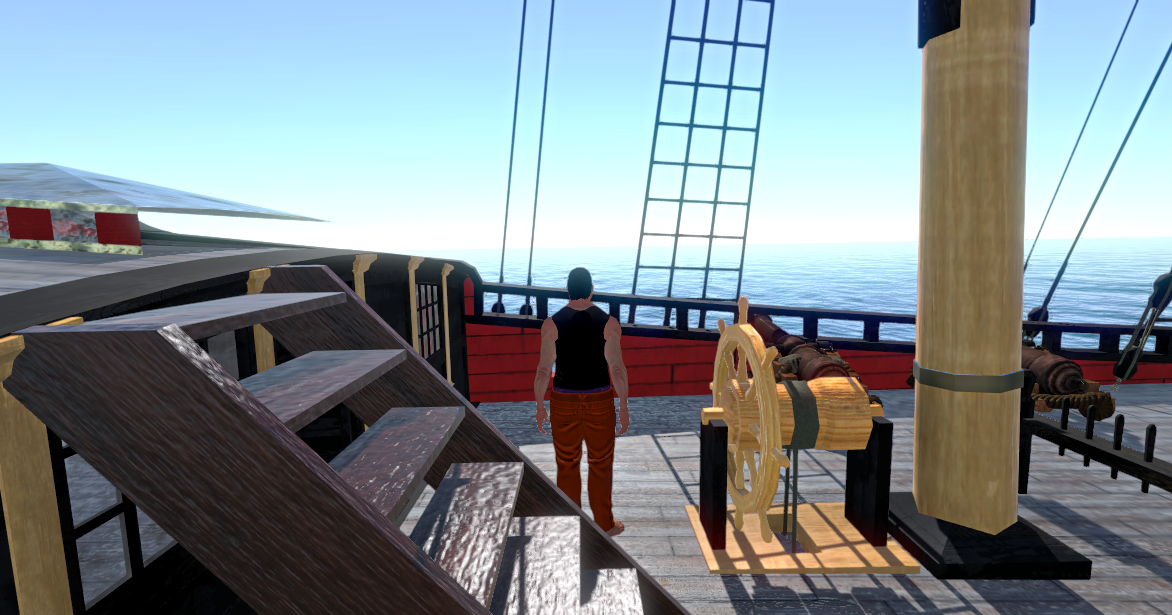 You can move your character around now, but beware this is very much a work in progress and there are some issues that are detailed later in the release notes. There are still some open colliders and it is possible to get stuck, and even fall through the deck at some points. Also, the view may also get blocked by various parts of the ship.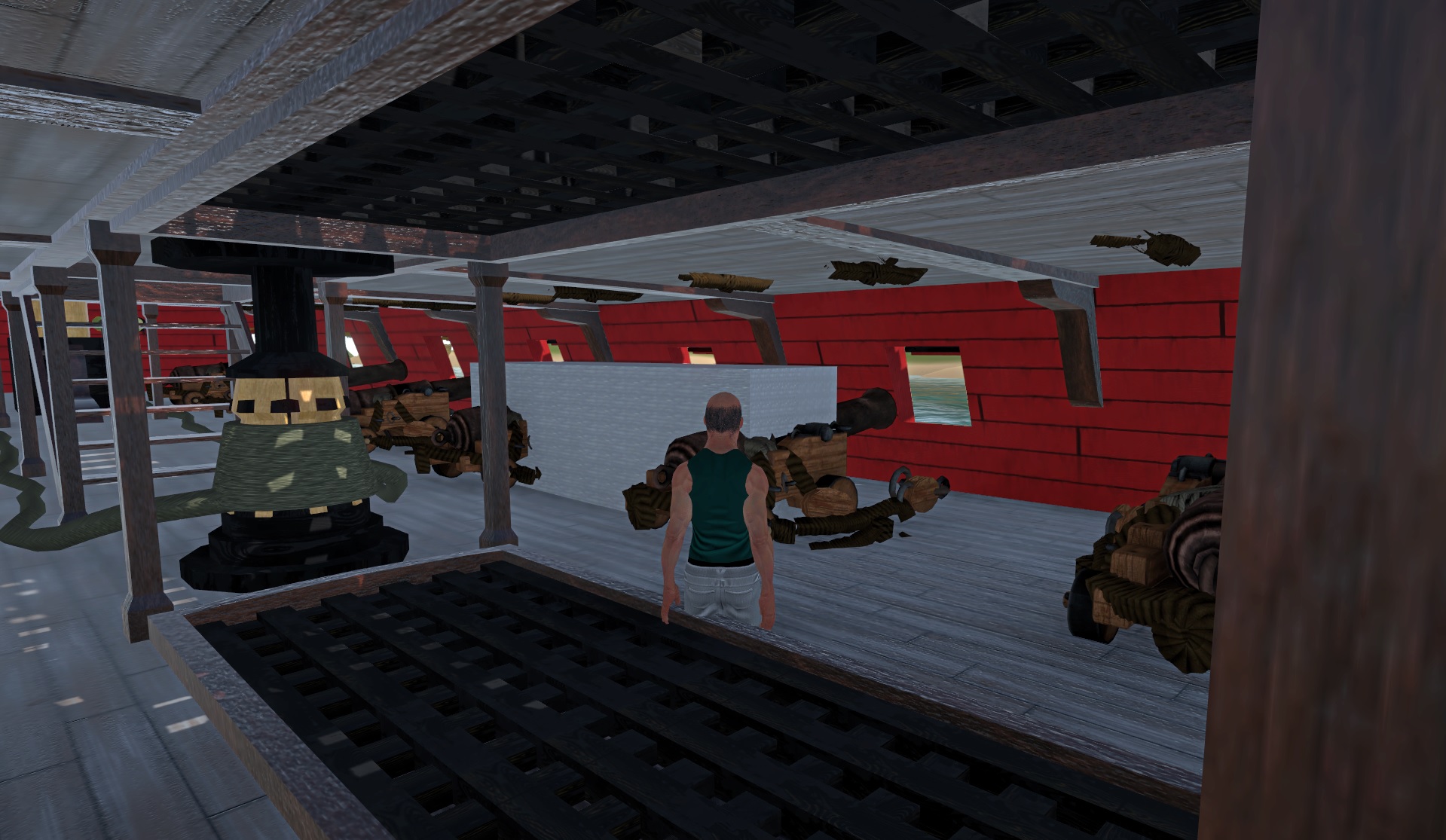 You may also run in to place holder for future additions, as in the above screen shot. The gray box is a place holder, it is there because it can be destroyed by cannon fire and if it is, you can bet your ship will quickly take on water. JohnSilver also has plans to add another big box like that in the future to represent the ships magazine, having that destroyed by cannon fire will be an interesting result!
To take command of the ship again, simply click on it for the menu.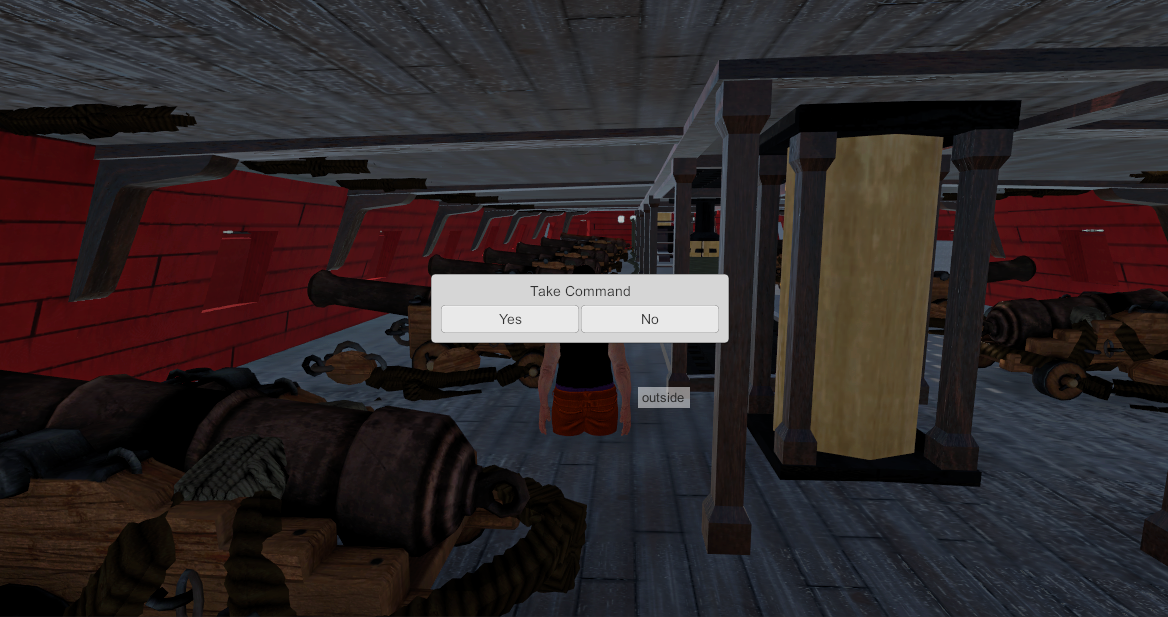 Ok, enough of my babbling, on with the Release notes!
Version numbering has been updated to avoid some numbering confusion issues. This release version is:
preAlpha 1.8.15349.0

Release notes:
This release focused on allowing characters to move around the ship while the ship was moving

Since the Unity physics engine makes it difficult to support moving platforms and maintain a character that also works in a physics system, as such, through an extensive amount of research and testing it was determined that 2 ship motion systems (physics, kinematic) would be used going forward

Ship physics systems (sailing and buoyancy) has been reworked to support a secondary kinematic motion and realistic/arcade sailing modes, the current demo uses arcade

Ship kinematic systems (sailing and buoyancy) has been reworked to support kinematic motion thus allowing characters free movement on ship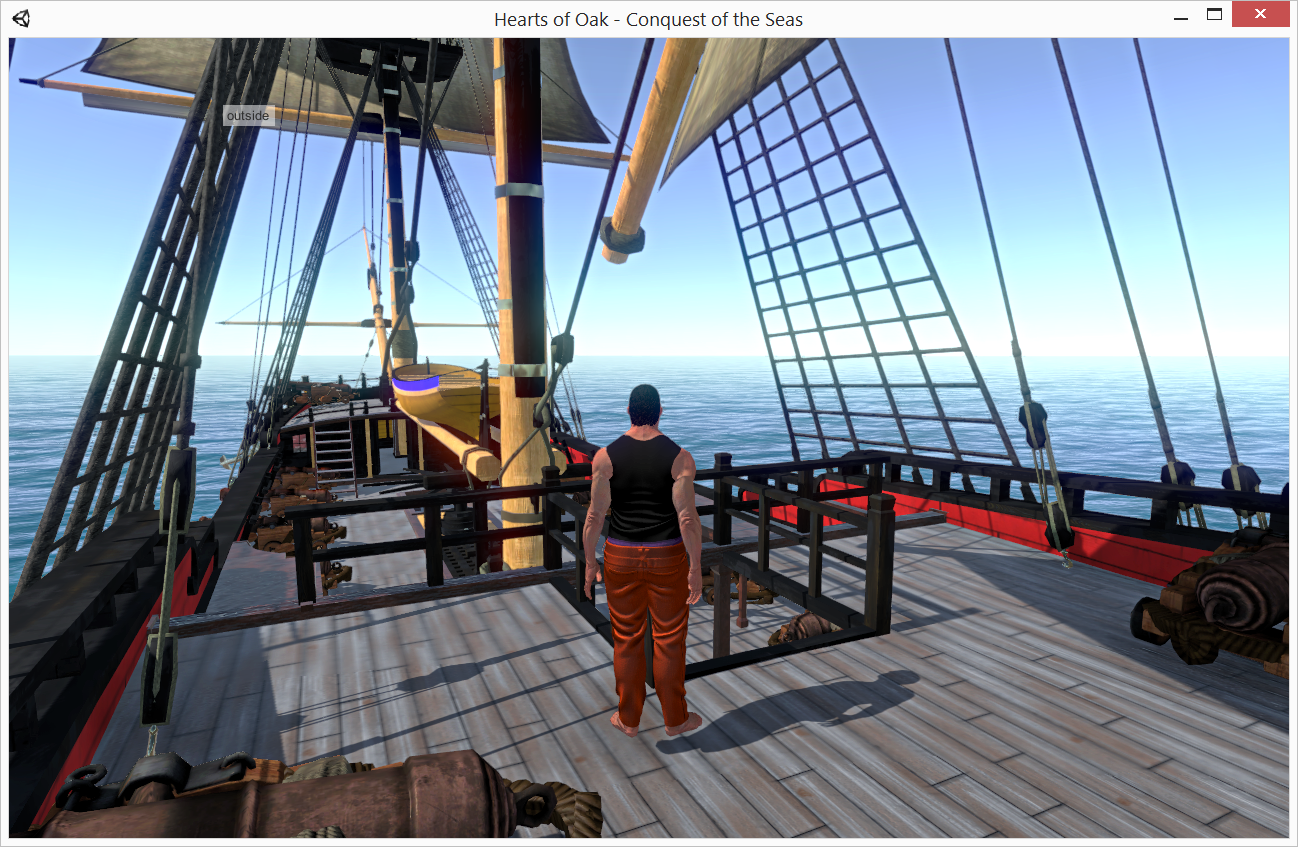 The above screen shot shows a character stationary on a moving ship. Normally, the Unity physics engine would cause the character to just slide off, likewise, if the ship is riding rough seas the character will remain on deck and not bounce off

Ship collision system also had to be rewritten to support both types of ship motions colliding

Current character controller still uses a character directed camera which makes it difficult to move around the ship, a future release aims to update the 3rd person controller

Ship has only been equipped with a minimal amount of colliders, so if you do test character movement you could fall in a collider hole or walk overboard, please no bug reports about these issues yet...
Rudder and helm rotate with the direction of command direction
Ship materials have been updated with new colors and styles
I have purchased a Substance Live membership from Allegorithmic with the intent of updating all our PBR materials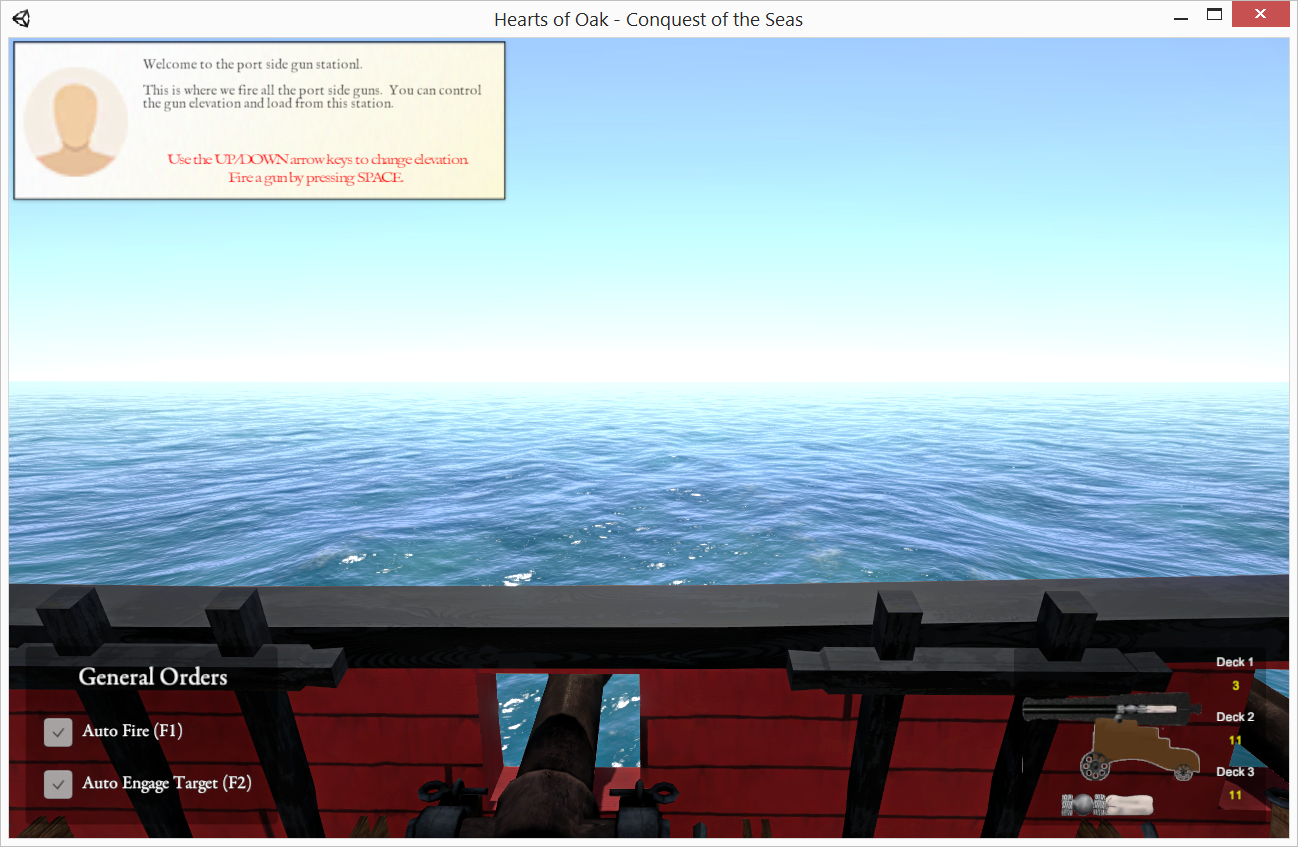 currently using the Substance tools to redevelop the damage materials with more detail
Game tutorial has been updated to continue playing after all targets have been destroyed and now awards players a score and rank based on the damage they inflict
Current Game Ranks

Landsman < 2500

Quartermaster < 5000

Boatswain < 10000

Midshipman < 20000

Acting lieutenant < 40000

Lieutenant < 80000

Commander < 160000

Captain < 320000

Commodore < 640000

Rear Admiral < 1280000

Admiral > 1280000

Targets and ships are placed randomly based on the current player rank

Ships encountered in the tutorial will now directly target the player ship

Score and Rank are now displayed and updated as the player plays the tutorial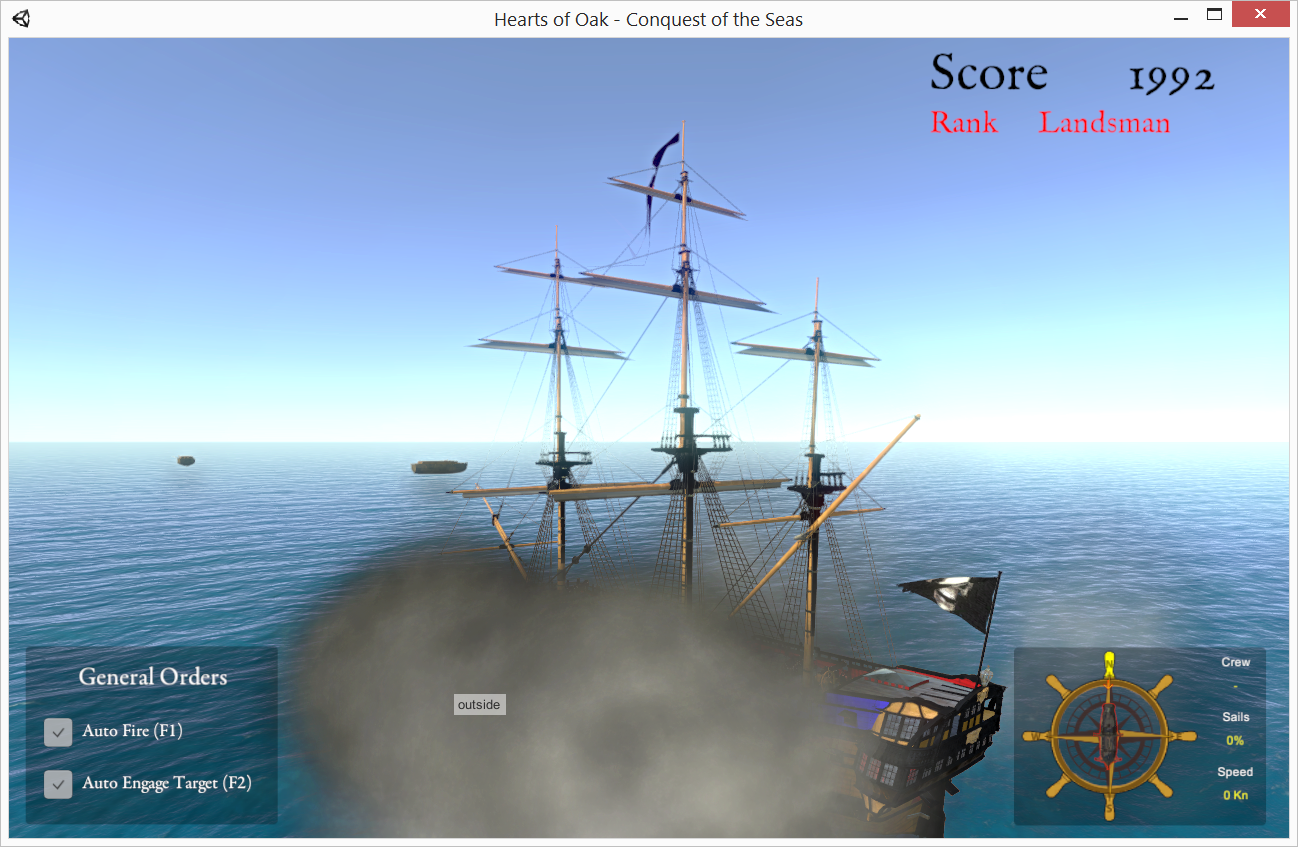 Gun port lids have been moved off hull to represent a more accurate angle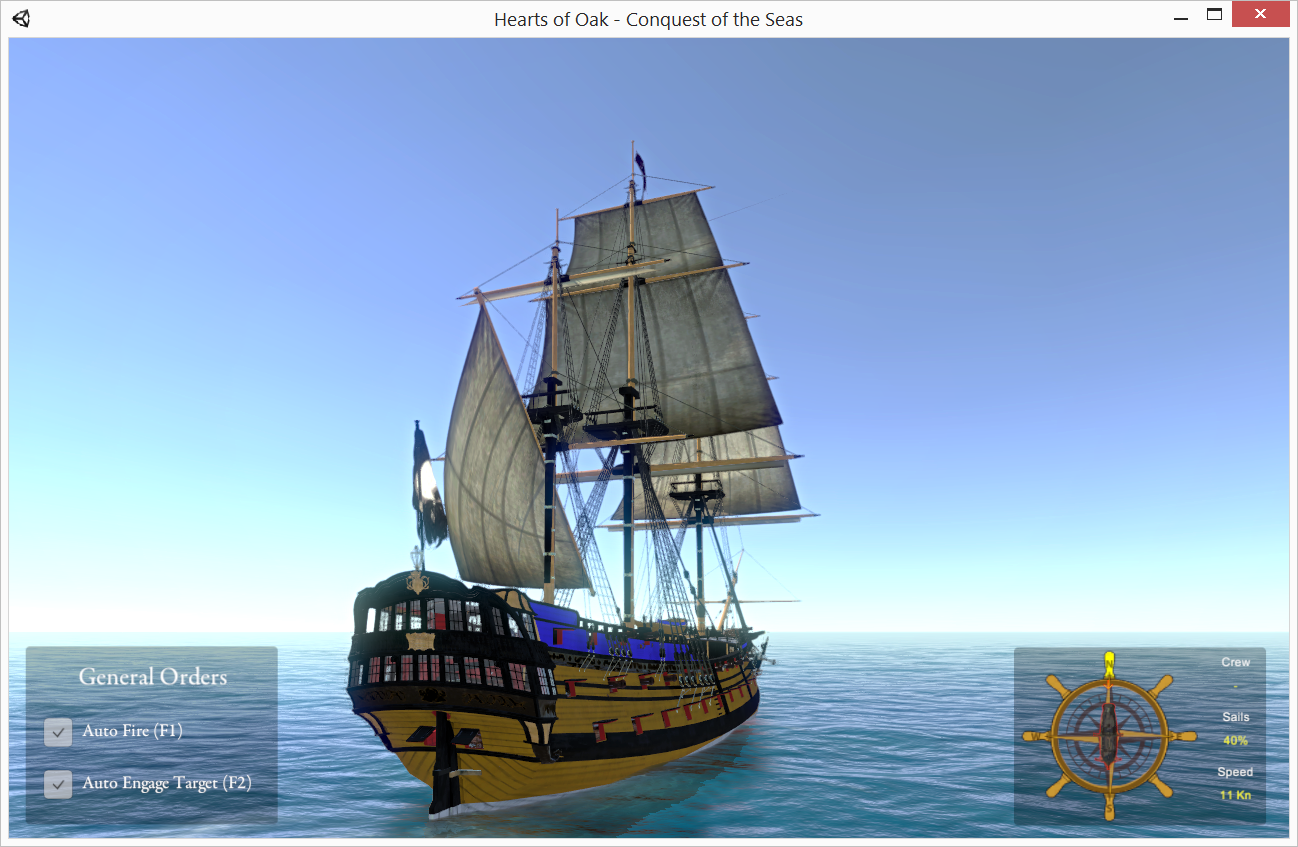 Game quality settings have been expanded to support:
LOW

should support most hardware,

note AA is disabled so rigging may appear jagged or broken

NORMAL

good for midrange systems

almost all features as Fantastic but does not show underwater

FANTASTIC

this has been the standard used for all previous releases

Set game quality as the game starts from the drop down menu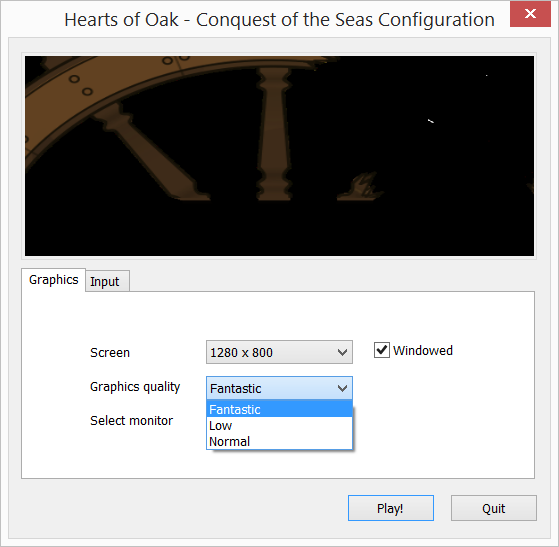 Unity Analytics custom event data has been extended to track:

Players starting the tutorial

Players destroying the first target

Players destroying all enemy ships and targets

After every level reset the number of targets and ships are also submitted

Looking forward to see some high scores submitted through the analytics tracking
Current Issues

The following items are currently still outstanding, please bear with me as the preAlpha development continues to work on these quirky bugs: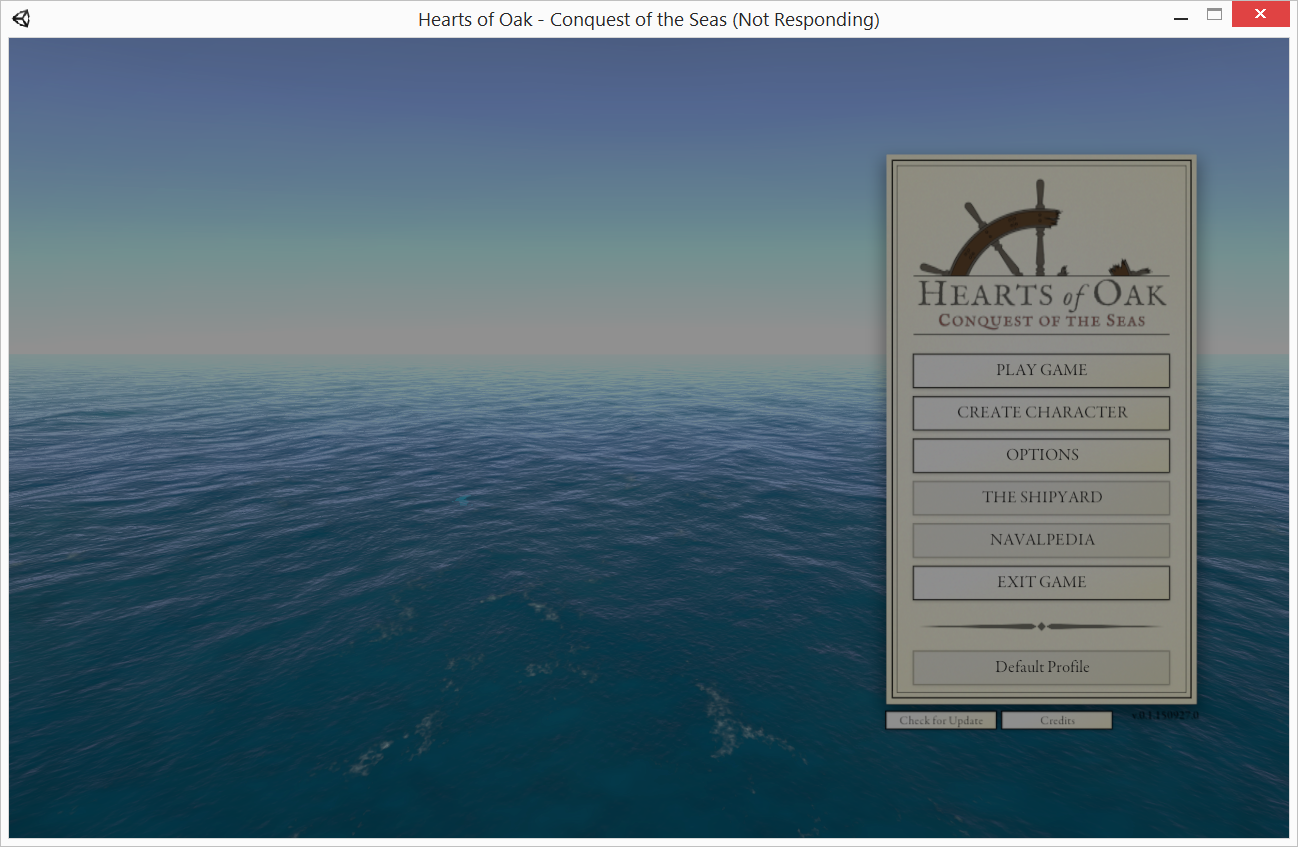 The game will freeze or become unresponsive for 10-20 seconds when it first loads the menu screen. Please be patient, the game will come back.
This issue looks to be caused by Alloy substances taking longer to load, the plan is to resolve this issue using Substance PBR materials with the Unity Standard shader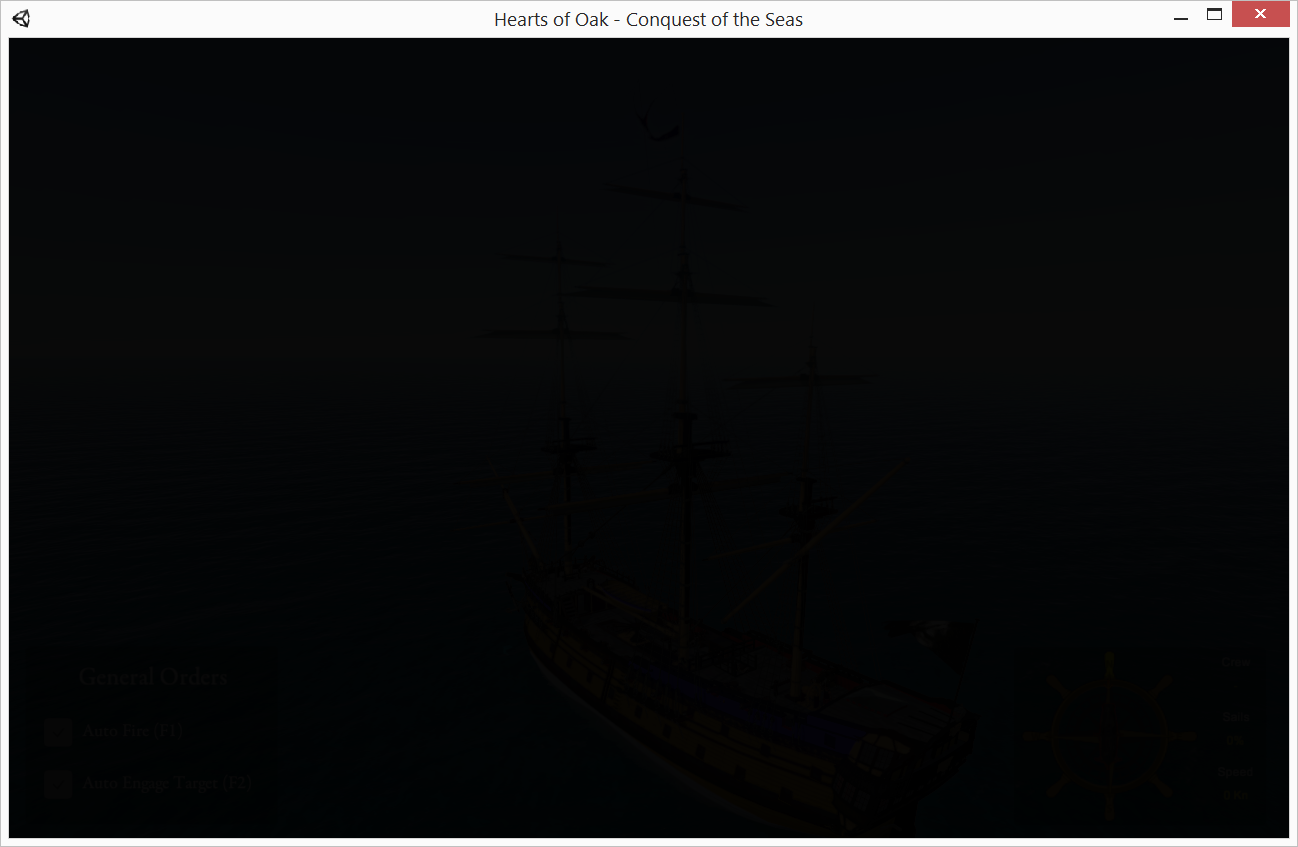 Every 1 out of 10-20 times you may encounter a black screen that remains after boarding the ship. If the screen does fade in then just close the game and start again.

This issue is caused with the current AI tools used to run the game tutorial, which on occasion seems to lose state. This issue happens rarely.

Player ship sinks, if your ship sinks then it is likely the game will crash or stall. This is intentional for the moment as it allows players to jump ship and take command of another ship. As well, no game saving is currently enabled and this will hopefully be added in the next or January release.
Most of the development for this release focused on the ship physics/kinematic system. The aim of the next release will be to get complete player movement around ship working (new 3rd person controller) , AI crew , player saving, game ending, damage effects, sounds and as always enhanced ship combat mechanics.
Known Issues
There are a few known issues with this release, but we wanted to get this to you as soon as possible.
Release notes:
Sometimes the Cannon control keys will not work, please reload the demo and try again.

There have been reports of the ship getting stuck under the island, if this happens, reload the demo
Underwater effects were accidentally left turned off in the December demo, that will be corrected in the next release.
Please note that this release displays the WRONG build number in the main menu, so don't worry if you see that. You can tell that you have the new build by the ship's updated red interior, and the ability to walk around on deck.
That's about it for this month, have fun and please give us some feedback! You can download the demo from our downloads section HERE!
How You Can Help?
As always, we are looking for volunteers to help us with Hearts of Oak! We always need programmers and 3D artists, but we need people with other important skills as well. If you would like to give us a hand, please feel free to have a look Armada's post over on our IndieDB page with quite a bit more information on how you can help us out.
Don't know what the Hearts of Oak project is? Take a look at our Frequently Asked Questions for more information.