Hello Everyone,
We are proud to announce the our game Haste has a demo out on Steam!
We are Hot Sauce Bread Studios, a small two-person team out of Ottawa, and we are really excited to be sharing Haste with you all. But first, let's explain what Haste is.
Haste is a genre-bending card game that plays like no other. Unlike turn-based, collectible card games, Haste features real-time card combat and fast-paced decision-making.
Choose among nine unique heroes each with their own set of cards to build your team of three, leading to thousands of possible match-ups. Whether you throw out a light attack or lay a sneaky trap, we've designed Haste to be easy to learn, yet difficult to master. With our inventive mechanics, players will uncover layers of strategy without getting bogged down by complicated rules or walls of text.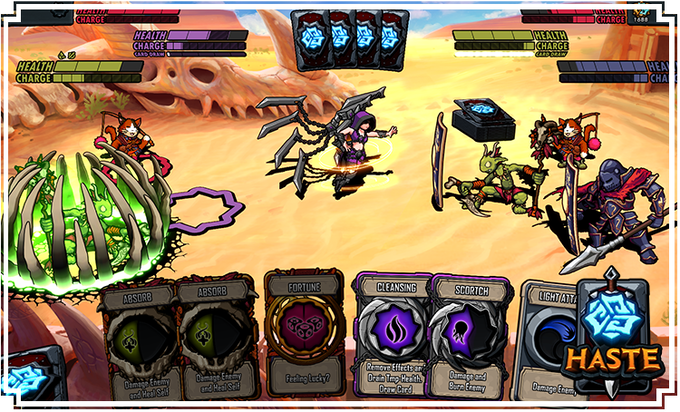 FEATURES
Strategic yet action-oriented card combat played in real-time
Online matchmaking with ranked PvP and single player matches vs AI
Simple inputs paired with quick decision-making for engaging game play
A robust variety of character skins, player icons and card backs to collect
Inventive mechanics for genre-bending gameplay
We have worked really hard to get Haste to a solid working demo and we hope you can all take the time to try it out. If you like it, please Wishlist us on Steam and spread the word. Thank you so much for taking a look!
Cheers,
Hot Sauce Bread Studios
Edit: Fixed Links :)