Halloween Update
And a many hauntings to you, our dear, lingering Survivors!

WARNING: This blog post contains images of amazing new game content coming to The Dead Linger, as well as information about some phenomenal new things. Be sure to absorb it all slowly so you don't overdose on virtual eye-candy.
As you shamble the streets tonight begging for candy, we'd like to dish out some candy of our own, from cool surprises to information about the next few updates coming to The Dead Linger. Whether you be dead, alive, or somewhere in between, read on to find out what we have in store this Hallow's Eve. Tonight is a night of spooky shenanigans and tasty treats! We are celebrating many things today.
The Dead Linger's Anniversary.
First and foremost, today, October 31st (Halloween!) is the anniversary of The Dead Linger's first Alpha release, Build 001. It was a moment we will never forget, and a moment that taught us a lot. To celebrate this day, Parker has carved you a jack-o-lantern. It's not the most conventional jack-o-lantern, but it does light up the night just the same.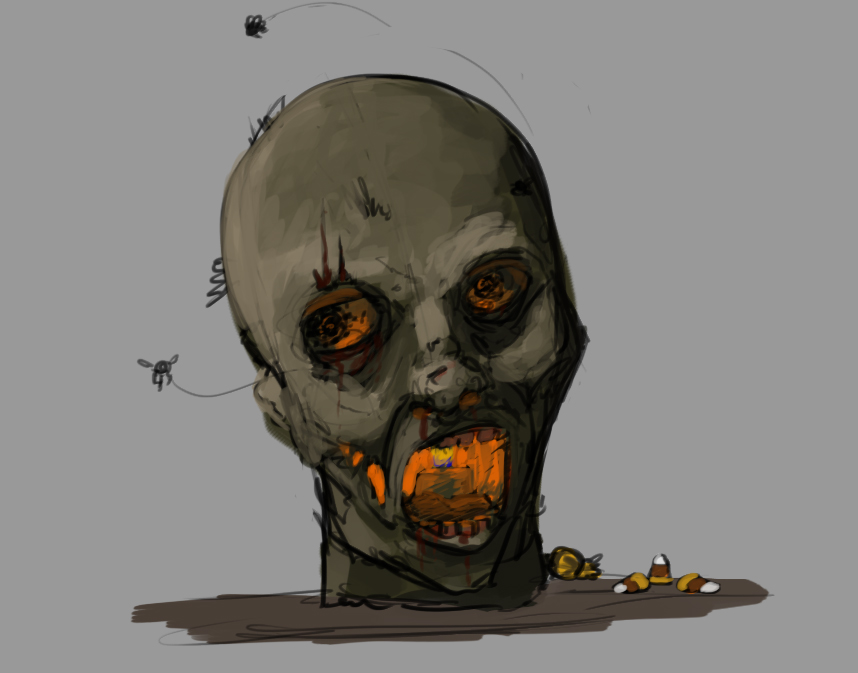 The Anniversary AchievementAnd on that same note, Hotfix 10h will be bringing the first achievement to The Dead Linger! If you play The Dead Linger when Hotfix 10h releases (and until the end of November 9th) you will be awarded an Anniversary achievement. All you have to do is run the game after Hotfix 10h is released and before November 9th has ended. Do that, and you're golden. Or…
Whatever color the achievement is.

Oh, it's white. Look, there it is.
The achievement is white. With some red on it.This achievement can be obtained at the same time every year (October 31st to November 9th,) but you may want to pick it up as soon as possible or you'll have to wait for quite a long time to get it again.
The Sandswept Store is now OPEN!
We now have a store where you can buy T-shirts and stuff.
This is something we (and by we, we mean Geoff) have been putting off for a long while now. The Sandswept Store is now open for all your merchandise pleasure!
"Merchandising, merchandising, where the real money from the game is made. The Dead Linger-the T-shirt, The Dead Linger-the Coloring Book, The Dead Linger-the Lunch box, The Dead Linger-the Breakfast Cereal, The Dead Linger-the Flame Thrower.* The kids love this one."
*We may not actually have all that stuff. But go take a look and see what we do have!Please mind the dust as we clean it up. It's a bit ugly right now, but we'll give it a nicer banner and background when we get the time. Note: The store is hosted by Spreadshirt, so please direct any support questions to them regarding purchases made, shipping, and so on.
Hotfix? More like Coldfix.
Okay, okay. So Hotfix 10h took a bit longer than anticipated. Such is the way of things. In the immortal words of Shigeru Miyamoto; "A delayed game is eventually good, but a rushed game is forever bad."

Fortunately for you guys, we've been working since our last release (October 4th) non-stop. We have quite literally worked 7 days a week since that time. Richard looks like an actual zombie at this point, but we assume it's just a Halloween thing. We do try to check for breathing every once in awhile. Or at least poke him with a stick.
On the code side, we've overhauled the entire way we do network synchronization and deliver content between survivors in multiplayer. This is no simple undertaking, and given the nature of our massive, procedurally-generated world, no one should expect it to be.
In further good news, the artists are well into content. We have about 80% of the content finished for builds 11 through 13. There is a lot of stuff on the horizon. You want a small taste? Here you go.
Yeah. So all that (and a lot more!) is coming over the next 2 or 3 large builds. (Builds 11 through 13.)Oh, and how are you guys digging the new logo? Let us know on the forums!We also heard something about Steam Trading Cards coming soon… Hmm. Let's ask the Zombull what he thinks about that.

"Moo."
Well said, Zombull.
Bonus Candy – DETOUR is 50% off, forever!
Again!As a small gesture of our thanks for the years of support and fun times, our first and little-known title, DETOUR, is now super cheap on Steam — forever! You can pick up the regular game for $2.49, and the 4-pack for $7.49! You can learn more about DETOUR on the Steam store page, or by visiting the DETOUR page on our main site. You can also check out some of our old-school
DETOUR dev vlogs on our YouTube channel.
That's all for now. Be sure to post your comments on the new stuff (link below) and prepare yourselves for the bright and glorious future of The Dead Linger.
Trick-or-Treat, Survivors!