1. Time point system
Turn in ground breakers are run based on time unit called Time Point or Wait Point for Unit. The game start with 0 time points and progress based on Time passing. When Time reach a point when an unit can act or an event can trigger, it's stop so the unit can act or event do it's job (Like capture tactic point event, Climax event).
We introduce this system in our newest build Alpha 0.1.084355 and many things will revolve around it like unit's turn, skill cooldown, heat reduction time and things like overtime effect.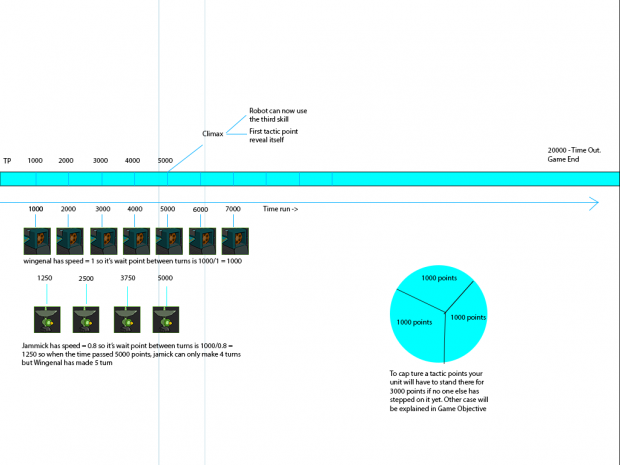 The mode thing affected by this is tactic point capture progress. For example: Tactic point need 3000 Points to capture it. The enemy unit stepped in the tactic point and stay there for 1250 points and time stop when one of your unit wait enough. This unit then kill the capturing enemy unit and another unit of us stepped on the tactic point. Now the tactic point is already under your enemy's influence and your unit will have to step there for 1250 points to reduce it to zero first to continue your capture progress. It'll have to step there for 4250 point assume no enemy knock him out.
2. Bug fixing
The most encountered bugs are the game stop when an unit respawn. We have fix most of it but not sure if all 'cause this is cause by many reason and we only fixed what we encountered. Our test play run fine at the moment and we can finish the game all the time so if you encounter new game stopping bugs, please send us the output_log.txt in the GroundBreakers/GroundBreakers_Data folder to my email vutrongsang@gmail.com.
3. Functional Features
Beside the single match, there are other features that functional in this built (it just lack GUI and instruction but if you ca figure that out, tell us what you think
- Lab: Lab is use to craft new robot using the parts you gain at the end of a match. Lab use a placeholder GUI so it looks ugly as fuck. Feel free to pissed of when you look at it.
- Chips: You can access chip system from Units menu. Chips are basically robot's equipment and it works now. It just lack chip combine module and instruction.