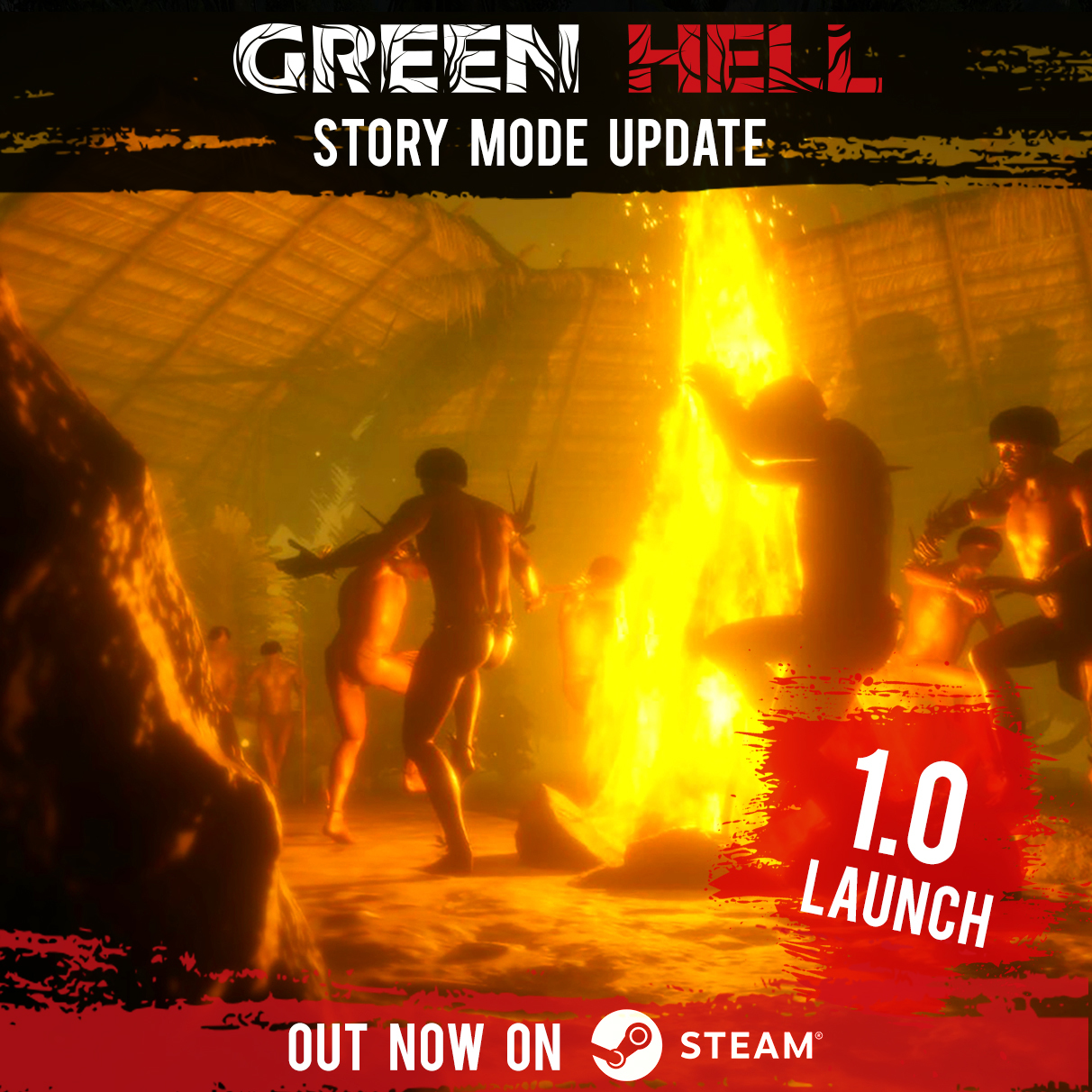 We are excited to announce that Green Hell leaves Early Access and launches into 1.0. !


Green Hell saw huge improvements and regular updates during the Early Access phase and now sees a ton of new features accompany this momentous launch.
From an entirely new map area to new animals and custom difficulty settings, the 1.0 update is Green Hell's largest yet. Story Mode, one of the most anticipated features of all, will see players test more than just their survival skills as they embark on a desperate mission to navigate the deadly Amazon rainforest and rescue their lost love, Mia.

In the year since Green Hell launched into Early Access, we have worked continuously on improving the game alongside incorporating feedback from our dedicated
community. See the list of additions and changes below:

Story Mode and 1.0 Update Additions
● Story Mode! — How did you end up in the Amazon? What happened to your love, Mia?
How can you escape? How can you survive? Seeking answers to these questions will
take you to the brink of sanity as you rediscover well-known areas and discover new
areas for the first time.
● New Map Areas — The lush rainforest of Green Hell gets even bigger with new
Wetlands to explore. Also included, is an all-new in-game map!
● Perma-Death Difficulty — Gear up for the most ruthless challenge yet. There's no
coming back from death.
● New Graphics Options — Optimize your experience with new FOV, Vsync, antialiasing,
texture quality, and shadow distance options.
● New Plants and Animals — Introducing the psychosis-inducing Psychotria Viridis, the
Banisterposis Caapi, and the lethally poisonous Dart Frog.
● Decay Timer— Many items in the game will now start to wither and decay. Players will
have to be vigilant learning to use their items before they expire.
● New Difficulty Levels (Tourist, King of the Jungle, Custom) — Have a problem with
snakes? Maybe spiders? Introducing new difficulty options to turn tribes, predators,
spiders, snakes, and the sanity meter on or off! Hate managing macroelements? Green
Hell is also adding a depletion speed slider to adjust how quickly you need to replenish
yourself.



New Story Mode
New Map Areas
New plants - Psychotria Viridis, Banisteriopsis Caapi
New AI - Dart Frog
New Difficulty Levels - Tourist, King of the Jungle, Custom
In-game Map
Combat and hunting Music
Save game points added to in-game locations
Lootable bags
Random loot system of consumable items and weapons in locations
New Ambient sounds
Continue game button
New Mushroom
New sounds added
Items left on the ground are now disappearing over time

Various optimizations for better performance
More Graphics and Game options
Tree falling direction added
'Confirm' added to 'Destroy' option
Ability to move whole stacks of items
New Bow Mechanics - Steady Aim, Sway
Item weight reworked
Hits needed to destroy structures adjusted
New Save/Load Menu
Ambient sound system improved
AI patrols mechanics improved
Rearranged birds and butterflies
Improved UI for ultrawide resolutions
Reworked part of the tutorial
Balance system adjustment
Barriers and Killboxes adjusted
Tutorial is now part of the Story Mode
Unique items have destroy button removed
Rearranged buildings in some locations
Harvesting a body makes Player dirty
Improved rain visuals on the ground and constructions
Objects now have proper sound when hitting or walking on them