We've updated the Glitchrunners demo!
After some great feedback from the first demo, we've decided to make some changes to improve the Glitchrunners experience for everyone!
Firstly, we eased up on the gamepad requirements by putting in keyboard-controlled Glitchrunners: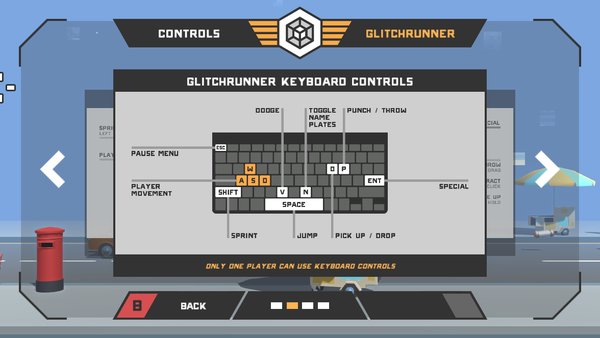 Now all you need to play two-player Glitch Run is two PC/Mac devices - no gamepads required! And to play Arenas with two players you only need one keyboard and one gamepad! We hope this allows lots of new players to cause some chaos in Glitchrunners and give us more excellent feedback.
We've been balancing scoring, and have made some tweaks and improvements to Glitchrunner combat - be sure to check out the new jump kick attack in arena mode! The Deathmatch ruleset has also recieved some changes. Games should last a little longer and have more opportunities to turn the tables on your friends.
Finally, there are a whole bunch of minor bug fixes and quality of life changes, which should make playing Glitchrunners a smoother experience for you and your friends.
You can check out these changes and more by downloading the new and improved demo from itchio or IndieDB.
Please keep the feedback coming, and help us make Glitchrunners even better!