Indie Game HQ: Thanks for taking the time to answer our questions. Tell us a little about Glasswing Studio.

Glasswing: Thank you for your interest in what we are doing, I would be glad to let you into our little world. Glasswing Studio is a small indie studio of 5 people. Mostly artists and a programmer/designer/artist – me. Most of us have worked together in the past on various projects, and we formed Glasswing Studio to bring Insection to life.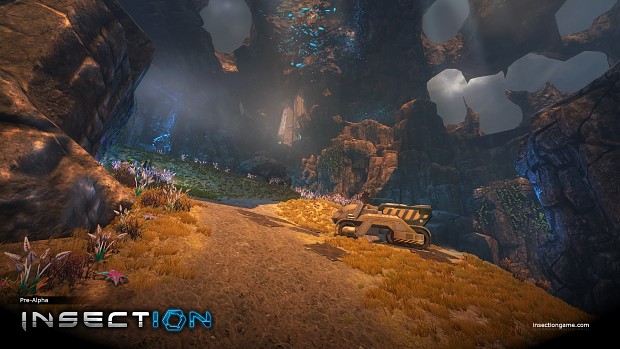 Indie Game HQ: What is the backstory of your rag-tag team in Insection?

Glasswing: Our team consists of two ex-marines, a heavy robot killing machine and a cyborg pilot. The two vets – Dylan and Derek – have a connection born in battle. The other two – Dona and Dante – are connected to the vets through different stories, but they formed a crew in order to make ends meet and bugs meet their end. You see in Insection mankind has left Earth and colonized other planets. At some point after that there was a struggle for power between the global government and a coalition assembled from the newly colonized planets. After the 'Purge', a lot of people were left without purpose since their 'skill-set' was no longer of use in an official capacity.

Indie Game HQ: How long has Insection been under development, and where did the story originate?

Glasswing: Insection has been in development for just over two months. Currently the game is in a playable state: co-op is working with AI, damage, pick-ups and the first two weapons have an early functioning setup. The story though and the game concept is something that has been worked on for the past couple of years, mainly by Aris (one of the other artists) and me.The story stems from our love for everything sci-fi and what games we want to play. We had had enough of zombies and wanted to go co-op into an alien infested world. Bring back some classic sci-fi weapons, bring in a more fierce and agile enemy and leave the confines of earth. Space, spaceships, alien worlds. Dark corridors, lavish jungles and everything in between.

Indie Game HQ: Aside from the four weapons listed on the site, will there be any other combat options?

Glasswing: We have at least 7 weapons planned for Insection, not counting grenade style weapons. We have a machine gun that doubles as a mobile turret, a rocket launcher, a classic assault rifle, but the key here is that each weapon has a secondary firing mode. We talked about customization, but we felt we wanted to focus on making great weapons, not a lot of them. You will have melee moves, but we will discuss this later.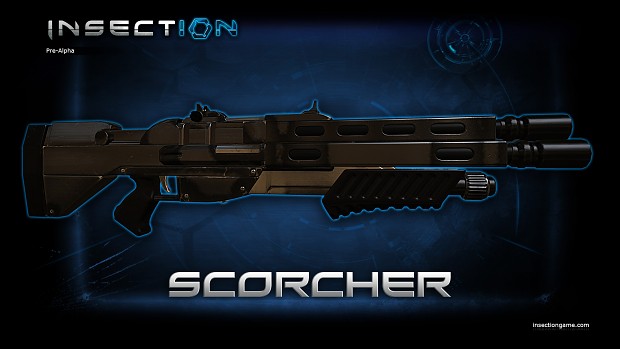 Indie Game HQ: How much variety can we expect to see with the enemies, and how difficult will it be to bring down each enemy?

Glasswing: Well the Drones are your main fodder and then we have a variety of 10 more types of Insecta Maximus (the scientific name of the species within the Insection Universe). Each alien insect has its own ability and a weakness to certain weapons. So using the full arsenal available to you, as well as having a varied load-out within the crew will be crucial. Just so you have an idea we are planning underground bugs, flying bugs, boss bugs, we even have a bug that can control players or is in control of NPCs.

Indie Game HQ: You mention the enemy AI is very intuitive, but how effective are the allied AI in case you can't get 3 friends to play?

Glasswing: We are aiming on having a very seamless experience, this means we are going to give AI the tools to be of assistance and support you in every mission objective, but basically it all comes down to helping the players when in need and not being baggage. It's less about being smart and more about doing what the player needs.

Indie Game HQ: How important will strategic teamwork be in co-op matches? Could a weak link bring down the entire team?

Glasswing: Strategic gameplay is one of our top priorities. It's one of the reasons we started making this game, since it's what we feel is missing from other co-op experiences. Not in the sense of having a commander, but in the sense that mission requires coordinated team effort. A weak link can and will bring a team down, but the game won't be unforgiving and the HIVE AI considers all players together and individually to make the experience challenging, but still an experience you can complete. That's what we consider the sweet spot.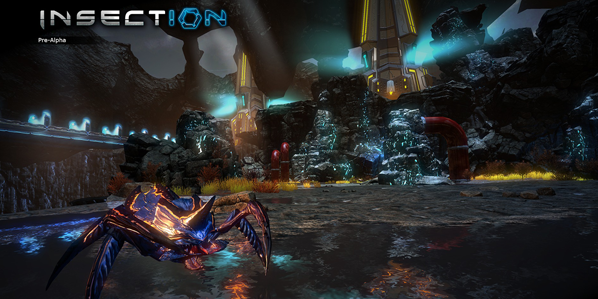 Indie Game HQ: When fabricating your own universe it often leaves room for spin-offs and sequels. If Insection does well, would you look to expand upon this universe?

Glasswing: Yes, of course. We have a vast amount of ideas and features we would like to explore, but in an effort to design something we can achieve within a reasonable time frame we have put a lot of them in the 'expansion/sequel bin' of the current game design document. Mostly though it helps us create a more focused, polished and fluid experience.

Indie Game HQ: When can we expect a playable build of this game to be made available to the public?

Glasswing: There are a few variables that are in play here that may change this, but it is within 2013.

Indie Game HQ: Is there a set date for the Steam Greenlight campaign?

Glasswing: Currently we are set for the 20th of June.

Indie Game HQ: We know it is still very early, but when do you hope to release the full game, at what price, and on what platforms?

Glasswing: We are aiming for PC, Mac and Linux initially, and we will try to set the price as low as possible

Indie Game HQ: Thanks again for your time. Is there anything else you'd like to add for our readers?

Glasswing: Be vigilant civilians!