Hi everyone! I am incredibly excited to announce the release of the new alpha of Hoverbike Joust!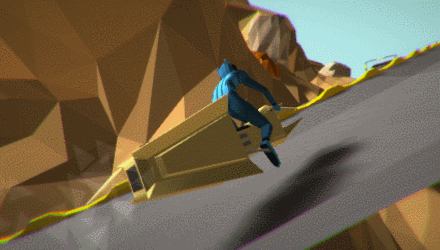 It has been about a year since the last release. This is very bad, and I do not intend on repeating such a huge delay between updates. Don't get me wrong, I have done a TON of work over the past year on this game. The differences between this release and 0.0.12 are enormous. But I let myself get side-tracked several times, and it took much longer than it should've. I'm trying to develop two games (both solo) at the same time, but I know now that Hoverbike Joust is my baby. I will do everything in my power to make sure that HJ can build a huge community and THRIVE!
So what took so long? What are all these big changes? Well, one of the biggest and most frustrating undertakings was updating from Unity 4 to Unity 5. They replaced the version of the PhysX engine they use, and this completely changed the feel/controls for Hoverbike Joust. The trade-off is MUCH better performance. It took a while, but I finally got the controls to where I like them again. In the future you will be able to tune your bike's handling to fit your preferences, but for now they are all about the same.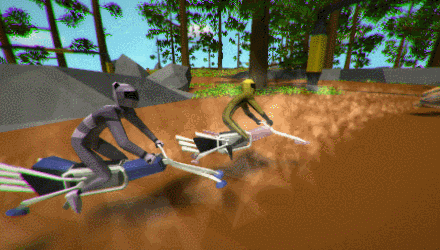 I also completely re-wrote my AI code (look out!), added a new environment (forest island), two new tracks, one new arena, as well as two new bikes and suits to show more of the variety that will be in the finished game. They are selected randomly for now, but you will be able to select them, pick your colors, and tune your bike handling in the near-future. For now, I just wanted to make sure I could implement the systems for spawning the different bikes etc. when each match starts.
Above all, the thing that took the most time was scrapping the old music and composing/recording a brand-new, original soundtrack for the game. Many years before I started making games, I played in bands and did the music thing. That was my passion and primary talent. It's still one of my passions, and it was simply a BLAST to write and record some instrumental, analog-synth laden post-punk. (Think Gary Numan/Tubeway Army) -- I still want to tweak some things and I'll probably re-record the drums (more about that in the readme.txt), but for now I a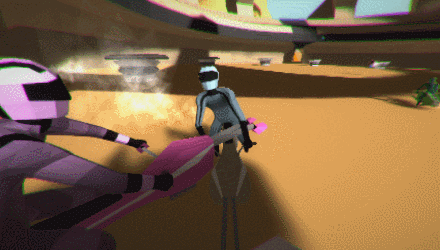 m very happy with the way the music turned out.
Of course there are other various tweaks and fixes. If you'd like to view the full list, there is a change-log in the readme.txt file included with the alpha.
Anyway, enough of my ranting! Please go play Hoverbike Joust now! And let me know what you think. =]